'Title:
Scientists and Transgenics
Author:
SnowyOwl-17
Category:
Roswell/Dark Angel Crossover
Pairing:
Alec/Liz (obviously)
Rating:
I'm leaning toward a
Mature
rating...I don't think that it will be an Adult rating, but I'll be sure to change it if it does
Disclaimer:
Alright so I don't own Dark Angel or Roswell...cause you know if I did they would both still be on TV. Anyway, both shows are owned by their respected creators and all the others who worked on them...I mearly have been inspired to take their characters and write about them. I also don't own the...main idea (?)...behind this story. It was a challenge that was thought up by Jezebel Jinx...I have mearly decided to take that challenge and hopefully produce something you enjoy!!!

Summary:
This is a Challenge that was posted by Jezebel Jinx...
#34 Scientists and Transgenics Taken by SnowyOwl-17

Couple: Alec/Liz

Rating: Teen/Mature/or Adult

Summary: Alec is a transgenic, Liz is a new Manticore scientist. It is against the rules to have relations with a transgenic let alone fall in love with one but in this matter Liz doesn't follow the rules very well.

Optional

-Aliens

-Liz killing someone to save Alec

-Alec meeting Rachel/another transgenic could have been sent or Alec doesn't fall for Rachel...author can basically do whatever they want with this story line.

-Liz becomes pregnant by Alec.
SCIENTISTS AND TRANSGENICS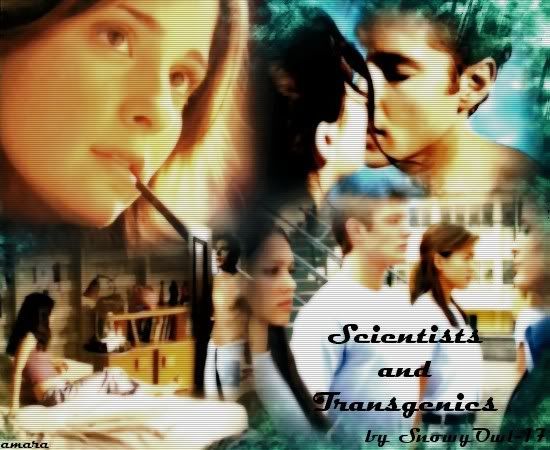 THANKS TO ~Amara~ FOR THE BEAUTIFUL BANNER!!!

I LOVE IT!!!
PROLOGUE
Liz smiled to herself. She had finally done it. After all of the shit she had been though during her high school years and her time in Roswell…she had finally done it. She took a moment to look at the school she had called home for the past five years.
Looking back at the diploma within her grasp, she once again and smiled and whispered to herself, "I did it, Alex. I just wish you could be here to see it." As her eyes welled up with tears she felt an arm wrap around her waist, "He is here to see it, Chica. And I can tell you right now we are both so proud of our Harvard Graduate."
Liz turned to look at Maria De Luca-Guerin, her best friend, "Thanks, Ria."
Maria shook her head, "No thanks needed, Chica. As long as we both followed our dreams, that's all we could have done to truly honor his memory."
The two hugged each other tightly as they got misty eyed thinking about their friend who was there in their hearts, memories and in spirit, "So where are you going, Miss. Harvard-grad-microbiologist?"
Liz laughed and pulled back from the hug, "Wyoming. I'm a new scientist in a DNA Lab. I'm helping other scientists see if there is a way to prevent certain birth defects in fetuses."
Maria looked at her friend with wide eyes, "Wow! From Roswell to Wyoming…just with a better paycheck! So, when you become the world's next doctor that cures some famous disease, remember that I was there when you wanted to bash your head against the wall as you studied for your Biology Final senior year."
Liz laughed and shook her head, "Yeah, Yeah, not my most shining of moments. But you have no worries, I promise not to forget you. Besides how could I, you know for a fact you are going to call me everyday, even if you have to tell your manager to go shove himself."
Maria thought about it for a moment, but then nodded, "Yeah, you're right." The two laughed and then hugged one more time.
"Thank you, so much, for helping me pack up my stuff last night," Liz said. Maria just waived her off, "Don't even worry about it, Chica. Now remember to call me when you get to Wyoming, yeah?"
Liz nodded, "I will. But you better go…your manager is glaring at us again."
Maria just rolled her eyes, "Don't worry about him. He's just on a power trip because Michael is at home with Isabel, trying to keep Jesse alive while dealing with a very pregnant princess."
Just thinking about it caused Liz to cringe, "Well better Michael than Max. Isabel would probably blow him up."
Maria just laughed, "Yeah, I think he is as high on her shit list as the Gerbil."
The two had one last laugh and then said good-bye. Maria heading back to Roswell, where she and Michael were staying until Isabel gave birth, and Liz to get some last minute things done before she headed off to Wyoming.