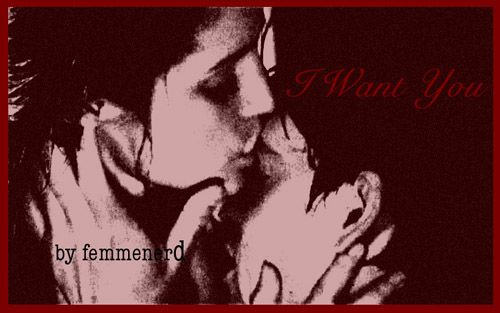 banner by femmenerd
Author: femmenerd aka Lucia
Title: "I Want You"
Pairing: Zan/Liz
Rating: Adult
Disclaimer: Roswell is not mine.
Summary: Zan is the lead singer and guitarist of "the Screaming Aliens" and the object of many people's desire. But all he really wants is Liz Parker. But will she allow herself to put aside her fears and give in to temptation?
Author's Note: I really should be working on one of my other fics but this just popped into my smutty little mind and needed to be written. This is much raunchier than my usual fare so be forewarned.
New Author's Note:
It has recently been brought to my attention that there is a fic titled
The Screaming Alien
by ShellSueD. It's a very funny challenge response fic in which the aliens and humans switch places. The connection between the names is completely coincidental.
It was dark inside the club save for the dim red lights concentrated on the stage, bathing his face in a warm yet eery light. The dance floor was thick with people and the smoke, breath, laughter and general chaos that rumbled from them. And with very few exceptions, every woman's (and quite a few men's) lustful gazes were trained on Zan as he gyrated and thrashed to the beat. His voice electrified the air as he strained to get the song out of his writhing body. As he sang he somehow managed to integrate groans and growls into a melody, as any true rock star can. He was the devilish prince to the frantic, ragtag crowd, cocking an eyebrow as his voice came out in a low, mesmerizing tone.
"I want you," he growled into the mike, with a slight sneer that made not a few women cream their black leather pants or tattered designer jeans.
Liz stood alone – the only person not moving, simply staring at his lean form glistening with sweat under the hot lights. He was wearing a slight smear of black eyeliner that made his golden eyes stand out that much more when he looked directly at her as he repeated the line.
"I want you."
She shouldn't have come her tonight – had debated it with herself over and over again, even as she slid into skintight black jeans and a matching black T-shirt, even as she applied more than the usual amount of eye makeup, even as she found herself riding the subway here, to the club, knowing exactly where he would be and how he would make her feel.
She took a sip of her drink – a whisky sour – to try and settle her nerves. The lemony-sweet tartness tantalized her taste buds as the strong liquor warmed her blood. Not that she needed help to get any hotter…
They were too different. It didn't make sense. He didn't fit into her world of studying and nice clean fun with the nice clean men who left her cold. Every chance meeting they had made her blood boil for days. He invaded her consciousness with his swaggering walk that suggested so much more, and his cocky grin, the way that his eyes seemed to undress her with every glance even as they cut right through to her soul.
She couldn't admit it to anyone, even Maria, but she felt drawn to him in a way that just wasn't natural; it went against all reason. And it frightened her a bit but it wasn't him she was afraid of – it was what might be unleashed in her, what things might come out of her depths that she wouldn't be able to lock back up again.
His eyes were closed now and he seemed almost oblivious to the throng of people dancing, some of them slamming into one another in a joyous ritual. All of his energy seemed to be focused on the black electric guitar slung low almost to his hips. Watching him finger the strings, Liz caught her breath, imagining those calloused hands on her skin.
She moved into the shadows to nurse her cocktail and try to pull the remnants of her self control back together. Her head was swimming with the fantasies she had been repressing for weeks now.
She hid there, under the cover of the relative darkness in the corners of the club, watching him work his magic over the crowd for the rest of the set. She could see how his stage presence seemed to emit an aura of raw sexuality, hypnotizing everyone.
When the last song was over, she slid out of the teeming club into the brisk air of the street, shivering at the cool nighttime breeze against her simmering skin. She touched her hand to her cheek. "Shit, do I have a fever?"
Before she even had a chance to extend her thought any further, she heard heavy steel-toed footsteps coming up close behind her. She swung around and nearly ran into him as he came rushing out of the club, panting slightly.
"Where you think ya goin' Angel?" Zan said in a low tone.
"I was…I was," Liz stammered.
"You was runnin' away is what you was," Zan's tone was even, slightly amused maybe, but calm.
Without realizing it Liz had tripped into the alley behind the club and this was where Zan had followed her. But they were still close to the sidewalk and the glare from the streetlight brightened the angles of his handsome face, gleaming off of the piercings in his eyebrow and lip.
Liz bit her lip slightly. "Well, I had to leave you to your adoring fans you know. I wouldn't want to interfere." She tried to instill a sense of humor into the awkward situation.
"I don't give a rat's ass about all of that. There's only one person I was singing for tonight."
Liz gulped and her brown eyes grew wide. "Oh yeah?" she said softly, looking down at her pointy toed boots.
"Yeah." Zan's voice resonated through her body as he began to slowly circle around where she was standing.
"It's you Liz. You're who I thought about when I wrote that song. I wrote it the day after we first met."
Against her better judgment she looked up to face him, watching mutely as he continued on.
"Every night I fuck you in my dreams, Angel."
His words sent a wave of unadulterated heat shooting through her body. She could hardly believe that she, good little Liz Parker from Roswell, New Mexico, was standing here in this dirty New York City alleyway hearing these words from Zan, lead singer and guitarist of "the Screaming Aliens," sex god extraordinaire. His words were crude but something about the way that he said them tempered them, made them sound like a prayer.
"And I can tell you want me too. I can see it in your eyes even as you're walking out the door."
He moved closer and she didn't tell him to stop. She simply stared deeply into his eyes mesmerized as he continued to seduce her sanity away with that voice.
"Zan, it's not that I…"
"In my dreams, I can feel your body against mine and I'm always confused at first when I wake up and you're not there lying naked beside me."
Liz closed her eyes and visualized what he was saying to her, her breath growing increasingly ragged with his every word.
"And in my dreams you kiss me back when I reach for you. And your skin is so soft against mine…
He was just a few inches away now. She could almost feel his breath on her skin as it came out in silvery puffs that floated into the chill air and dissolved.
His lips crashed into hers with an intensity that nearly bowled her over. And before she knew it she was kissing him back, feeling his mouth hot and insistent against hers. They stumbled back against the brick wall of the adjoining building, her back against the wall, his hands rifling through her dark silky hair. He held her bottom lip gently in between his teeth, his tongue lightly teasing her before she deepened the kiss, letting her tongue out to stroke his. Liz felt like little electrical currents were igniting inside her, set off by the way that his mouth was making love to hers.
"I want you Liz."
Liz sighed and gave in, admitting the truth to herself as much as she was admitting it to him. "I want you too Zan."
His eyes lit up and that devilish smirk swept over his face.
"You're coming with me Ms. Parker," he said, grabbing her hand.
"What? Where are we going?" Liz was confused, her brain addled by the crowded club, the whiskey and the Zan kisses.
"Upstairs baby. To the Casa de Zan."
"You live above the bar?"
"Indeed I do. And I told Rath not to come home tonight and that he had to load up the amps this time."
"Pretty sure of yourself weren't you." Liz crossed her arms over her chest in mock petulance.
"Nah, just hopeful," Zan said seriously.
They were running now, through the alley to the fire escape, his hand closed over hers leading the way. When they reached the top of the stairs, Zan grabbed Liz by the shoulders and laid another earth-shattering kiss on her as he pushed the door open. Once through the threshold he picked her up easily, cradling her in his strong arms as he kicked the door closed with his boot. He kissed her all the way to the bedroom tossing her gently onto the bed. She leaned back expectantly as he simply stared at her reclining form.
"Shit, you're beautiful Angel. You have no idea how much I've thought about this."
"Well, if it's anywhere near as much as I have…" Liz couldn't believe she was saying the words out loud.
Zan growled appreciatively and dove onto the bed after her.
With grace like a panther he made his way toward her on the bed, his eyes burning holes into hers. Soon he was hovering over her, one leather clad knee in between her legs spreading them. He stared at her for a moment with a smirk, tossing his head to try to get the stray pieces of his spiky black hair out of his kohl-rimmed eyes. Liz held her breath as she looked up him. She couldn't believe how his every movement was so charged; he was like walking, moving, breathing sex.
Almost hesitantly she brought her fingers up to graze the skin just beneath his faded T-shirt. In response he reared up on his knees and quickly pulled it up and over his head, tossing it with no heed to where it landed as he lowered himself back down over her. Time seemed to move slowly for Liz as she watched his face, his lips, advance towards hers, capturing them. He kissed her like he was starving and she was his first meal in weeks.
Her shyness evaporated and she was freely moving her hands over the rippling muscles on his stomach, his tattooed chest, arms and back.
"Yessss baby, touch me," he hissed.
In response she moved her hands lower and grabbed him by the ass, pulling his hips in to meet hers as she ground herself against him.
"Do you want me to fuck you Angel?" Zan murmured into her ear as he bit her lobe seductively.
Liz could only moan.
"Do you want me to fill you up with my cock?"
Liz sighed and grabbed him by the sides of his head and kissed him hard, thrusting her tongue into his mouth with urgency, feeling the hard metal of his tongue piercing as he twined his tongue with hers.
Her pussy was throbbing as she moved against his body. She could feel the stiffness of his erection through his leather pants and it was driving her wild. She moved her hand down to unzip him but he stopped her.
"Uh uh Missy, not until you say it."
"Until I say what?" she groaned in frustration.
"Tell me that you want me to fuck you."
Liz moaned. "I want you to fuck me. I want you to fuck me harder than I've ever been fucked before." She wasn't sure what had come over her.
Zan grinned as he brought his hand to her breast, tweaking her nipple lightly until it stood up in a hard peak jutting out through the fabric of her T-shirt.
"Now that's more like it baby," he whispered against her neck as he nipped and sucked at her soft flesh.
Liz trembled as she unzipped his fly and his massive prick fell into her hands. He wasn't wearing any underwear underneath his battered black leather pants. Teasingly she glanced up as she watched the expression on his face grow even more heated as his mouth fell open with the touch of her small hands on his rock hard cock.
"Tell me Zan. What do you want?" she queried as she stroked his length firmly.
"Gah! I want to watch you come so hard while you're impaled on my dick."
With those words as an invitation, she lifted her shirt over her head and removed her black lace bra with nimble fingers.
He fell upon her breasts, sucking a succulent pink nipple into his mouth, flicking his tongue against its hardness. She moaned as he suckled her, running her hands through his messy hair. She felt herself growing wetter and wetter as he moved from one nipple to other while roughly massaging the other with his fingers.
She wriggled free just long enough to wiggle out of her jeans, revealing the matching black lace thong that completed the set. Upon seeing her lace clad pussy revealed to him, Zan brought one rough hand down to meet her wetness, pushing aside the flimsy fabric and thrusting two thick fingers into her sopping core as his thumb played an urgent melody against her engorged clit.
Her voice came out in strangled animal sounds that she hardly recognized as her own as he worked her cunt into a frenzy.
"You ready for me baby?"
"Yes!" she yelped. "Give it to me Zan. I want it now. I need you." The words flew out of her mouth before she had a chance to censor them. She silenced the small voice in her head that wagged its finger at her in shock. All she knew was that she had never felt more free, more alive than she did at this moment.
"Alright baby. Just wait one more second," Zan said as he kicked off his boots and removed his pants, throwing them on the floor with zeal.
The anticipation was killing Liz as once again Zan crawled towards her, splendid in his utter nakedness. When he reached where she was lying against the pillows encased in soft black pillowcases that matched the sheets and comforter, he abruptly pulled her hands above her head, pinning them lightly as he kissed her.
She watched as he touched himself, guiding his cock swiftly into her pussy. She sighed as he entered her. He moved slowly at first, thrusting all the way in and then pulling back out, only to fill her once again to the hilt.
His teasing was more than she could handle so she switched places with him in the power position, flipping over and taking him with her. He released her arms easily, not minding the back and forth of their play.
She was sitting on his cock now and the ball was in her court. Liz reared her head back, tossing her silky brown hair back as she proceeded to ride him harder and harder until she gasped - she was so turned on.
Zan reached up to grasp onto her slender back, urging her on and meeting her thrust for thrust. The next thing she knew he was once again latched onto her breast with his hot mouth, sucking on her hard as she bounced on his cock.
"Ah yes. Zan. Suck me while you fuck me," Liz cried out, her movements growing faster as she came closer to the edge. She was beyond feeling self conscious now, having stumbled into a realm of unadulterated sensation.
Her mind went blank as she rode him so hard and her vision filled with stars as she came to a shuddering orgasm, shaking as she exploded.
Before she had a chance to fully recuperate he had flipped her over and was caressing her round ass as he prepared to enter her again, from behind this time.
With one hard thrust he was inside her again as she held onto the pillows, letting him take her for a ride.
"Oh Zan, I want to feel you come inside me," Liz moaned.
"I will, princess, I will, but I'm not quite done with you yet."
Leaning over, Zan wrapped his arm around her so he could play with her clit while he fucked her.
Liz bit down on the pillow to suppress the scream that she knew was coming on.
"It's OK baby, let it out. It's good for you," Zan panted in between heavy breaths as he kept up the pace of his rhythm.
She came even harder this time, not sure how it was possible that a man could make her feel this good.
As her inner walls squeezed tightly around his throbbing cock, he drove into her with one final mighty thrust as his seed spilled into her waiting pussy.
They both fell back upon the bed, gasping for air. Liz closed her eyes, shocked at her own wanton behavior. Then she felt his lips tenderly touch hers.
"You're amazing Liz. Better than in my wildest dreams."
"Oh yeah?" she smiled.
"Yeah, but let me rest for a minute. Then I'll be back with more."