Title:
New York State Of Mind
Author:
Jason's Lover
Rating:
Mature
Disclaimer:
Nothing here is mine except the proud honor of using my hometown of Brooklyn in this fic.

Category:
M/L - No Aliens
Summary:
Liz is an eighteen year old high school graduate living in Brooklyn, N.Y. preparing for college while working full time for the summer in Times Square, Manhattan with an annoying, cocky co-worker named Max Evans. This fic is in Liz's POV.
Author's Note:
The prologue isn't too long so don't expect much. The chapters will be much longer!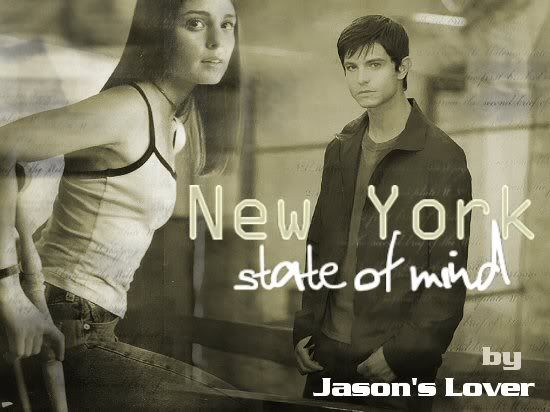 Credits to Ann(babylisou) for the banner.
Thanks to Lolita Behrbuns(Cristine) for the amazing banner!
It's June 22, 2004 and I'm Liz Parker,

I graduated not but a week ago and already my parents are hounding me about savings and money for college in the fall....can i please breathe first before all the lectures about being responsible and looking towards my future begin? God, i'm hardly even used to the fact that i'm no longer a student much more thinking about the 'real world' as they like to put it...However, I did apply for this job in the city, at the Virgin Mega Record Store up in Times Square and I got the call back not more than two days later. It's not that far to travel to either...it's about a fourty five minute train ride away and I like the distance because it gives me the oppurtunity to discover something new outside of Brooklyn. Don't get me wrong, I love where I'm from, but it's a handful living here.

The only negative part about this job is the person I work with....Max Evans. He's so damn cocky and thinks he knows it all just because he was working here two months before I came along. Can you believe that on my first day here he was supposed to show me around the damn huge ass store as it is but opted to point all the 'lacking adjustments' in my attire!! The nerve of him....he's lucky I didn't kick him in his balls! All the other females here completely adore him because he's cute and gorgeous and the whole nine. But so what? Looks don't mean everything. I mean sure he's sexy, and built, and has the most gorgeous pair of hazel eyes I've ever seen, but it doesn't mean he's perfect. His attitude more than compliments that.

He does have some good points though.... he's a good worker and he's really nice and friendly with the customers....especially the young attractive girls that come in here. He can get them to buy almost anything as long as he promises to call them later that night. I wonder if he does? Anyway, I'm off, afterall I am at work...i've got a job to do.
"Hey Parker, can you put the diary down and help me over here? There's a stack of cd's in that box that needs to be shelved. They don't pay you to write."
Speaking of the devil. Who the heck does this guy think he is?
"No, I don't believe they do. But they should pay me for putting up with
you
everyday." I say back just as smartly.
"Hardee har har. Don't quit your day job Liz. You'd starve to death."
"Kiss my ass Evans." I quip in annoyance.
"Love to."
Welcome to a day at the job. Lovely, isn't it?
TBC.....
Crystal