Title:
Second Life
Couples:
M/L main but also M/M and … well, I can't already lay my cards on the table!
Rating:
Mature/Adult. Let's make myself clear. There will be some sexual situations here and there but I'm not into smut or anything. I like sex only when it's necessary to the storyline
Category:
CC
Disclaimer:
The characters of "Roswell" belong to Jason Katims, Melinda Metz, WB, and UPN. I don't own anything remotely related to Roswell except my passion. Any additional characters not mentioned in the show are the creation of my own fantasy.
Summary:
after-Graduation stuff, actually set in San Francisco two years later. Our six guys interact with a few brand-new characters. But are they really safe in California? Did their enemies threw the sponge in?
Who
are their enemies, in the first place? That's enough. If you wanna know more, you've only to read this fic!
FEEDBACK:
yes, thank you. I need it! And please, be kind to me … English is not my mother tongue

Author's note:
I'm going to update weekly, on Mondays or Tuesdays, barring accidents. Now I have to thank my wonderful beta
Skittles1983
aka
Amy
. Without her I don't know if I ever would make it!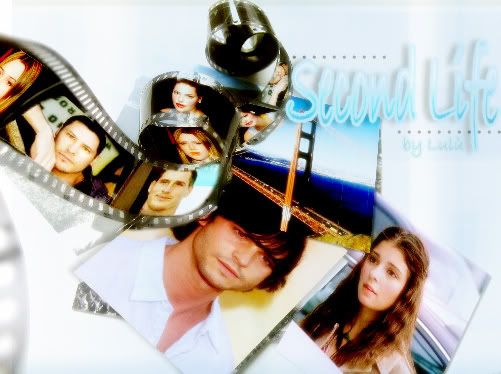 Thanks to
Duccia
for this amazing banner!!!
Prologue
*Will we ever go back? I don't know. Even I can't see everything in the future. All I know is that I'm Liz Parker and I'm happy.*
A Fed Ex package had sent those words away from her, along with her teenaged past life. But they bounced incessantly inside her though and she couldn't stop it. They were repeated in her mind more and more loudly, these words were much too important to her. They implied too many meanings. The end of something she should never have back. The conclusion of the life she had reluctantly said goodbye to, the existence that she knew she had lost. She went away forever. It was an end, but a hopeful beginning too. The beginning of a trip to the unknown, the start of a new adventure. A rebirth … a second life entirely to discover.
*~*~*
San Francisco, September 2004
It was early in the morning. The sunlight was idly trying, with its bashful rays, to reawaken the big bay, teeming with fishing boats and cargos coming from every corner of the world. Over the port, the activity had started several hours ago, although most of the city was still asleep.
San Francisco was especially attractive, but became even splendid when it dozed. As a giant on the ocean shore, it bent down into its large limbs, waiting for a new day, in a dark that wasn't truly dark. Hundreds of electric blazes enlightened the night shadows. The city was still colossal at night, wonderfully wide, but less impressive than when it went at full gallop during the day. It showed another face at night, that one more fragile, more authentic. Even a metropolis could look like a little town at night.
"I'll sure never get used to all that …" she said to herself. A bad-mannered crowd kept her pressed against the window. "Just never." She moved a little to balance her feet and ended up losing her stability even more. At the first stop, someone on the right elbowed her, another one on the left shoved her in search of space. And, as she expected no apologizes. Some more minutes and she would go straight to a psychiatric clinic, at best.
The first thing by which she was impressed was the perpetual mote of people in the city. The sense of omnipotence that made believe you can have everything, every time of the day. The conviction that nothing was inaccessible or impossible. Unlimited freedom and possibilities, that was everyone's belief. Such a reality would be utopian if she still lived where she had been living for the first 18 years of her life. Roswell. The provincial Roswell. Her little beloved Roswell.
Elizabeth Parker Evans, the one who had been Elizabeth Parker Evans a lifetime ago, caught at the last possible moment a Cable Car, the characteristic tram of San Francisco, and now was travelling alongside the coast. The view was charming outside, looking up a little: on a side there was Golden Gate, with its sturdy lined up piers and the reddening tonalities; on the other one was Bay Bridge, the silver-plated bridge, which shimmered if you looked at it under a special kind of light. Neither to this wonder she'd definitely ever get used. That would enchant her for ever, even after seeing it over and over.
Liz thought back often over Roswell, more often than she wanted to do. For her, like for the other five fugitives, it hadn't been painless passing from the desert New Mexico to the second most populous city in West Coast. The first days in San Francisco they all felt disoriented and sometimes were under the impression that they arrived to a totally unfamiliar universe. All six of them suffered from the transfer, everybody their own way. Michael, for example, adjusted himself to the change better than the others initially. But in the long run, his sadness turned evident to everyone. Maria started seriously to worry about her Spaceboy's unusual melancholy. He went as far as to refuse his worshipped Snapples! Nevertheless, when she had to scold him for eating all her coconut biscuits, playing at PS2 all night long, she understood he would be okay.
Also Maria started gradually to feel at ease, almost at home, and in the beginning she would never say that. She began to live again, to be constructive, even a long way off from her mother's extravagances and her queer creations. Even without the heterogeneous chaos of her room, of her whole life. Even without herself, the real Maria, the eccentric nutty girl who probably no longer existed.
The saddest one of the entire group was obviously Isabel, who had left in Roswell a piece of her heart, beside her past life. Liz and Maria tried to raise her morale by interminable shopping sessions, hoping so to alleviate her sorrow. But forgetting your husband wasn't a simple or quick process at all and their attempts failed. However, Izzy appreciated the efforts, since were the clear proof of their affection for her. Those two were loyal, honest and sometimes crazy friends. She had never had friends like this, she hadn't actually had real friends, and they taught her what it meant.
During all that time, as a cautious helmsman, Max never left the boat control. He had always to make the most difficult decisions. In spite of everything, his leadership was solid, even though he had given up his royal throne. He felt still responsible for everyone else and tried to do always his best. His sense of guilt towards Liz didn't ever diminish. He blamed himself for tearing her away from her comfortable life and from a promising future. Although Liz repeated adamantly that she was happier than ever, Max carried inside him this heavy burden and not even their love had been able to lighten it. He was firmly certain that Liz deserved much more than he could give her. A regular life, a regular relationship, regular projects, and standing with him she couldn't have anything of that. But she was by his side, as usual, and she would stay forever.
Unlike the others, Kyle felt nearly relieved by the sudden change of life. Leaving home had ever been his dream. He wanted it for so long and perhaps he would never dare to do it, if aliens didn't have a hand in this. He missed his father so much, too much at times, but he felt him closer now, when they had numerous miles between them, even two different states, than when they had lived together. Besides, in San Francisco there was Isabel too and that made everything more appealing to him.
*~*~*
Once the group escaped the FBI's snipers, they wandered for a long time through Arizona, Nevada and California before deciding what they had to do. The blue van endured only 48 hours. Michael reduced it to ashes in the heart of desert, 50 miles north of Tucson. That was inevitable, it would be too dangerous left around so an obvious trace of their passing. Since then they moved in most cases separately, on hired cars, that they replaced every three days. They tried to appear as mere free-spirit travellers and not as hunted fugitives but they knew that FBI's manhunt hadn't yet finished. They had to falsify their identities to reduce the risk of being tracked down. The three aliens took care to create false documents to everyone. They built up out of nothing six brand new persons: Maxwell and Isabel Carson, Elizabeth Ridley, Michael Paint, Maria Covino and Kyle Bonetti. These were their current names.
On the way, and also during the breaks for rest, they agreed on their versions, so that coincided perfectly. They would say they came from the North - Milwaukee specifically - going West to seek their fortune. Everybody had to study their own part by heart, even the most irrelevant details since they couldn't risk making a mistake. To delete the New Mexico accent and to adopt, instead of it, a more northern inflection like real Wisconsin people, required much time and effort. They practised demandingly for a long time and eventually they managed. Roswell disappeared even from their language.
In the meanwhile all they also changed their looks, not since they had decided it on a theoretical level as part of their tactic but rather for natural evolution. Among the girls, Isabel chose a shoulder-length haircut, keeping the same hazel colour she used to have in the last year. Maria was again blonde and her hair fell down around her face with soft tufts. Liz let her long hair grow on further and gave it a more wavy set.
Among the boys, Max and Michael exchanged practically their haircuts: Max decided to have got long hair, losing his good boy air that had characterized his adolescence; Michael on the contrary sacrificed his rebellious mane in favour of a very short and slightly crew-cut hairstyle. Eventually Kyle didn't change a lot but he modified completely his style, inspired by more urban tendencies.
*~*~*
After about ten months of non-stop movements, wandering and cautious, deviations and night watches, the six friends convinced themselves that they had shaken off the pursers, at least for now. They had just stopped over in San Francisco and decided unanimously to stay there. They all thought that it was the most suitable city for their necessities: big enough to not attract attention as new citizens but not exceedingly frantic and confused, like the phantasmagorical Los Angeles. Since then they didn't move anymore.
"Here we can keep a low profile," Max said the first time they travelled along Bay Street, one of the accessing roads to the tourist port. "Maybe we'll also be able to live our lives again." Looking down, beyond the breakwater, he could see the ocean with its gloomy depths. There weren't waves, the water surface was flat at the moment. Max wanted to find in that an encouragement, a prophetic symbol, and he was right. San Francisco became shortly their comfortable nest. A nest full of promises.
They were all living together, sharing a big apartment on the first floor of an ancient Victorian palace, one of the many which were in the city, among ultramodern skyscrapers and varied buildings. Because the rent was in proportion to the flat considerable dimensions, the most urgent mission was the same to everyone: to find a job and contribute to the expenses.
Liz achieved her aim in record time, thanks to an incredible stroke of luck. Paul Winslow, young and healthy owner of the Book and Co. chain, including five bookstores spread along the whole West Coast, noticed by chance her hanging around the main branch in San Francisco, personally managed by him. The bookstore was welcoming; it had just one big floor, where the various sections were well-related to each other. The furniture was of cobalt blue, light green and white tones. Il was the ideal environment to acquire a good book and Liz went there almost every evening in order to relax, after spending a day in search of a job. One time Winslow approached her kindly, asking her if she wanted to work for him, considering that she was so keen on books. Liz thought instantly it was a joke and didn't take the offer into consideration. But Winslow wasn't joking and at his second, more tenacious offer she knew that too. She started to work two mornings after, assigned to the 'Science & Nature' section. The job was pleasant, interesting and well-paid. Her co-workers were friendly and kind. Could she ask for anything else?
Two weeks after that, it was Maria's turn to be fortunate. Taking advantage of the prodigious references written on her very false resume, she was taken on as clerk in a very exclusive boutique, one of those destined only to a certain kind of snob and wealthy people. It was a real temple of luxury and lavishness where she felt like in the Earthly Paradise or, according to cases, like an elephant walking about a crystal factory. Monica, the owner of the boutique, was forty years old, scatter-brained and ever smiling. You could even define her a lovable woman, if she wasn't hypocritical and excessively servile with the richest customers. Maria despised slave-to-money people like Monica, but in order to maintain her job she made the best of a bad bargain.
Since leaving Roswell, Isabel felt like she was trapped in limbo and didn't know how to escape from it. She needed to find a job for her psychological health, beyond economically. Idling her time away was getting her totally paranoid. Given that she had ever managed very well in the bureaucratic-administrative sphere, she interviewed as assistant for a big medical laboratory. Her efficient perfectionism impressed so much the interviewer that she routed every rival. The job was hers. It wasn't her supreme aspiration or her dream profession, but her dream age had passed off.
Kyle just looked for a job in the motoring sector, where he knew he was competent. Within the space of a month he applied for a job to every garage in San Francisco and its outskirts, advertising his own virtues as a mechanic but receiving always the identical answer: their organization was complete. Then, one day, he ran into a leaflet for the San Francisco Taxi Service, one of the biggest taxi agencies in the city, and he had a brainwave. In less than three weeks he took the taxi-driver license and was acquainted with his yellow taxi, code name Old Lion 27. Definitely cars were linked to his destiny, somehow or another.
The only ones who remained unemployed, two months after the transfer and in spite of many attempts to get themselves a decent employment, were Max and Michael. Therefore, taking the risk, they decided to open up their own business, as 50 % partners. After a month of intense searching, they identified their target: a bar in the middle of the port area, swarming with tourists and workers. They were broke and had to give to the bank false guarantees, by using their powers, in order to stipulate the contract of renting. It was one of the few advantages they had ever gotten from being alien. Under the previous management the place was unsuccessful but in their hands everything changed. They named it Butterfly and like a butterfly it soon took off. It remained mainly a café but in addition became pub and snack bar, with live music two times at week and several theme parties. Naturally, Maria performed there, accompanied by a three elements band. People appreciated the change and the Butterfly met with success. The formula of this sudden popularity was an amalgam of some elements: good food, hospitable and youthful atmosphere, discipline and accessible prices.
*~*~*
San Francisco, June 2003

Maria and Liz rested their elbows against a short red-bricked wall, the enormous embarcadero extending around them. They were chattering for over half an hour, taking small sips of their fresh sodas, bought at the kiosk soaring behind their backs. The air was full of saltiness, the ocean smell evaporating as fog from the water. A pleasant breeze rose upon the hydrodynamic prows of the moored boats, dispersing over the waves the reflection of the street-lamps.

It was becoming a pleasurable tradition that the two girls went out alone one night at week, without their respective mates. It didn't matter where they went or what they did, by keeping a privileged nook for their friendship they had allowed it to mature and change along with them. That night they were talking about Paul Winslow. Maria had seen him the first time in the last afternoon and she was dazzled by him.

"You're so lucky, Liz. That's why you love your job so much!" Maria grumbled. "I understand though. I'd work more happily as well if that he-man was my chief!"

"He could even be Quasimodo to me!" Liz said sipping her soft drink. "That you believe it or not, his look doesn't matter to me at all!"

Maria started to gesticulate animatedly in her usual manner. "The fact is that you have fixed your eyes on only one person, so you don't even look at anyone else!"

"Of course, that 'only one person' is my soul mate! I don't give a damn about everyone else!" Liz just smiled genuinely.

"You're hopeless, my Lizzie, just hopeless!" Maria shrugged dramatically. "There 's no solution!"

"If I'm hopeless, what are you, uh? You, my dear, go totally into a trance when Michael shows even a single inch of his bare skin!"

"So what? I'm madly in love with Spaceboy, you know, and you're madly in love with Mr. Wonderful. But it wouldn't be a bad idea if we looked around every so often, particularly when it worth's doing. And with that Paul Winslow it's surely worth it!!!"

"That's true, it wouldn't be a bad idea … but you're just drooling!" Liz cupped her hands beneath her friend's chin. "Take care not to choke!"

"I won't choke!" Maria replied. "You must know that beauty's a big gift to the human race. Up there," she pointed her finger at the sky, "they created that on purpose to be admired by us. So we honour Mother Nature's work by admiring beauty. You got it?"

"Do you wanna hear the truth? I don't even need to look for beauty around me. I've already got Max to admire, everyday and unlimitedly. When I look at him I thank Mother Nature for creating him so gorgeous and congratulate myself on marrying him. How does it sound to you?"

Maria pretended to faint down as a dying woman. "Help me, I'm dying … killed by my sloppy best friend's sloppy words!"

Liz patted innocuously the nape of her neck, pulling her up on her feet. The funny scene ended with both of them putting their tongues out at each other.
*~*~*
The memory of that one-year-old chat made Liz almost forget that she was hung on an horizontal bar, pressed like a tinned sardine in an overheated metallic parallelepiped and that she couldn't feel her right foot, which a bearded hefty man had just stepped on. She stared at the limpid September sky, noting that there wasn't even a cloud. It' was warm, different, less suffocating heat than the sultriness in Roswell. The ocean's influence was reflected above all on the climate, making it more tampered and tolerable. The hefty man next to her begged for some refrigerating rain and Liz curled her lips in a vague smile. Of course that guy hadn't ever spent a summer in New Mexico!
In that same second, a triple honking of the tram announced her stop. In front of her there was the signboard of the Book & Co. How the hell would she get off before the tram left again, with the swarm of people hampering the exit? Probably elbowing and not apologizing, like the others, like the city people.
She was one of them now.
TBC