Title: Eats, Shoots and Leaves: Or, Looking For a Prince in a World Full of Frogs
By LairaBehr4
Rating: Mature
Summary: Based on a challenge by Reamhar, #63, found
here
. Max is a playboy who tried to solve the enigma that is Liz Parker, and answer the question that plagues all mankind: Why won't she date him?
Disclaimer: If I actually owned any of this stuff, I doubt I'd have such a hard time paying off my Visa bill. 'Roswell' and all its characters are the property of a lot of people who aren't me.
'Eats, Shoots and Leaves: A Zero Tolerance Approach to Punctuation' is the property of Lynne Truss.
Author's Note: this story will be taking place in Philadelphia (I love Philly!). The characters of Liz and Serena are loosely based on my senior year college roommate and I. I got the title from a "misunderstanding" that occurred when I bought Lynne Truss' book, and my roommate walked in, saw it, and exclaimed, "Laira! You bought a sex book!" (She thought it was a book about guys and their typical behavior – you guys get it?)
When I read this challenge, part of what drew me to it was the opportunity to write some great interaction between Liz and a female friend in which they could share their stories from Dating Hell. My friends and I have some pretty incredible tales of outlandish pick-up lines and horrible dates, and I wanted to try to share them with some of you! In this chapter, for example, the story about the married guy actually happened to my senior year roommate (I got her permission to post it, don't worry).
This story will vary from the challenge in that Michael does not live with Liz, but he will be a very big part of their lives and the rest of the story will adhere, I promise (sorry, Reamhar!).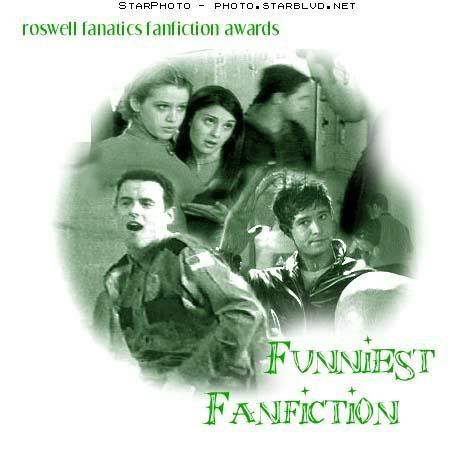 Round 10 Awards Winner: Funniest Fanfic for 'Eats, Shoots and Leaves'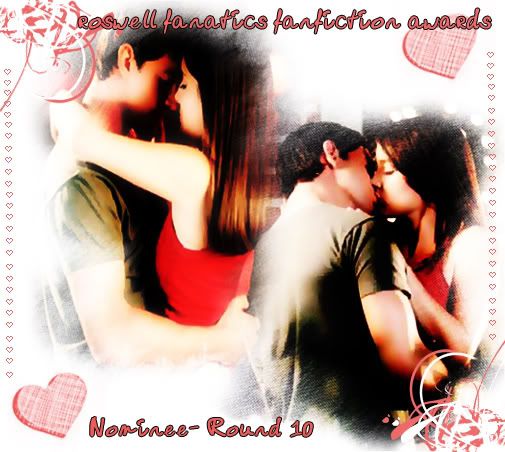 Round 10 Awards Nominee:
Favorite portrayal of Serena
Favorite Alternative Universe Without Aliens
Round 11 Runner Up:
Favorite Portrayal of Serena
Favorite Original Character - Joe
Thank you to everyone who voted for and nominated me!
Eternal thanks to
sprayadhesive
, my ego-booster and amazing beta!
And now, on with the show.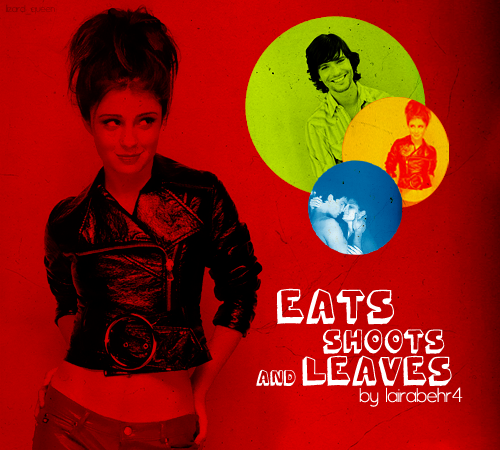 This beautiful banner is by Lizard_queen.
Eats, Shoots and Leaves:

Or,

Looking For a Prince in A World Full of Frogs



Chapter One – Where Have All The Cowboys Gone?
"I hate men. I HATE MEN!" Liz Parker couldn't help but smile to herself as her roommate and best friend, Serena Maripova, accentuated her frustration with the opposite sex by slamming the front door of the apartment. She quite noisily stomped her way to Liz's room, and Liz quickly saved her work on her laptop so she could listen to Serena's tales of woe without distraction.
Serena entered the room and with an aggravated "Aaaaarrrrrrr!" threw herself onto Liz's bed and covered her face with a pillow.
"What happened?"
Serena sat up and began to tell her story. "We were having a perfectly nice dinner at Bertucci's – I mean, it was casual, familiar, and you know I'm a sucker for their rolls."
"I know you're a sucker for their rolls," Liz licked her lips in agreement. You had to admit, Bertucci's made damn good rolls. When she and Serena had been broke and in college, they'd found that they could still afford to go to Bertucci's, fill up on the rolls, order water to drink and half of a salad. For less than six dollars a person, you could have a sit-down meal, and even get a doggie-bag of rolls to take home. They knew it was cheap and extremely silly, but it was better than the dining hall.
"Anyway, so at the end of dinner, I asked for a dessert menu. And the guy says, 'You're gonna order <i>dessert?'</i> Like he couldn't believe it! I figure, hey, who knows what he's thinking, it's no big deal, I'll give him a chance to recover. So I say 'Yes I'm ordering dessert, they have great cannoli here,' and he says, 'Well I just figured you were on a diet, I mean …' and then he looks me up and down like I need to lose weight or something!"
"Uh! That jerk!" Liz couldn't believe it.
"I know! So I order the cannoli, and he's sitting there, looking at me out of the corner of his eyes with every bite I take, and he says 'Are you sure you want to finish that? It's a lot of calories,' and so I ordered a second one to take home with me."
The two friends shared a little laugh over this. One thing they both admired about the other was that they refused to let other people push them around.
"And then, after mumbling and complaining about how I should watch what I eat and all that the whole way home, the guy has the nerve to try to kiss me goodnight. Ha! As if I'd let that ass get even a sample of me now. He's lucky I didn't ask Alex to call me a taxi."
"I would have," Liz spoke up. They'd gotten onto a first-name basis with most of the staff from the local chain of their favorite restaurant. It was a good place to go for dinner when they wanted to celebrate little life victories or when their families came to visit, or if they ever just wanted to get out of the house for a bit. They had made sure to always tip generously, even back in college, and thus the staff loved having them come in and would usually pay the hostess to seat them in their section. Once, on a particularly slow day, Liz and Serena had practically started a riot when a bidding war ensued between the wait staff for the chance to serve them. Alex was the manager. He and Liz had been on the wait staff together, but while Liz had left to pursue a career in writing, Alex chose to stay and take some courses in restaurant management, which had led to his promotion, and was now taking courses in hotel management as well.
"This sucks! I'm young, I'm pretty, I'm smart, and I like to think I haven't done anything so bad in my life that there's a spot reserved for me in Hell. There's no good reason on earth why I shouldn't be able to find a half-way decent guy!" Serena was right on all six counts. The lawyer from an opposing firm was great on paper, but a chauvinist in person, and he'd been wrong to suggest that she needed to diet. Serena was half Russian and half Irish. She stood at a tall yet feminine five-foot-eight-and-a-half, with pale skin, long legs and arms, auburn hair cut in short and attractive layers, green eyes, and her 130 pounds nicely formed an hourglass-ish frame. She and Liz had met at Bryn Mawr College, where they both went for undergrad, and became fast friends, immediately bonding over the pros and cons of being the only child of Irish mothers. They became such good friends that they ended up living together for the last two years of school, and after they both decided to stay in the Philadelphia area, they looked for a two-bedroom apartment together. Serena had gone to law school at the University of Pennsylvania, finished in only two and a half years, and became a probate/property/environmental attorney. Unlike some lawyers, though, Serena had values that weren't dictated by her paycheck. She often took pro-bono cases for people who couldn't afford to pay her fees, and would make up her firm's cut out of her own pocket. She'd met a member of the Philadelphia County Water Board while she was in law school, and had so impressed him that he convinced the board to hand over as much of its business as possible to her firm, and even to her directly, so she always had a steady stream of business.
"Well, look at it this way, Ser; at least this guy wasn't married." Liz tried to lighten the mood by jokingly bringing up an incident from last year where another of the married male lawyers had asked Serena out for dinner. Serena had been expecting a working evening meal, only to end up being taken to a romantic candle-lit dinner in a private room at the Fountain Restaurant, located in the lobby of the Four Seasons Hotel.
Serena smiled a little bit at the reminder; she could at least see the humor in some of her dating escapades.
"Between the two of us, Liz, I'm starting to wonder if there are any decent guys left." Serena was amazed that the two of them continued to have such bad luck with men. Liz was just as beautiful, but in a very different way. Liz was a mere five-foot-one with a slight frame, huge dark brown eyes, long dark hair, and an olive complexion that Serena envied. Liz's mother was Irish, and looked so much like Serena that once when she was visiting on Parent's weekend and the three of them were having lunch, one of Serena's professors had come up and introduced herself, thinking that Nancy Parker was Serena's mother. Liz's father was a mixture of black Irish and Navajo, and she had inherited most of her physical features from him – except her height, or lack thereof. That was from Nancy's mother.
Liz was also just as smart as Serena. Where Serena had been a philosophy major in college, Liz had started out with a major in Biology but had switched to English with a minor in Creative Writing as her career goals changed. She'd had some trouble finding a job straight away after school, but eventually she found work with a Philadelphia publishing company, which brought in enough money for her to take some classes at Temple, but did not leave her enough time to enroll full-time into a program. Still, she worked hard at her job and wrote a little every day. She milked her connections through her job to get some freelance work, and had gotten several articles published in the Philadelphia Inquirer (or the Inky, as the locals called it), the Main Line Weekly, and Philadelphia Magazine. She always published under one of several pseudonyms that she'd come up with. She made a good living from her freelance work, but she wasn't ready to give up her steady job just yet.
Serena dated a lot more than Liz did, but neither of them believed in dating purely for dating's sake. Where Liz preferred to know a guy a little and get a feeling about him before deciding to date him, Serena put a little more stock into the saying "You have to kiss a lot of frogs before you find a prince," and would usually accept an invitation from any guy who managed to open his mouth without saying something deeply stupid or offensive. But usually, a few dates was about as far as it went, and at the end of them, well, let's just say that the horses weren't the only things turning into rats. Between the two of them, their cumulative dating stories and experiences had turned the title of one of Liz's favorite grammar books, 'Eats, Shoots and Leaves', into an inside joke.
"Well, at least there's only another three billion or so to go." Again, Liz made an effort to cheer up her friend. She had a generous heart and liked to see the people around her happy.
"Oh, thank you, that's very comforting," Serena said with a sarcastic smile. The two shared a giggle before Serena invited Liz to come and share her second cannoli.
Liz jumped up and cried out, "Last one to the kitchen gets the smaller piece!" as she bolted out the door. Serena just continued to sit on the bed with a cat-that-ate-the-canary smile, and waited only about 7 seconds before Liz came back in. Serena had had the bag in her possession the whole time.
"You suck," Liz said.
"You love me anyway," Serena grinned as she pulled out the cannoli and two plastic forks from the bag. They laughed and joked their way into the TV room and plopped down on the couch to drown their worries in cannoli and the latest 'Saturday Night Live'.
~*~*~*~
TBC