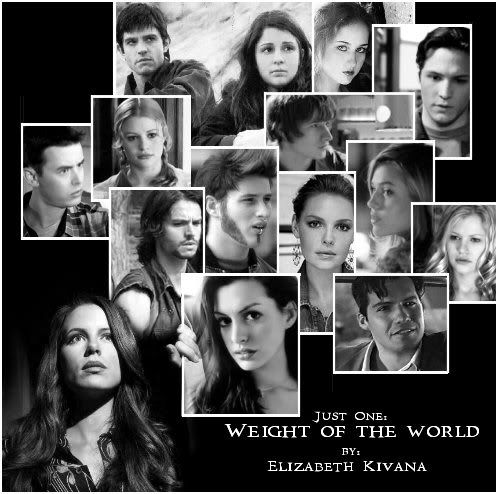 Title:
Just One: The Weight of The World
Sub-title:
Third Time's the Charm
Disclaimer:
The characters of "Roswell" belong to Jason Katims, Melinda Metz, WB, and UPN. They are not mine and no infringement is intended. I do however claim Kivana Eli Xothorn as a past life of Liz Parker, as well as Serena Young, Nikki and Vince Lewis. Banner by Anniepoo98.
Rating:
Teen/Adult
Parings:
Max & Liz, Zan & Serena, Isabel & Rath, Vincent & Ava, Tess & Alex, Zan & Liz, Isabel & Kyle, Nikki and Kyle, Rath & Lonnie, Jim & Eleanor
Summery:
This is the sequal to
Just One
. You don't have to read that one but to understand this one much better, you could. In this fiction, things will go completely different, from the very beginning. In Just One, my main character, Kivana Eli failed to restore peace on Antar the way she should have so she killed herself. Zan and Max, the two ment hat loved her used the granolith as a time turned and now, she is given another chance to make things right. This is a new life for Liz Parker, where nothing is what what it was in the original story, not even her.
Addition Information:
Since I'm putting a whole lot of my own characters, I might as well warn you about them. Serena Young looks like Anne Hattaway, Nikki Lewis is Lee Sobieski, Vincent Lewis is Billy Zane(bold). Eleanor is Jodie Foster. Khivar is Hayden Christensen(Star Wars Episode III)
Prologue:
Sempter 23rd. Journal entry one. I'm Liz Parker and five days ago, I could have died. I can only hope that the changed events that took place will work for the best this time.

I live in Los Angeles with my godfather Kal Langley. I was about five when I decided that I don't want to live in Roswell. First of all, two many bad memories; second, it's a shame how someone could look upon you like that. Making aliens ugly and evil. When, all we want is live our lives.

I was about five years old when I began to remember my past life. In fact, I remembered two, in one, I was Kivana Eli Xothorn, the heiress to the throne of Ryctor. My father's best friend Zannder Sr. kileld my parents and took me and my brother Khivar to live on Antar with his children Zan and Velondra. I grew to love Zan and Khivar loved Velandra. You see, my brother was a bit special. In the way humans look at special. That made me the heiress.

In my other past life, I was Liz Parker. I was also Valerie Benz. Together, I made Kivana Eli reborn and be happy with Zan. Now, I see the mistakes I had done in that life and I couldn't live in Roswell knowing my friends would be hurt by me, by the secrets that I shared with them because Max Evans saved my life. So he didn't save my life.

Instead, I got a chance to live with my uncle Kal in Hollywood and let me just say, it is the best life, no matter what eveyone says. Here, I had it all. I had a million credit cards and two rooms made into my closet. I know! And the shoes, not conting.

I developed my powers at the age of 6. That very same year, I met Serena Young. I knew right from the start that she would be imporant to me. On a play day, we were in the fieds running and she suggest we climb on a high tree, so I accepted. She's a much better climber then I am, by the way. She beat me to it and reached the top. And then she fell for it, which was like 7 feet high. I know!

I couldn't loose her so, I healed her. It took her a while to get over but she did everntually. I didn't understand then how I could do it when I couldn't help Maria. But I did. Well, it had to be either me or Max but she eventually started walking. About two years later, she developed her own powers. She's been my best friend since then.

Eleanor lived not far from us, just as I remmebered, with her primary look being the actress Jodie Foster. I know! I was about 9 when I asked my uncle Kal to get the royal four for New York. He did as I told and I became friends with them. Ava and I became best friends. Lonnie was a bit on the side until I finally told her one afternoon what she done and she opened up a bit. Zan and I had the instant connection but I always felt that something wasn't right. Didn't understand it then.

Finally, at the age 16, this year, Kal sat me down and said my parents what me home. I screamed and yelled and threw things across the room but nothing helped. I had to go. I hated Kal for nothing doing a good job in convicing them. He knew what happened the last time but didn't do anything to stop me. Finally, when I calmed down, I asked Kal to call the Young family and ask them if Serena could come live with me. It took him a while to convince them but he did it.

We packed up our bags, I packed up a million stuff that eventually couldn't fit in my royal blue convertible Jaguar, so Kal said that he would fly the rest of the stuff down to Roswell for me. So we hit the road.

I should probbaly mention that about two years ago, one my friends, Nikki got shot in a liquor store and before I could stop myself, I healed her too. Luckly, nobody saw us. Now, Nikki is a kid of a girl that would do anything for attention. But this time she decided not to tell. Actually, she told her brother who later came thank me and after that, I had my own 'I know an alien' club.

But when I moved to Roswell I left those two in L.A. with the dupes. Couldn't really take Nikki since her powers are slowly kicking in and it wouldn't be safe for her just to burn something up, specially not before the Roswell Royal Four, if they were even still in Roswell. I took a deep breath and drove through the country.