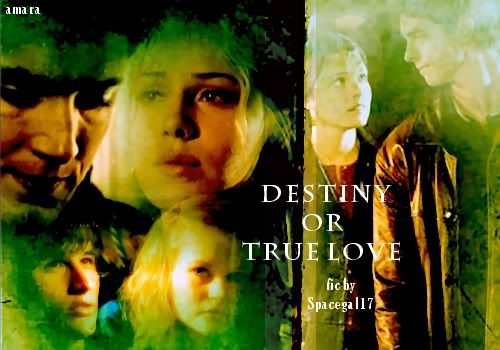 Banner By Amara
Title
: Destiny Or True Love
Characters
: CC/UC – Max/Liz
Maria/OC
OC/Alex/?
Michael/Tess
Grant/Isabel/? <- (Watch this space)
Rating
: Teen/Mature/Adult
Disclaimer
: Nothing is mine, all Jason.
Summary
: What if Max and Liz disappeared after they jumped into the river?
What if two newcomers arrive in Roswell? Will attraction bloom for Maria and Alex with those two? How about the fact that Tess has turned and set her sight on Michael, will Michael follow his destiny or his heart? It's basically a story on Duty to the Heart or Duty to the Head.
Liz also finds out something that no one could ever imagine and someone is close to him or her, friend or foe?
Author Notes
: This has two stories mixed together. Max and Liz learn things with each other and it has surprising results.
The second one was is, when I was watching the interview between Shiri and Majandra, what if the show has brought on Liz's cousin like they were suppose to?
I'm going to try my hand at making the gang getting closer so there will be some girl talks and boys talks, in my other stories I usually have people hating each other and such so this is kinda a first.
Okay, this is completely different to what the epic Destiny was, everything up to Max healing Kyle happens, just make it that straight after Kyle, everyone went to the Pod Chamber – Except Jim and Kyle, they found out their destiny, they left the Chamber and Max and Liz got chased by the F.B.I again and jumped off the bridge.
I'm trying my best to keep everyone in characters, especially Maria because she is one of my favourite characters after Max and Liz. Maria won't be doing any babbling in this story, if you feel that they are out of Characters – except from Michael and Isabel (Which is on purpose on my part) please let me know. Thanks!
WARNING NOTE: PLEASE READ FIRST BEFORE READING THE STORY!
This is
NOT
candy fan story, yes there are candy moments but they won't be together, I'm still working out if I want them to get together in the end but that will mean I have to do certain things, it depends on the reviews I get. If candy fans don't want to read this, they are welcomed to leave, it's up you but I'm not promising that they will end up together.
Alex/Isabel – sorry stargazers, I love those couples but I always thought Alex deserved better so I have Alex with someone else and I'm giving you a warning about Isabel's actions ahead of time.
If you have any problems with those couples, try and keep the flame to a minimum, you are welcome to PM me and let me know how you really feel.
This is a big challenge for me and I really hope that you will like it, it will be basically following the season 2 but I didn't like it that much, yes because I'm a dreamer and Max and Liz didn't get back together but mostly because there were too many loose end that were never tied up like Milton just up and leaving, Brody being 'abducted' how would Larek knew that he would go to Roswell and such so I'm basically going to tie them all up.
Enjoy!
If you are a fan of Michael/Tess, welcome. Don't care who Alex is with or who Maria is with, welcome. Always wanted Maria and Alex to be with someone who will treat them better, welcome. Or you are just a plain dreamer and don't mind who the others get together with; you are more than welcome.
************************************************************
Chapter 1
A petite brunette stealthily made her way through the tunnel, she was wrapped up in the arm of a taller brunette, both of them were soaking wet as they made their way to the end of the tunnel and looked about.
"We've got to hide," Liz whispered and Max nodded as he looked toward the overturned bus.
"Is that the same one as before?" Max asked and Liz looked before rolling her eyes.
"Yes, good thing the F.B.I never found us before," she whispered as they moved closer to the bus and stepped inside of it, Liz looked at her clothes and sighed. "And we really should find someway to disappear without getting our clothes wet," she told him and he laughed.
"I think we'll be safe in here for a while. They don't know how far down river we got," Max told her and Liz shot him a smile.
"I, distinctly, remember someone else saying that the first time we were here," she told him and he smirked as he sat down and sighed while Liz looked toward the ceiling as her smile faded before looking at Max. "Oh god Max, what are we going to do?" Liz asked as she sat down next to Max and he shook his head.
"I don't know Liz," Max told her as he shook his head. "I really don't know," he admitted and Liz sighed as she swiped her hands over her wet hair.
"God Max, is it even safe to go back to Roswell?" she asked and Max looked at her, regret filling his dark eyes.
"Liz, I'm sorry for everything…" he started and she placed her finger on his lips, silencing him.
"Max, I'm not blaming you, Max I knew my life would be in danger when I found out the truth and frankly, I don't care," she told him, looking into his eyes.
"Liz…" Max argued but she just shot him a look, telling him to shut his mouth and he nodded, getting the message loud and clear.
"Maybe we should leave," Liz suggested and Max looked at her.
"Liz?" he asked and she looked at him, desperation pleading in her brown eyes.
"Max, you're not safe, the F.B.I already got you once, who to say they won't get you again if we go back to Roswell?" she asked and shook her head. "I couldn't cope if I lost you again," she whispered and Max hugged her closer.
"They won't," he whispered and Liz shook her head against his chest.
"You can't promise me that," she whispered and he sighed, not saying anything else, she was right, as usual.
Jim was in the Quarry, he looked around and shook his head as lit up the lantern. He could hardly believe that they were here a few hours ago and it seemed like a lifetime ago.
He looked up when he saw Michael, Maria, Isabel, Tess and Alex come into the Quarry; Michael looked around then looked at Jim.
"Where are Max and Liz?" Michael asked as the gang came into the Quarry, Jim looked at them.
"They're not here yet," Jim, admitted.
"What?" Isabel demanded. "They should have gotten here before us!"
"It'll be light soon," Michael told them. "I'm going to look for them."
"I'll come with you," Jim told him and they made their way over to the entrance, leaving the gang behind and made their way over to the cruiser.
"Liz," Max whispered and Liz looked up at him. "I think we should leave," he told her and she looked at him.
"Are you sure?" she asked and Max nodded.
"Liz, you're right, Roswell isn't too safe at the moment, we can't risk the F.B.I getting their hands on Isabel and the rest, they are only after me because of my healing," he reminded and she took in a deep breath before looking at Max.
"Let's do it," she told him and he nodded as they both made their way over to the exit of the bus and exited it and ran up toward the road and hurried over to the jeep. Max patched it up from where all the bullet holes had shattered it and they, both, got in the jeep and made their way back toward Roswell for their things.
Michael and Jim had searched the entire area of where Max and Liz had driven along before giving up, there was no sign of them and Michael was getting frustrated at the lack of seeing Max.
They headed back to the Quarry and shook their heads when they saw the gang, Maria turned to Alex and he wrapped her up in his arms.
"I'm sure they'll be fine," he whispered and she nodded as she huddled up into him, hoping to god that her best friend and boyfriend were safe.
Max waited in the jeep and watched as Liz snuck out of the Crashdown and placed her bag in the back seat of the jeep and got in herself.
"Any trouble?" he asked and Liz shook her head.
"Nope, mom and dad are out of town at the moment," she told him and he nodded as they made their way over to the Evans house. They both hurried into the house and Max grabbed his bag and started filling it with clothes and such, he grabbed his bundle of money and his wallet before placing it in his bag. He grabbed his mobile and zipped his bag closed and looked at Liz.
"This is it," he told her and she nodded as she took his out stretched hand and they both made their way through the house.
Pierce pulled up outside the quarry and let out a low mutter string of curses as he climbed out of the car and made his way over to the Quarry house, he couldn't believe the new he had received.
Everyone looked up and watched as Pierce made his way down the steps.
"Max and Liz are missing," Michael informed him and Naseco shook his head.
"They're gone," Naesco, correct.
"What?" Tess demanded. "What do you mean they're gone?" Tess screamed.
"The agents told me that they jumped off the bridge, none of them have seen the pair of them since, we can only assume they either travelled too far down the river or they found some sort of shelter and left Roswell," Naseco explained and Tess huffed.
"Of course, I bet any money that it was miss perfect parker," Tess mocked out and Maria glowered at Tess from where she was encased in Alex's arm and for the first time, since finding out that Max and Liz were missing, she felt a sense of hope that the two of them were finally going to work their relationship out and come back even stronger than before and couldn't help the sense of satisfaction at the thought of the blonde hoe missing out on her chance with Max.
"So, we're going to do it?" Liz asked as they exited the Evan's house and Max nodded.
"Yeah, we're going to do it," Max told her; they both linked hands and hurried over to the jeep. Max threw his bag into the back seat, letting it rest on top of Liz's bag and got into the driver's side and put the jeep into car and they both rode off, leaving Roswell behind.
TBC