Title:
Unforgettable Nights
Author:
Jennifer (aka: Roswell3053)
Rating:
Mature
Category:
M/L AU w/o Aliens
Disclaimer:
I do not own Roswell or any of it's characters.
Summary:
Liz and Max had a crush on each other during highschool, but they were both to scared to say anything. What happens when their friends get together and decide that it is time to set them up?
Author's note:
This is my very first attempt at writing a fic. Please be gentle, but also be truthful and let me know if I am even doing a good job. I don't have a banner (nor can I make one), so if someone feels inspired to create one for me I would greatly appreaciate it.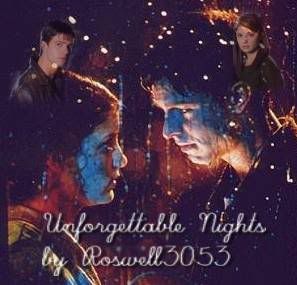 Chapter 1
Max Evans walked into the apartment and threw his keys on the entry table. He was having the worst day, and all he wanted to do was take a hot relaxing shower and go to sleep. However, the outside world was not going to let that happen. While he was headed to the shower the phone started ringing. Looking at the caller ID, he saw that it was his best friend, Michael Guerin, so he decided to answer the phone.
"Hello!"
"Maxwell, what are your plans for tonight?"
"Shower and sleep! Why?" Max asks with a hint of worry in his voice.
"Change your plans man. You and I are taking out the two most gorgeous women on the planet tonight." Michael answers enthusiastically.
"Ok. Just who are these women?"
"It's a surprise. Now get dressed and be ready by 7:00. We will be there to pick you up."
And without another word, Michael hung up the phone. Sighing, Max goes into his bedroom and prepares to get ready.
At exactly 7:00 someone starts banging on the door. Reluctantly Max opens the door to reveal his best friend Michael Guiren with a huge smile on his face.
"What are you smiling for?" Max asks while trying to see the two women in the car.
"Come on Max. You are going to love your date for the night."
Max looks at Michael disbelievingly, but proceeds to lock up his apartment. Michael returns to the car with a huge smile on his face. He can't wait until Max sees who his date is for the night. Once Max approaches the car, his heart almost stops. He sees none other than the object of his affection sitting in the backseat of Michael's car, Liz Parker. Max throws Michael a questioning look, but all Michael does is smile and get in the car. Hesitantly Max gets in the car wondering what Michael has planned.
"Max, you remember Liz Parker and Maria Deluca don't you?" Michael asks with a smirk on his face.
"Of course. Ladies how are you doing tonight?" Max asks.
"We're doing great, and yourself?" replies Maria.
"Good." Max says while looking curiously at Liz who has remained quiet so far.
************************************************************
2 Hour Ago
Liz walks into the apartment that she shares with her childhood best friend Maria. She had another long day at work and just wants to relax. Liz heads straight for the sofa and sits down. Just then Maria comes bouncing into the living room with a huge smile on her face. Liz wonders what has her friend in such a good mood, but she knows that Maria will tell her soon enough.
"Liz, you need to hurry up and get ready because we have dates tonight."
"Maria, what are you talking about? The only thing that I have planed for the night is to sit right here, relax, and watch TV."
"Come on chica I promise that you will not be disappointed. I have the perfect date for you."
"Maria, you said the same things when you set me up with your cousin Sean, and do I need to remind you about that nightmare?" Liz asks less that enthused.
"Ok, I know that that was horrible, but I promise that you will not be sorry. We have to be ready by 6:45, so hurry up and start getting ready." Maria pleads.
Liz decides that it will be better to go along with Maria's plans instead of trying to argue. At least this time Maria will be there with her so that if she gets bored or this goes bad, she won't be alone.
At precisely 6:45 there is a knock on the door. Since Maria is putting on her finishing touches, Liz answers the door. She is shocked to find Michael Guiren, best friend to her high school crush Max Evans, standing at the door with a smirk on his face.
"Hi Liz. How are you doing?" asks Michael breaking her out of her shock.
" I'm fine. What are you doing here?" she asks skeptically.
"Well, I'm here to pick up you and Maria for our double date. Where is she anyway?"
Just then Maria walks down the hall with a big smile on her face. "Here I am. Are you ready to go?"
As they are walking down to the car, Liz notices that there is no one else, and she wonders where her date is. Just as she is about to ask Maria looks at her with a look that Liz can't quite recognize.
"First we have to go and pick someone else up, and then we will head to dinner. After that we can go to that new club Paradise that just opened up." Michael states.
"That sounds great." Maria says while looking at Liz with a secretive smile on her face.
About 15 minutes later, they pull up at some apartments. Michael gets out and lets them know that he will be back in just a minute.
While Michael is walking up to one of the doors, Liz starts drilling Maria. "Okay, since when are we going on a double date with Michael, and who is supposed to be my date? I didn't even know you talked to Michael. I thought that you couldn't stand him. What happened to that? Huh?"
"First of all, you are rambling chica, and that is my job. Relax. Secondly, I ran into Michael today and we started talking. We were talking about getting together tonight, and I asked him if he had a friend so that we could double. He said that he had someone in mind, so we set everything up. It's no big deal." Maria said with a smirk.
"Ok. That still doesn't answer the question as to who my date is." Liz states knowingly.
"Why don't you just look out the window?" Maria says.
Liz turns her head and sees Michael walking towards the car with someone behind him. Just as she is trying to look behind him, he moves out of the way and she sees Max. She blinks her eyes and looks again just to make sure that she is not seeing things, but he is still there. She turns to look at Maria who is smiling like a fool. Before she has a chance to say anything, both Max and Michael get into the car. While Michael, Max, and Maria are handling the pleasantries, Liz just silently sits there with a look of shock on her face. She can't believe that she is going out on a date with Max Evans. From the look on his face, she can't tell how he feels about this double date, and she doesn't know if that is a good or a bad thing.
TBC?