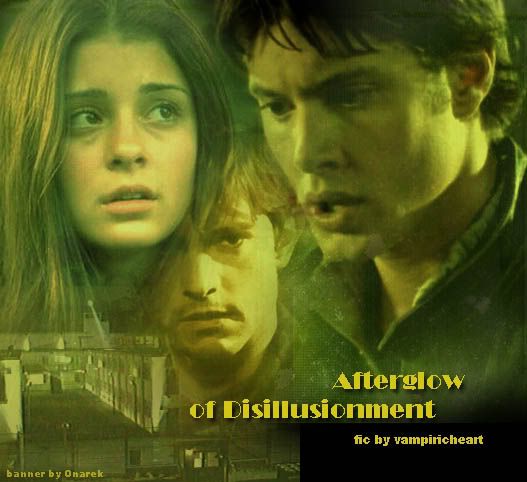 Thanks to
Onarek
for the fab Banner!!!
Title
: Afterglow of Disillusionment
Author
: Vampiricheart/Nikki
Rating
: M
Disclaimer
: I don't anything but my plot and my imagination.
Category
: X-Over w/ DA
Summary
: Liz is the youngest of the X5's that escaped in the 09' breakout. She was adopted by the Parkers and only they know of Liz's "enhanced" abilities. Everything up to S3 happened. As Liz struggles to get life back on track with Max and everything else in the aftermath of Departure, a new arrival in Roswell threatens to reveal her secrets, intrude on her life and dismember her world…I know that sum. sucked…
A/N
: This story NOT Dreamer Insured. It may seem like so, but that's just to set everything up. I'm just telling you now so you don't get to chapter 5 or 6 and are like "WTF!" For the people who hate Max, you probably will find the Dreamer crap right after Departure nauseating, but don't worry, it won't be there for too long. I just love angst. Liz will be a bit of a Doormat in the beginning, pretty much like in the show. But she'll get over it.….
~~~~~~~~~~~~~~~~~~~~~~~~~~~
Prologue
Liz POV
I'm having a hard time trying to fathom how I've ended up in such a shitty situation. I've been trying to figure this out for the last year, actually. So far…I've got nothing.
I let my eyes cautiously travel about the Jetta from the backseat, not wanting to meet the gaze that I feel trained on the side of my head.
I feel his hand squeeze my hand lightly, causing me to meet his eyes. The silent plea in his their makes promises of something better and for the first time I see the soulful, amber pools that trapped my heart so desperately almost two years ago. It's moving and I almost forget that a mere hour ago, Alex's murderer and Max's "baby's mother" was revealed to be the same person. But only almost.
The mere thought shoots white rage down my entire body and for moment, I want to rip my hand from Max's grasp, find something sharp and slowly take his head off. I have to take a few very deep breathes and get myself under control. Calm down Liz…
He must've sensed my conflict, because he gently pulls some of my hair behind my ear.
"You okay, Liz?" his voice is soft as he stare at me imploringly. I nod and force a smile and he returns it.
I hardly even notice that we're home until the car comes to a stop and I see the neon Crashdown sign above my car window. As I move to exit the Jetta, I'm halted by Max's tender grip.
"Can I come over later? We really should talk… about everything." His eyes are boring into mine, and the intensity is only for a moment, but it's enough to yield me.
"Yeah…" My voice is horse. I have no actual want to talk with him, all I really want to do is just lay down. Sleep, if it ever comes to me, not that I need it really. But I agree any way. I've lost my fighting will and I'm just tired.
He smiles slightly and I look away to the front seats where Kyle and Isabel sit, pretending not to listen. I spot Michael and Maria pulling behind us on his Motorcycle. I feel a pang of jealously when I think of when Alex died. How Michael, was so completely there for Maria. How everyone had someone to lean their head on… except me. I definitely didn't have Max. I look back at him to find him still staring at me.
Michael and Maria get off his bike and began to walk towards us and I take this opportunity to make an exit.
"I…uh… I'm just gonna go and get some sleep. I haven't really had any, you know." I don't anyone a chance to say anything and head into the restaurant, upstairs and into my room. I lied. I'm not sleepy at all. Hell, I don't even need sleep. I wish I did, at least there would be some fashion of escape from the hell that my life has once again become. The only other time being my childhood. Before I escaped of course. I gingerly let my fingers touch the space on the back of my neck where my Manticore "tag" is, my mind wonders to my escape, my siblings, my adoption.
X5-328. The designation sends unpleasant shivers down my spine. I can't imagine what I'd do if I ever had to go back there or how I'd get out. I, luckily enough, have managed to keep my genetically engineered origins from everyone but my parents. Something that I've been playing around in my head for the last year or so.
On one hand, I don't want to put anymore danger in anyone's life just by knowing me. We've all got enough of that simply from the alien abyss. On the other hand, I can't really see any of them taking the news very lightly at all. Plus, the more people that know, the higher the risk of the government getting involved. The government's scrutiny of me would clearly cause an eye to be cast at Max, Isabel, and Michael.
With nothing else to do, I basically have no other choice but to wait for Max to show so we can have this "talk."
Tbc.
~~~~~~~~~~
I hope you guys liked the first part. Please Leave feedback, It motivates me to write....[/list]