Moderators: singerchic4, Forum Moderators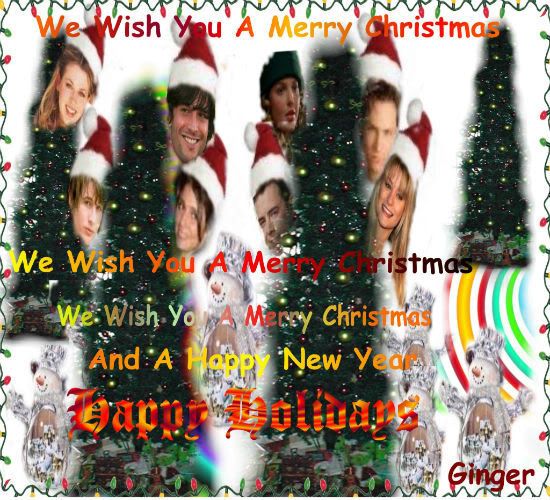 "Age is just a state of mind"...I think that's mine? I could be wrong! I'm old, so sue me.
---
Wishing you and yours a very merry Christmas and a Happy New Year. Looking forward to reading many more great stories from you in 2013.





---
Ginger
Merry Christmas to you and your family. I hope you and your family have a safe and great Christmas. I also hope you have a great safe New Year too. I can't wait to see and read the new stories you will have for all of us in the New Year.

From:
L-J-L 76
---
Roswell Fanatic
Posts: 1126
Joined: Sat Nov 17, 2001 2:37 am
Location: Somewhere lost in chocolat Land
Thanks for the nice card, Ginger and Merry Christmas to you too, as well as an Happy Start in the New Year 2013!
EVE
Last edited by
begonia9508
on Mon Dec 24, 2012 9:20 am, edited 1 time in total.
- Les jouissances de l'esprit sont faites pour calmer les orages du coeur!
- On reconnaît le bonheur au bruit qu'il fait quand il s'en va!
- L'amour vous rend aveugle et le mariage vous redonne la vue!
---
Enthusiastic Roswellian
Posts: 2
Joined: Fri Jan 28, 2011 3:53 pm
Contact:
Thank you so much for that Ginger, and I want to wish you and your family (& loved ones) a very Merry Christmas & Happy New Year! I hope your holidays are filled with magic and love!
-Sarah-
Liz to Future Max: Don't you realize what you are to me... what you're always gonna be? You're the love of my life. Everyone else is gonna be second best. There will never be another you!!! (The End of the World)
---
Merry Christmas Ginger,
My you and your family/friends have a wonderful and safe Christmas and a Happy and healthy new year

---
Roswell Fanatic
Posts: 2372
Joined: Thu Jun 28, 2007 9:34 pm
Clever Christmas card Ginger......your talents have no limits.
Merry Christmas,
Carolyn
---

Loved the Xmas Card Ginger!
I hope you had a wonderful Christmas with your family Ginger!
Between your stories and your kindness we are so lucky you found your way here!
Happy New Year to you wishing you much happiness!
"Doubt thou the stars are fire; Doubt that the sun doth move; Doubt truth to be a liar; But never doubt I love."

Hamlet, by William Shakespeare
---