[img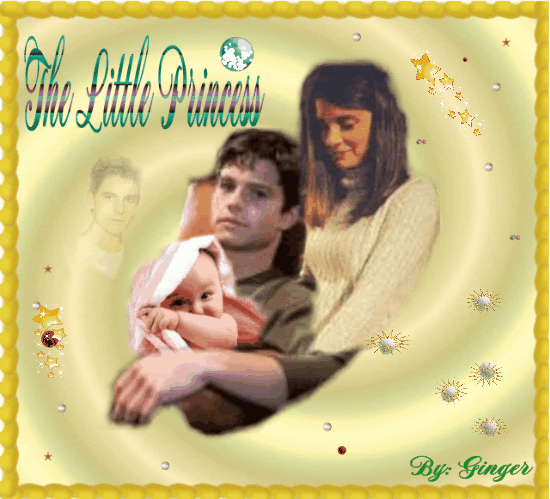 ][/img]
The Little Princess
Title: The Little Princess
By: Ginger
Genre: C/C with Aliens
Rating: teen
Summary: This is a total fairy tale, complete with unimaginable events that take place; totally and absolutely unrealistic.
It's just a little over ten years since the special unit chased the young adults from Roswell and their families but things have been resolved, the special unit has been dissolved with the help of many influential people our young adults have managed college and made lives for themselves in an adult world of Roswell, New Mexico.
Max's baby daughter Abby (Abigail meaning 'Father Rejoice') is having trouble sleeping so he proceeds to tell her a story while some not so very nice things are occurring throughout the universe.
Disclaimer: I have nothing to do with the show "Roswell" or its constituents…I have borrowed the names of the characters because I like them.
*~*~*~*
When stars are in the quiet skies,
Then most I pine for thee;
Bend of me, then, thy tender eyes
As stars look on the sea!
-Baron Lytton
*
Prologue:
Max could hear little sounds and wondered, for just a second as he gathered his thoughts about him, where they were coming from and then he listened…the baby monitor. He looked over at his sleeping wife and smiled, she had had a really busy day and he felt it only fair that he go see what the little gurgles were all about and he smiled as he quietly got out of bed. Life couldn't get any better. One thing he forgot to do before he left the bedroom was to turn off the monitor that lay on the night stand close Liz's sleeping head.
He entered the baby's room and surveyed the position of the crib in respect to the moonlight peeping through the window and he smiled. There was enough illumination from the moon that it wasn't even necessary to have the night light on, which it was of course, on anyway.
Max made his way over to the crib and stood watching his baby daughter talk to the little teddy bear that was painted on the head board of her crib, thanks to Uncle Michael, and his smile grew broader.
She had managed to turn her little body sideways, lying with her head twisted at an angle so she could look at the Teddy Bear square on. She was so beautiful; she had her mommy's big brown eyes and just a whisper of dark hair on her tiny little head but her smile was what caught everyone's heart. She had Liz's smile and it could grab a heart quicker than anything he could ever describe.
"Good morning princess, can't you sleep tonight? Are you wet? Maybe you need a fresh diaper…come on up here and let daddy see you for awhile." And the baby girl looked up at her daddy and gurgled and smiled just for him and Max's heart melted; he felt a warmth spread throughout him that he would never be able to describe to anyone even if he tried.
Liz heard some voices through a sleepy haze and managed to open her ears to the new sounds of the night rather than her eyes and soon she figured out who was doing the talking and who was doing the gurgling and she smiled and went back to sleep.
Max changed the baby's diaper and took a seat in the rocking chair and held his baby close to his heart as he bent down and kissed her forehead. This kind of love could easily burst a man's heart wide open he thought to himself.
His little angel just lay in his arms, looked up at him and smiled and then she kicked her feet and waved her arms in happiness and Max chuckled at her as she squealed in delight and filled her daddy full of baby talk news.
When she was happy she got tickled all over and then she shivered…that meant she needed another diaper, Max was very well aware of that action. She would get happy, shiver and wet herself and he grinned at her.
"Well, okay, but let's hope this is the last for awhile. You should be empty by now, don't you think?"
And his baby girl grabbed her feet and continued to smile at her daddy. He was a very handsome daddy she was sure; he was always smiling.
After the second clean diaper was attached at the sides Max returned to the rocking chair and stared at his baby girl as she laid there in his arms holding his little finger with her tiny hand watching his every move. Then Max started…
"You know sweetheart, you are a princess." And his little angel smiled and it made Max wonder if she understood what he was saying.
"Yes, you are a princess from a land far, far away in another galaxy. I don't know very much about it but I know that you would be loved by a lot of people who live there. You had a loving grandmother and a grandfather who was a king and someday, when you are older I will tell you all about that part of your life."
His little princess snuggled farther into her daddy's chest and her eyes started to close, then just as quickly she would open them up again, smile at Max and flutter those eyelashes closed once again as her little forehead relaxed.
She finally remained that way and Max smiled as he kissed her tiny head before laying her back into her crib. What he didn't see was the V formation flicker on her forehead…it came and then left just as quickly but it was there.
*~*~*
And back in New York there were a couple of Shifty looking characters heading down into the sewers under the subway to have a powwow with a visitor from somewhere up there!