Challenge #31
Name:
Uptown Girl
Pairings:
Kyle/Isabel (with Jesse/Isabel as well)
Rating:
Teen/Mature/Adult
Category:
UC, AU without Aliens
Summary:
Isabel is an uptown girl, living in her giant mansion with her wealthy parents. Often she gets presents for her uptown boys (Jesse as on of them) and always she gets what she wants...
Except true love.
So Isabel goes to downtown and there she meets a normal downtown man (or to say 'backstreet guy') whom she want to get to know better. The guy is obviously Kyle and he has seen her around and has waited for a chance to talk to her.
Isabel's parents are frustated because she was meant to be marrying Jesse, but now everything's gone wrong because of one Kyle Valenti. Will they be able to turn Isabel's mind away from this downtown boy or will they lose a perfect marriage between to rich families because Isabel seeks for happiness?
Happy ending wanted.
Other notes:
Based on Billy Joels song "Uptown Girl".
The Challenge comes with a banner I made. You can have it if you take the challenge (and I can edit your name into it, too)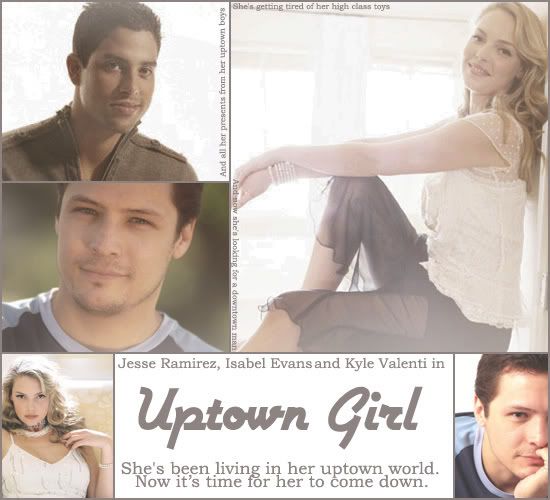 PM me if you're interested.