Title
: Adia
Author
: Kylie / kyliemou
Author's Personal Journal
:
http://kyliemou.livejournal.com/
Pairings
: Max/Liz, Future-Max/Liz, Zan/Future-Liz, Zan/Liz, Max/Liz/Zan, and bits of: Michael/Maria, Rath/Maria, Rath/Lonnie, Alex/Isabel, Alex/Lonnie, Kyle/Ava, etc.
Rating
: MATURE to ADULT.
Summary
: Based around the episodes The End of the World and Meet the Dupes. Future-Max had travelled to the past and told present-Liz that she had to help her present-Max fall out of love with her. As a last resort, she pretended to sleep with Kyle, thus her plan succeeding enough to change the future. But what if Future-Liz had come back to the past to change the future that present-Liz had created? What if the Dupes aren't evil? What if Zan is alive and well? What if Future-Liz left something behind for Liz? What will become of Max, Liz, and Zan? Alex is alive and well. Nasedo is alive too.
Warnings
: This story contains content that may be offensive such as cursing, sexual content, self-infliction/self-injury, strong language, and violence. It may also contain spoilers and lines/scenes from certain episodes of Roswell.
Disclaimer
: I do not own Roswell or any other character, location, or whatever is mentioned in the works of Melinda Metz or Jason Katims, FOX, WB, and UPN.
Alternative Link
:
http://www.fanfiction.net/s/4108791/1/Adia
.
Author's Note
: I used to go under the penname MLDreamer69 for Roswell fanfiction and then I switched to gryffindorkylie for Harry Potter fanfiction. Lately, I have re-fallen in love with the Roswell fandom and this will be my first Roswell fanfic since roughly 2003. I am a little rusty with all the Roswellian terms, so please forgive me if my characters are very OOC (Out of Character). Thank you and I hope you enjoy this.
This first few parts start out a bit slow, but afterwards, everything will speed up, I promise.
Story Note
: There are lines/scenes taken from "The End of the World" (Season 2, Episode 5) in this chapter. I am assuming the actual The End of the World episode occurred in October (since it was aired in that month), but I am switching the months and dates so it will work within the story.
Please pay attention to the dates!
Banner
:
July 27, 2009:
THANK YOU TO TANYA7469 FOR MAKING ME THIS GORGEOUS BANNER!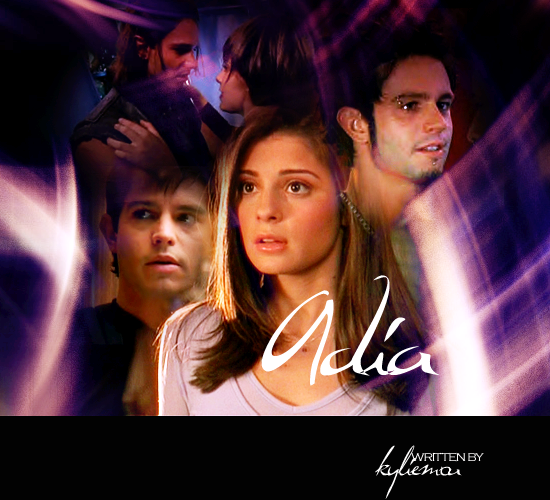 Awards
:
"Adia" won
Fanfic of the Month (May)
at
A Roswellian's Fantasy Convention
board! YAY!

Click
HERE
for the banner.
"Adia" won
Runner's-Up
on on
Best Lead Portrayal in a UC fic for Liz
, and
Best Dupe Fanfic
.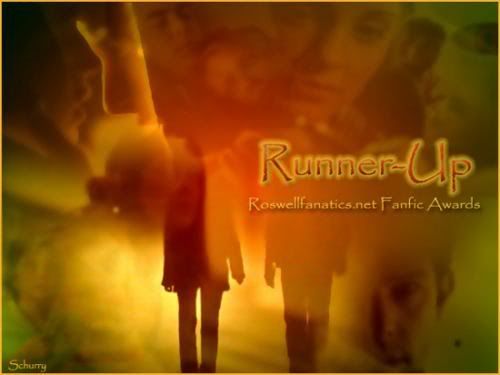 Prologue
:
'Cause you're working.
Building a mystery,
Holding on and holding it in.
Yeah, you're working.
Building a mystery
And choosing so carefully.
"Building A Mystery," Sarah McLachlan.
2027, Friday
:
"This song goes out to Adia," said the rough voice of the host of the radio station.
Her eyes nearly fell out of her sockets. Her heart pounded in her ears. The radio seemed so far away from her when it was right in the cubicle over. God, it couldn't be!
"Adia," said the host, "you know who you are." Her eyebrows shot up in alarm and in question.
"Wherever you are, turn around," said the host.
Her forehead crinkled in confusion. Running her tongue across her suddenly tight bottom lip, still desperately gripping the table, she slowly stood up and turned around.
Chapter One
:
Tres das sin verte mi amor,
Tres das llorando por ti,
Tres das que miro el amanecer.
Noms tres das te ame
Y en tu mirar me perd
y hace tres das que no s de ti
Donde, donde ests? 0
Con quin me engaas?
Donde, donde ests?
Qu ests haciendo?
Tres das que no s
qu es alimento
Solo llorando me he podido consolar

Ay, ay, ay, ay, ay.
Ay, ay, ay, ay, ay.
Ay, ay, ay, ay, ay.
Tu amor me va a matar.
Ay, ay, ay, ay, ay.
Yo qu voy a hacer.
Si me niegas alma ma tu querer?
"Tres Dias," Lupillo Rivera/Selena.
Translation
:
(Thanks to Erin aka Roswell 10/2/00 and my good friend, Anna!)
[Some lines may have two different but similar translations.]
Three days without seeing you, my love.
Three days crying for you/Three days crying over you.
Three days that I see the sunrise.
I only loved you three days/I only loved for three days.
And in your eyes, I lost myself.
It's been three days that I haven't heard from you
Where, where are you?
With who are you cheating on me?
Where, where are you?
What are you doing?
Three days that I don't know
what food is/what nourishment is.
Only crying has consoled me/Only crying has been able to console me.

Ay, ay, ay, ay, ay.
Ay, ay, ay, ay, ay.
Ay, ay, ay, ay, ay.
Your love is going to kill me.
Ay, ay, ay, ay, ay.
What am I going to do?
If you deny me your love, my soul.
November 24th, 2000, Friday; Roswell, New Mexico
:
Future-Max felt himself being swallowed by the power of the granilith, trapping him inside, only to stare back out at his beautiful wife. He tearfully watched her as he felt his body rip and explode into billions of molecules. Before he disappeared, he placed his hand against the inside of the structure and whispered, "I love you" to his wife, not getting the chance to hear her say it back to him.
The next thing he knew before being torn away from the teary eyes of his wife, like in a split second, he was on his feet, crashing into a brick wall. Gasping at the sudden burst of pain from the impact, his eyes darted back and forth, trying to recognize where he was—Liz's balcony. What year is this? What month? Day? But all those questions left his mind when he saw something move in Liz's room. Walking towards the window and crouching down, he gasped at the sight in front of him. A young Liz Parker was wrapped in white lace, staring back at herself in the mirror, with a smile on her face.
"I, Liz Parker, take Max Evans to be my hus—"
"Liz," he gasped out, hating to break the silence of watching the younger version of his wife pretend she was marrying him.
Her petite figure tensed and turned around.
God, those eyes
, thought Future-Max. He pushed the butterflies rumbling in his stomach away and proceeded to enter her room through the window. She was as beautiful as he remembered.
"Max?" she questioned, her eyes wide with fear. She clutched the lace cloth in her hands. Nothing but fear was etched on her face. Her forehead scrunched upwards in confusion.
He walked closer to her, his arm reaching out towards her. She stumbled back into her mirror, dropping the cloth to the ground. "No, no, I don't," she whispered out, trying to get away from this… this stranger!
"Liz, please. It's me," he pleaded. He kept walking closer to her.
"I don't know who you are, but you… you're
not
Max!" she yelled.
He knew she would have a hard time believing this. Here he was, trying to convince level-headed brainy scientist Liz Parker that he was Max, only seventeen years older than the Max of her time. If he was her, he wouldn't believe himself either. It was hard enough for him to convince her he was an alien the day after she was shot. Frowning, he felt horrible that he was the one that had made her so scared. This wasn't going the way he had planned. Not that he had planned anything in the first place.
"Liz, I know this is all hard to believe, but you have to believe me. It's me."
"No, you can't be! You're not Max, okay? You—you're like a shapeshifter! You are some other kind of alien with the ability to look like Max with that beard and those… THOSE GREY HAIRS!" she cried, pointing at his hair.
His hand automatically rose to his head, touching his long hair. "Do you really see grey?" he questioned, forgetting the panic he was putting in Liz for a second. Had he aged that much in fourteen years from now? Liz stared at him with such disbelief.
"This isn't funny, okay?" she yelled.
As she tried to run towards the door, he grabbed and pushed her lightly against the door, trapping her with his body. He tried to keep his body's desires under control at the feeling of her in his arms.
"No! Let go of me!" she screamed.
"Liz, Liz, it's me. Look, it's me. I'm not a shapeshifter."
"No, no—"
"Liz, just listen. Please, just listen," he begged her. But she wouldn't listen. She kept struggling against him. Inside, he praised her for her feistiness.
Atta girl
, he thought. He knew it would come handy in the future. No, it was now his past. Perhaps she wouldn't need to be this strong when things change. He pushed that feeling aside, along with the desire to ravage her at the feeling of her body pressing against his. How many times had he taken his wife, his Liz Parker, up against the door? How many times had she playfully struggled against him? How many times had he taken her?
"Liz, the granilith—LIZ!" he yelled, capturing her attention. She stopped and stared. "Listen. The granilith, it has an enormous amount of power. We were able to modify it to artificially create a tear in time space."
"WHAT? There's no such thing as time travel! It goes against every rule of physics, of reality, of everything!" she retorted.
His grip tightened on her as she tried to knee him, but he successfully blocked her by bringing his leg up. "Shit! Look Liz, I realize this is overwhelming, but I'm telling the truth. If I were a shapeshifter, there's no way I could tell the future," he said, licking his dry lips in nervousness. "In approximately 10 seconds, I will show up outside your window and begin singing to you," he gulped, "accompanied by a mariachi band."
Liz glared at him and scoffed. "A mariachi band," she said dumbly. "Max wouldn't do anything that cheesy."
"3… 2… 1…" he counted.
Nothing but absolute silence filled in the air.
"Well?" she questioned.
"I said approximately," said Future-Max as he cursed for his younger version to hurry up.
Then the sound of guitars filled the air, faintly at first but getting stronger by the second. Liz looked at her window, stunned. She heard the singing voices of Spanish men.
"
Tres dias sin verte mujer… tres dias llorando tu amor… tres dias que miro el amanecer
."
She looked at Future-Max with disbelief and he nodded. He let her go, cursing at himself for holding onto her so tightly. She slowly made her way towards the balcony and looked over the ledge, finding present-Max whipping off his hat and staring up at her lovingly. Future-Max walked onto the balcony, but carefully remained hidden.
"I spent a week learning the lyrics from Mr. Delgado at the hardware store," he said.
"
Nomas tres dias te ame… y en tu mirar me perdi… y hace tres dias que no se de ti
," sang present-Max.
Liz blushed at the sight of Max with three semi-chubby men behind him. "Wow, that's really embarrassing," she said with a chuckle.
"
Donde, donde estas, con quien me enganas? Donde, donde estas que estas hacienda
?"
Future-Max smiled, recalling the lyrics in his head. "I know, but I had to do something to get your attention. You had shut me out." Though this was technically his past, he still remembered the pain of Liz not being around. How it had hurt him down to the very core of his soul. He remembered promising himself that he would do everything in his power to have her again, to never allow them to feel such pain again of being separated.
"
Tres dias que no sé que as alimento. Solo tomando me he podido consoloar
."
Future-Max cursed at his feet that wanted to sway with the music. God, watching his past self singing to Liz made him want to laugh at himself. The things he did for her, they were ridiculous, but he didn't regret any. Present-Max revealed red roses behind his back and threw it up to Liz.
"As I threw the flowers up to you, I remembered you preferred white roses," said Future-Max.
Present-Max, using his powers, changed the color of the roses in mid-air. She caught them with a smile and burrowed her nose into them, taking in the sweet smell.
"
Ay, ay, ay, ay, ay
," sang present-Max as he tried to concentrate on singing the correct words all the while trying to impress Liz.
"Why are you here?" she asked.
"
Ay, ay, ay, ay. Ay, ay, ay, ay
."
"I can't tell you too much, Liz. Only what you need to know… but fourteen years from now, we are taken over by our enemies."
"
Ay, ay, ay, ay, tu amor me va a matar
."
Liz tried to concentrate on what this older man was telling him, but it was hard to concentrate when the love of her life was singing to her as if she was real-life Juliet Capulet and he was real-life Romeo Montague. "Uh, who's taken over?"
"Everyone. Earth. I need you to help me keep that from happening. We need to change the future. What we do here has to be precise and surgical. No one can know I'm here, especially not me… that is, my younger self."
"
Yo que voy hacer. Si me niegas alma mia tu querer
."
"Uh, what is it you want me to—"
"Shh, not now. Your dad is coming," said Future-Max, quickly hiding behind a pot of plant.
Jeff Parker knocked on his daughter's door. "Lizzie? What the hell is going on out there? What is that ruckus?" he asked as he crawled through the window and walked to where Liz was. "Is that Max? It's 11:00. Tomorrow's a school day," he said, watching Max and his mariachi band walk away, singing.
"
Ay, ay, ay, ay, ay
…"
Liz turned to her father, completely red-faced. She watched her father blink at Max and then turn to her. "Was that Max and a
mariachi band
?" he questioned. All Liz could do was laugh. Future-Max cupped his mouth, trying to swallow his laughter. She pushed her father out, apologizing. Closing the door, she turned around to find this… this future Max leaning against her desk.
"I…" Liz started, but she didn't know where to begin. "Okay, I have some questions." She watches him nod. "If you need Max to do something, why don't you just go to Max directly?"
"It's complicated… but if a person encounters himself in another time period, there could be a… a reaction," Future-Max said, rubbing his beard.
I need a shave
, he thought to himself as he sat down on Liz's bed. Knowing Liz, this explanation could take a while. "I don't entirely understand it myself, but Serena said," he trailed off, noticing her raise her eyebrow. "She's going to be a friend of yours one day. It has something to do with quantum mechanics, but in essence, Max and I would both be destroyed if we actually came into contact."
Liz sat down on her bed, but keeping her distance from him. Future-Max felt hurt. "Liz, what's about to happen over the next few days is critical to the history of this planet. Things between us are about to change… grow deeper. We become inseparable, and nothing comes between us ever again, until…"
"The end of the world?" Liz finished for him.
He tried not to smile at Liz's intelligence to pick up things quickly. "That's right. The closer that you and I grew, the worse it got with Tess, and eventually she left Roswell."
"Because of me?" asked Liz.
"Because of
me
," he said, knowing it hadn't sounded like a bad idea with Tess leaving town, "and how I treated her. And it turned out Tess was critical to our survival. The four of us—Michael, Isabel, Tess and I—we made a complete unit. We all had different gifts, and with one of us missing, we weren't as strong, and everything fell apart."
Liz tucked her bangs behind her ears and stared at the ground, avoiding his gaze. "So, um... you want me to help you and Tess get together? I mean, why don't you just go to Tess? Why me?"
Future-Max wiped his hands on his leather pants (not that it helped) and shifted closer to her. Liz turned towards him when she felt the bed dip towards her direction. She tried not to gasp when his hands cupped her face. He stared into her eyes as his face eased in closer to hers. At that moment, Liz truly believed everything he had told her because of his eyes. She'd recognize those eyes anywhere, those soulful eyes that screamed she was the sun that rose and set, those dark eyes that expressed how much he loved her. But there was something a little different about them. They were older and slightly colder.
"It's you I trust. It's you I have faith in, and because it's not just about getting me close to Tess. I need you to help me fall out of love with you."
She swallowed whatever there was to swallow in her dry mouth and leaned in. She watched as his lips parted and all Liz felt was the heavy breaths of Future-Max against her lips. In that moment, she swore he was going to kiss her, but he pulled away, turning away from her. He stared at the ground as if it was the most fascinating thing ever.
To be continued
.
I promise things will move more quickly after the first few chapters. Don't give up on this story just yet! Feedback is much appreciated and keeps me writing!