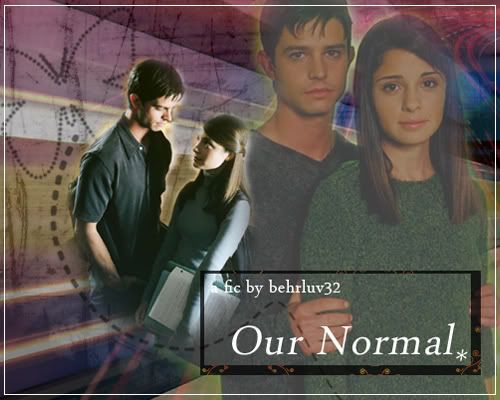 Title: Our Normal
Couples: M/L and CC
Rating: Don't know yet put lets start of w/YTEEN and see where it goes
Disclaimer: I own nothing
Summary: This picks up in the episode, "Leaving Normal" where Liz calls Max when her grandmother is in the hospital and how the show unravels from there.
Note: Why am I starting another story??? Because this has been bugging me. Don't judge me…
-Okay but seriously, the first couple of chapters will take words from the episode.
Chapter 1
I'm not sure what it was that possessed me to call him. I only meant to step away from everyone for a second to buy a soft drink and take a quick breather, but when I passed the pay phone, I couldn't not call Max.
"Hi, it's Max...I'm not here right now, but please leave a message." I don't know what I would have said if he'd actually picked up the phone, but once his voicemail ended I found myself stumbling through my explanation anyway.
"Hi, Max...it's Liz. I'm at the hospital. Something happened to my grandmother. We don't know if it's serious, but it seems really bad. I'm just scared. Look, I don't even know why I'm calling you. I guess I just wanted to hear your voice or something. Now I just feel completely stupid. Look, don't come here or anything because everyone is here. I'll just see you in school tomorrow. Sorry for the weird call. Bye"
I walk back towards the hospital lobby again and with my head low I sit next to Kyle, my boyfriend or something, I remind myself. He looks at me questioningly, but I just open my can of soda and begin to sip it slowly.
I don't want to look at him right now. I don't want to even think of what my actions a few minutes ago meant because right now my grandmother, the person I most admire in the world and who I love so much, is in the hospital and we don't know anything about her condition.
Kyle continues to whisper to me, but I have blanked my mind out to the events around me. I'm numb to those feelings right now because that is all I can think to do to hold onto my sanity. Only the night before I was wondering whether everything could go back to normal and now I'm not too sure if I want to handle what normal entails. Life…death, I'd rather not know. Subconsciously, I know that is part of the reason I called Max, the other reason is far more selfish, but luckily the doctor came out before I let myself think any further into that subject.
"Dr. Sanchez," my father greets. It's his mother that's in a hospital bed; I can only imagine what is running through my father's head right now.
" Jeff, hi. Nancy," the doctor greets back.
"Thank you for coming...we're so glad you're able to be here." My mother made sure Dr. Sanchez would come out to check on my grandmother's condition. He was the best cardio specialist in New Mexico and had been there to help my grandfather through his first heart attack. It was his second one that took him from us and it almost broke my father. I hope Grandma Claudia' s condition is better and that it wasn't a heart-attack; I don't know if my father could take it. I know I couldn't.
'Of course," was the doctor's simple reply.
"How is she?" my father voices the questions we'd all been waiting to know the answer to.
"Jeff, your mother's had a stroke. This is serious, but she's been responding really well. Her vital signs are good. She's stabilized." I don't think my gasp was audible, but I could feel my eyes bulge and my body tense at his words.
"Is she going to be ok?" The question came from my father with a soft sincerity but it was really all too much. I felt like I was having an out-of-body experience and was watching the doctor tell us all this horrible news from somewhere else, non-the-less, I felt Kyle's eyes on the back of my neck as I looked back and forth between my parents and the doctor.
"A lot of people fully recover from a stroke like this, but it's early. We're going to need some time to determine what the repercussions are." Dr. Sanchez's words were meant to be comforting, but to me they were anything but. All he's said is that it can go either way. And to me that means my Grandmother's chances are 50-50 and I don't like those odds.
I hear my mother thank Dr. Sanchez, and his parting words of, "We have reason to be positive here," but once those words left his mouth, a movement from the window of the swinging doors caught my eye.
As Dr. Sanchez leaves through those doors my heart starts beating profusely. It's Max. He's entered where the doctor left and his name falls from my lips. I feel a small smile forming and even if I could stop it I wouldn't dare.
"Hey." He says so much in that minute word and I feel compelled to tell him everything. I'm holding back the tears in my eyes, but I just know he can make everything better.
"My grandmother just had a stroke," I begin.
"Oh, I'm sorry...how are you doing, you ok?" My sad smile widens.
I can tell how much he cares, but I can also tell he's holding himself back from reaching out to me and that is when I'm trusted back into the reality of my situation. "Yeah, thanks..." I say, but then turn to the small audience I'm sure we have and say, "Everyone this is Max."
"Hi there," my father says.
"Hi," Max says back and as I'm about to ask the words I already know the answer to, Kyle beats me to it.
"So, what are you doing here?" though he said it in a much harsher tone.
I see Max forming a lie without a second thought. I guess with practice it would come easily to anyone, "My cousin got into a…" he begins, but I don't let him continue.
"I'm sorry," I say the words but I'm not even sure who I am directing them to. I looked back into Max's eyes, and say, "I called him," answering Kyle's question. I hear him scoff something along the lines of "Unbelievable," but I really can't bring myself to care.
"You came," the words barely left my throat. I felt like I was choking on them as I found myself jumping into Max's arms and I let the tears finally fall.
***