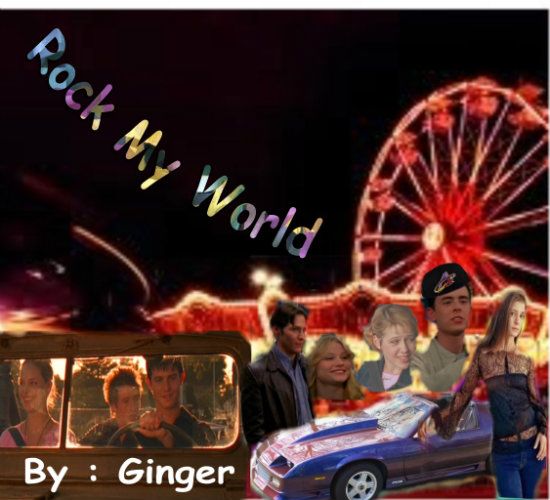 Rock My World
By: Ginger
A/U C/C (all) w/aliens Teen/Mature
Summary: Just a bunch of teenagers trying to grow up in a world inhabited by some aliens of the same age and the aliens are having the same problems of their own only they have some other worldly problems as well. Oh, and in this story Cal Langley is a good guy again, a very good guy, and don't ask me why…it just worked out that way. I kind of liked the guy for some reason and someone had to have control over Ed Harding in order for this to work.
Disclaimer: I have absolutely nothing to do with the show Roswell or any of its constituents. I've chosen the names of the characters to suit my needs simply because I like them.
Chapter: 1
"Come on Liz!" Maria begged as she stood in the middle of her best friend's bedroom trying to convince her that going to the carnival on the outskirts of town would be fun.
"Maria…NO! I've got a huge exam in biology tomorrow and I can't count on that new girl to be of any help…she just sits in class and watches Max Evans. I don't know why Mr. Seligman changed my partner…and if he had to he could have at least given her to Max and allowed me to work alone."
"Come on Liz…you know exactly why he gave her to you, you're the best in the class and you'll have her caught up in no time."
"That's just it Maria, I'll have her caught up and it's going to cost me my "A" and that's just not acceptable."
"Liz, you know this stuff in your sleep now come on. Mom won't let me have the Jetta tonight and I really want to go…come on." Maria whined.
"Maria, get Alex to take you. Now leave!" Liz was adamant and Maria was hurt.
"Boy! You sure are a grouch tonight. How about I go downstairs and check out the dining room and give you an hour?" Maria wasn't about to give up and Liz was ready to kick her down the stairs.
"Maria, go!" And with that Maria started out of Liz's room reluctantly and then turned to say something else when Liz looked at her with a determined eye and Maria got the message.
"Can we go tomorrow? You really need to drive that birthday present you know. The belts will rot if you don't exercise them." Liz had to giggle at that. She pointed to the door and Maria left.
*
Max was sitting at his desk reading his biology book when he heard a noise at his window…'SHIT!!!' was all that was running through his mind right now.
"Michael, what are you doing here? Is there some big crisis I should know about or is Hank drunk again?"
"No man…I just thought we could go over to the carnival tonight and check it out. How about it? It's only going to be here through the week-end. It looks like fun. We could probably win some good stuff…" Michael said as he rubbed his fingers together.
"Michael, you know I have a huge biology test tomorrow and since I'm working alone, without a partner, I have to do all of this on my own. So NO! I don't want to go to the carnival. What's so special about tonight, we can go tomorrow night. It's Friday and we'll have the whole week-end."
"Actually, I'm bored. So what's with this biology stuff anyway? You know you know this stuff why are you making such a big deal out of it?"
"Come on Michael, you know it's a big deal. I really don't like the subject and you know it."
"Well, why aren't you working with Liz anymore? I thought she was the reason for taking the silly subject in the first place."
"Well, she was, sort of. You know what though; I find it very interesting Michael and I've discovered some things about us that have me puzzled."
"Oh yeah? What sort of things?" Michael was curious now.
"Look!" And Max turned the page of his biology book to a picture of some human cells and then took a tooth pick laying on his desk, rubbed the inside of his cheek and poured some liquid over it, swabbed it onto a slide and slid it under the microscope lens on his desk. Michael took a look and then looked at his friend.
"What does this mean Max?" Michael was puzzled to say the least.
"I've no idea Michael…but it surely is green! Like plant cells."
"Max, are you saying we're plants?"
"God no Michael! I'm saying it looks like plant cells. We really don't know what we are but I don't think we're plants. Now go downstairs and watch some TV and we'll go to the carnival tomorrow. I need to brush up on this. Maybe you should have showed up for biology when you were supposed to then you would know this stuff instead of getting kicked out for absenteeism. What's wrong with you anyway Michael, you're not stupid. You're a fast learner but you don't apply yourself to anything. You just wander around doing nothing."
"None of that stuff interests me Max. You know that." Michael was a little hurt that his friend would talk to him like that and Max picked up on it immediately.
"Michael, something has to interest you…you can't just wander through life not caring about anything except finding a way home and we both know that may never happen."
"You don't know that Maxwell, I care more about going home someday than you can possibly imagine…you know, home." And he pointed up. Max rolled his eyes.
"Michael…there's a reason we're here. Maybe we don't know what it is but there's a reason. Maybe that reason is to make a life here, to find happiness here…to find a mate and live like humans. Did you ever think of it that way? Michael, we may not be from this planet but we are beings regardless of where we're from. It doesn't matter really, all that matters is how we live our lives."
Michael thought about it for a second and then looked at Max…
"No, I don't believe that." Michael answered matter of factly and that was it. Michael left Max's room and headed to the kitchen for something to drink. He'd spend the night just as Max suggested but he had some things to seriously think about; what if Max was right?
*
Diane Evans was sitting at the kitchen table when Michael walked in to help himself to something from the refrigerator and she looked up at the young man and smiled. She didn't know too much about Michael's background but she knew that he was a regular visitor to Max's room in the middle of the night which could only mean that things couldn't be too pleasant at his home.
"Hello Michael…are you hungry? I can fix you something real quick or, there are some leftovers from dinner in the fridge."
"Oh, no thanks Ms. Evans…I ate already, just some Snapple."
Diane smiled, she knew Michael loved Snapple and kept a supply just for him…he really was the only one of the kids that drank the stuff but there was always plenty on hand. She also knew that Michael was one of the children found in the desert about the time she and Philip had found Max and Isabel…she only wished that they would have found Michael too. It was a shame that he got stuck in the foster system the way he did. It really was a bad break for the boy…he seemed so nice and so lost sometime.
"If there's none in the fridge Michael there's some in the pantry off the laundry room."
"Thanks Ms. Evans…I'll find it." And off he went…Diane continued to smile as Philip came in from his study.
"Michael?"
Diane looked up and smiled. Philip knew she had a soft spot in her heart for the boy and he wished that they could have found him just as much as Diane had wished it but you had to play the cards you were dealt and Michael was dealt a pretty lousy hand as far as Philip was concerned. Maybe someday he would find some happiness; Philip could only hope so; in the meantime they would do what they could to make his life a little more pleasant.
*~*~*