Round Eight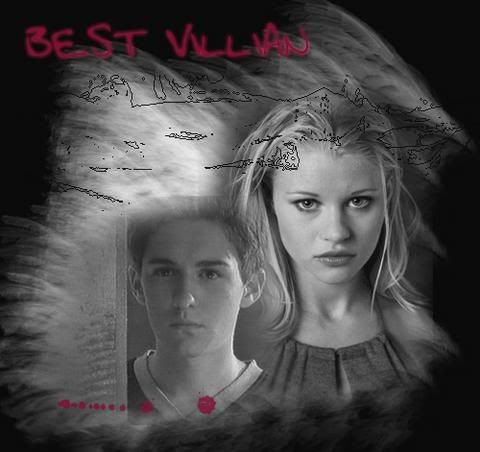 Pierce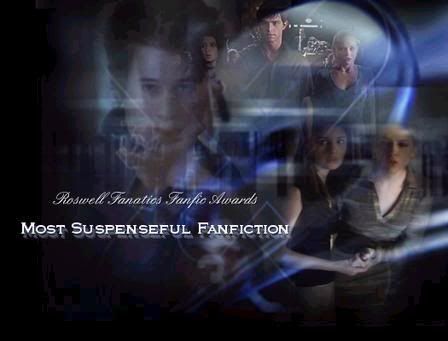 Best Supporting Portrayal of Alex Whitman
Favorite Original Character
- Riannan Kellar
Story That Had You Bouncing In Your Seat For An Update
Best Conventional Couple Fanfic
Round Seven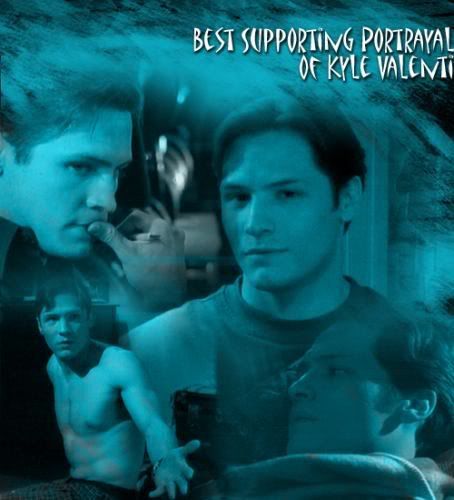 Best Supporting Portrayal of Maria DeLuca
Favorite Original Character
Riannan Kellar
Title
: Absence Makes the Heart Grow Bitter
Author
: Raychel
Summary
: Liz knew the day would come that Max would have the opportunity to return to his home planet. But she never dreamed the time would come on the morning of her wedding, or that he would leave her behind...
Rating
: MATURE
Category
: CC
Disclaimer
: Roswell and its characters do not belong to me. However, Riannan (Ree-ann-en) Kellar (Her nickname "Rian" is pronoucned "Ryan") and Jonaphan (Jon) Calder are my own characters.
Author's Note
: I've been a fan of Roswell from they very beginning. I've lurked on RF for a very long time and now I've discovered LOD. I've decided to give my go at writing Roswell fanfiction; it'll be a kind of hobby, I suppose. Let me know how I did. Thanks.
<center>* * *
Prologue</center>
The sun was beginning to rise behind her, casting her shadow on the wet, sandy beach beneath her. She ran barefoot her feet leaving an angry tattoo in their wake. She ran with as much speed as she could muster with the satin yellow of her bridesmaid dress clutched tightly in her hands and pulled up well above her knees. Heavy rain pelted down on her, soaking her to the bone, matting her once perfectly styled blonde hair to her face. There was no doubt in her mind that her makeup was smeared to the point she was of a hideous nature.
Lightning crackled in the morning sky and thunder roared in response. The wind was picking up great speed, running it's cold fingers through her tresses and pulling them free of the numerous bobby pins.
She reached the safety of the hotel, her feet meeting plush white carpet that may be forever ruined due to the filth of her feet. However, she didn't stop running, didn't pause to use the elevator, but instead used to the stairs, taking them two - sometimes three - at a time.
The heavy fire door banged hard against the wall and she broke into a swifter run, her strides lengthening as she forgot her flowing skirt and pumped her arms hurriedly at her sides. A few moments later and a brief struggle with the plastic card key, and she was inside the hotel's honeymoon suite.
"Liz," She called out breathlessly and slowed to a brisk walk. Her ribs ached from her strenuous run, and she cupped them with her hands, hoping to ease the pain. "Liz," She cried again. The door to the bedroom was cracked slightly, and a dim light peeked through the opening.
With a firm push, Maria looked inside. "Liz -" Anything further she had meant to say fell from her lips at the sight of her best friend, donned in her beautiful wedding dress, weeping mournfully on the floor; a piece of paper clutched tightly in her fist. "Oh, honey," She choked out. Her effort to break the news to her friend had been fruitless. The bastard had left her a note.
Liz's tearful gaze met Maria's. Her ever expressive deep brown eyes showed the exact depth of her pain. "Maria," She hiccupped as she struggled to crawl to her feet. "He - he...Oh, God, Maria. He-"
The Maria pulled her into a tight embrace, and immediately felt the violence of her friend's quaking due to the force of her sobs. "I know, sweetie," She mumbled against Liz's messy brown locks that pulled free from it's elegant up 'do. "I know."
They sank to the floor together; Maria tucked Liz's head beneath her chin and allowed her friend to cry. Fast shuffling of feet resonated through out the suite and then stopped abruptly over the threshold of the bedroom door. Maria turned her head as far as she could to see her male friends. Kyle and Alex peered at the two women with devastated expressions. Maria began to soothingly stroke Liz's hair.
"It's just the four of us now."
<center>* * *</center>
"It's just the four of us now."
Max turned his head upon the quietly spoken words. Tess stood rigidly behind him, her face empty of any emotions. As it was, Max could still feel her anxiety, her fear, and the bitter sweetness that was their departure. And Max was empathetic.
He returned his gaze towards the large, thick window of the craft's bay. They had long ago left Earth's orbit and the stars twinkled as the ship passed them by. Max pressed his hand against the surface of the glass and stared at the tiny speck in the distance that was Earth, the only home he had ever known. Moments later, it disappeared from sight.
Max pushed away from the window and walked stiffly past Tess. He still wore the his black tux, only now his silver tie had been discarded and the first few buttons of his white dress shirt were opened and exposing his skin. Anxiously, Max paced the length of the corridor to the sliding metal doors and back again to the opening of the bay. Running his fingers through his hair a couple of times, he finally hid them deep in his pant pockets, hoping they'd remain idle.
The fingers of his left hand brushed the item he had hid for safekeeping. Knowing it would be like pouring salt over an open wound, Max pulled out the ring anyway. She had wanted something simple but special, and Max knew that she'd fall in love with the gold band he had planned to present to her at the alter.
He had missed that chance now. And Liz would never forgive him.
Tears flooded violently to his eyes and he roughly scrubbed them away. He should've taken her with him. At the very least, he should have said good-bye in person. He should've promised his return. Max hadn't even done that.
Max cursed his people for their bad timing. For playing the
You're Our King
card, and all but forcing him to leave the galaxy. He remained firm that he didn't have a choice in the matter, but he wondered if Liz would know that.
He wondered if Liz knew how much he loved her.
He wondered if he'd ever see her again.
<center>* * *
Part One</center>
The car honked twice, alerting her that it was locked. Satisfied with the knowledge, she pocketed her keys, and she strode through the shady parking garage to reach the elevators. She pressed the grimy button, made a mental note to complain about the lack of sanitary conditions, and waited rather impatiently for the elevator to descend to the garage floor.
The doors creaked open not presenting her with much reassurance, but since she's ridden the elevator many times before, she stepped on without a second thought.
When the doors reopened, her surroundings were vastly different, gone where the shadows and grim of the dark parking garage, instead she was met with pristine white. The ceiling was a lit with bright lights, the tiled floors and walls were a stark and impersonal. The hallway seemed to go on for eternity.
Her boots tapped loudly against the floor, her pace steady and even. She turned the corner and saw Joseph, the security guard, reading a newspaper with a lack of interest.
She dropped her McDonalds bag in his lap and slid her ID card down the electronical machine in the wall. With a grin and wink at Joseph, she pressed her right hand against a monitor, and allowed it to scan her prints.
The guard glanced idly at the computer beside him. "You're clear, Parker," He stated and began to sift through the crinkled bag. He smiled widely. "You did good."
Liz pressed through the heavy steal bar door incased in glass and stepped over the threshold. She paused and regarded him with her bright smile. "I told you I would," She said, not at all bitter over the fact she had lost a poker game only a couple nights ago. Joseph had simply asked for a good meal in the mornings in return of winning of the poker game.
"Up for a game this Saturday?" He called as the door began to close behind her.
She chuckled and glanced at him over her shoulder. "Maybe another time."
Her walk through the maze like building took her a total of two minutes before she reached her office. Liz knew the area so well she could walk the building in complete darkness if she had too. Which may be come useful in the future.
The door to her office was just as impersonal as everything else in the building; she didn't even get a nameplate. Without much thought, she unlocked the door and walked inside.
Just because the entire building had a
blah
sense of decoration, didn't mean her personal space had to be. When she had been recruited for this job and found out she was going to have an office - without a view - Liz had known she'd go stark raving mad if she didn't have some color. The walls were painted a pastel lavender color with floral trim and she hid the white tiles with classic rugs. Her mahogany desk was in a neat order; a realistic green plant on corner of the desk made the room look homier. She couldn't handle a real plant for she'd get so busy sometimes that she'd be sure to neglect to water it.
No sooner had Liz shed off her jacket and dropped her briefcase on her desk, was there a sharp knock at her door. She contained her sigh for being interrupted so soon, and forced a smile on her face.
"Come in."
The door swung open and a tall man in a plain black suit stood behind it. She'd never taken the time to memorize the men in blacks' names, for they were never around all that often to converse with. Not that she thought they'd have good conversational skills anyway, they all appeared to be made of stone.
"Agent Parker," The man greeted stonily. Liz nodded her acknowledgement and leaned against the side of her desk with her arms crossed defensively over her chest.
"What can I do for you?" She asked curiously. It was a rare occurrence when someone sent them to talk to her directly.
"Agent Pierce would like to speak with you," He stated, and upon her disinterest of moving, he add, "Now."
Liz suppressed another sigh and pushed herself from the desk. "Very well," She said. The suit remained in her doorway, and it became apparent he was to escort her.
Hmm, must be serious
. She took a moment to shrug her dress jacket back on before she walked towards the door. Liz flipped off the light and pulled the door shut behind her, and then followed the mechanical man in front of her.
"Did he say why?" Liz finally broke the disturbing silence with her question. He didn't answer.
She had been right on their lack of conversational skills.
<center>* * *</center>
He held the door open for her and Liz nodded her head politely. Pierce's office was just as lavish as she had expected. He actually had carpet, nice carpet. He had a view over looking a vast desert, which didn't seem to appealing today, but it faced the sunset. And Pierce rarely left before dark. His desk was large and his chair looked enticingly comfortable. There was a chaise up against the wall adjacent to the window. Two comfortable looking chairs sat in front of his desk for guests.
The door shut soundly behind her, and Liz realized she was alone with a man that gave her the creeps.
But he didn't have to know that.
Daniel J. Pierce turned. He's a handsome young man, probably in his early thirties, and the youngest man ever recruited to the head of the Special Unit. Just as Liz was the youngest - not to mention only female - recruited as an agent for said unit. She took as much pride in that fact, as she was sure Pierce did concerning himself.
"Agent Parker," He greeted warmly, his smile seductive. "It's nice to see you. Please, have a seat."
Liz politely complied and seated herself in the comfortable chair he had indicated. Pierce rounded the desk and stopped in front of her. He leaned his weight against the desk and pondered her with his gaze. She allowed the silence to go on for a few minutes longer, his gaze intensifying, before she had finally had enough.
"Is there something wrong, Sir?" She asked, her voice calm and steady, and her eyes revealing no indication of fear. She was a good agent; she only showed what she wanted them to see. But Pierce was just as good - if not better - of an agent, and something told her he knew that.
"No, no," He reassured with a chuckle and stroked his chin. "Nothing's wrong Miss Parker, I assure you."
She didn't allow him to see her relax; instead she shifted back in her seat and crossed her left leg over her right knee. The movement didn't go unnoticed by Pierce, and his thoughts seemed to have scattered a moment. Liz did, however, allow him to see her smile at his blatant reaction.
Pierce straightened and walked around to seat himself behind his desk. He too leaned back in his chair, his arms propped up by the armrests, and his fingers steepled. Thoughtfully, he pressed his index fingers to his lips. "How long have you been working for us, Agent Parker?" He asked, his tone hinting on the underlying seriousness of the matter.
Without hesitation, Liz spoke. "Five years for the Bureau," She stated. "Going on eight months in the Special Unit."
He thought this over, his expression giving nothing away. "Fresh enough to be considered a rookie," Pierce pointed out with a sly smile.
"And already I have been promoted to field work on top of working behind a desk. I do believe, Sir, that you were the one who promoted me," She said pointedly, her own smile gracing her beautiful features. Pierce chuckled at this and Liz continued. "I assure you, Sir, I have no rookie tendencies. I'm just as capable as any other
man
on this job. I'm not sure, however, if you realize this."
Pierce held his hands up in surrender and laughed heartily this time. "I hope you aren't going to turn this around and into some sexist matter," He grinned at her suppressed glare. "Parker, you're the best agent I have, that I know. However," He redirected the conversation, and stood once again from the desk to pace towards his window. "I'm not sure if I can trust you just yet."
Earning his trust was something she had spent months of her life trying to do. His trust in her was very high on her priority list. If he didn't trust her, her plan would be ruined, and years of her life would have been wasted away for nothing. Liz feared her silence was going on longer than warranted.
"We're bringing in some...specimens," Pierce finally spoke, and turned to face her. "You're area of expertise could be used."
Liz slowly rose.
This could be it
, she thought. She walked towards him, her arms crossed over her chest. "What kind of
specimens
?" She questioned.
Pierce smirked and shook an admonishing finger at her. He ignored her question. "You won't be directly involved, but indirectly," He elaborated as he reached for a file on his desk. "You'll observe, take notes, all together tell me what we have."
He approached her once more and handed her a thick file. She glanced at it with great interest hidden behind a facade of indifference, as if it were just an ordinary case, and then pierced him with her eyes. Her mouth opened to speak but she was silenced with a finger on her lips.
"You'll have to build my trust to get any further than that," He commented in a hushed tone. Her eyes acknowledged him, and once again Pierce wished he could mix business with pleasure. His finger trailed lazily down her jaw line and the length of her elegant neck. She didn't even have the good grace to shiver at his touch. He smiled at this.
Pierce stepped away, much to Liz's relief. "You're dismissed," He stated and then returned to his desk, intent on getting to work.
Liz left without a word.
<center>* * *</center>
The redhead laughed at the sudden, startled look that came across his face. He dug frantically into his pocket. "Are you okay?" She queried past her mirth.
"Uh, my beeper," He mumbled absently and continued his silent search. He had completely forgotten he had set it on vibrate, and was quickly coming to the conclusion he
didn't
like it on vibrate. He'd take the annoying beeping any day.
"Tickles like crazy, huh?" She ventured before taking a crunching bite out of her celery stick. He grimaced at her in answer and then peered at the numbers displayed across the beeper's window. His expression fell. Concerned, she eyed him warily. "Everything okay, Alex?"
He stood abruptly from the lunch table, and shoved his meal towards her. "Here, you can have my lunch, Kate," Upon her quizzical look, he continued. "It's an emergency. Could you cover my shift?"
She sighed and dropped her celery stick onto her brown paper bag. "Again, Alex?" He gave her a pleading look and she was goner. "Fine, go. Get your scrawny ass out of my face."
Alex tossed her a goofy grin before he darted across the park and towards his car, all the while pulling his cell phone from his pocket. He pressed the speed dial and brought the phone to his ear just as he climbed into his vehicle.
"Where?" Was his immediate response to the greeting.
"She said she'll meet us at the coffee shop on Main in one hour."
Alex gripped the steering wheel tightly with one hand, as he maneuvered into traffic. "Did she say what was going on?" He asked hesitantly. The emergency code had popped up on his beeper, which told him to drop everything and wait to be contacted for directions to a pre-determined location. The fact that she had chosen a public location said it wasn't a big deal, but it also contradicted the fact she had used the specialized code. Alex's nerves were array.
"She didn't say much of anything. Alex, I gotta go, Kyle is beeping in on the other line."
He didn't expect to hear a goodbye and was right when he was met with dead air. Alex flipped his cell phone and placed it on the dash. As traffic became heavy, he used two hands on the wheel.
"Maria?" Kyle had to plug his open ear with his hand to hear his friend over the commotion. "Listen, I've got a pretty bad situation over here -"
"We meet at the coffee shop in an hour,"
Maria stated, not giving him room for discussion.
"Can you make it or not?"
He surveyed his surroundings. They had a pretty serious hostage situation at the First Union Bank. The chances of it being contained in an hour...
Kyle sighed, knowing what he had to do. "Yeah, I'll be there." He flipped shut his phone and tossed it back into his bag. Today wasn't turning out to be his day.
"Valenti," Lt. Rice called to him from the utility van. Kyle jogged over and eagerly climbed into the air-conditioned van. His SWAT uniform was killing him in this heat.
His Lieutenant handed him a phone connected to the bank's line from the inside. He mouthed the name Kellar.
Kyle swiped beads of sweat along his ear before he accepted the phone; he then peered into the monitor to watch as their negotiator eyed the armed man with anger.
"Valenti,"
Riannan Kellar, aka Rian, said in the calm voice she frequently uses while on the job.
"Did you get the page? What was it about?"
"She wants to meet at the coffee shop in an hour," He told her, and watched as she struggled to keep from pacing. "I don't see how we can manage that given the situation."
Rian covered the receiver and glared at the man with a rifle threatening the lives of the hostages. Her words were muffled, but it sounded something like
rude ass
followed quickly by a
shut up
. Kyle cringed at the anger that was inevitably flowing through the already unstable man's veins. Sometimes he wondered if Riannan Kellar was the best choice for a negotiator. She obviously wasn't conventional.
"Well, what did you tell her?"
Upon Kyle's silence, Rian raked her hands through her short auburn hair and sighed with frustration.
"You go. I'll stay behind and handle things here."
"Rian," Kyle's hesitation was soft. "Are you sure?"
"Yeah, you go, it's gotta be important,"
She glanced at the riflemen.
"And I've got a man to contain down here and I may be a while. Fill me in later."
With that, she hung up the phone.
He watched briefly as she tried to suppress the man's anger before the situation turned for the worse. If she couldn't handle it peacefully, they'd have to give the SWAT the go ahead sign. It was something he had been preparing for the past hour and a half.
Kyle looked over at his Lieutenant who had listened quietly the whole time. Rice nodded his head towards the exit. Kyle had informed him before accepting Rice's invitation into the SWAT Team that some things just had to come first. "Get out of here, Valenti."
He rushed out with a hurried thank you, pulling his vest over his head as he went. He deactivated the alarm on his SUV and was inside in three seconds. The tires squealed as he pulled away from the bank; he glanced at his wristwatch. Maybe he could get in a decent shower...
Liz glanced up from the sheets of paper from the file Pierce and given her just in time to Kyle seat himself with the others across the street. She glanced at her wristwatch. Rian should have arrived with him; they normally weren't that far away from each other due to the nature of their careers.
She skimmed over the papers one more time, before she slid them back into their designated folder and then into her briefcase. Something must be holding Rian up and being as everyone else was there, Liz saw no sense in keeping them waiting any longer.
They noticed her before she was fully across the street; Kyle stood to study her face. Dark sunglasses that prevented him from probing her gaze, much to his dismay, shielded Liz's eyes. She smiled at him reassuringly. "Sit down, Kyle," She instructed as she reached the others.
The group was silent once Liz was seated. "Rian held up?" Liz asked casually and removed her sunglasses. She folded them and placed them in the center of the table. Her action allowed her closest companions to gaze unrestricted into expressive eyes.
"Some idiot is holding up a bank," Kyle explained vaguely as he studied her. "There are hostages."
Liz mouthed "ouch" before settling back in her seat. Whoever had arrived first had ordered a round of coffees; Liz picked up hers and took a sip. From the over sweetening, her guess would be Maria.
She took a moment to gather her thoughts, thankful that her friends were aware enough to give her the silence she needed. Liz took a deep breath.
"They may have found something," She muttered, her eyes focused on peeling the cafe's sticker off her Styrofoam cup. "The files that I was presented with and read over sound promising," She raised her gaze to meet each member of the group. "They're bringing in four specimens."
There was a sharp intake of breath across from her and Liz watched as Kyle settled a hand on Maria's shoulder. Once she was sure Maria was okay, Liz continued, "My area of expertise is needed so I may -"
"Wait," Alex interrupted, his hands signaling a time-out. "You're
area of expertise
? What is that exactly, Liz?"
She tucked a few of her tendrils that had blown free from her ponytail by the wind behind her ear. "When I was studying criminology in California, I also became certified in biology," Liz explained. "Pierce will want me there to observe some testings; he'll want a wide area of opinions. Mine included."
Alex nodded before motioning her to continue. Liz remained silent a moment longer to allow her thoughts to formulate once more. "Anyway," She began again with a sigh. "I'll be asked to observe their activities. Study their blood and tissue cells. I'll help to determine their status, ultimately."
"And if it's what we've been hoping for?" Maria vocalized what everyone else had been thinking.
Liz licked her lips and gave a nod. "If it's what we've been hoping for," She paused to keep her voice from quaking, and she had to clear her throat. "We go through with the plan."
<center>* * *</center>
The sun was beginning to break through the horizon, coating the sky with blues, pinks, and tints of orange. The full moon could still be seen in the morning sky for the sun had yet to hide it with it's vibrant rays. It was hard to believe it was earth's atmosphere hovering above. Maybe it wasn't. The scene was a beautiful one not meant to be seen alone. And yet she was.

The fury of the storm was beginning to dissipate but the wind gusts remained hard and heavy. She could see the four figures fighting against the wind as they waited.

Waited for their ride home.

The object descended to the ground billowing up cloudy dusts of loose soil. It stopped. The time had come.

Her stomach lurched and she took a step towards them. Even if she broke out into a run, she'd never be able to reach them in time. She'd be too late and he'd be gone. Soft rain continued to fall on her, mingling with fresh tears on her cheeks. He was really leaving? How could he possibly - after all they'd been through?

She stumbled down the rocky cliff; adrenaline surged through her, gave her hope and insisted that she might have a chance. Her foot caught on an already torn fabric of her dress and she tumbled. The ground bit deep into the flesh of her hands, dry dirt attached themselves to her wounds.

A sob escaped her lips unexpectedly and she jerked her head up to see how much farther she had yet to come. They were boarding the craft, one at a time. He was last.

The craft began to shrill loudly and she had to cover her ears against the pain. Through the blurring of her tears she saw him search behind him until he saw her. He held her gaze for a long moment and then turned without a glance.

Max.
Liz startled awake to the continuity shrill ringing of her cell phone. She glanced at her watch to note that it was 6:30 in the evening, before she swung her legs over her couch and reached for the phone on the coffee table in front of her.
"Parker," She mumbled and rubbed her tired face with her free hand.
"So, Kyle filled me in with the basics, but I think I want the more interesting details from you."
It was Rian. Glancing at her watch again, Liz guessed she just got in from work.
She sighed and pushed to her feet. "Are you just getting home?" She stalled, needing more time to gather her thoughts instead of diving head first into what they may have to deal with. Liz reached her kitchen and pulled a glass from her cabinet.
"Yeah, had to call in SWAT that guy was so unreasonable,"
Rian answered, this time through a mouthful of something. Probably ice cream, Liz guessed again. It was the negotiator's routine. Negotiate. File paper work. Go home. Eat ice cream.
"You wanna talk about it?"
Liz downed her glass of water and placed it hard on the counter. "You're not talking about the files." She stated, aware that her ever intuitive friend had picked up on her vibes.
Rian swallowed past her ice cream.
"No, not yet anyway,"
She paused and then continued in a soft voice.
"The dreams have started, haven't they?"
She'd gone years without having those images invade her subconscious. Liz knew she wouldn't be getting a full night's sleep anytime in the foreseeable future. Having turned around, she leaned against her counter with her legs crossed at the ankles.
"How can I dream of something I wasn't even there to witness?" She asked rhetorically.
"Maybe it's through your connection with Max."
Liz pushed herself away from the counter fiercely and reentered her living room. "The connection died, Riannan." That wasn't true. The connection between she and Max Evans could never die. But it could be shut off, and that's what Liz has been doing the last eight years.
"Maybe it's been revived,"
She tried again.
Liz sighed through the phone and sank into the cushions of her couch. The files she had been reading before she had laid down to rest her eyes were still spread out across her coffee table. Desperately, she changed the subject. "All right, so, Pierce gave me as little information as he could," Liz began as she pulled the coffee table closer to her. She hugged the phone between her ear and shoulder as she began to sift through the papers.
"Four specimens, but there's no indication of the sex," She continued. "Three of the four were picked up six months ago. The fourth was captured two weeks later."
"One of them ran,"
Rian suggested. Liz nodded her silent agreement.
"They've been held at an Eagle Rock Military base," Liz paused momentarily, her eyes scanning over the paragraphs. "But the location has not been released."
"I can look into it,"
Rian offered.
"My guess is it's a small base where simple testings are held. You've got a pretty big facility there, Liz. A lot of room, very secluded, an impenetrable amount of security. They're being moved to safer grounds for the real testing to be done."
Liz remained silent, and allowed Rian's words to sink in. This was going to prove to be more difficult than they had originally thought. Vaguely, she heard steady and rhythmic tapping against her hardwood floor. She turned to see her Doberman pinscher round her way around the couch. Liz smiled.
"Liz,"
Rian began when the silence continued on.
"Are you completely aware of what we're getting ourselves into?"
She rubbed the rust colored coat of the dog's muzzle with her thumb. "I'm sure," She replied confidently.
Rian seemed to hesitate in her response, before she sighed.
"I gotta page,"
She mumbled, her tone indicating her irritation.
"I'll talk to you later. And Liz, don't do anything before running it by us first, okay?"
Liz smiled, knowing Rian wasn't the only one carrying that concern. "I won't, I promise."
A moment later she hung up the phone and leaned back into the couch. Her Doberman, a beautiful animal with a black coat and a rusty color along her muzzle, underside, and legs, laid her head into her owner's lap having sensed her mood. She whimpered and nuzzled Liz's palm with her snout, hoping to produce a smile.
Liz's smile was small as she scratched behind the dogs finely cropped ears. "Hey there Scully," She smirked at her dog's response of wagging that stubby tail. Liz glanced over the end of the couch; normally Scully's brother was just around the corner.
She remembered when she had purchased Scully and her littermate that had appropriately been named Mulder. The names had been drawn from a hat of suggestions that each member of the group and offered. Alex and Kyle had come up with Mulder and Scully from the beloved series X Files. They had plenty laughs over that one.
She gave a final pat on her dog's head before she stood to her feet. Scully followed her, knowing that it was time for their food bowls to be filled. Minutes later Dog Chow clattered into bowls in which quickly attracted the attention of her missing dog.
Mulder bounded down the steps, his paws clattering and skidding across the slick hardwood floor, before he darted into the kitchen. He glanced up at Liz, with those great big, coal black eyes, as if to say a quick thank you, before he joined his sister at the dinner bowls.
Liz popped her own meal into the microwave and then returned to her couch. She linked her fingers together and pressed the back of her left hand to her mouth. The hole was getting too deep, too dark, and the further Liz dug herself, the more afraid she became that wouldn't be able to get back out again.
Gathering the papers together, Liz set them aside to be looked over again another time.
Here's a little AN explaining a few things...
Author's Note #2
:
This will be a pretty long note, because I feel there's a lot I have to explain about the story, the characters, etc., etc.
Just bits and pieces after Four Square will happen, but for the most part it'll will be completely winged from there. Max won't be captured therefore he won't need rescuing. However, Valenti does learn of Max's secret - after all, Topolsky all but told him he was an alien. And in turn Kyle knows. So, it's now six humans and five aliens (can't forget Naesado) once more.
Years go by - there may be some mention of the Skins attacking (where Naesado meets his fate, just like in the show), or maybe not; the podsters have bigger problems in the future - and the group has now graduated from high school. Using the idea that Max and Liz get married at eighteen from the show, the group leaves Roswell - minus Sheriff Valenti - and head off to start a life together. They have paired off in couples and begin to plan the Parker/Evans wedding. The Parkers and Evans' aren't at all pleased with their kids' choice of early marriage and tell them that if they follow through, they can't be relied on for support. This gives me the leverage to use or disuse the parental characters as I please. I've decided that they will have a little to no role in this fic at all. As well as my beloved Sheriff - which kind of upsets me, but I couldn't find a good role for him.

We'll see as the story progresses.
At this point you've read the prologue….
Now for the characters...
Liz
: For the longest time, Liz didn't believe that Max and others left but were taken by the FBI. She goes to college, becomes a police officer, and then applies for a position in the FBI in Arizona. Later, she is recruited to the Special Unit. At this point, there is only a tiny sliver of hope that the aliens have been captured and that she'd find them. She holds resentment towards the pod squad - mostly Max - for leaving them/
her
. You'll find that she can be frigid and bitter at times, but only when dealing with Max in general. Otherwise, she's still the same Liz, but stronger and more independent.
Maria
: Hurt by the fact that Michael left her - despite the fact he gave her a
personal
goodbye, unlike Max did with Liz - she buries her self in school and later on work. She's a forensic pathologist. She holds a very high maintenance job that is very detail oriented and requires a lot of time and thought directed to that subject only. It is how she
tries
to forget Michael. I have researched just slightly on forensic science; I don't think I can pull off the technical stuff, so you won't read much about her being on the job.
Alex
: He was the least affected by the aliens departure. Isabel still gave him the cold shoulder on the topic of dating - something she'll begin to regret. He'll find that his feelings for Isabel have never depleted, but in fact, may have grown stronger. Our computer guru installs security systems for businesses and homes. In fact, he has been inside the FBI Center for the installation of the security system. (Something that can be used to Liz's advantage.)
Kyle
: His and Tess's relationship was just developing, and he was devastated to find out she left. He feels that he never really meant anything to her, and soon becomes a playboy.

He joins the SWAT team - no Sheriff position, but something Jim is very proud of. His weaponry and tactics - along with Liz's capabilities - prove to be a key role for their "plan". He also hones some mad car driving skills.
Riannan Kellar
: Yes, she is an alien, and no she didn't personally know Max and the others. She was a stowaway on the ship that came to pick up the others. Intrigued by the humans' reactions to the aliens' departure, she follows and watches them from afar. At a later point in time, she reveals herself to them and is accepted into the group. Liz, Maria, Alex and Kyle help her appear more human. Rian is a negotiator for the police force. She often helps Liz be two places at once by her impeccable ability to shape shift.
I hope you all enjoyed, and I'm looking forward to some feedback.
Thanks ya'll.

TBC

Raychel