Winner - Round 10
Title:
Someone To Love You
Authors:
Tiffany & Tanya
(aka: sweetbrowneyes & behrsgirl77)
Rating:
MATURE/ADULT(eventually)
Category:
M/L POV AU No Aliens
Disclaimer:
We unfortunately do not own Roswell or any of its characters, we are simply borrowing them so they can live happy lives in our fic and then we will put them back semi-used
Feedback:
Since this is our first attempt to co-write it would be much appreciated! We love feedback!
Summary:
Despite the beginning this is all Max and Liz we assure you. This is just a little something fun, light angst. Liz is a wedding planner, so what happens when it turns out she has to plan a wedding for her old high school crush, who happens to be the love of her life?
The first part was written by both of us. The first half by Tiffany and obviously that would mean the second part was moi!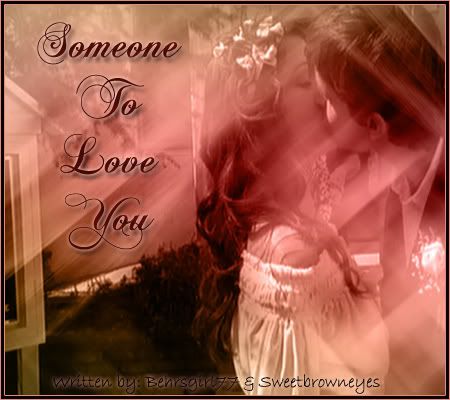 Chapter 1
Max's POV
Breathe in. Breathe out. Breathe in. Breathe out.
I continue to coach myself as I pace the living room, trying desperately to calm myself down. I rub my sweaty palms against my sleek, black dress pants and glance at my watch for about the sixth time in the last minute. I have a terrible need to call the restaurant for the fifth time to make sure that everything is set up just right. I really can't afford for anything to go wrong.
"I'm almost ready sweetie!" Tess calls from the bedroom. I nod, even though she can't see me. Tonight is quite possibly one of the most important nights of my life. And it's completely normal to feel like my head is going to explode with anticipation, right?
I stick my hands deep in my pockets and feel for that small velvet box. I'm alarmed when I feel nothing but my wallet. My eyes dart across the room, praying to God that I hadn't left it in the room where Tess could see it. How could I have been so careless? Everything is totally ruined now.
My breathing hitches when my fear turns into full-blown panic when I realize that I've lost the ring. The main reason we're going out tonight and I've lost it. I start in a mad dash for the kitchen, and I search through the many cabinets and drawers before common sense dawns on me and I ask myself why the hell I would have left the ring in the kitchen… in the spice cabinet nonetheless.
Breathe in. Breathe out.
I concentrate on calming myself and I check my pants pockets once more before I search the living room. I'm just about the look in between the couch cushions when Tess saunters into the room, a bright smile lighting her face. I try and act causal, throwing my arm across the back of the couch and try to seem cool and collected.
"Hey you," she whispers as she leans over and gives me a light peck on my lips. She stands back and lets me admire her as she spins as if she's a model. She's wearing a deep purple dress, with thin straps to hold it snug against her attractive form. I allow my eyes to roam along the low-neck line, admiring how the heart shape cut shows off just the right amount of cleavage. The fair skin of her back is barely covered due to the dangerously low cut. My eyes wonder down her shapely legs to her small feet, clad in matching high heel sandals. Her hair falls in soft curls around her face, bouncing as she turns for me.
"You clean up pretty good," I tease. I get to my feet and take her into my arms. She looks stunning and I'm so lucky to have her.
"You don't look so bad yourself," she returns. I smile and gesture towards the door. She grabs her shawl and her purse while I search for my keys. I find them along with the ring, in the pocket of my blazer. I sigh in relief and escort Tess out of the door.
We arrive at my restaurant, The White Rose Chateau, a few minutes later and I quickly jog around the front of the car to escort her towards the entrance. I've spent most of my 26 years dreaming of owning my own restaurant and it's finally happened. I feel like I have everything I could ever want right now. I have my dream career, wonderful friends and family, and hopefully, soon to be wife.
As we enter the softly lit room, she flashes me a proud smile and I can't help but blush at her silent praise. I guide her to our table and magically produce a pink rose once she's seated. A charming smile and a wink, and I'm rewarded with a soft kiss.
Light conversation is exchanged while we enjoy our meal and it's not until she excuses herself to the ladies room that I finally let my calm and cool façade weaken. I check my pockets for the ring for the umpteenth time. After dinner, I escort her to the car.
"Max, where are we going?" She asks me when she realizes I'm not driving back to our apartment.
"It's a surprise." We ride the rest of the way in a comfortable silence.
"What are you planning?" She queries with a wide smile as we pull into one of Roswell's most expensive hotels. I answer her with a mischievous smile as I lead her inside.
My nerves start to get the best of me as the elevator doors open to and lead her down the hallway towards our room. I kiss her sweetly before I open the door and gauge her reaction as she enters the room.
"Oh Max." She sighs as she takes in the candle lit room.
"I love you." She says as she leans up to kiss me.
"I love you too." I pull out of her embrace and lead her towards the couch. The moment of truth and I'm shaking like crazy. I get on bended knee, ready to take the biggest step of my life.
"Max? What…. Oh my God!!"
"Tess," I start in a shaky tone.
"You were my high school sweetheart and you've been with me through everything. I love you so much and I would like nothing more than for you to do me the honor of becoming my wife." I reach into my pocket and produce the ring.
"Tess Harding…. will you marry me?"
"Yes!"
Before I know it, she's in my arms, kissing me with great passion. But I abruptly pull away, scooping her in my arms and carrying her into the bedroom.
Next Afternoon
"Max are you sure you want to tell them today? We can wait until tomorrow or something." Tess says to me while we are in the car on the way over to Michael and Maria's place.
"Yes I'm sure, I already called them and told them we were coming over to tell them something, don't worry they'll be happy." I reach my hand across the seat to intertwine our fingers trying to gently reassure her. I know she's probably nervous because her and Maria do not get along very well. I honestly don't know why there is so much animosity coming from Maria but it's there and unfortunately as hard as I have tried I can't change Maria's mind. It's a subject we will agree to disagree on for a lifetime to come.
"I'm not worried, I just…I know Maria isn't going to be happy. I don't know why she doesn't like me Max. I tried talking to her in the past but she just doesn't want to hear it. She just ignores me for the most part and I didn't do anything to her."
"I know, don't worry I'll talk to her. Honestly though, I don't think I'll change her mind, but it's okay because we're going to be together and that's all that matters." I lift her hand and place a kiss on the back of it before turning my full attention back to the road.
We make it to Michael and Maria's about ten minutes later and through the door we can hear them arguing. Tess turns to me and at the same time we both say, "Again." We just laugh after that because it's a long-standing argument between to two of them. They are not happy unless they are arguing I have decided long ago.
I raise my hand to ring the doorbell and to my surprise Kyle answers the door.
"Hey Tess, Max." I don't wonder what he's doing here because he spends most of his free time over here.
"Hi Kyle." Tess says to him and leans in to give him a quick hug. I walk past them into the house and pat Kyle on the back.
"Hey man, so what's the argument about today?" He just shrugs as Tess enters the apartment behind me and he closes the door.
"Something about a wedding planner, I guess." Then we hear it radiating through their bedroom walls.
"Michael! If you're not going to help me then I need to find someone who knows what the hell they are doing!" Maria's shrill filters through the walls and makes us all cringe. Her voice while yelling is like nails on a chalkboard.
"I don't know how Michael puts up with that day in and day out. More power to him for marrying her crazy ass." Tess just lets out a little laugh and I just smile and shake my head. I walk over to their couch to take a seat because this could take a while.
"Maria, there is no reason why you can't plan this wedding! It's not rocket science; you can just pretend that it's a really big party instead." Hey sounds logical enough for me, but I'm sure that Michael just put his foot in his mouth. He told me about Maria's plans for hiring a wedding planner; I honestly don't see the problem with it. Hell if I can pay someone to take on all the hassles great!
"Hey there dumb ass it is a really big party in case you forgot!"
"Dumb ass! Look Maria how about you do whatever the hell you want to do, because everyone knows if you don't get your way all hell will break loose."
"Michael Guerin what is that supposed to mean?"
"Figure it out Maria, now I'm sure our guests have arrived and have listened to enough of our argument." Michael opens up the bedroom door and slams it behind him for emphasis.
Tess jumps at the sound and quickly makes her way over to me. I know she really doesn't want to see Maria right now.
"Hey Maxwell, Tess. What's going on?" Michael enters the living room and takes a seat on the couch opposite the one Tess and I are sitting on.
"Actually we have an announcement to make and well I'd really like to wait until Maria gets in here."
"Yeah okay, I'll go get her." He starts to rise from the couch, but Maria's voice stops him.
"You don't have to I'm here. Hi Max." She comes over to my side and I rise to meet her, she wraps her arms around me for a quick hug. Then she looks over my shoulder to see Tess sitting down.
"Tess."
"Hi Maria." Boy you could cut the tension in this room with a knife. I clear my throat and reach out my hand for Tess to grab a hold of and she rises to stand next to me.
I lead Tess over into the center of the room. Maria is looking at me suspiciously as is Kyle.
"Maria, Michael, Kyle; Tess and I have some good news to share with you." I take a deep breath and turn to Tess to give her an encouraging smile.
"Tess and I are getting married."
"What are you crazy Max?!" I feel Tess' hand slip from mine and she wraps her arms around herself at Maria's reaction.
"Maria…" Michael gets up from his spot on the couch and pulls Tess into a hug wishing her congratulations. While I'm furious with Maria's reaction I don't want to explode right here in front of everyone.
I look over to Kyle and he doesn't look so happy about the news either, what is wrong with my friends? Kyle looks at me and then walks over to say congratulations and then leans down to tell Tess how happy he is for her.
Meanwhile, Maria has since left the room and I have every intention of going after her. So after I excuse myself to everyone, I walk down the hallway and into the kitchen, where I find Maria sitting at the table.
"Maria, what the hell was that?" I am furious with her right now.
"I'm sorry it came out that way, but I'm still not happy for you Max, I can't be. I'm so…"
"No Maria, don't say you're sorry because I don't want to hear it anymore. I love her and we are getting married and I want you to be a part of it. Why are you being like this?" I can't understand it, nothing has happened that I know of that would cause Maria to dislike Tess that much.
"Max. I think it's a mistake I don't think you realize that you shouldn't be with her."
"What are you talking about, we have been together for almost eight years, I've been with her long enough besides she makes me happy and I want you to be happy for us."
"Alright Max, I'm happy that you're happy but I don't like her but for you I will try and get along with her. I just think you need to really think about it, because marriage is forever or at least it should be."
"I know it is, and I'm positive this is what I want. So can I get a congratulations Max?" I ask her teasingly. I know she is just looking out for my best interests.
"Congratulations Max." She puts her arms around me and we walk out to the living room, where she amazingly musters up a smile for Tess.
"So how about we go out to lunch to celebrate?" This comes from Maria, who quickly scoops up her purse and makes her way towards the front door.
Without another word we all pile out into the hallway and I turn to Maria and say,
"Thank you for trying."
"Hey what are friends for right? Come on I'm hungry and you don't want to be around me when I'm hungry."
"Yes, yes we all know that so let's hurry up before she sprouts another head." Kyle says and we all just laugh as Maria gives him a nasty glare and closes the door behind us.
TBC…