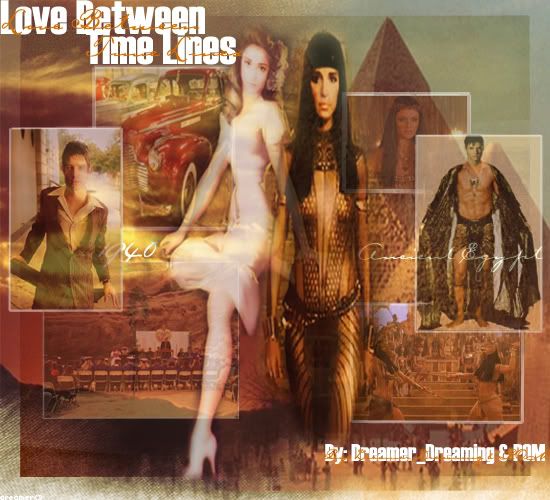 1940's minips and banner made by: Dreamer<3
Egyptian minips made by: Shiesty23
Title: Love Between Timelines
Author: Dreamer_Dreaming & POM
Disclaimer: We owe nothing of Roswell--or story concept by author: Carline B. Cooney- 'Both sides of Time' Loosely based.
Rating: Teen/ some Mature
Category: Alternative Universe w/out Aliens
Pairing: CC
A/N:
Story takes place in the 1940's in the beginning but mostly takes place in the ancient Egyptian times.
Summary:
not good with summaries--- but main things is that Liz goes off to college--goes back in time to the ancient egyptian times, where she befriends and falls in love with the prince of Egypt Zanander. A week until his marriage to his betrothed to Princess Serephna--he must choose between the love he was destined or to the one he didn't expects.
While Liz has to figure out, if her future in her time or the past.
Written by: Dreamer_Dreaming
Chapter one: Ending the first chapter
Now looking back at her life, all her twelve years in school—she thought she had it all made. Being the all American social butterfly of her class, head cheerleader, Student body President of her graduating class as well as the Valedictorian. Graduating at the top of her class and with one of the highest scores in the State, instead of every college fighting for the next big sport athlete to go to their school, they were buzzing around her.
"Liz honey, wake up. Today is the big day. You don't want to be late for your own graduation now, do you? Breakfast is on the table." Her mom spoke as she came into her room, and turning up the shades to let the already bright heated sunlight into the room.
With a peck on the cheek, her mother walked out carefully securing the door behind her. Looking at the calendar, it read June 15, 1940 and circled in bright red marker—today it read, 'Graduation'. Liz couldn't believe the day was finally here, the day she's been waiting for since she was five years old.
More than anything she wanted to be the first female in her family to go to college and not be tied down by getting a husband right after school ended like everyone intended her to. Like every family expected all women do, women were expected to marry after high school and only a few were even accepted into college. Liz wanted to set the mold for other girls, she wanted to show them that you don't always have to do what is expected of everyone, but it's what you want to do that matters the most in life.
Finally she got up from the lazy mood she was in and got up with a bounce in her step, eager to set forth a new day and ready to prove everyone wrong. Those who thought that a woman was only meant to be seen behind her husband. That's what her speech revolved around and she prayed that people would see her in a new light. Not as the girl that turned her back on her family.
She thought 'It's the forties right...It's time for a little change' and Liz was hoping she could be the one to prove it. She changed into her best red polka dot dress, with a red bow to match. Freshened up and headed downstairs, she knew that today was going to be a good day.
~~~
Liz sat with her fellow classmates wearing her cap and gown. Liz's hair was down and blowing in the wind as the sunlight hit her bare skin making her skin color look like milk.
At that moment Liz doesn't know what the future holds for her but she hopes it's filled with her dreams and accomplishments. Liz was feeling scared and excited at same time. This is the day that her life would change forever. Elizabeth Anne Parker was graduating from Roswell High.
She spent the last four years finding herself. Now she was moving on. "Liz, you're next!" She heard her best boy friend's voice, Alex Whitman, calling out to her to get her attention.
Alex didn't want her to be embarrassed or make a fool of herself the last day they were in front of their classmates. Liz had plenty of shares of that. God knows that. Alex knew Liz was nervous just by her not speaking enough. She looked like she was thinking a lot just like everyone else that was just as smart as Liz was.
"Elizabeth Parker…"
Liz got up from where she was sitting. She heard her heartbeats several times and the more she got closer to the stage the sooner she felt her throat closing off on her. She was now more nervous than ever. She wasn't nervous about getting her diploma but when next week she starts her first semester at New York University. Liz walked on stage as she took the hand of her high school principal. She smiled at the man in front of her as he spoke, "Congratulations Miss Parker."
Liz smiled at him once more, "Thank you Principal Hans." Liz let go his hand and waved to her friends and family. Liz felt relieved as she walked of the stage and stood next to her best girl friend, Maria Deluca.
"Liz, we did it!" Maria exclaimed with joy and tears as Alex joins them with an equally happy grin on his face as he gave both of his friends a hug.
"Congratulations Class of 1940. You did it!" Principal cheered with a gleeful voice. There was a roar of applause and cheers as the entire class including Liz, Maria, and Alex threw their caps up in the air and jumped up and down hugging each other because of their accomplishments. This was a new chapter in their lives.
"I'm going to miss you guys!" Liz cried as both happy and sad tears formed in her eyes.
Happy that they all accomplished this together and moving on with their lives. Also, sad because they would be separated across the country miles apart and would hardly get to see each other. She looks at her two best friends. Maria was going to Boston University as a music major, and Alex to Southern California University as a music major as well.
"We're going to miss you too," Maria cried out as Liz, Alex, and Maria stopped jumping in the air and stood still to form a group hug.
All the parents gather around taking pictures of everyone to remember this moment for the rest of their lives.
Everyone in the end headed over to Liz's parents' café to celebrate the joyful day...it will be day that everyone will remember. Liz was sure of it.
~~~
After talking to Maria for over an hour on the phone—crying and laughing about old memories and swearing to call and write every chance they get. Liz finally got off to finish packing for the trip to New York; she had said her good-byes to Alex the day before. She couldn't stop crying for the distance that was going to be between each other, but she also knew that this was something that was going to happen eventually.
Later on that night she all set to leave—her parents had just bought her a new car for her graduation present. She was going to be the first 'Parker' female to actually attend college. Her parents were proud of her, and also for getting into one of the top colleges in the country.
Wanting to be more independent, and mature now that she was eighteen years old, she convinced her father to allow her to drive herself to New York, Instead of taking a bus or worse having to take a cab.
Her mother was unsure of having a young woman driving by herself for days, but her father talked her into it...there it is again...a woman standing behind her husband. On the other hand Liz was going to be driving herself if they liked it or not.
Early the next morning, she was up at the crack of dawn, her mother hugging her endlessly and wouldn't let go.
"Mom, you're hurting me." Liz breathed out from the crook of her mother's neck, and tried to gasp for a breath of air.
"Nancy, you're suffocating the child." Her father spoke as Nancy let Liz go and Liz had to take a moment to balance her step, so she wouldn't faint from the lack of air to her lungs.
She knew it was out of love, that's why she didn't mind.
After another kiss, and hug, Liz's mother headed inside trying to hold back her tears. The time has come for her little girl to be all grown up. It was at this time that her father took her to the front of the cafe to see her off.
"Liz, you know how much we are proud of you and in addition to the car, we wanted you to have this." She looked at her father with wide eyes as he gave her five hundred dollars. She tried to find her voice.
"Daddy...I-I c-ca-"She struggled to get the words out but her father spoke above her, therefore cutting her off.
"I know it's a lot of money but your mother and I want you to have it. You don't have to spend it right away...just save it for an emergency." Liz knew better than to argue with her father, mainly because she knew he wouldn't take it back if she refused to take it.
And Liz had been offered a full scholarship to New York University with a major in Biology, with full room and board included. So, she knew that her father wanted to pay for something but there was nothing left to pay for except for the money he's offering now.
Liz nodded smiling and hugged him.
"I love you Daddy." He hugged her tighter at the mention of that, every time he looked at her he saw a little girl, five years old with pig tails, and wanting him to give her a piggy back ride.
With one more hug she was off with her father waving goodbye in the distance but even five blocks away from her home, and the 'Parker Cafe' she could still see him in the rear view mirror.
As she crossed the state border she whispered - "Good-bye Roswell".
~~~
Hours upon hours of continuous driving and still on the highway of I-94, Liz's car suddenly came to a stop. It completely turned itself off. Liz looked around the car as her hair fell down her face as she looked if there was any gas, but just her luck there wasn't any gas. Liz had forgotten to fill up her gas when she was in Lake Michigan. Furthermore, she didn't know what to do. She wasn't sure if she should spend the night in her car or if she should go looking for a pay phone around here in this area.
She huffed as she slumped in the seat. Liz unbuckled her seat beat and climbed out of the car. She looked around the area and begun walking to the nearest pay phone. Liz at that moment didn't know if she will make it to New York on time now. She was nearly driving for two days and two nights. She was just looking forward to starting her new school even though it scared the heck out of her. She just needed to make it there on time.
Liz was starting to hear some sounds. It was middle of the night. Liz just hoped she would make it through this walk alive and not dead. Liz's parents would not be too happy to find their own daughter killed by God knows what.
A bright light scanned over Liz's eyes and caught her attention. The light seem to be in a direction of somewhere in the forest or someone trying to get someone's attention and she happened to be the person that had just noticed.
"Is someone there? Excuse but my car broke down, can you help me?" Liz called out as she walked into the forest as she gets near the bright light.
"Hello? Anyone out there?" She heard the echo sound of her voice. Liz walked further into the light when she suddenly was sucked into this huge vortex.
"AHHHHHHHH" She was gone in thin air, like she never existed in this world.
TBC?