Title:
Table For Four
Authors:
nibbles2 and Rowedog. This is what happens when you put us in a blender, we produce this delightful smoothie of deliciousness.
Genre:
M/M & M/L (Who else would we be writing about?)
Summary:
Four single people. Somebody decides to play matchmaker. They're going to need a table for four.
Disclaimer:
We don't own any of these characters, they're owned by Jason Katims et al.
Rating:
Mature (for salty language purposes only)
A/N:
We decided to write a fic together for various reasons. BB - because she was bored and Alison - because she hasn't done anything productive in months. We've both written sections of each part, so it's fairly equitable. If you can pick which person wrote which section, BB will give you a cookie.
Big thanks to the very handsome RosDude for our banner.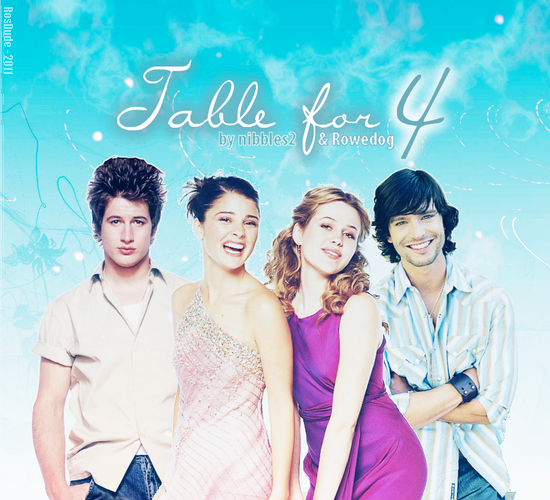 "Good morning," Max called out cheerfully as he strolled into Liz's lab station. It wasn't an unfamiliar occurrence for either Liz or Max to take some time from their duties to seek the other out. In such a small, insular company they were both thrilled to have found someone that they could get along with so well. Especially given that many of their colleagues were either insane, socially inept or a terrifying combination of both. It definitely made it easier to cope with their work situation when there was someone else to share in the stupidity of their work place.
They both worked as a medical lab technician which basically boiled down to them looking for bugs in people's blood and breeding cultures from swabs of people's feet and other nefarious body parts and fluids. Max liked to tell people that he spent his days looking at bodily fluids, Liz however, wasn't so taken with that description.
Liz smiled as she looked up from her washing of beakers. "You're disgustingly chipper for such an early hour in the morning. What gives?"
"When you look this good, who could be less than ecstatic?" Max replied cheekily, enjoying the disbelieving groan that came from Liz.
"I do love that lab coat look you've got going on there," Liz replied, her tongue firmly planted in her cheek. "Very working man chic."
"I put the fab in lab coat," Max informed Liz proudly, completely unfazed by her nonplussed look.
Liz put down the beaker she had been scrubbing. "Max, I hate to ruin what you clearly think is a well thought out and witty observation, but there is no fab in lab coat."
"Whatever," he dismissed grandly. "It rhymes, so it's good enough for me."
Liz laughed despite her best efforts not to. "Well, so long as you're satisfied who am I to judge?"
Max nodded, then turned to her after a moment's hesitation. "You know Liz, I was thinking. Maybe-"
"Liz," interrupted Courtney as she stalked into Liz's lab and then proceeded to stare blankly at her until Liz felt forced to say something.
"Yes Courtney?" Liz prompted, looking at her expectantly.
Liz recoiled and blinked at the piece of paper thrust unexpectedly under her nose. Max bit his lip, trying to keep the inevitable amusement about Courtney's social ineptitude at bay.
"You need to sign this," was all the explanation she received.
Liz gingerly took the proffered piece of paper from Courtney's grasp. "What is it?"
"It's a form."
With her free arm Liz elbowed Max who had let out a loud smothered snort of laughter. "I can see that Courtney. Do you know what the form is for?"
"No," she replied whilst staring past them both.
The widening of her eyes was the only thing that gave Liz's bewilderment away. But the slight action was enough for Max's laughter to escape his tight clutches.
Courtney only seemed to register vague interest in what Max was doing and didn't seem to pick up at all that the laughter was directed at her.
"You ever see the movie 'The Hangover', Courtney?" Max asked as casually as he could, trying to cover his tracks in case her latent social skills managed to discern that he was amused by her strangeness.
"No."
Max wasn't surprised. "Oh, you should. It's such a funny movie. I was watching it last night and I just remembered this scene where-"
"I don't enjoy comedies," Courtney informed him, cutting off whatever Max was about to say.
Liz and Max glanced over at each other, astounded by what they'd just heard. Who didn't like comedies?
"Done," Liz said after a moment, holding the form out to Courtney who promptly grabbed the sheet and turned on her heel to walk out.
"Courtney," Liz called out just as she was leaving, prompted by Max's silent urging. "Just out of curiosity… what movies do you like?"
Courtney turned, her face showing no expression. "Documentaries. On the Nazi regime."
"Well that's…" Max trailed off as he watched the door swing shut after Courtney's abrupt exit. "Specific."
There was a stunned moment of silence in which Max and Liz did nothing but look at each other as they tried to comprehend Courtney and her actions. They were largely unsuccessful in that endeavour.
Liz let out an unwieldy shriek of laughter as Max suddenly began to imitate walking on the moon. "Earth to Banks. Come in space cadet Banks."
"Scanning for socially functional people," Max continued, holding his phone out before him as he continued his charade to a chorus of Liz's laughter. "Results: negative."
Max came to an abrupt halt when Liz supposedly began to join in on his act. Which would have been fine normally, but he had no idea what she was doing. Her hands had formed fists and were placed on top of her head with her two index fingers poking out like little bull horns.
"What are you doing?" Max queried, a look of severe confusion having plastered itself across his face in response to her strange actions.
Liz's hands slowly dropped from her head. "I'm… I'm being a Martian." She placed her hands back up on her head hesitantly waggling her two index fingers like antlers. "These are my eyeballs. They're on stalks."
"Ohh, I get it," sighed Max before bursting into a fresh round of laughter. "Liz, you are a total dork."
"Hey!" objected Liz, her 'eyeball stalks' quickly being put away so that she could place her hands on her hips in a show of anger that she didn't feel. "At least I'm not as bad as Courtney!"
"That girl is not a dork," corrected Max, with an imperious wave of his finger. "She is a psychopath."
Liz shook her head sadly, wondering how someone managed to be that personality devoid. "Sometimes I watch her talk and it's like she's not even in there. She's just… staring off behind me, waiting for the mothership to come back."
Max nodded in agreement, rubbing idly at his throat. "I kinda feel like a lot of the time she's just two seconds away from snapping and ripping my jugular open with her teeth."
Liz's lips quirked up as she said as seriously as she could. "I hear she drinks kitten blood."
Max shot her a devious look and then tried to beat her at her own game. "I hear she lays down traps for rats in her apartment and then fries them and eats them."
"I hear she likes to sneak into children's bedrooms while they're sleeping and stare at them whilst fondling her screwdriver and whispering, '
Soon
'."
"I hear she fucked your Mom."
Liz shrugged nonchalantly as she was now used to Max's various comments about her mother. "Who hasn't? I hear she butchered an old lady and made Christmas tree ornaments out of her skin and bones."
Max nodded in agreement. "I'd have done it too. That old lady was a bitch."
Liz pouted at him, giving him her best faux sympathy look. "She steal your girlfriend from you?"
"Multiple times," Max replied with a sigh. "That old bitch was on the pension. How's a guy supposed to compete with that?"
"I suppose having a penis didn't help?"
Max shook his head sadly, pretending to be overcome by despair. After a moment, his head snapped back up from its bowed position as he asked the question he'd been wondering about. "By the way, what was the form for?"
"Oh, we're selling you on the black market. Well," Liz corrected with a smile. "Not you per se, just your organs."
"Awesome," enthused Max. "I love a good ice bath. When do we start?"
"Right now," Liz said, snatching up the nearby plastic butter knife that she'd used to spread cream cheese on her bagel that morning. Once again she'd been in a rush and had had to eat breakfast at work.
"Steady there Jeffrey Dahmer," Max said, gesturing to himself. "This is a one of a kind generic lab coat. You can't go getting blood all over it."
"I suppose that's true," reasoned Liz, slowly lowering the crappy plastic utensil. "Besides, I have to go out after work and I can't go out with blood splatters on me. What would the neighbours think?"
"Yeah right, like you're actually doing anything tonight," Max scoffed teasingly with an eye roll.
Liz returned his eye roll and upped the stakes by pinning him with a glare. "I am actually."
She could see his teasing smile begin to grow. "Oh yeah? What are you doing?"
"
I
am going to the movies with my good friend and roommate, Maria."
Max snorted, leaning against one of the benches as he attempted to stare her down. "She totally doesn't exist."
Liz crossed the room to lean on the bench next to him and clean up the remnants of her breakfast. "What? Am I some sort of social inept that I have to make up friends now?"
"I won't tell anyone, don't worry," he leaned in, his voice lowered to a confidential whisper.
"Thank you for your kindness," Liz replied glibly. "Anyway, you had better head back to your lab before Space Cadet decides to report you for slacking again."
Pushing himself off the bench reluctantly, Liz heard him grumble, "She would too, that fucking Nazi."
She laughed lightly and then sighed happily as she turned her attention back to the dirty beakers. He really was the best part about working for the company.
***
Maria handed Liz a homemade cosmopolitan and took a seat beside her on the leather couch. "Cheers."
Liz clinked her glass against Maria's and took a sip and grimaced at it's potency. "Are you trying to get me drunk?"
"Yes," Maria laughed, batting her eyes. "I've been dropping hints about getting our lesbian on for months but since that's not working, I decided to get you drunk so I could molest you when you're passed out on the sofa."
"Cool."
Maria nodded. "Yeah, I thought so." She sighed. "It's probably the best chance I have of getting any action. It's been a famine lately."
"Yeah, I know what you mean," Liz agreed. "I can't remember the last time I had a date. Or even met a guy worth dating."
Maria turned her head sharply to face Liz in disbelief. "Um, hello, what about Max?"
"Max?" Liz echoed, her face reddening. "What about him? He's just a friend from work."
"You are kidding? Right?" Maria couldn't believe she was hearing this. "Liz, since he started working at the lab you have talked about nothing else but Max. It's 'Max said this', 'Max did that', 'Max has a sweater like that', 'Max likes this band', 'Max loves these cookies' 'Max watches this show', Max, Max, Max."
"What? I do not," Liz practically shrieked. She cleared her throat and in a slightly lower octave continued. "He's a good friend and I like him
as a friend
, but that's all."
Maria scoffed. "Liz, please, you're such a liar. You are so hot for Max that your panties are about to spontaneously combust."
Liz spluttered causing Maria to smirk.
"That is so untrue, Maria," Liz protested, ignoring the way her heart was hammering in her chest. "I don't like him, Maria, I don't."
"Ok, if you say so," Maria shrugged, not for one second believing that Liz wasn't madly in love with her co-worker.
She had known Liz since she was about three years old and could read her like a book, particularly as Liz had never been any good at hiding her feelings. Liz had never spoken about anybody as much as she talked about Max. Even when she had met Dr. Laura Holt, her idol, she hadn't gushed as much as the time Max wore a green shirt that brought out his eyes. The only thing that Maria didn't know, was why Liz was in such denial about her feelings for the guy. From what she had heard about Max, which was a lot, she had figured that he had feelings for Liz too, but was too shy to do anything about it. Which might be why Liz was so determined to pretend to herself that Max wasn't interested in her.
Maria wished that she could get the two of them together so that he could bang their heads against each other until they admitted they wanted to make little babies together. And not the scientific way involving a petri dish, but the good old human way, involving a bed.
She cast a glance at Liz and wondered to herself, maybe there was a way.
"Liz, if you're really not interested in Max," she began.
"I'm not," Liz insisted firmly.
"Well, from everything you've said about him, he sounds great."
Liz nodded. "He is. Really great."
"And hot," Maria added.
Liz nodded again, vigorously, her eyes glazing a little.
"Well, if you're not interested, I am."
"Wha..?" Liz's mouth opened and closed several times. She blinked, completely frozen. Her first instinct was to say no. To scream it. To grab Maria by her hair and tell her to get her own man. But that was ridiculous. She wasn't into Max. At all.
"So, could you set us up?" Maria asked. She smiled, watching the conflict play out on Liz's expressive face.
"Uh, I don't know if Max is your type."
"Hot is always my type," Maria shrugged. "Plus, sweet, kind, funny, romantic. He's every woman's type. Please, Liz."
"I don't think that Max would like to be set up, he's kind of shy."
"Liz, you got the guy to plant a bra in your bosses office three weeks after he met you, I'm sure you can talk him into going out on a date with your hot, funny, gorgeous, friend," Maria smiled. "That's me, by the way."
Liz squirmed around in her seat, unsure what to say.
"Please, please," Maria begged.
"Ok. I'll ask him," Liz gave in eventually. She put down her glass. It wasn't agreeing with her, she felt kind of sick from it, actually.
"Awesome," Maria smiled. "Hey! You'll come too, right?"
Liz's eyes widened with surprise. "What? You're not looking for a threesome are you?"
Maria shook her head seriously. "No, but I don't want to go on a blind date alone. I saw this movie last week about a woman who went on a blind date and the guy raped and murdered her."
"Maria," Liz laughed. "Max is not going to rape and murder you."
"You don't know that," Maria countered. "Ask him if he has a friend for you and we can go on a double date. It will be fun."
"I..." Liz, really tried to think of a reason to say no but there wasn't one. At least not one that she could admit to herself. Defeated, she flapped her arms, "I'll ask him."
Maria squealed and hugged her. "Yay, this will be so much fun."
Liz leaned back in her seat, her arms folded across her chest. Fun was not the word she would have used.
***