Winner Round 14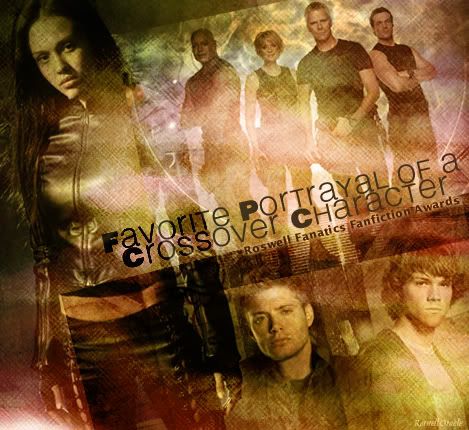 So I've been spending a lot of time reading on Twisting the Hellmouth lately and was inspired by the Mommy Anita Challenge. Since my other Roswell/AB fic is on the fritz right now I've decided to do a Roswell Crossover using the elements of the challenge and the result is this story; Wander Into Darkness. For those of you who aren't familiar with the Anita Blake Universe I've included a few helpful links (Plus you should totally go read them!) and am quite willing to answer any questions you may have either just posted in this thread or sent to me in a personal message.
Anita Blake/BtVS crossover.
(Now Roswell
, we're taking over the world!)
At some well-established point pre-Chosen, one of the major players in the Buffy verse is, for reasons that are up to you, sucked into the alternate dimension of Anita Blake. Unfortunately, cross-dimensional travel has its side effects, and aforementioned character undergoes age reversal and some additional power attributions while crossing over, so that they arrive in St. Louis as a young child with a lot of power. One of the Anita verse characters finds the child and takes him/her in.
AB Links -
http://en.wikipedia.org/wiki/Anita_blake
- The Anita Blake Entry in Wikipedia, lots of good overview information.
http://www.anitablakewiki.com/?t=anon
- If you want to go more in depth or just see some more fun things this is a good fan made site.
Also, as a fair warning before you get your hopes up on characters; the three I am sending over are Liz, Alex, and Tess. So, if you hate Liz or Tess stop now and read another story, I don't think anyone hates Alex...not sure if that's even possible but on the off chance you don't like him, once again, stop now and go read someone else's fic. I mean this with love.
So for those of you familiar with the AB series I am screwing with the timelines and characters just a bit, nothing too dramatic. This is set soon after Blue Moon but with several changes that did not occur until later in the series, or in some case I'm removing things that happened.
She is taking a break from her relationship with Richard and Jean Claude but she's not ignoring the rest of her people or responsibilities so most of the things that went wrong because of time she avoided everyone aren't going to be in here. One of the most important things for my story is that she's going to have had more time to bond with the leopards, including Nathaniel so his backbone is going to appear sooner than it did in Canon. For now the most important thing to know is that Nathaniel and the leopards are closer to Anita sooner than they were in the books. There may be a few other things but I will do my best to either address the changes in the story or in notes before chapters.
Anyways, I think that's enough out of me. On with the story!
Title:
Wander Into Darkness
Disclaimer:
I own absolutely nothing, all characters and original Roswell/Anita verse settings belong to other very lucky people.
Pairings/Couples/Category:
UC/Crossover. The main characters are Liz, Tess, and Alex from the Roswell verse and all the main Anita verse characters. As this will largely be set with the three Roswellians as children pairings will not be set until later on in the story or in the sequel, for Anita the pairings will be canon.
Rating:
Adult, there will be violence and references to sex; this is crossed with Anita Blake after all!
Summary:
What happens when three of our beloved Roswellians are dropped into the Anita verse as adorable, powerful, six year olds.
Author's Note:
For the Roswell timeline this is set just after The End of the World and goes completely AU from there. For Anita this is set soon after Blue Moon and therefore almost a year before Obsidian Butterfly with several AU elements as described above the story.
~Chapter 1~
Tess turned away from the blankly staring boy in front her, trying vainly to blink back the tears that burned in her eyes. This was wrong, horribly wrong, and she didn't think she could go through with it. Nasedo would have been furious if he knew she had allowed herself to care for the humans, but it was too late to change that now.
He had pushed her towards this plan after she had mentioned how smart the boy was, something she now cursed herself for ever bringing up. 'Maybe something good can come of these despicable connections they have formed with the humans; you shall use him to translate the book. If nothing else these humans can be satisfactory as tools.'
Choking back a strangled croak that was somewhere between a laugh and a sob, she dug her nails into her palms until drops of blood started trickling down her fingers. Turning her hands over she watched the red drops dry into rust brown streaks, a newfound determination bubbling inside of her. Nasedo's blood wasn't red but hers was and so was the boy's. She liked her human side better than her Antarian side right now, and it was time she started making decisions for herself instead of following someone else's plan. Especially a someone who, as she had begun to realize, had never cared for her at all.
Turning sharply on her heel she reached out and tugged with her mind, the dark haired young man following silently behind her as she left the house and slipped behind the wheel of Nasedo's car; it was time for a change.
The drive to the cave was disturbingly quiet, only his breathing indicating that the vacant body next to her was in fact alive. It gave her time to think however, and for this she was grateful, making the decision to be her own person was relatively easy when compared to the actuality of it. Nasedo may have been dead but Khivar wasn't going to accept this without a fight, and she needed to ensure not only her own safety, but the safety of the rest of the group that against her will she had become strangely attached to.
As they headed up the side of the cliff she tried to steel herself for what she was about to do, hoping that despite a million reasons to the contrary that the boy behind her wouldn't hate her. Waving her hand over the stone she pressed it against the silver symbol that appeared and waited rather impatiently for the telltale groan of the rock wall sliding open.
Now that she had decided to do this she found herself rather eager to get it over with. This was a whole new chapter of her life she was starting, and despite the fact that she knew it had a high chance of going horribly wrong, she was still unable to stop hoping that it would turn out to be the first good chapter yet.
Finally they were safely ensconced inside the stone chamber, the power of the Granolith humming behind her, and gritting her teeth she pulled herself out of Alex's mind, watching as the life flooded back into his soulful blue eyes just before they narrowed suspiciously at her.
~
"What's going on Tess?" The boy asked flatly, his usual good nature suppressed by the unusual circumstances he found himself in. He remembered being pleasantly surprised when Tess came to visit him at his house, asking for his help with a project in her computer class, and then not much else before suddenly coming to himself here, in what he could only assume was the cave where the four aliens were hatched.
Unlike Maria he had chosen not to judge the strange girl who attached herself rather forcefully to their group. Even after the revelations that had left his best friend heartbroken, he had done his best to be friendly with the small blond. After all due to those same revelations she didn't have any friends left.
Isabel avoided her like the plague, hating her for the reminder that she wasn't a normal girl, Michael appreciated her knowledge but didn't trust her and made it clear, and Max in his avid pursuit of Liz did his best to ignore her. Liz was the only one who like him seemed to try and be friendly, but Maria was downright cruel to her, and despite the cold front Tess presented to the world he couldn't help but think that like Isabel, it was just a façade hiding the insecure girl inside. However being friendly to her didn't mean he trusted her, and knowing what he did about her abilities, he found his good feelings dwindling. "What did you do to me?"
"I mind warped you. I was going to convince you and everyone that you were going on that exchange student trip and use you to translate this." She said quietly but firmly as she pulled a strange metal book out from her bag. Holding up her hand to stop him from speaking she continued as if afraid that if she was interrupted she would never finish. "The book would tell me how to use the Granolith to take us back to Antar. It was part of a plan that Nasedo devised with Khivar, the one who killed us. They wanted me to get pregnant with Max's baby and then return with the other three to Antar. Max and the others would be killed and my child would become Khivar's heir, his royal blood ensuring the loyalty of the people."
For the first time in his young life Alex felt he understood the phrase 'jaw hitting the floor' as that was what his was currently attempting. "Why…why are you telling me this?"
The petite girl's lips trembled slightly "Because I don't want to do this. I don't want to hurt anyone, and I don't want to be used as a brood mare, and I don't want to use you!"
At the beginning of her brief yet impassioned speech she looked about to cry, but by the end her blue eyes were blazing with a fierce determination, and for a moment Alex got a glimpse of what she must have been like in her prior life; a Queen trying to guide her people and her King safely through a war.
"Well as I like not being hurt or used myself I think I'm glad you told me." He said after a few quiet moments, and then gave a wry grin at the shocked look on her face. "I hope you didn't expect me to hate you."
A hint of personality flashed across her face and she replied with good humor "Well yes, but I was hoping you wouldn't. I need your help."
He cocked his head to the side and raised a curious eyebrow. "What do you need my help for? I am just a human after all."
Tess smiled, "You are not just anything Alex, you are incredibly intelligent and you actually care about people, even me who has done everything possible to try and tear down your world." Her grin widened at his now shocked face, something inside of her dancing up and down at the freedom she felt. "Even Nasedo acknowledged your intelligence and it's that intelligence that I, that we all, need in order to stop Khivar's plotting without any of us ending up dead."
Alex nodded slowly, his mind already turning the problem over as it searched for a solution. "I will help but I think there's someone else we need to bring into this. I'm not the only smart human after all and I think she'll be grateful for something to do, plus three minds are better than two and she's the only one who won't freak out when she hears what you have to say."
"Liz." The hybrid said softly, a statement not a question. "Did you know she's been trying to help me get Max's attention?" She shook her head, "I don't think I could do that if I was in her place."
"That's my Lizzy." Alex replied with a proud smile, "Always doing what she thinks is right even if it means hurting herself." Then his smile changed and became a little less nice, and a lot more protective, "She deserves a chance to help with this, she's done more to earn your guys' trust than any of us and she's had the worst luck, maybe helping you with Khivar will give her a chance to fight back."
Tess nodded sharply, not letting herself pause to think or worry. "Well then call her, the sooner we can figure something out the better. Khivar isn't here but Copper Summit can't have been his only forces on Earth, sooner or later he's bound to figure out I'm not following the plan anymore and decide to take matters into his own hands."
Reaching into his pocket Alex pulled out his cell phone, surprised to see that he actually had reception in the depths of an alien made cave. It rang twice before Liz's soft voice came on the line, a lot shakier than he was used to hearing.
"Alex? Are you ok?"
"Yeah Lizzy I'm fine, I need your help. Can you meet me at the cave?"
There was a pause before she replied, voice suddenly suspicious, "How do you know where the cave is Alex? You weren't there this summer, is someone there with you?"
"Tess is here with me, we both need your help and no, this isn't a mindwarp talking."
There was silence and then her voice, much calmer and colder than before, came across the line. "I'll be right there, don't go anywhere." Then there was a click and silence.
He could tell she was coming more out of fear for him than anything else, and could only hope she came alone. He didn't trust the rationality of the rest of their group when it came to Tess or any of the alien crap.
Pushing the cell phone back into his jeans pocket he smiled weakly at the blond, "She's coming but she's expecting the worst so let's try and be gentle with the news."
"I'm not sure that's possible." Tess said with a wry smile before turning to face the Granolith, her hands hovering just above the glowing surface. They were silent for several minutes before Alex approached her, unable to suppress his curiosity.
"What is it exactly?"
"I'm not sure exactly," she stated with a wry smile, "My memories aren't as complete as I'd like them to be. I know the Granolith is important I just don't know why." Looking over her shoulder at him she continued, "I was hoping the book could tell me."
He was more than little surprised at her acknowledging weakness, surprised and pleased, if she was willing to be human than maybe this would work out. "Why would they send you here with a book you couldn't read? That doesn't make any sense if they want you to come back home."
"Well I think we've learned that they weren't exactly thinking clearly when they sent all of you here." A new and slightly bitter voice filled the cave as Liz stepped through the opening, her eyes dark as she watched the two of them.
"Liz!" Alex exclaimed with a smile that belied the worry in his eyes as he pulled her into a warm hug. Her body was tense against his and after a moment he pulled away. Still holding her arms he frowned as he saw the pain and exhaustion radiating from her face. "What happened?"
Liz ran her hand through her hair and gave him a weak smile. "Oh you know, my future husband came back using an alien time machine and told me to make him fall out of love with me so that the world wouldn't end; nothing out of the ordinary."
Seeing the two gape jawed faces in front of her Liz started to laugh, the slightly hysterical giggles quickly dissolving into sobs as Alex once again pulled her into his arms, turning so he could stare worriedly at Tess over her head. What the hell had happened to their lives?
A/N:
The next chapter will be posted in two weeks (I'm alternating with my When Dreams Change updates) and I hope you all enjoy and review!
Edited on 04/04 to add the banner, isn't it pretty?