Winner - Round 14
Winner - Round 11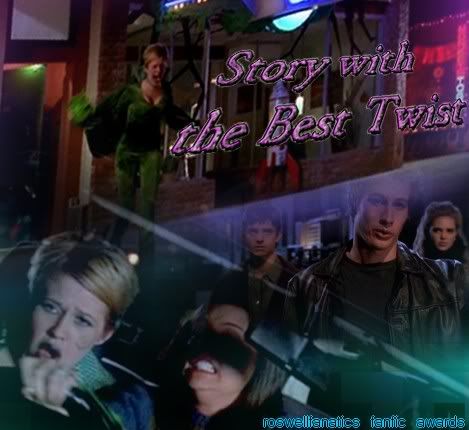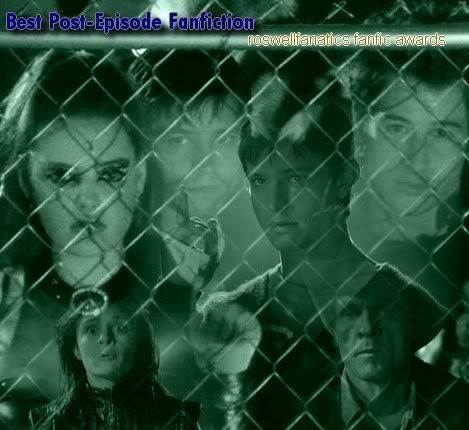 Winner - Round 10
IMG]
http://i577.photobucket.com/albums/ss21 ... onvfic.jpg
[/IMG]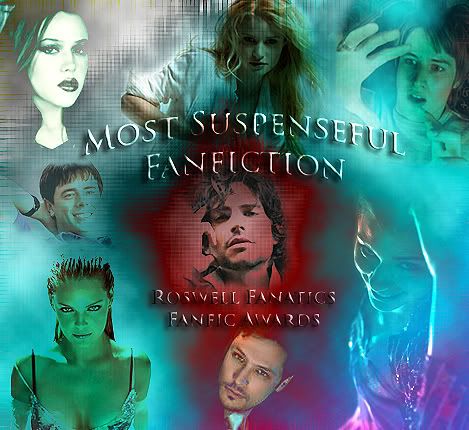 Winner - Round 9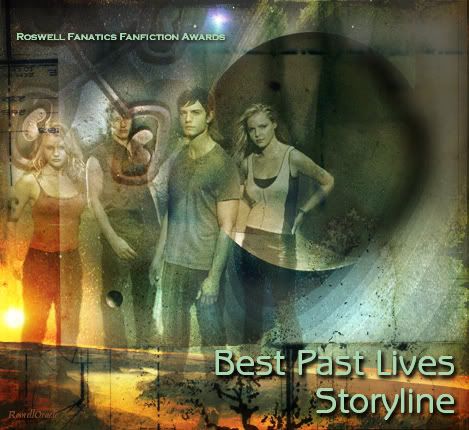 Red Shift
A new Roswell Fanfic by WR
Disclaimer:
Characters and plot lines that appeared in the series, the books, and the concept of Roswell are not mine. Belong to Melinda Metz, UPN, etc, etc.
Category:
Predominately M&L - but the others are involved. CC
Rating:
MATURE - ADULT (eventually)
Author's note:
A big
thank you
to Jen and Jeannine who have been invaluable with their assistance with this story. As normal, regular Friday updates, time permitting.
Summary:
Sort of a Future Fic. This story picks up after Departure. Five years have passed since Tess left and not everything is getting back to normal. Can any of the gang pick up the pieces of their lives, or are they doomed to forever suffer from Tess's betrayal?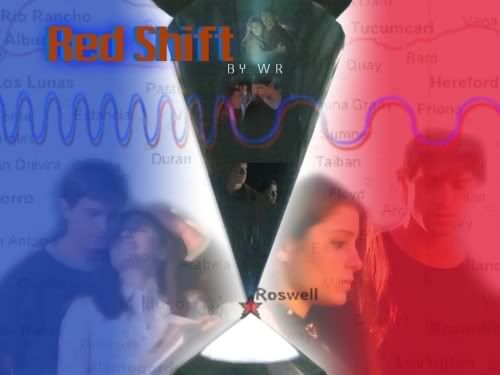 Banner courtesy of Borders InSaNiTy
Prologue
August, 2006
Margaret Pearson had been a nurse for only five years now, but she firmly believed that she was a good one. That she was one of the best. Having qualified at the top of her class, it was inevitable that she would find employment at such a prestigious hospital as the very exclusive St James Hospital in Jackson, Mississippi. St James employed only the very best personnel, utilized the best equipment and naturally, charged the best prices. That is, the best for the bank accounts of the board members.
Margaret loved her job, she truly did. And she couldn't believe how lucky she was to be working in the children's ward. She felt blessed. She felt especially blessed when she saw the excited look on the face of a child who had been declared fit to go home. While she did feel a little aggrieved by the knowledge that these children were receiving treatment and care that many others simply could not afford, someone had to work in places like these, so why not her? Especially as she did her part by donating a portion of her salary to children's charities and helped out whenever she could, for free, at the Sister's of Mercy Charitable Hospital in the less affluent side of town.
Margaret was also only too aware of the fact that money did not guarantee immunity to ones mortality. There were those poor, dear children who did not make it; who could not be cured of the leukemia, or who would not recover from the devastating trauma caused by a road accident and therefore, would not get to go home. Margaret, or Maggie to her friends, was as upset over losing those unfortunate children as their families were. Maggie was one who easily formed bonds of friendship with the children in her care. Bonds that perhaps she shouldn't have allowed to form, but she was only human. So bonds, she formed. Like the one that she formed with little Anna Lee.
Anna had come in with a broken leg from a nasty fall on her bicycle and had to have her leg placed in traction before they could put a cast on and send her home. Plus, she had a mild concussion that had worried the doctors and so needed observation. The sweet, seven year old girl had been at the hospital for only a week, but Maggie had fallen in love with the brave little child. And today it was time for her to go home. It was Anna who had demanded that Maggie push her wheelchair down to the entrance, Anna who insisted that it was Maggie who lifted her into her father's car. Maggie could not help the tears as she waved goodbye to the little girl when her father drove her down the long lane through the trees, on her way home. As the car turned the corner, she released a soft sigh, smiled, wiped away the tears and turned back inside.
"Your turn to see to Sleeping Beauty," the head nurse shook her head as Maggie returned to her station on the children's ward.
* * *
The rubber soles of her white shoes squeaked on the polished floor as Maggie pushed her small trolley along the corridor to the small room at the end. She knocked three times and opened the door, pushing the trolley into the room before her.
"Good afternoon, Alison," Maggie smiled at the young blonde teenager lying prostrate on the hospital bed. "And how are we this fine summer's day?"
Every hospital had its problem patient. The one that none of the nurses wanted to deal with. The one that every nurse wanted to get away from as soon as possible and stay away. Usually, that one was a middle-aged male who thought that he was God's gift to women and could not keep his hands to himself; the one who believed that a nurse's duties extended to more… personal needs. On the children's ward, it was usually the spoiled brat who threatened you with 'Daddy' if things did not go their way.
Alison was St James' problem patient. Not for anything she did, said or threatened. No, it was because Alison was politely defined as being in a coma. It was a strange coma. Brain dead, was how the doctor described her. Her vital signs, her pulse and her breathing were all good. As long as the body was fed, it lived. But apart from small neurological triggers that sent signals to the body's organs to keep the host alive, it was as if Alison had been born with no mind.
She had never been given a last name, because no one was ever able to ascertain her parents. It had been a lawyer who had delivered the baby to the hospital with instructions to look after the child until she either awoke from her coma, or finally passed away. He was, he claimed, acting on behalf of the child's parents. The hospital received regular payment from a fund set up at a local bank, who had assured the hospital that there were adequate provisions to sustain the child's life for decades. Every six weeks, the hospital had to forward the reports and current conditions of the child's status whereupon they would receive payment for the next six weeks.
Alison had been named by the social worker who had tried without success to get a court ruling, forcing the lawyer in charge of the fund to divulge the parent's identities. As the lawyer had pointed out, if the child was already receiving the best care and attention that money could buy, imposing no burden upon the taxpayer, what possible benefit could be gained by revealing the parents of the poor, unfortunate child.
Maggie felt sorry for the poor girl. She never received any visitors, although she knew for a fact that the lawyer appeared twice a year to check that the child was, in fact, still alive. As far as she knew, the only person who ever spoke to Alison was herself. She never looked upon this task as a burden and had often traded other duties she did find annoying for the opportunity to be with Alison.
The other nurses did not like dealing with the girl. Knowing that she had no mind at all, they were all 'freaked' by the idea of being alone in the room with… 'it'. Maggie, however, always referred to her by name and still had hope that she would one day recover and go on to lead a normal life. Maggie liked it when it was her turn to treat her.
"I'm glad to hear that you're doing so well," Maggie answered the girl's silence. She always talked to Alison, remembering how, in her training, she was taught to talk to people in comas. "It's a shame you can't be outside. The sun is shining, and the temperatures up in the high nineties already. You just be thankful that you have air conditioning in here."
The first thing that Maggie did was to throw away the flowers that she had brought with her on her last visit, and clean out the vase. After filling it with clean water, she placed a new bouquet into it, standing on the bedside cabinet next to her.
"I know they're only from me," she whispered. "But we can pretend that your boyfriend sent them, okay?"
Maggie stood up and grinned.
"Why Alison. Are you blushing?"
Of course, she wasn't.
Maggie's next task was to change over the plastic IV bags that were strapped to her various points in her arm.
"I expect we'll need to move these, soon," Maggie checked the feed that had been attached to one of her veins. Small red blotches indicated the previous few places, not yet fully healed that had been used before. After the drips, Maggie dealt with the bags that took away Alison's waste products. Not her favorite task, but essential nevertheless.
"We'll soon have you up and about," Maggie smiled back at the girl as she filled a bowl with luke-warm water at the sink in the corner. Having finished with the medical checks, it was time to turn to her hygiene needs. "One of these days you'll wake up, and then you can go out there and find some guy to bowl over. And you'll do all the things you've not been able to. Like dance, and party, and make out with an amazing guy in the back seat of an expensive car. Oh, that reminds me." Maggie looked around with a slight tint to her cheeks. "Next time, I'll give you the talk. You know. THE talk."
Maggie pulled the sheet back, and opened up the girl's night dress and removed it, careful to maintain the young girl's modesty with some towels, in case one of the orderlies came in, even though Alison would know nothing about it. After all, she was fourteen years old and already blossoming into a young woman. A very attractive young woman.
"And not a moment too soon, I shouldn't wonder," Maggie giggled.
"After your bath," Maggie smiled. "I'll trim your hair."
Maggie ran her fingers through her long blonde locks.
"It's getting a bit long."
She pulled it out of the way.
"Blonde hair," she smiled as she peeled one of her eyelids back. "Are they blue… or green eyes? Green. Long legs. A killer body in the making. Yup." Maggie smiled. "You are going to be some heart breaker."
I hope, she added silently.
Maggie soon finished the mundane tasks that everyone else hated doing.
"I wonder why it is that you can't live a normal life?" Maggie started to dress Alison in a clean nightdress, careful to avoid knocking the pipes and tubes that helped keep her alive. "I mean, no one's ever found any valid medical reason for your condition. I assume that you were a normal delivery when you were born. Apparently, you arrived here within hours of your birth but there's no mention of any problems. You didn't fall sick or anything. You weren't dropped on your head."
Maggie started to change her sheets, rolling the girl first one way and then the other as she pushed and pulled the old bottom sheet away and the new one into position.
"Maybe your mother was less than ideal. Maybe she smoke too much, or drank. Maybe she did drugs or something."
With her bed remade, Maggie started to manipulate and massage Alison's legs, her back and her arms so that she wouldn't develop bedsores.
"There's got to be a reason for you to be like this." She looked up and smiled. "Perhaps you really are a sleeping beauty, and you're just waiting for your prince to come and give you your waking kiss. I wonder if your mom had a spinning wheel."
Her final act was to drape a sheet over her body.
Maggie leaned over Alison, bringing her mouth close to her ear.
"I was speaking to a friend of mine over the weekend," Maggie whispered with a hint of conspiracy, even though she knew that no one, not even Alison could hear her. "She was training at the same time as me. Anyway, she found a job at a big private clinic down over in Atlanta. She works in pediatrics, too. And do you know what she had to tell me? She said that they had a child in a coma just like you." Maggie stood back up. "A young man. The same age, though he was born a few months before you. Same condition as you. And get this. Their fees are being paid through some hotshot lawyer, just like yours. And no one ever visits him either. Isn't that funny? I mean, what's the likelihood of their being another case identical to you?" Maggie paused and looked down at Alison. "Wouldn't it be awful if he was supposed to be your Prince Charming?"
Maggie made a few last minute checks, making sure that all the tubes, pipes and sensors were correctly attached to the correct places. Mistakes were not tolerated with this patient.
"I wonder what could have caused that?" Maggie frowned. "I mean, I know how certain drugs can have strange effects on an unborn fetus. Maybe that's what it is. Maybe your moms were all some kind of volunteers for some big pharmaceutical company's drug trials." Her eyes widened. "Oh my god!"
Maggie's hand flew to her mouth.
"That 'is' it, isn't it? It all makes sense. Your moms were both… hard up for cash. So they volunteered to try this… I don't know. Anti-sickness drug or something. And this is the side effects. To keep everyone quiet, the company is paying for your treatment."
Maggie continued to work, her eyes filled with sympathy.
"Well, no mater how you got here, it's not your fault."
Maggie checked the paper roll in the monitor's bay to record the body's life signs over the next twenty-four hour period.
"Still," she sighed. "I hope you wake up soon, before you miss too much more of your childhood."
Maggie placed a soft kiss on Alison's forehead and turned to the door, her feet squeaking in the silence, save for the steady hum of the machinery and the susurrus from the ventilator.
"Goodnight," she whispered, as she looked through the gap before she closed it. "Sweet dreams."
Inside the room, Alison continued her assisted breathing, having registered absolutely nothing of the one sided conversation.
* * *