Winner - Round 8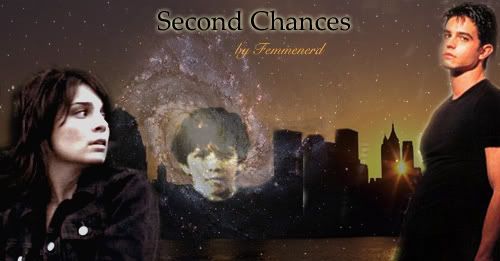 banner by femmenerd
Title: "Second Chances"
Author: femmenerd
Pairing: Liz/Zan, also features Isabel and Serena, Michael and Maria, and Ava
Rating: Teen to Adult
Disclaimer: I do not own Roswell. Not making any dollars off this.
Summary: This story follows canon up to but not including "Chant down Babylon." Basically…Max dies in the fire and this story is set about five years later in New York City. Liz was pregnant by Max when he died and had a son who is now four years old. She lives with Isabel in NYC and is finishing her degree at Columbia and raising her son.
Warning: Isabel's a lovely lesbian in this fic so if you can't deal with that, then don't read it.
Author's note: I recently discovered that there is another story with the same title as this one by Tesseract. I apologize for any confusion this may have caused - I was unaware of its existence at the time that I titled this story and I didn't mean to step on any toes. In case that is the story that you were looking for, it can be found in the dead and buried forum
here
.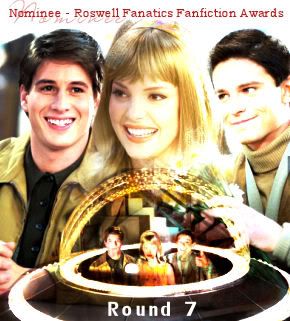 Thank you so much to everyone who nominated this story!

Best Supporting Portrayal of Isabel Evans

Best Portrayal of a Dupe

Favourite Newcomer

Best Unconventional Couple Fanfic

Best Dupe Fic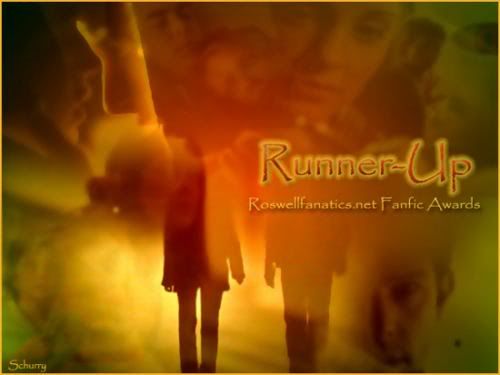 Best Supporting Portrayal of Isabel Evans
Part 1
Central Park
"Max, honey, don't run too far off. Stay where Mommy and Auntie Iz can see you. OK baby?"
Liz sighed and rolled her eyes, smiling as she sat back down on the park bench. Absentmindedly she rooted around in her purse before pulling out the notebook containing her notes from yesterday's micro-bio class. She grabbed a stray hair elastic to pull back the wisps of brown hair that framed her face so she could read.
Liz's hair was still shiny as a Breck girl's just like it was when she was a teenager. The new layered cut that Isabel had forced on her revised her look a little but there was no helping the fact that she was still a tad on the conventional side as far as that stuff goes, Liz thought to herself. We can't all be as fashionable as you Iz, she always retorted to her roommate and closest friend in New York. Isabel's new salon "Trix" had become very successful and despite all the trend-obsessed clients drooling to have their hair done by the Isabel, Liz (and her hair) was still a pet project of hers. Isabel had really found her passion doing hair and she was good at it too (and she didn't even use her powers…..much). It was all about reading people and figuring out how to make them look their best. It was performing a public service really if you thought about it - helping people feel good about themselves. Currently Isabel's own hair was a smattering of multiple reds, oranges and blondes: a perfectly orchestrated chaos of curls and tendrils framing her face in two inch long pieces. It definitely paired well with her new red leather pants and black off-the-shoulder top.
Although not as showy as her compatriot and despite her own self-depreciating tone, no one would look at Liz Parker and think, "what a boring-looking woman." She had a kind of non-assuming beauty, all the more pronounced because of the natural, unselfconscious way that she wore it. Even in jeans and a white T-shirt (like she was wearing today) she seemed to glow from within. In the years since her son was born, Liz's ever youthful features had acquired a new maturity, while still retaining the same luminous quality. An inner strength tempered her, one that was always accompanied by the subdued sadness hiding in the wells of her chocolate brown eyes.
Looking across the bench at her friend, Isabel could see why her brother had loved Liz so much. She wished that she could have been more understanding about that when he was alive. It was only after his tragic death that she and Liz became close. They had both been so devastated and needed to get out of Roswell, away from the painful reminders. Not that little Max wasn't a constant reminder to them both of his father. He was their pride and joy. All they had left of Max after the fire.
"Do you still have a lot of studying to do? If you want, Sarah and I can watch him so you can get some work done. I know this test is really important and everything." Isabel's question stirred Liz out of her studying frenzy.
"Oh Iz, isn't it date night for you guys? I couldn't do that! Haven't you got something hot and heavy planned," Liz grinned as she watched Isabel blush just the tiniest bit. If they didn't know each other so well, she wouldn't have even noticed it.
"It's OK, it's not like we're still in the complete honeymoon phase or anything. We can help you out Liz."
"I know. I know. It's just that you help me so much with him. Just 'cause I'm doomed to be celibate, doesn't mean that you guys can't enjoy yourselves…."
Isabel gave Liz a pointed look. "Liz. Do you really want to open that can of worms right now? You already know what my thoughts are. He was my brother, for heaven's sake, and even I don't think that you need to completely forsake the possibility of falling in love again or shit, even dating a bit, in order to honor his memory."
Liz sighed and looked over at her four year old son busily playing next to a nearby tree. It was fall and the leaves had started to change, falling and scattering in the grass. It seemed so amazing to Liz sometimes how this oasis could exist in the middle of the crazy, hectic city. His dark hair was curling up at the ends into those little cowlicks she loved so much. It hadn't been easy – going to college full-time, raising a kid….but she wouldn't trade him for anything. And with Isabel and Sarah around now, she felt so much less alone.
Looking up at Isabel with a silly grin that said "let's change the subject," she poked her friend in the ribs and said, "So what you're saying is that you'll do it, huh. I get to have an exciting night of uninterrupted science nerd time."
"Yeah, babe. That's what I'm saying," Isabel smiled back, flashing her perfect smile and fluttering her eyelashes teasingly…apologetically. Liz's apparent refusal to get out in the world was a bit of a sore subject and she didn't feel like arguing on such a glorious fall day as this.
Although she still hadn't lost her toughness, Isabel had softened somewhat since she met Sarah two years ago. Her divorce from Jesse had come soon after Max's death and both had hit Isabel pretty hard. She had just felt like a failure, as a wife, a sister… But after moving to New York to join Liz and baby Max Isabel had found herself free to explore things about herself that she never would have been able to back in New Mexico. It was a new start. Deep inside she had always known that she was attracted to women but her life in Roswell hadn't been exactly conducive to that. Not only was Roswell a REALLY small town but she wasn't exactly in a position to be "different" or call attention to herself on the level that coming out in high school would have entailed. Plus, the only girls she ever had any real, honest contact with were dating her brother and her almost brother for Pete's sake.
Sarah. Now Sarah was the best thing that had ever happened to Isabel. She was smart and talented (a chef at a four star restaurant!) and beautiful. God, was she beautiful, with her crazy-green eyes and black, black hair (which she wouldn't let Isabel color but that was OK). She was lean and lanky while Isabel was curvaceous but they fit together so well…
Suddenly something shocked Isabel out of her reverie. "Maxie, what are you doing over there?" Both women immediately leapt to their feet and ran over to the vicinity of the trees when they heard the little boy's cry. By the time that they reached him he was wiping the tears from his pink little cheeks. He grabbed Liz's arm and looked up at her with wonderment in his gold-flecked brown eyes, residual tears still collected in his long girlish lashes.
"I fixed him Mommy. I fixed the squirrel. He was broken and it was so sad but I fixed him."
An electric bolt of astonishment hit both Liz and Isabel simultaneously as they looked at one another knowingly. So he did have his father's powers. They had almost given up on that possibility. From the day he was born it had been expected (at least by those in the know about his alien heritage) that he would inherit Max's powers. After all, it was his presence in Liz's womb that had caused her strange outbreak of hybrid powers during the winter of 2002. And people complained about morning sickness, she had remarked when she finally figured out what was happening. Figured it out too late, she thought bitterly. If only she had known she was *just* pregnant when she left Roswell for Vermont, she would have stayed instead. Maybe she would have been there with him, could have stopped it somehow…. But this was pointless speculation now. Liz shook her head and searched for the right words to say to her little boy. How could she let him know that he was special while also keeping him from endangering himself (and his beloved auntie and Uncle Michael) by saying too much to the wrong person? God, she wished Max were here now. He, at least, had had experience having that kind of power over life and death. But Max was gone……