Winner Round 14
Title:
First Impressions
Author:
Al-bags
Genre:
M/M, AU W/O Aliens
Rating:
Adult
Summary:
Michael and Maria meet and fall in love, but will he pass her best friends' inspections?
Disclaimer:
The characters of "Roswell" belong to Jason Katims, Melinda Metz, WB, and UPN. They are not mine and no infringement is intended.
A/N:
This is for nibbles2 who sneakily won me at the auction when Ju wasn't looking. She and I both wanted to see a fic where Michael has to face some consequences for being rude to Maria's friends. Sisters before Misters, dudes.
These should be fairly short parts, but hopefully you'll enjoy. I'm not entirely happy with it, but oh well.
First Impressions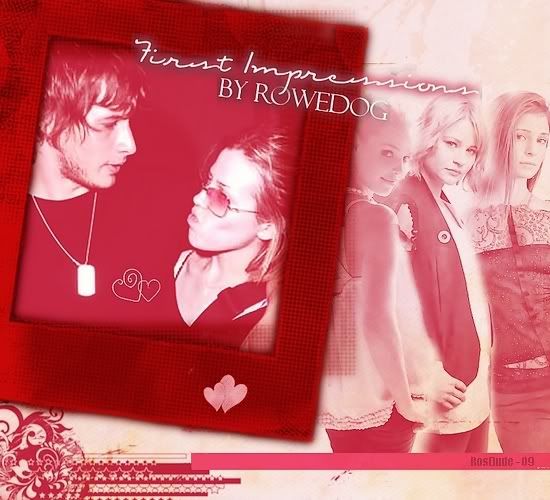 Awesome sock rocking banner by Chad. Loves it!
Part One
"I'm in love!" cried Maria as she practically danced into the living room where her best friends and roommates were gathered.
"With a person, I presume?" enquired Isabel, not taking her eyes off the TV.
"With a mahogany desk," Maria declared, before adding with a wink, "and the sexy carpenter who made it."
"Yay!" cheered Isabel distractedly, her eyes still glued to the TV.
Liz's eyes lit up at that piece of information. "Did you get his number?"
"Oh I got more than just a number..." she giggled.
"Did he slip you some cock?" asked Tess, brightening with the prospect of a sordid tale of naughtiness to brighten up her boring afternoon.
Maria turned to Tess and stared at her with puzzled disappointment. "Why do you take the things I say and just jump to the dirtiest conclusion?"
Tess merely shrugged and replied loftily, "It's how I'm programmed."
Shaking off Tess's disturbing question, Maria delved back into her story. "Anyway, like I was saying before, we have a date tonight."
"Woohoo! So tell me about him. What's he like? How did you meet?" Liz asked eagerly. It had been awhile since Liz's last date and she was eager to live vicariously through Maria. Her two other friends had steady boyfriends and it was no fun to live vicariously through them.
Sitting next to Liz, Maria began to tell her everything about her afternoon and its events. "Ok, so I was shopping for a new desk, because let's face it; as much as I love Barney, he really doesn't cut it anymore."
Liz nodded her head, a mental picture of Maria' battered and stained desk in her mind.
"So I'd been looking for a couple of hours and I was really frustrated and annoyed because I couldn't find anything that I liked. I was just about to admit defeat and come home when I stumbled across this little furniture shop. So, I went inside and immediately fell in love with this desk sitting in the corner. I knew it was the one, so I named it Wilson-"
"Excellent name," commented Liz.
"Thank you. So, I was giving the desk a look over. Just rubbing my hands over it and stuff to make sure it was absolutely perfect and then I hear this voice behind me say, "Are you going to buy that desk or just molest it for the rest of the day?" And I whip around and standing there is this enormous hunk of man meat."
"Man meat?" snorted Isabel, her eyes stilled fixed on the screen. "We really need to talk about your vocabulary."
"Ignore her," Liz said with a wave of her hand. "Continue."
Maria shot Liz a smile before continuing on with her tale. "So I'm standing there like a stunned mullet and he sends me this cocky half grin. So I gather myself up enough to respond with, "Molest it, definitely molest it." Which earns me a laugh, so I immediately like him more. Gotta love a guy that'll laugh at your dumb jokes."
"Oh definitely," agreed Liz solemnly. "Nothing better."
"So we get to talking and I find out that he made my beautiful Wilson and he owns the shop we're standing in."
Liz gave an approving nod. "Very nice."
"By this stage I'm flirting outrageously and I'm pretty sure he's reciprocating. Then I ask about the price of Wilson and the figure he shows me makes me feel terrible. I felt like I was committing daylight robbery. I tell him as much and he just waves it off. In the end I tell him that the only way I'll agree to that price is if he lets me buy him a drink at the Soho bar downtown."
"You go girl! What'd he say?"
Maria's grin grew even brighter and she had to fight back an excited squeal. "He sent me that sexy crooked grin of his and told me he'd meet me there at eight."
"Oh my god, that's so exciting!" squealed Liz. "What's his name?"
"Michael Guerin," exclaimed Maria, unable to contain her excitement.
"'Bout time you got yourself a man," remarked Tess with a wicked grin. "Your vibrator is running through those batteries like nobody's business."
Maria was silent for a long moment before she let out a long, exasperated sigh. "There is something dreadfully wrong with you."
Liz let out a satisfied, yet plaintive sigh. "That is so cool. I wish I had a guy that was interested in me. You know, one that wasn't Creepy Doug."
"Creepy Doug still having a crack?" Maria asked, a frown settling over her features.
Liz grimaced. "More forcefully than ever."
Maria gave a snort of disgust. "Could he ever learn to take a hint?"
"Apparently not," sighed Liz. Her workmate simply refused to believe that any girl couldn't want him and Liz's refusals only seemed to spur him on.
"Liz, I'm worried for you," chimed in Isabel, turning her head away from the TV screen for the first time in half an hour. "He's beginning to sound like a stalker."
"It'll blow over eventually," Liz replied dismissively. "He'll find some other girl to move onto and I'll be eternally thankful to that poor soul who has him next. But until then, I'll just suck it up. So anyway, what are you wearing to your date tonight?"
Maria's eyes widened in fear as her attention was taken completely away from her friend's dilemma and onto her own. "I have no idea. Oh God. What
am
I going to wear?"
It had to be something sexy, because she'd never had a better feeling about a first date before in her life. There was just something about Michael Guerin that really reeled her in.
***
"Angelina Jolie? That's who you would have play you in a movie about your life?" Michael asked incredulously.
"Have you seen these lips?" Maria demanded, gesturing to her plump pout with her right hand.
Matter of fact, Michael had seen her lips. Michael had seen and desired those lips ever since she stepped foot into his store. "Yes, I've seen them."
"I need somebody with the necessary lips to pull off the part. I think they're a defining feature."
Maria and Michael had been talking at the bar for over an hour and she was amazed at how easy it was to get along with him. He wasn't exactly the most socially graceful man she'd ever been out with, but she certainly enjoyed herself with him. Even when they'd disagreed upon something it was fun. She liked that he wasn't going to simply agree with everything she said just to be agreeable. He had his own mind and she respected that.
"I agree. Do you need another drink?" enquired Michael with a pointed glance at her empty tequila sunrise.
"Thanks, but no thanks," she laughed. "Two's my limit and I'd rather not give off the impression that I'm a lush. At least not until the third date."
"Would you care for a non-alcoholic beverage? I heard a rumour that they serve those here," Michael whispered conspiratorially.
"No! Get out! Too crazy to be true. When the barmen comes down this way I'll ask him for some water, see if we get kicked out for crazy talk."
Michael shook his head adamantly. "No way. If this ends badly, you're on your own. I'll deny all knowledge of your cockamamie plan."
Maria cocked an eyebrow at him. "Oh, how gallant. How do you keep the women from falling all over themselves?
Michael sent her a slightly sardonic smile. "I tell them I'm a lowly carpenter. That seems to work."
Maria frowned at the slightly jarring note in their conversation and decided to change the subject. "Anyway, who would
you
pick to play you in a movie of your life?"
"Danny DeVito," answered Michael quickly, his response automatic.
"Oh come on," laughed Maria.
"Ok fine. Judi Dench."
"That's
Dame
Judi Dench to you, mister," Maria told him with a chastising wag of her finger. "Seriously, who would you pick?"
Michael mused upon he question for a moment. "Seriously? I guess it'd be cool to have Robert Downey Jr play me. Or maybe that dude who was in that action movie where the cars exploded."
"Well that narrows it down," scoffed Maria with a roll of her eyes.
"You'd know who I was talking about if you heard his name."
Maria bit back a smirk as she replied lightly, "Yeah, I probably would."
"I can't think of his name!" lamented Michael, his brain working overtime. It probably didn't help his situation that her proximity was enough to knock every sensible thought out of his brain.
"You know who I think would be great to play you?"
"Enlighten me."
"Ru Paul."
Michael simply smiled at her. "You just wait until I start wearing your underwear, then you'll be sorry you ever suggested it."
"Just don't stretch the elastic out of shape and we'll be fine," Maria told him, patting him on his brown muscular arm that was draped over the bench. He looked good. Really good. There was something about a man who worked with his hands all day long that really fired her up.
***
"Would you look at that," remarked Michael as they walked down the street towards the car park. "Someone's graced us with their worldly wisdom on this brick wall."
"Truly the next Confucius," murmured Maria as she stopped and stared at the large '
FUCK OFF
' scrawled on the brickwork.
"I'm a little bit offended," Michael told her. "That person doesn't even know me. I wish I had a pen."
"Oh, hold on a sec." Unlinking her arm from Michael's, Maria rummaged in her purse before brandishing a sharpie under his nose. "There you go."
Michael blinked at the pen thrust in his face before reaching out and taking it. "Handy."
Taking the pen, Michael repeatedly drew a semi circle turning the F into a P. He then quickly scribbled a hockey puck and hockey stick underneath it.
"Much better," he sighed in satisfaction.
Cocking her head to the left, Maria studied his work. "It's good, but it needs a little something more... may I?"
Michael placed the pen in her palm and stood back. "By all means."
Bending down, Maria quickly began to scribble what appeared to be a Christmas elf on the wall right next to the hockey stick.
"Is that an elf?" Michael asked, trying to understand
"Shakespeare? Midsummer Night's Dream?" When Michael shook his head Maria shrugged. "Never mind, it's something for the literary buffs."
Michael smiled somewhat stiffly, feeling a little uncultured. "Ok then."
Linking her arm back through Michael's, Maria began to walk with him. "Did you know that one of Uranus's moons is called Puck?"
"Seriously?"
"Seriously."
Shaking his head, Michael laughed. "Well, puck me."
As they walked along, Maria couldn't help the light skip of her feet as she walked. There was something so exciting about him and the way he made her feel. She was actually disappointed when they reached the car park which contained their two separate vehicles.
Leading Maria over to her car, Michael shifted nervously on his feet when she reached her car door and turned to face him.
"I had fun tonight," she told him honestly.
"I did too," he replied, a nervous smile crossing his face. "Did you want to maybe do this again sometime?"
"I would."
As soon as the words were out of her mouth, Michael swooped down and kissed her. He couldn't help it. He had to kiss her.
Maria melted at the feel of his lips pressed firmly against hers. Despite the urgent start to the kiss, there was only gentleness in his movements. His lips were soft and pliant as they moved against hers and he didn't seek to stick his tongue down her throat at the first available opportunity. It was the best kiss Maria had ever received and she nearly whimpered when she felt the cool wind hit her lips as he broke away from her.
Despite the comparatively chaste kiss she'd just been given, Maria felt like her whole world had been tilted on its axis. Brushing her hair behind her ear, Michael took a step back and released her from his grip.
"See you soon," said Michael, a hint of promise in his voice.
"Bye," she whispered as she opened the door and ducked down into the driver's seat. She sincerely hoped that after a kiss like that that she'd still be able to drive.
***