Winner Round 14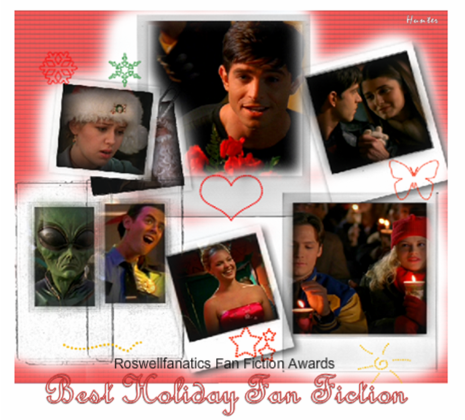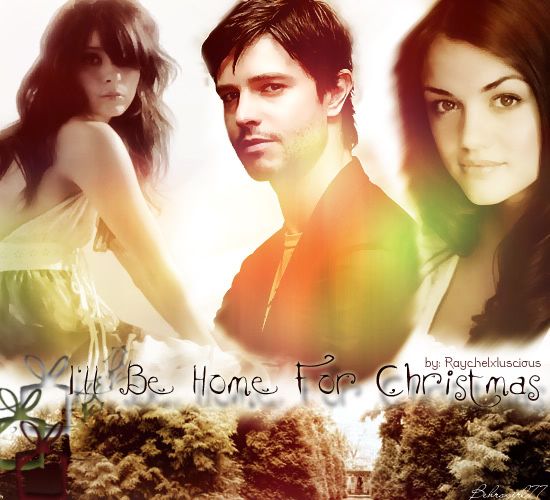 Beautiful Banner by:
BehrsGirl77
Title:
I'll Be Home For Christmas
Author: Raychel
Summary: Looking to not only piece together the shattered pieces of her own heart, but as well as the pieces belonging to her angry and unreachable step daughter, Holly, Liz Parker seeks solace in the only place that she could ever remember being truly happy. She arrives home to Roswell just in time for Christmas, hoping that the charm of the lazy town and all it's people can pull Holly out of her shell. As well as melt away the icy barrier that Liz had erected around herself.
Rating: MATURE, for language
Couples: ML, CC (This story doesn't revovle around Max & Liz, though, it does play a heavy role. But it kind of focuses on the relationship between daughter and step-daughter.)
Disclaimer: I own nothing, save for Holly and Jack (most importantly), and any other minor unfamilar characters you may come across.
Author's Note: Some of you may be wondering what I'm doing over here, when I have two unfinished fics out there, waiting mournfully in limbo. Let me assure you, this fic is completed and you will not be left wanting. However, for those of you who were not wondering such things, then lets just pretend you didn't read that, kay? I realize this is a little late, lol, as it is now Christmas Day, but I couldn't get the story out of my head. I'll be posting twice a week - maybe even three times - so that it'll be finished not too long after the New Year, as it is a holiday fic and I want it to be finished right along with the holidays. I wrote this in about a week and a half. Having said that, don't judge the quality too badly, lol. It's not great, but it got my creative juices flowing after so long of not being able to write -- anything. So, maybe now I can sit down and complete my other fics. Wish me luck. Oh, and I hope you enjoy.
"At Christmas, all roads lead home."
-
Majorie Holmes
Many thanks to
Steph
for being an awesome beta.
Chapter One
From the window seat, she watched as the snow fell. She watched every glistening, sparkling flake flutter to the already snow-packed ground of her front yard. She watched the neighbor children dodge behind trees and one, larger, crooked snowman all in an attempt to keep from being pelted by snowballs. She smiled. She could almost hear their laughter through her window. She could almost smell the snow – yes, smell. That sweet, cold, happy smell Jack had always insisted didn't exist, endlessly teasing her that she was the only one in the history of the world who could smell the snow. She used to love stepping outside and taking a deep lungful of that scent – relishing in the coolness as it entered her lungs. Not anymore.
She turned her gaze away from the window, and instead focused her stare on the fire burning across the room. The room was toasty and warm, she knew, but that warmth never quite touched her heart – hadn't quite made it past the icy barricade that had frozen around her without her even knowing it. Oh, she wasn't a bitch – not by any means. She wasn't heartless or unfeeling. No, on the contrary, she felt a lot. Too much, actually. But she no longer felt that warmth that at one time surrounded her life. She would smile, but it would never reach her eyes. She would laugh, but it was never true. She would go through the motions, but she seemed almost robotic – even to herself. Liz Parker-Owens just wasn't the same person anymore.
The door burst open, and an icy gust of wind entered the house followed by a disgruntled teenager. Liz sighed, and stood from the window seat, bracing herself for another confrontation.
"You were supposed to be home two hours ago."
Holly barely gave Liz a glance as she silently stalked through the dining room and into the kitchen. Liz remained where she was, gathering a deep breath and folding her arms over her chest.
"Mr. Rudy called. He said you're on academic probation. If you don't pass your finals next week, you'll be at a loss of credits and –"
"And I won't graduate with my class," Holly supplied, mockingly. Her comment was punctuated by the slamming of a cabinet door. "So, I'll takes sophomore English and science over again. And you know what else? I don't give a fuck."
Liz rubbed her arms to ward of a sudden chill. Silently, she listened to Holly's movements as she walked around the kitchen. The refrigerator door opened, and then closed a moment later. The sounds continued, but Holly didn't say another word. She never talked to Liz, not unless spoken to. Not even when her father was alive to glare disapprovingly at her would Holly offer Liz the simple courtesy of looking her in the eyes when she was speaking to her.
Liz often wondered why she cared. And always came up with the same answer. Because she loved Holly's father, and didn't want him to be burdened with a strenuous relationship between his wife and his child. Now that he was gone, Liz still pondered over the same question. And knew that the answer was because she still loved him – and missed him so.
Holly came waltzing out of the kitchen then, an apple in one hand and bottle of soda in the other. She breezed right past Liz and headed for the front door.
"Where are you going?"
"None of your damn business."
Quickly, Liz darted into the entry hall and slapped a hand against the heavy wood of the oak door, preventing Holly from opening it. She stared steadily into the brown eyes that were so opposite from Jack's blue ones.
"You're going to go see him, aren't you?"
Holly ground her teeth together, anger flaring up into her eyes and nearly causing Liz to flinch. "I said that was none of you damn
business
!"
When she tried to wrestle the door open, Liz pressed her weight more firmly into the door. "Your father said he didn't want you to see him."
"And my father's dead, isn't he?" Holly sneered, and Liz almost thought she saw tears welling up in the teenager's eyes before she blinked and they were gone. "And you're not my mother, Liz, so get out of my fucking way."
"He isn't good for you, Holly! He's –"
"He's the only one I have!" And with that, Holly shouldered past her, threw open the door and ran down the steps. Liz watched on until she was out of sight, and then quietly closed the door.
She took a shuddering breath as she sagged against the hard wood. Her eyes fell closed, automatically trying to stop the tears that she knew wouldn't come. Tears never came to her anymore – too frozen to make it to the surface.
"You asked me to try, Jack," she whispered beseechingly to the empty house. "And I am, but she's not giving me an inch to work with. And I just don't think I can…."
She trailed off, not wanting to say the words out loud – yet not wanting to have the words reverberating in her mind, either. But the words were there, mocking her and her failures, her shortcomings. She just couldn't do it anymore.
Liz pushed herself away from the door and climbed the steps. Photographs from her marriage smiled back at her, and she ignored them. She pushed the door to her bedroom open, and without changing out of her jeans and sweater, climbed between the sheets of a king-sized bed. She settled into the mattress and closed her eyes, knowing that sleep would be as elusive as her tears.
Surprisingly enough, she did sleep and with sleep came a dream. Liz found herself pacing around the living room. The only light offered was by a stout lamp placed on the corner table. The light didn't reach far, but it didn't matter. Furiously she scribbled on a sheet of paper from her notebook everything that she needed to do. It was a lot to do in a short amount of time, and she chuckled to herself, wondering if she were going insane.
She needed to hire a moving van to follow her on the trip. Or maybe, she could drive it herself, but how would she get her car there? There had to be a way to hitch her car to the back of the van. Liz made a note in the margin of her paper and continued on with her train of thought.
She needed to get boxes – lots and lots of boxes. Logically, she knew she wouldn't be able to take everything, and a lot of stuff would have to be sold. But she didn't think she'd have time to do a yard sale. Certain things could be sold with the house, she supposed. Which reminded her, she'd have to contact a realtor first thing in the morning. She also needed to call her parents – let them know what was going on.
She'd have to quit her job at the high school as the science teacher. That was going to be the most difficult part, but no matter. She also needed to contact Holly's school and get her transcript transferred over….
Liz sighed and sank into the plush cushion of the lazy boy – Jack's favorite chair. She closed her eyes, already knowing how hard Holly was going to fight her over this, but she didn't see any other alternative. It was time to go. If Liz stayed here any longer she was at risk of losing herself. And if she lost herself, then she lost Holly – and she had promised Jack she would do whatever she could to keep Holly with her.
Taking in a deep breath, Liz looked down at her list. She wrote one word at the bottom and circled it.
Roswell
. She was moving home in time for Christmas.
TBC

Happy Holidays, everyone!