Winner Round 13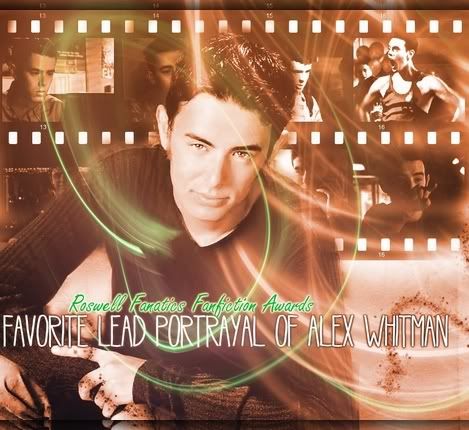 Winner Round 12
Title:
Absolution
Author:
Alison, or Rowedog
Genre:
A/I, but for the first chapter Isabel is with other men
Rating:
Adult for dark content matter
Summary:
Isabel has just come from a tumultuous marriage and is now a widow. Circumstances have her blaming herself and she seeks refuge in her work. Similarly, Alex buries himself in his work as he deals with the death of his wife and more. Can these two people work past their trust issues? Should be a short six parter or so. But with long parts. And very angsty.
Disclaimer:
I don't own Roswell. At all. I own nothing.
A/N:
I've
never
written anything like this before. Not only is it Stargazer, but it's also POV and very dark, at least in the beginning. I have plans for it to lighten off slightly and I am giving reassurance of a happy ending. Hope you like!
WARNING: THIS FIC CONTAINS PHYSICAL, EMOTIONAL AND VERBAL ABUSE, YOU HAVE BEEN WARNED.
***
Wonderful Banner made by DreamerLaure
Thanks Lauren, you rule!
***
***
I guess you're wondering what my story is. I can't blame you. It's not often that you come across someone with a story as "unique" as mine is.
I'm a widow.
A twenty-four year old widow.
Doesn't that just beat all? I never in my wildest dreams could have imagined that for myself as a young girl with my foolish, naïve hopes about what the rest of my life would be like. But yet, here I am. Completely alone.
But I deserve that.
I've got no family, no friends to speak of and it's all my fault.
It's all my fault.
***
I met my husband in my senior year of high school. He was twenty-two and in college.
Friends said he had a reputation for treating his women badly. That he cheated and got verbally abusive on them. I didn't care, he told me that I was different, that I was special, that he'd never felt this way about anyone else before. So it stood to reason that he'd treat me differently, right?
Plus, I was flattered, I'd had boys profess their love for me, but he was different. He was a man, through and through. Callused hands, square cut jaw, stubble, strong shoulders. Oh yeah, he was all man.
I lost my virginity to him in the back of his van after a college party.
We were both drunk.
I can't remember much about it. Only the smell. I can remember we both reeked of alcohol, cigarettes, pot and the curious, unmistakeable scent of sex. I woke up in the morning cramped in the backseat crushed by his weight, with one shoe on and a cigarette butt entangled in my hair. Oh yeah, my first time was what dreams were made of.
I was upset; I had lost my virginity in the back of a grimy van and couldn't remember any of it.
He didn't seem to care, which should have been my first warning. He said that the first time was arbitrary, that most people didn't remember it anyway, and that it didn't mean anything. I bit back the response that it meant something to me, just like I pushed back the distress I felt over the way I'd lost my virginity. I did it for him.
We got married right after my high school graduation. He graduated from college the same year as I did and we moved in together.
At first it was ok. He was working as a geologist and I was attending college at UPenn. We had our ups and downs, but mainly we were fine. Until one day he came to pick me up from college, I was in my third year by then, and he saw me talking to one of my friends. A male friend.
He exploded. He waited till I got in the car and screamed at me all the way back to our house. He called me all sorts of names, things I have no wish to repeat and then told me that I'd better keep my "slutty hands" to myself if I knew what was good for me.
I was crying and he stormed out the front door and didn't return till the next morning, when he stumbled in and collapsed in the bed beside me, wearing his stained, crumpled clothes from the day before. He stank of beer, cheap perfume and cigarettes.
After that, things got progressively worse. He became more controlling, more possessive. The demands to know where I was at every minute of the day grew, just as my right to ask where he was every night seemed to lessen. Like I didn't know already.
When we did make love, which were rare occasions at this stage, I'd encounter hickeys all over his body and scratches down his back that I sure as hell didn't put there.
And he was rough, something he'd only ever broached upon before. He fucked me hard for around five minutes then fell asleep once he'd gotten off. I never did.
Only in the early stages of our relationship did he seem to show a little consideration for my needs.
Things got really ugly when I stupidly thought to help our next door neighbour Tom set his microwave up. I was twenty-two at this stage.
He caught me and later that night after a massive fight, he pinned me to the wall and hit me. Whore, slut, cum guzzling prostitute, they were all names he pulled out in reference to me, but as soon as I talked about his nocturnal activities, that's when he really let me have it.
He screamed inarticulately at me, but I didn't need the words to understand what he was trying to convey. And if his words didn't help me get the message, his fist sure did.
I covered up the bruise in an attempt to make everything disappear. I didn't want it to have happened so I pretended it didn't. He wasn't at all apologetic; he told me it was my fault for making him mad. I saw that as a reluctance to apologise because he was ashamed, he wanted to downplay its significance because of his embarrassment over what he'd done.
How naïve I was.
I never mentioned his infidelity again.
From then on things got even worse, as he forced me to quit my job. I became a prisoner in my own home.
I became his slave.
When he wanted to have sex, we'd have sex. Dinner had to be served to by a certain time. The house had to be clean. His washing had to be done. Failure to comply with these rules meant that I'd have a fresh set of bruises to cover up. Not that I needed to cover them up, I never went anywhere for people to see them.
He blocked me off from my friends, my family.
They begged me to leave him, said he was controlling and manipulating me. I was too ashamed to take their advice. I lied to them, told them I was happy, that my job was making me unhappy so I quit, that I had just been too busy to contact them lately. I was glad when Grant told me to cut all ties with them. It meant that I didn't have to lie to them anymore.
The only other person I'd get to see apart from my husband was his best friend, Jesse.
I liked Jesse. He didn't comment when he accidentally spotted me covering one of my bruises with a layer of foundation. He talked to me about football, a subject I have no love for, but was extremely grateful for nevertheless. Anything to stop me from having to face the awful truth.
Denial-land is a happy place to live if you've got nothing else going for you.
Jesse would come over often to visit and it was one of those rare occasions where Grant would treat me like a human being. All for show of course, but I liked it all the same. I began to look forward to Jesse's impromptu visits; I associated him with happiness and warmth, which is perhaps one of my biggest regrets now.
One night, in a momentary fit of stupidity, I told Grant that I liked having Jesse over at our house.
He broke my arm.
I told the people at the hospital that I fell down the stairs.
Our house is one story.
Inside I was praying to get caught out, so that the decision to leave him wasn't my own. Nobody called me out on it. I left feeling let down.
Grant took me home and locked me in the house (as was his usual style) and went out later that night. Jesse came to the door with some flowers and a get well card. I told him I couldn't come out, that I had stupidly locked myself in and had to wait till Grant came home.
My lie was greeted by a long silence and despondent sigh. But he didn't press me. He simply placed the flowers by the front door and told me he'd be back tomorrow.
He never came back.
I got punished for Jesse's thoughtfulness. Grant threw the flowers at me, hit me then twisted my broken arm till I screamed in agony. As I was lying, crying and shivering on the floor, he kicked me, spat on me and told me I was a pitiful excuse for a human being.
Three weeks later, he was dead.
It seemed he was out drinking and failed to brake around a corner, smashing into someone's house, destroying their living room and taking his own life in the process.
I had to arrange the funeral. After depending on Grant for so long, it was hard to do anything by myself. But I managed. Mainly because Jesse helped me.
I was numb. I hadn't loved Grant for a long time, but he was all I had. He had abandoned me after being such a big part of my life for so long. I was angrier than anything else.
At the funeral, everyone expressed sorrow for Grant, describing him as a faithful, loving husband and a good man. I could barely breathe because of the hypocrisy. Grant was none of those things. I declined speaking at his funeral because I simply had nothing to say.
No words at all.
Everyone just assumed I was still in too much shock and pain, that they didn't push me. I sat in the back of the funeral parlour and Jesse held my hand. He was there through the entire ordeal, my friends and family were no where to be found. I hadn't heard from them in about a year. I hadn't been allowed to.
Jesse stayed behind after the wake and fixed us both a drink.
We sat on the couch next to each other and began to talk about everything and nothing and the drinks kept coming.
I don't know how we got onto the subject, but in the end we did talk about Grant, and I, in my drunken and emotionally vulnerable state confessed what Grant had done to me over the years.
Jesse expressed no surprise, it turned out that he had always suspected it, but never had the guts to say or do anything about it.
I started to cry and he held me. His hands ran up and down my back and I shifted in closer to his warmth. After being cold for so long, I needed a little warmth. His breathing grew shallower and I glanced up to see his eyes dark and intense. I watched as he lowered his head slowly and kissed me. I kissed him back. It had been so long since someone had shown me any true tenderness or kindness that I craved more. I needed more.
We kissed softly for a while until I shifted, straddling him and bringing our lower bodies into contact. I could feel his erection through his jeans and I gasped and deepened the kiss with drunken urgency. I needed to be with him desperately. I needed to be wanted desperately.
Clothes flew. Gasps were emitted. Moans floated about the room.
And I had my first orgasm in years.
We made love on the couch twice then three more times on the bed. The bed with which I had shared with my husband. I needed him, I needed someone so desperately. I craved human contact.
I was so numb I just needed to feel. I hadn't felt in years.
I fell asleep later that night with guilt plaguing my mind. What sort of monster fucks her husband's best friend on the night of his funeral?
I fell asleep with tears streaming down my face. Guilt and disgust being the two most prominent emotions running through me.
Grant was right. I was a slut.
I got a call from the police station later that morning, waking me up. They asked me to come down to the police station and that it had something to do with my husband's death. Jesse came with me and as we arrived we were promptly separated. It turned out they needed Jesse's help with something too, but hadn't been able to find him.
Jesse kicked up a fuss about it, but I calmed him down and told him I'd see him later. I hadn't wanted him to come, but he'd insisted. I was still mortified by what I had done last night that his presence whilst I was being told something about Grant's death would have been too confronting. I needed to forget about Jesse whilst I was trying to deal with whatever the police had to tell me.
I sat at the cold metal table and listened to all they had to tell me. I listened and listened and couldn't truly believe.
Even now the conversation fragments through my mind.
Husband…

Murder…

Brakes cut…
They wanted to test my fingerprints to see if I was the one who had cut my husband's brakes and sent him ploughing into the genteelly decorated living room of Mr. and Mrs. Fitzgerald to meet his death.
I agreed.
I suppose it made the most sense. I had the most motive to kill him. At least I thought I had…
They took my prints and sent them off to be sorted. Half an hour later, they came back and told me I was cleared. I was neither surprised nor elated. I knew I hadn't killed my husband; my thoughts were more focussed on who could have possibly done it. As far as I knew Grant was well liked. But then again, I hadn't really seen him interact with anyone for a long time. Except for those times when Jesse would come over.
Perhaps it was a jilted mistress of his; it bothered me to think that his infidelity might have been the cause of his death, especially when I was falsely accused numerous times of sleeping around.
One of the cops then received a phone call; he glanced at me then whispered back into his phone. After awhile he ended the call and sat back down into the chair in front of me.
He took my hand and told me that they had found the person who had done this to my husband. I waited impatiently for their answer.
They told me it was Jesse Ramirez.
I told them they were nuts.
Jesse was my husband's best friend; he would never do that to Grant.
They told me Jesse had confessed after his prints had matched the ones found under the car.
I told them there must be some mistake.
I ran out of the room to find Jesse, but they were taking him to his cell. I begged him to tell me it wasn't true. I was crying at this point.
He yelled back at me that it was all for me. He'd done it for me.
'Oh, Jesse… right there…'
I stared at him wide eyed, tears falling unheeded down my face as he yelled that my husband hadn't deserved me.
'That feels so good…'
He was dragged towards his cell by his guards still yelling. Grant had abused me; he was doing me a favour he claimed.
'Oh… that's it… I'm so close…'
He yelled that he loved me, that I belonged with him as my stomach rolled with intense nausea.
'Oh, Jesse! I'm coming! I'm coming!'
Flashes of the night before ripped through my mind along with memories of Grant. I felt sick. I felt dizzy. I couldn't breathe. Jesse had murdered my husband and I had slept with him right after his funeral.
I dropped to my knees and threw up before collapsing onto the cold linoleum floor.
***
That was a couple of months ago now. I've moved house and destroyed everything to do with Grant or Jesse. I've even reverted back to my maiden name. I've got a job as an assistant to an exec at a computing company.
I'm trying to distance myself from the entire situation. Trying to pretend it never happened. Isabel Sorenson is gone. She never existed.
But this experience has taught me one very valuable lesson. And that is to never let anyone in. Ever.
I'm Isabel Evans, and I trust no one.
***