Winner Round 13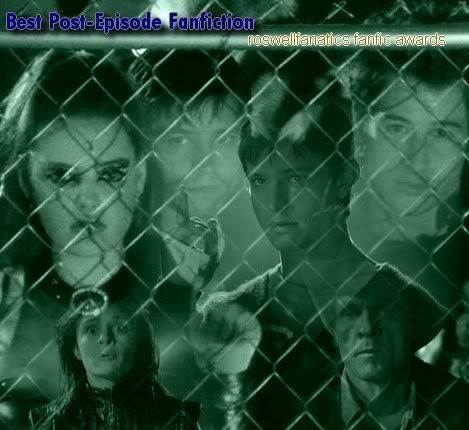 Title: Discipline Malfunction
Author: Greywolf
Couple: All CC mainly M/L
Rating: Mature due to subject matter.
Disclaimer: I don't own Roswell or any of the characters. Please don't sue me, I'm just having a little fun here.
Summary: The morning after
Sexual Healing
and the folks get involved.....
Sheriff's Office Small Conference Room, Roswell New Mexico.
The four parents were waiting anxiously for the weekly update briefing from Sheriff Valenti and his staff. All four were grim-faced, Jeff Parker shaking his head.
"Even today, ….four weeks later, …I just don't understand what went wrong?"
"I don't know what went wrong either, Jeff," said Diane Evans. "But looking back, I know exactly when it started to go wrong."
The other three looked at her, their expressions urging her to continue.
"The whole purpose….the whole plan that morning, was to separate them, because we all believed they were getting too close, too quickly, and that neither was really experienced enough socially to make a meaningful commitment to each other…."
"Yes, Diane….?" Said Nancy Parker.
"Well, when they came in the door after being out all night ...you remember we wanted to be there as a group to intimidate them…to make them understand we were united in our efforts to get them to break it off before they went too far…."
"That was the plan…and I still think it was a good plan, Diane," said Jeff Parker.
"I thought so too until I saw….they came in the door together and started to separate…but when they saw us sitting there looking at them….they moved back together and their hands enfolded…..I think somehow WE drove them together."
Four weeks previously:
BRINNGGG!!

BRINNGGG!!
You didn't have to be a lawyer to realize that a telephone ringing at 5AM was not generally going to be good news.
"Hello?" said Philip Evans sleepily.
"Philip? Jeff Parker here. I was waiting up for Liz to get back in….she went for a drive with Max. I fell asleep around 1AM and just woke up. I checked her room…there's no sign of her. Is Max home? If he is, can I talk to him?"
"Let me check, Jeff. It'll just be a minute."
"What is it, Philip?"
"It's Jeff Parker, dear. Liz went out with Max and she hasn't come home…He wants to know if Max is here."
Philip Evans checked Max's room, hesitating at the door briefly, afraid of what he might find in the bedroom. But when he looked, the bedroom was empty. He wasn't sure if he was relieved to find Liz not there with his son or not. That still left the issues of where they were, whether or not they were alright, and what they were doing out together at 5AM. He hurried back to the master bedroom.
"Max isn't here either."
"Where could the two of them be?"
"An excellent question, dear. What the hell they are doing out at 5AM would be another one.."
Philip picked up the phone.
"Jeff, Max isn't here either. I'm going to check with the Sheriff's office, make sure there hasn't been an accident or something. But if there hasn't been….well, Diane and I have been worried about how fast Max and Liz's relationship seems to be progressing…I think maybe the four of us ought to meet to decide what we are going to do about it."
"We'll treat you and Diane to breakfast at the Crashdown in 30 minutes, Philip. Let's talk this over and come up with a plan….a common front, sort of. I like Max…think he's a good kid, but he and Liz are getting entirely out of hand."
"I agree completely, Jeff. Diane and I will be there in a half-hour."