Winner Round 10
Best Stargazer Story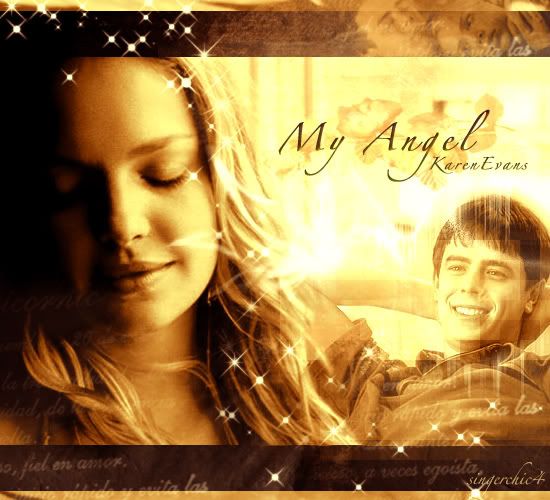 Banner by
singerchic4
Round 9 nominee for
Favourite Stargazer Fiction
Round 10 Awards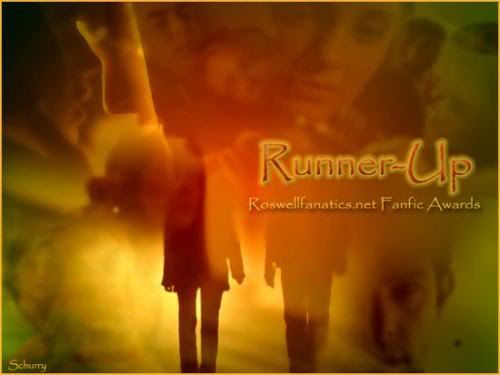 Favorite Lead Portrayal of Isabel Evans
Author
-Karen
Rating
-Adult
Couples
-A/I mostly,a little of the others
Disclaimer
-I own nothing concerning
Roswell
,or
"City of Angels"
the movie which inspired this fic.
Summary
-Isabel is going though a tough time but she's not alone.
A/N
-I was watching a trailor of
"City of Angels"
and thought why not write an A/I fic based loosely on the movie.Thank you,
Trude
for your encouragement and for beta-ing.Let me know if I should continue this.
Part I
-
The rain had to start just as they were lowering the coffin in to the ground.
People around me hastily opened their umbrellas, anxious to shield themselves against the driving rain. I barely noticed it.
Finally, my brother came and stood by my side sharing his umbrella with me.
The priest's words were barely audible "…ashes to ashes, dust to dust."
I was numb, unable to feel, seeing my family around me but not really seeing them if that makes any sense at all.
The entire burial was hurried along because everyone wanted to get out of the rain and back in to their cars, drive home and change in to dry, warm clothing.
Max must have driven me home because I found myself standing at my front door with him asking me for the key, "Isabel…ISABEL, the key, I need to open the door."
Without looking at him I reached in to my coat pocket, wrapped my fingers around the brass key and gave it to him.
We walked in without a word, he went straight to the kitchen and made me a cup of coffee and brought it out to the living room where I was sitting on the carpet, my back against the sofa, staring off in to space.
"Here you go sis." he said gently and sat down on the sofa "I can stay the night. I don't have to leave for college till the day after tomorrow."
I shake my head silently, "Really it's no problem, and mom and dad don't need me for anything anyway. I can get my books here and study."
"No Max, I'll be okay. In any case I need to get used to living in this house alone. Thanks for offering." I said giving him a smile and taking a sip of the coffee, letting the warm liquid melt my frozen insides
"Okay."
He seemed hesitant, not sure whether he should leave me so I waved my hand at him, "Go…if I need anything I'll call. I promise."
With a shrug of his shoulders he left and once again I was alone.
I am Isabel Evans-Ramirez, 24 years old and a widow.
I'm not quite sure why I married Jesse. Yes, I loved him but it wasn't an all consuming, earth shattering kind of love, or may be such a thing only exists in fairy tales and women hope that such a love will enter their lives one day.
He definitely was not my soul mate. Still his death came as a shock to me and I miss him. We had developed an easy routine, both of us were fairly happy. My parents were against our marriage saying I was too young, only 21 and in retrospect I have to agree. I just plunged in to it, because I was afraid that being what I am I might never find another man who would want to marry me.
My brother Max had Liz, his childhood sweetheart and our best friend Michael had found love in Maria, Liz's best friend. I had been the odd one out, never dating, never letting any guy close for fear of discovery. Liz and Maria knew and accepted our secret, but I never had the courage to tell Jesse, something in me never let me. Perhaps I knew that the love we had was not strong enough to bear the truth.
It's been one month since he's gone and I think I am limping back to some sense of normalcy. For the past few nights I've felt a presence in the house, actually not only for the past few but ever since the night of Jesse's death, I have felt it become stronger but I was too shocked to really notice it at first so I dismissed it.
No, it's not Jesse, I think I would have known it was him, in any case we had never been able to develop that sixth sense about each other like some couples do especially all Antarian couples. Somehow, I feel warm and relaxed by this being, who I like to think is watching over me. I can sleep now at night knowing that I am safe.
It was my job to watch over her, from the time she was born or in this case hatched. The purpose of her being on earth was kept from me, it was my duty to watch over her, guide her and keep her safe as far as possible.
I knew all about her other worldly origins, her former royal life, her family's downfall, their deaths and their being brought back to life with the help of human DNA. Still her purpose here was a mystery known only to the all - powerful one.
Everyday I watched her grow more and more beautiful. Yet she was always alone, distancing herself from the other children around her in school. Many a time I had wished to reveal myself to her but that was against the rules. I knew she was afraid of rejection. I wanted to tell her she needn't have been, that her parents and her brother love her.
She longs to tell her parents about her secret but it's not only hers to tell. Two more people were let in to their secret, Max and Michael's soul mates. I used to observe her when they were all together, she has the most beautiful smile but behind it she was sad, that she didn't have one to love like her brothers did.
Then he came along, Jesse Ramirez and she rushed in to a marriage that never should have been. I knew he would die, I wish I could have told her but it's not my place to do so. Now she's alone, struggling to get back to an everyday routine, not wanting people to pity her.
I think part of me wants her to feel my presence, because I want her to know that she's not alone. Ever since he died, she curls in to a little ball every night, clutching a pillow, sometimes crying herself to sleep. It's at times like these that I feel like holding her, whispering in her ear that I will keep her safe and never let anything bad ever happen to her again.
************************************************************************
Isabel sat on her front porch step, in the moonlight, turning her wedding band on her finger, contemplating whether to remove it or not. Things had gone back to normal, more or less. She had realized that she had never been in love with Jesse, but still missed him for he had been a kind, caring and an unselfish husband.
The night breeze blew some leaves across the yard; lights flickered in the neighbour's houses across the street. She stood up, dusting the seat of her pants and went and sat down on the swing. This had become a nightly ritual, after dinner. It soothed her. Suddenly, the hairs on the back of her neck stood up and she knew she was no longer alone.
"I know you're there." she said slightly nervous but not afraid "Who or what are you?"
She question was greeted with silence but the presence remained, sending waves of comfort to her, letting her know that it meant her no harm.
"Why don't you let me see you? Are you a ghost? I know you're following me around." Isabel was starting to feel a little silly that she was talking to the air and if some passerby saw her, he or she would think she was finally cracking under the strain.
So she lowered her voice and carried on "You watch me all the time, the least you can do is show me the courtesy of revealing yourself to me once."
She waited for a few more minutes and nothing happened. Slightly annoyed, she went back in to the house and switched off the lights downstairs and went upstairs to her bedroom, where she changed in to silk burgundy pajamas.
While she brushed her teeth she kept looking in to the mirror as though expecting to see someone standing behind her but the room remained empty. Picking up a book from the shelf she got in to bed and switched on the bedside lamp, opened the book to where she had book-marked it earlier and tried reading but couldn't. Her lids slowly grew heavy and she dozed off.
It took all of my self-control not to reveal myself to her when she asked me to. I'm, frankly quite bewildered that she can feel my presence, and no one has ever felt me before. My friend and brother, Gabriel says it's because I want her to feel me.
I denied it to him but I can no longer deny it to myself. I am falling in love with Isabel. I don't need to be told that it's against the rules and it's hopeless to for me to love her because it will never be reciprocated.
***********************************************************
The next morning, Isabel sat at her dining table eating a peanut butter cum tabasco sandwich when once more she felt it.
"This is really getting tiring. It was okay at first but now it's plain annoying. If you can't tell me who or what you are, or show yourself then go away." she said harshly
She looked up and gasped, for across the table, standing infront her was the most beautiful man she had ever laid eyes on. He was tall and slim, with wavy brown hair, eyes that weren't quite green or blue, a nose that stopped just short of being perfect and lips that were full and sensuous. He was wearing black trousers, a snow-white shirt buttoned up to the top, black shoes and a black coat.
"I'm Alexander." said the man "And I shouldn't be here talking to you but I couldn't help myself."
To say that Isabel was shocked was an under-statement. She gulped, blinked her eyes, stood up and sat down again.
"What…what are you?' she asked in a whisper, afraid she'd scream if she spoke any louder
"Will you believe me if I said 'an angel'?" There was a hint of humour in his question but his smile quickly disappeared
"An angel…I…I think I can believe just about anything, you don't know what all I've been through."
"On the contrary Isabel…I know everything."
"WHAT?" she stood up once more, clearly alarmed
Alexander wanted to approach her but he was afraid she'd bolt so he remained at the kitchen counter not moving, "It's my job to know everything about you…you could say that I've been watching over you from day one. And now I really must go…I've said too much already, I'm not supposed to be here like this."
"No…wait please. You just can't leave after dropping this bombshell on me…angels exist…oh my god! Please stay." She pleaded
"I wish I could but I can't but I will be back, I promise."
And he was gone. Isabel slumped down on to the chair not quite believing what had just happened in her kitchen.
An angel had revealed Itself to her. 'Itself'…shouldn't it be 'Himself', he looked like a man but are they feminine or masculine? With thousands of questions running through her mind she readied herself for another day of work as a paralegal in her father's office.
Concentrating on her work was impossible, the day seemed to never end and when it finally did she found herself looking forward to going home for the first time in weeks.
She decided to take a walk in the park early that evening and was standing at the edge of the pond hoping he would appear. But he didn't.
"You can't do this Alex…you know it's against the rules." Gabriel tried reasoning with his friend but it was beginning to dawn on him that as far as Isabel Evans was concerned, nothing he could say would make any difference
"You let her see you…how could you do that?"
"I had no choice." Alex replied looking out over the city from the top of the water tower
"Of course you did…she could only have seen you if you wanted her to see you. You did, didn't you?" Gabriel looked closely at his fellow angel and didn't wait for an answer "You're getting in too deep."
Alex closed his eyes and when he opened them again he was in her living room, watching her prepare dinner for herself.
"Do you want to eat something?" she called out suddenly startling him momentarily but he smiled, he should have known she'd feel him
"I don't need to eat." he replied walking up to her
"Then you can" she twirled around with a bowl of pasta in her hand "keep me company while I eat and tell me what exactly you are and why you are here and why I can feel your presence."
Isabel was determined to get some answers from him.
They sat down at the table, neither taking their eyes of the other. Alex waited for her first question-
"Have you always been around?"
"Yes."
"Then why is it that I only began to feel your presence after Jesse died?"
"Because I started spending more and more time watching you and I may have wanted you to know that I was around. That is what my friend Gabriel said, because usually people do not feel our presence, rather they are not supposed to."
"I see…this is crazy, you do realize that?" Isabel asked him "I am talking to an angel…seems like 'normal' things just don't happen to me."
Alex reached out with his hands and took both of hers, cradling them in his, "You're special…what's so great about normal things anyway?"
Isabel couldn't ignore the sensations rushing through her from the moment that their skins had touched. She watched him intently to see if she was having the same effect on him as he was having on her but his expression remained serene.