Winner Round 14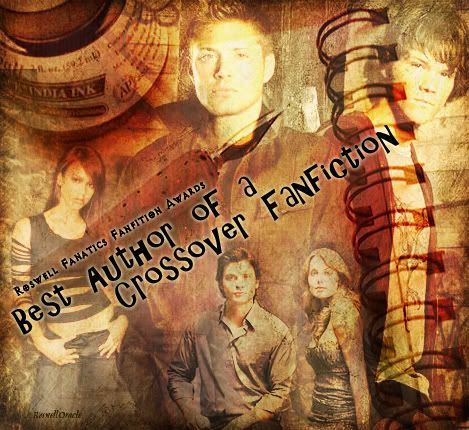 Winner Round 12
http://img.photobucket.com/albums/v632/ ... aos/v2.jpg
Love my banner, burningchaos made it for me *hearts her*
And hearts to darkmoon for introducing us.
And vampyrolover for accepting us and not caring that the three of them are slowly corrupting me,

You three are made of awesome!
Shot Through the Heart
by Kristin aka KiaraAlexisKlay
Disclaimer: Melinda Metz owned Roswell High before Jason Katims gave it to the WB/CW for a cult hit show. I sadly wasn't even a blip on their radar...still aren't. Smallville goes too...um...the people who created it? Regardless, I have nothing to do with the owning of these shows or ideas, I'm just a struggling, part-time worker trying to bring sunshine and happiness to the world through the borrowing of other people's worlds.
Genre: Smallville Roswell Crossover, AU
Summary: Cupid's not the only one with an arrow to loose...especially in Star City.
Rating: MATURE
Pairing: Would you all squeal in ecstasy if I said it was Liz/Oliver? *runs away from massive crowd of fangirls*
A/N: Who else thought Lois was a b'tch for crushing Ollie's heart? I mean, I get that Lois needs to get with Clark, but how could she? Ollie's so cute and boy did green and black leather never look so good on anyone...if it were me and I figured out my boyfriend was a superhero, I'd be like, hell yeah I'd give you another chance now that I know the truth....grr....okay, rant over. This one is a surprise gift for
darkmoon
,
burningchaos
, and
PeytonLeigh
....little d and B have been my muses these past couple weeks and Peyton just gave me the push to research a Oliver from Smallville pairing with Liz, which led to me looking into who portrays Oliver Queen, the Green Arrow, and I was like OMG! I stopped watching Smallville just as they were bringing in the true hotties! *grumbles* This one's to my girls!
A/N 2: Okay...for those of you who begged for this to be it's own series, here it is! For those of you who don't know, this is a series that was started in my
I,Liz
crossover shorts thread and it quickly took a life of it's own. This series will be growing on it's own, and more will be added to this periodically. Also, the threads that originally hosted this story will be edited to link here. A thanks to all of those who read and reviewed and pushed me and my ego (known as my muse) to continue this. Jareth and I thank you.
~~~
Shot Through The Heart
~~~
"So...how do you like Star City?" Alex Whitman sent a knowing grin his companion's way, and he couldn't help laughing at the wide, beaming smile he received in return.
"Oh, Alex, I love it! Thank you so much for inviting me!" Liz Parker enthused, impulsively giving her best friend a tight hug, wrapping both arms around his still lanky form. Alex smiled and bent down to kiss the top of her head tenderly, thrilled that hewas able to bring such joy to his friend. Liz hadn't had the easiest of lives since that fateful September day, and he was just happy that he could make his friend happy, even if only briefly.
"Who would have thought that Roswell's own Alex Whitman would have found such an opportunity? You're a local celebrity and role model back home," Liz teased, looking up at her friend with a sparkle that hadn't been there often enough these past few years.
"Aww..." Alex looked away, blushing.
Yes, who would have thought that a trip across the world would be so life-changing? It was while Alex was doing a student-exchange in Switzerland that he had met face-to-face, in person, with one of the world's youngest and most successful child prodigy's, one Oliver Queen of Queen Industries. Alex and his sponsor sister Leanna had been enjoying a date at a local tech fair, where Alex was wowed and he certainly made an impression when with one glance he analyzed and determined what was wrong with one of the vendor's machines. The frazzled techs, with really no options and nothing to lose if it didn't work, tried the young man's suggestions, and to everyone's surprise, the glitch was corrected. Unknown to Alex, among the crowd of observers was Oliver Queen himself, coming to check on the vendor who happened to be a representative of Queen Industries' latest soft and hardware. Mr. Queen offered Alex a job in his company right then and there, and was understanding of a shy and flustered Alex's stammers of him only being a student, and how he couldn't when he wasn't qualified.
"You just saved my ass millions of dollars and the respect of my stockholders, I don't know how much more qualified you can get," Queen had told him, grinning. "The fact that you actually know what you're doing doesn't hurt either. So what do you say?"
It took a little more convincing, but in the end, Alex had agreed to come work for Queen Industries through a work study internship program. As Mr. Queen was eager to have his newest employee work, Alex had come to the hard decision that he would take his GED and come straight to work at Q.I's headquarters in Star City, Kansas, sister city to Metropolis and take college courses there. The only reason, aside from Isabel, that he had stayed was because 'his girls' Liz and Maria were there and all three of them wanted to graduate together. However, Maria was already offered a recording contract so she took off for New York, leaving Liz to face school and the POD Squad alone. Alex had come to the conclusion that while he loved Isabel, she would never love him in return the way he wanted her to. Oh, he was great for a back up plan when no one was 'worthy' enough to catch the Ice Princess' eye of the moment, but Alex wasn't satisfied with that.
"C'mon Alex, admit it...it's nice being recognized for the work you do," Liz smiled softly, resting her head against his shoulder, happily snuggled up to his chest as his arm draped over her shoulders.
"Oh, fine," Alex sighed, acting put upon, and he could feel Liz giggle into his chest.
Leanna had shown him what it was like to have a girl take an interest in him, really look at him, and it was made abundantly clear that what he and Isabel had was nothing. Oh, he knew her secret and helped when there was trouble, but he was nothing to her. And that hurt. He and Leanna had parted ways amicably, and Alex was a new man when he returned home. He was a man now, he had a well paying job, he had dated an awesome woman who had showed him the passions between men and women, and now he had the confidence to break his infatuation with Isabel and reclaim his self-worth. His only regret was leaving Liz and Kyle. He knew that Liz wouldn't leave Kyle even if the jock wasn't exactly on speaking terms with her after the whole Future Max debacle, which made Alex furious. Surprisingly, it was Kyle who convinced Liz to follow her dreams and not worry about him, he could handle the POD squad by doing what he'd done their entire high school year: ignore them until he needed them. If it worked for them, it'd work for him, and he wasn't under the romantic influence of one of the hybrids like Liz, him, and Maria had been.
In the end, after much discussion and tears, Jeff Parker took it out of their hands. Since Roswell was slowly but surely growing, the school districts had to be re-drawn and the area the Crashdown was located in was now part of East Roswell High's district. So Liz would be transferred to East Roswell High for the end of her junior and all of her senior year. No Max, Isabel, Tess, or Michael to bug her and judge her, the only thing she had to worry about was passing her classes. And she did. Choosing to graduate normally so she had a chance to bring back her GPA, Liz went and took East Roswell High by storm, so focused on her classes she brought her struggling grade back to it's well over 4.0 GPA, and when all her transcripts were taken into account, she graduated Valedictorian with a Harvard appointment under her belt.
That was four years ago, Alex mused, and so much had changed. Maria was one of the hottest new singer/songwriter's to come out in years, using an old childhood nickname of 'Majandra' a mix of her first name Maria and her middle name 'Alexandra', and selling records by the thousands. Her last squealing message on his voicemail told him that she'd just made platinum on her sophmore album, and her on-again, off-again boyfriend/singing partner Billy could be heard in the background celebrating very loudly. The PODsters were even changed, the humans defections causing a huge shakeup in the order, and Isabel had went on college in San Francisco like she wanted, Max went on to the University of Albuquerque to study medicine with Tess following him with their toddler son, and Michael surprised everyone by getting a full scholarship to the Art Institute.
Even more surprising, is Maria refused to have anyone but Michael do the cover work on her cds, and this allowed Michael an opening that he gladly took. Four years and Maria's notoriety later, and he was in demand by other record companies for his artwork, and last Alex had heard he had a show in Boston coming up. Kyle had went on to get a full-tuition paid sports scholarship to the Air Force Academy who were most eager to make him an addition to their football program. They were slathering at the mouth at the thought of the big inner-service rival game with the Army when they unleashed Cadet James Kyle Valenti, the Third upon them.
"So how is Boston...
Doctor
Parker?" Alex teased back, looking down at the blushing face of his best friend.
"I'm not a doctor yet," she protested, grinning still.
"No...you're just finishing your Master's thesis with your doctorate's thesis waiting in the wings. You Miss Parker, are very sneaky, why didn't you tell anybody you had a genius level I.Q? You just blew all those tests out of the water and now look at you, a graduate school graduate before normal people are even through with the basics."
Liz just blushed harder and ducked her head back into Alex's shoulder.
"Does your girlfriend know you have such a beautiful creature on your arm, Mr. Whitman?" The two friends stopped their progress and turned together as one to face the unexpected voice.
~~~
Oliver Queen had been driving around Star City on business all morning long in his convertible and he was seriously considering playing hooky. He had somehow managed to shake his assistant off, and took off to find some lunch, and as he was cruising along and came to a stoplight, he happened to glance over and surprised himself at seeing Alexander Whitman, one of the most brilliant employees he had been fortunate enough to snatch before Lex Luthor did. He had met the young Mr. Whitman at a tech fair in Switzerland, and he'd been both impressed and amazed at how the young man composed himself as he explained what was wrong with the computer application that Queen Industries was going to market. He'd truly saved his ass that day, and was just in time before the stock and shareholders had come around to inspect the new software and hardware, and Ollie recognized talent when he saw it.
It had taken the offer of a work-study internship to get the young genius to accept his offer, and he was willing to give the young man his number and some time to consider his proposal, and he was pleased when he got the call that Alex Whitman wanted to join his company. Oliver was never one to do things half-assed, so he made sure that Alex was given the best of everything he could hope for. A full benefits package available immediately, a nice housing allowance, enrollment into the best MIT campus Star City had to offer, a generous raise every fiscal year. And Alex had surpassed even his expectations. Queen Industries had never enjoyed a more prominent position as one of the top suppliers of new technology and computer software than when Alex Whitman had joined the staff. In just four short years, Alex had proved himself not only to he, Oliver Queen himself, but to his supervisors and everyone he came in contact with. Alex was now close to being the head of his department, though Oliver was holding back on that so none of his other employees thought that he was favoring the lad.
But not only that, but Alex had stumbled across his secret and hadn't even batted an eye, or told anyone else that his boss Oliver Queen was the infamous Green Arrow. He just asked to see what technology he used, and offered to upgrade the tech on his targeting console, allowing for more efficiency in what was being shown on the compound bow's scope and what was registering on his targeting glasses. After Alex tinkered around, Ollie noticed a tremendous improvement and he'd been appreciative. Alex had just shrugged it off, happy to do his part in making sure the streets were safe, and thrilled at having a chance to work with some experimental technology. Needless to say, Queen Industries' military applications department took off that year thanks in large part to Alex.
Alex wasn't a friend yet, he didn't go to him for every little thing, but it was refreshing to be able to trust someone with his deepest secrets and not have them throw it in his face. Oliver was also pleased with Alex for he had brought on board through his relationship with her a brilliant quantum theorist Serena Melkar, snatched from the jaws of Luthor Corp and possibly Star Labs. That coup still brought a smug smile to Ollie's lips and he watched in fascination Alex's interaction with a tiny brunette he couldn't see very well. Slightly concerned for his employee's well-being and the fate of what Dr. Melkar might do if she found out Alex was out with another girl, he decided to speak up and perhaps get to the bottom of this.
"Does your girlfriend know you have such a beautiful creature on your arm, Mr. Whitman?" he called out, and despite himself was amused as the pair turned around. His sharp eyes didn't fail to notice that Alex kept an arm around the girl's shoulder as they pivoted about to see who had called out, and Ollie felt his breath catch in his throat.
A beautiful creature, indeed. Her long hair was layered and wavy, with soft wisps of bangs around her eyes, and the most gorgeous sun-kissed skin he'd ever seen that he knew no tanning bed could duplicate. Delicate sable brows swept over her forehead to match her glorious hair, and dark mocha eyes peered curiously at him, completely comfortable snuggled against Alex's side. She was wearing tan suede hip huggers and a white tailored blouse with a collar and three quarter sleeves, the soft tan lace of her camisole peeking out from beneath the blouse, and chunk heeled boots. For the first time since the disaster with Lois, Ollie was instantly attracted, and he felt distinctly jealous of Alex's arm around her shoulder, of his body pressing against hers.
"Mr. Queen?" Alex looked surprised, and then he grinned mischievously down at the beauty at his side. "What do you think Honeybear; does Serena know you're on my arm?"
"Hmm...I thought I was
under
your arm," the brunette followed Alex's lead, eyes dancing with mirth and exaggerated innocence. "Wasn't this one of the acceptable ways of bodily liberties Serena would allow me?"
"I think you're right," Alex nodded sagely, and then he and his companion looked up at him at laughed at the look on his face. With a good natured tug, Alex led his friend over to where Ollie still idled on the street. With a glance to make sure they weren't holding up traffic, Alex faced his employer.
"Mr. Queen, I'd like you to meet someone most dear to me. This is Elizabeth Parker, my best friend growing up."
"And your best friend now, I hope," Liz nudged Alex with an elbow.
"Oomph! Best friend yesterday, today, and forevermore!" he hurriedly re-iterated, sending a pout her way. She just nodded, appeased, turning dancing eyes to Ollie.
"Liz, this is my employer, Oliver Queen, CEO of Queen Industries, and all around humanitarian. He's changing the way that technology impacts the common folk's lives."
"Pleasure to make your acquaintance, Ms. Parker," Ollie held out a hand and Liz reached out to shake. Both sucked in a breath as skin touched skin, and deep mocha eyes peered at similar colored ones, awareness passing between them.
"You, too," Liz blushed, and pulled her hand back gently.
Alex cocked a brow Michael-style, taking in the interaction between his boss and his best friend. He was instantly wary, but not for the reasons either party would have expected. Alex knew that his boss had had his heart torn by the lovely Lois Lane, he'd heard the entire story, and so he knew all about Ollie's new outlook on love; why love one person when you could lustfully bed many women? He knew that Lois Lane had hurt Ollie deeply.
On the other hand, he knew that Liz had never really recovered from Max Evans either. Her relationship with the re-born alien king had always been rocky, bordering on obsessive, but extremely passionate, and what with 'destiny' and then Future Max...she could have possibly recovered, but then Max had to go and knock Tess up, and the two while not happy, were trying to make their lives work together for the sake of their son, little Zan. He knew that Liz had had a brief go with Sean DeLuca and a couple other boys since then, but never anything serious. Sean came close, and Alex knew the two had been intimate a few times, but in the end Liz couldn't commit because she didn't love Sean like he loved her.
He'd often talked to Serena about how he ached for his best friend to find love, and how he'd come to care for his boss and savior as more than an acquaintance and boss but not quite at the friend level. So he was notably wary for both his friends' sake at the obvious sparkage. Ollie had chosen to drown his breakup with Lois in meaningless affairs with other women and Liz had drowned her sorrows into her studies, accomplishing what took others several years in less than half that, as she was almost ready for her doctorate not even four years after graduating. She was only 22. He didn't know if Ollie could be committed enough to one person for Liz's sake, or if Liz could be strong enough for Ollie's sake. Both were broken and he wasn't sure if their jagged edges would connect or pierce the other. He just had to trust that each would do the right thing.
"Well, I'm glad to find out that Alex here isn't cheating on his girlfriend...I'd hate to have to find replacements for the both of them, if I ever could," Ollie went on, a charming smile on his face, looking more relaxed than Alex could ever remember seeing him outside the green and black suit.
Liz's eyes widened and her mouth formed an 'o' before curving up in a smile that she tried to head off by biting her lip.
"You thought that I was the...other woman?"
Alex knew than that Liz was trying not to laugh and he sighed, trying to resist his own smile. But then he made the mistake of looking down at her while she looked up at him, and catching each other's eyes, the pair suddenly burst into laughter.
"Oh, I'm sorry, Mr. Queen, I'm not laughing at you," Liz giggled, trying to catch her breath, leaning against Alex for as much support as she was giving him. Alex was still chuckling but he managed to get himself under control.
"It's just that," Alex began.
"We've known each other for so long," Liz took up.
"That we've never even considered," Alex continued, making a hand gesture.
"Liking each like that," Liz finished, waving a small hand to emphasize her point. "As a matter of fact, the third of our little trio of friends, Maria, and I decided a long time ago that Alex was just one of the girls."
"Hey! I'll have you know I'm as manly as manly can get," Alex looked down at Liz as if offended. "Just ask Serena. She doesn't have any complaints about my manliness."
"Sure you are," Liz's lips twitched, her tone suggesting otherwise.
Ollie was fascinated. Growing up, he'd never had a close relationship with any of his peers, certainly not the type of bond that he could clearly see between Alex and his friend Liz. What must it be like to be friends with someone who could finish your sentence or freely tease one another? To mask his growing jealously, Ollie made one of those impulsive decisions he was known for.
"Why don't you come to lunch with me? I've just ditched about a football field of assistants, stock holders, and butt-kissers, and I want to take advantage of that. What do you say, you two? Please, say yes."
"Oh," Liz didn't bother hiding her surprise at the offer, her bottom lip once again caught between her teeth.
"Well," Alex began, glancing over at Liz and catching her eye. "We were going to meet Serena at Shansi's just up the street..." he trailed off. Both friends looked at one another, and Ollie watched fascinated as Liz tipped her head, arching an eyebrow, and Alex cocked his head, shrugging a shoulder, and then Liz quirked her lips in a smile that Alex answered with one of his own.
"If you don't mind Shansi's, I'll call 'Rena and let her know you'll join us?" Alex looked at his boss, who was still dumbstruck at the silent communication between the friends.
"Shansi's would be perfect. Get in the car, I'll drive and we can let these nasty people stop honking their horns," Ollie grinned, popping open his door in invitation and moving the seat forward. Liz didn't hesitate to climb in, sliding across the leather seat and making herself comfortable, and Alex slid in just a few seconds later. Alex was on the phone talking to Serena, who was appropriately shocked and curious that their boss wanted to join them for lunch.
"She said the more the merrier," Alex chimed when he finished the call, and Ollie nodded, wondering at the feeling of relief he felt at being accepted into this little group.
"Great," was all he said, maneuvering expertly through the traffic. He eyed the two in the back mirror, suddenly feeling ridiculous and a little like a chauffeur, him, Oliver Queen driving the pair to lunch. Liz caught his eye and seemed to know what he was thinking, for she grinned and blushed, to his fascination and he found himself pulling into Shansi's parking lot with a smile on his lips.
"Here we go. It's about time, I'm starved."
"Oh, you poor baby," Liz found herself teasing the blond, not knowing where this boldness of hers was coming from, not when the man's presence was making her stomach turn in knots they hadn't for years.
"Yes, pity me," Ollie returned, sending a pout and woebegone expression her way as he absently tossed the keys to the valet.
Liz couldn't help giggling and both men grinned at the sound, though for very different reasons. The trio entered the restaurant in good spirits, and were shown to their table, where Serena didn't hesitate to jump up and crush Alex in searing lip-lock as if the two hadn't loved each other that morning.
"Do you get the feeling that we no longer exist?" Liz stage whispered to Ollie as the intimate embrace continued, obviously used to such displays from her friends.
"Most definitely. How about we take a seat, and see if they come up for air before the meal gets here?" Ollie suggested, strangely at ease in the little brunette's presence. With a shared grin, the pair eased around the reunited lovers to the half circle booth Serena had popped out of.
Liz slid into the cool leather seat and scooted more toward the middle and Oliver took a seat on the end near her, and they settled in as Liz set her purse down on her other side, adjusting her shirt to lay smooth. By unspoken consent, the pair studied the menus in front of them, both very hungry and thankful for something to occupy their minds and hands.
"Welcome to Shansi's, what will you be having today?" the waiter came up with a careful eye on the still smooching couple.
"I'll have the red wine and my friend here will have…?" Oliver turned to Liz, who folded her menu in front of her delicately and clasped her hands together on top of it.
"Cherry soda, please."
"A cherry soda, then," Ollie nodded in confirmation. "I'm sure if you're friends with Alex than you are more than old enough to have a more adult beverage."
"Ah, but me and alcohol don't get along so well so I stick to the non-adult variety," Liz replied drolly, not ashamed of her preferences.
"There's a story there, don't let her fool you," Serena piped up, sliding in next to Liz, her tall athletic form curling up and stretching out like a great cat. "I'll have what Mr. Queen is having, and my boyfriend will have orange soda."
"Very well then, madam, sir. I'll leave to bring your drinks and perhaps you'll be ready to order your meal. Sirs, madams," the waiter gave a small bow from the waist and then left to get their drinks.
"A story, eh? I'm all ears," Ollie gave another of his trademark smiles and Liz blushed, fingers playing with the laminated edge of her menu.
"Oh, it's not that good of a story," she tried to hedge away but Serena just laughed uproariously, uncaring at the attention she was drawing.
And Serena was worth the attention. A tall, lithely athletic woman of African-American descent with more than a little cream mixed in her coffee, she was almost as tall as Alex barefoot at five eleven, and in her heels she was slightly taller. The pair was startling, such a white bread American boy with this chocolate goddess, and they were so into each other it made people feel awed to just observe them.
"C'mon, little sister, it's a great story," Serena teased her friend, unaffected by the playful scowl Liz tossed her way. "It's like this, Lizzie bear here came to Harvard and joined our sorority, Phi Theta Kappa, as a little freshman, taking classes that most of the girls had to wait years and hundreds of boring prerequisites to get into, and this little genius here just passed through all the tests, scoring out the roof and just bypassing years of stupid remedial classes like that!" Serena snapped her fingers in emphasis.
"It wasn't anything really," Liz tried not to make a big deal of it, but Alex coughed 'Yeah, right,' and Serena rolled her eyes.
"Lizzie bear, you were a freshman taking AP Quantum Astrophysics, for
an elective!
You don't get much more genius than that."
Liz looked as if she wished that the booth would open up and swallow her whole, but Oliver was fascinated. He loved seeing the red tinge upon her olive skin, and he could tell that her modesty was not an act, it was genuine and he wanted to know more. He just smiled at her when she peeked out of the corner of her eye at him, embarrassed at the telling of her accomplishments.
"Impressive, Ms. Parker," he grinned, pleased at seeing the telltale biting of the lower lip and her fingers nervously playing with the poor menu he rescued from her grasp and set it with his at the end of the table.
"Oh, well," she shrugged, unable to put anything to words.
"Liz is too shy to admit that she's deserving of anything," Alex muttered, slightly reproving and Ollie watched as her chin suddenly rose in defiance and he knew then that this girl wasn't the pushover one thought initially.
"So anyway, Liz here was introduced to the life of a Phi Theta Kappa," Serena grinned in pure naughtiness and Liz groaned.
"A bunch of crazy bitches is what you all were," she grumbled, but Oliver could hear the affection as she talked about Harvard's most notorious genius sorority. The PTK's have boasted of in their ranks many influential women in the hard science and engineering fields, women that were fast proving to be more than equal to their male counterparts. That the young woman next to him was among their ranks was impressive indeed.
"Hush now, those are our sisters you're talking about," Serena waved a dismissive hand in front of her, and both Alex and Liz rolled their eyes on either side of the tall woman. "So I get assigned as sponsor and big sister to the munchkin here and in true Phi Theta Kappa way, try to assimilate her into our traditions."
"Translation: she took me to get pissed off drunk," Liz replied, and the conversation halted as the waiter came back with their drinks and to take their orders. Serena took up the story as soon as the waiter was out of ear range.
"She was wonderful. I seem to recall there were several kegs, numerous liquor shots, and several varieties of beer involved," Serena reminisced. "And several passed out frat boys who couldn't keep up with her."
"Yeah, well,
you
were the one that said I had to face off with the Delta's freshman members in a drink off for the trophy," Liz poked the taller girl with a finger. Serena slapped her finger away and Liz went back to drinking her soda through her straw, giving Serena the evil eye. "And I seem to remember the most terrible hangover ever…it's a good thing it was over the weekend otherwise I could have lost my scholarship thank you very much."
"Oh, quit griping about it Parker. As if the deans would ever run the risk of having their new pet genius go away through such a small infracture. You had fun didn't you? And you're still around, and getting ready to take your doctorate at twenty-two! Twenty-two! When I was your age I was still fending off stupid professor's advances and trying to make them see I wasn't making mistake by taking Quantum Astrophysics instead of Airhead Bimbo 105."
"You mean the Drama and Thespian professors wouldn't let you in the door, right?" Liz teased the other girl, and Alex laughed, only to be silenced when Serena smacked him without having to stretch to the other side, and Liz struggled to keep her face passive.
"Lizzie, I was Maria-slapped," he pouted and Liz tried to keep a neutral expression and failed.
"I'm sorry?" she giggled. Composing herself, she turned her back on her two friends to a highly amused Ollie. "Anyway, embarrassing story aside, after that night I couldn't stand anything alcoholic since…even wine coolers make me nauseous. So, no adult beverages for me anymore."
"I have to say that is some story," Ollie nodded, raising his own wine glass in salute. Liz groaned.
"I don't see how you can drink that stuff," she gave a delicate shudder and Ollie found himself laughing aloud.
"The trick is to sip it, and sparingly…you know, moderation?"
"Oh, touché Mr. Queen!" Liz laughed, unable to resist the full power of the Queen smile directed her way.
Alex and Serena exchanged glances at their bosses teasing of their friend. They shared one of those silent conversations couples develop. They would need to keep an eye on the situation as it developed, but this was the first time they'd seen either of the other two so unreserved.
"Would you care to dance?" Alex stuttered to Serena, giving her a significant glance, and she nodded.
"Don't say anything important until I come back," the tall woman told the other two, and Liz snorted as she recognized the lines from
White Christmas.
"We'll try not to," she assured the other two who had made their escape from the booth to sway away to the soft music playing over the restaurant's speakers.
"So now that we chased them off, what do you propose we do?" Ollie asked with a rakish grin and Liz blushed again but her chin rose once more.
"Well I figured I'd have my wicked way with you but your delicate sensibilities might not be able to take the audience," she sassed back, and Ollie's brows rose at the suggestion.
Liz took one look at his expression and then burst into laughter, pleased at having one-upped this charming man. Well good, embarrassing story aside, he deserved it for that moderation remark.
Ollie recovered quickly and his eyes danced in a way that Liz knew he was going to lay something on her that would make her blush like crazy. As he slanted his body closer, invading the hell out of her personal space, she knew she was going to be proved correct.
"If you think I have any qualms about you having your way with me in front of everyone, you are mistaken," his breath tickled the side of her face and neck, and Liz tried to fight the electric tingles his nearness caused. He was really too good looking, charming, and experienced for her own taste.
"I'm sure you've had lots of experience in that front," she replied, tilting her head slightly, and he was close, almost too close and oddly she didn't mind. His soft brown orbs stared down at her with unveiled amusement, and was that attraction and interest in his eyes?
Did he think she was attractive? Liz found herself biting her lip again, and those eyes drifted to focus on them at the action, and she froze.
"Somewhat," he answered distractedly, unconsciously leaning even closer and her face lifted up of its own accord to meet him.
"Hey, food's here!" Serena's timed exclamation had Liz jumping in her seat, eyes widening, and she pulled back. Ollie just barely managed to hold back his groan and controlled the urge to snap at his physicist. She and Alex slid back into the booth just as the waiter and a friend brought their steaming plates of food to the table, and all attention turned toward the food, as four stomachs growled in unison, and the tense atmosphere dissipated as if it were never there.
All through lunch, Ollie was aware of the small, warm body next to him and he knew she had to be feeling the same, from her discreet glances his way to the way she held her body in check. As if she were resisting the urge to lean in toward him, as he was having trouble trying not to touch her in some way.
He was going to find out how long the enchanting Ms. Parker was in town and he was going to make the best of trying to get to know her.
You could count on it.