I'm so excited to announce the release of my first print book! Cinematic Royalty is being released with an exclusive to print story, Dark Hollywood Nights in a print edition by Freya's Bower!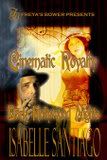 Cinematic Royalty
Charles Witmore is used to celebrities. As owner of the grand Winmont Hotel in Los Angeles, he has seen them come and go more times than he can count. But the experience is altogether different when silver screen starlet Bridget Phillips walks into his life and crashes into his heart. He's absolutely starstruck. Her beauty is exactly as majestic as has been rumored, but he wonders about the many claims laid against the woman, who seems to be so shrouded in mystery.

Initially claimed by prejudice, he sees nothing more than the ice princess she presents, beautiful and stone cold. But, the more time she spends at his hotel, the more he begins to see there is more to her facade than meets the eye. Soon, she becomes the object of his affection, and in an amusing ploy, his two best friends, Betty and Eleanor, and his cute assistant Tessa, set up the matchmaking scheme of a lifetime.

But will Bridget's dark secret keep Charles from his happily ever after?

Dark Hollywood Nights
Alexis Grant's only job is to keep the prestigious Winmont Hotel running smoothly while her cousin, Charles Witmore, enjoys his honeymoon. The only problem: things begin to fall apart the moment he leaves. The pompous Chase Branton, who's determined to get access to one of her off limits celebrity clients, doesn't help.

Can she keep it together long enough to earn a managerial position of her own, or will a high profile death cause all of her dreams to shatter?
Available Now at:
Freya's Bower
http://www.freyasbower.com/
It can also be ordered into your local bookstore or from Amazon.com! (which is still totally mind blowing)
I'm so insanely excited!
Celebrate with me, will you?!!