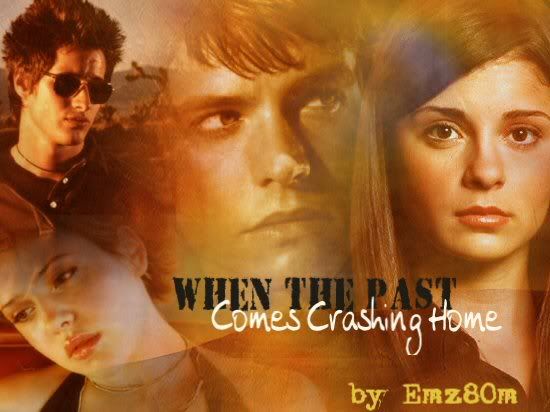 Title: When the Past comes Crashing Home
Author: Emz80m
Disclaimer: I don't own Roswell or any of its character I'm just borrowing them.
Category: M/L (but M/M too)
Rating: ADULT
Summery: All the events of Season 1 have happened except Tess never came to Roswell with Nasedo so Liz didn't walk away after Destiny. Her and Max slept together in the bus after they rescued him from Pierce. They're a happy couple until right after graduation Liz disappears and when her connection with Max disappears they assume that she's dead. 8 years later the past will come back and will Max be able to live with the decisions he's made?
Prologue
'Liz is that you?' a shocked Max Evan's asks when he sees the petite brunette in the emergency room. It had been almost 8 years but he would know her beautiful face anywhere and he was sure that he was looking at it right now.
Liz Guerin looks up the man calling her name in confusion. Something about him looks familiar but she cant put her finger on it and her head is throbbing too bad to focus on trying to remember. She does acknowledge that he is very handsome and those eyes were so familiar but she can't put her finger on why.
'Do I know you?' she asks.
'It's me Liz, Max' he tells her as he approaches her.
'So you know me?' she asks him then.
'Yeah of course I do' Max tells her confused 'Do you not know me?' he asks her then.
'I feel like I should know you and if you weren't wearing a wedding ring I know I'd want to get to know you' she smiles 'but I don't remember you' she tells him regretfully.
'You don't remember?' Max asks shocked.
'No I'm sorry' she tells him but before he can ask her more questions the nurse enters.
'Ok then so what brings you in?' he slips in to Doctor mode in front of the nurse.
'Oh I have the worst headache I get them a lot since the accident but I don't have anything to help it and it's blurring my vision' she explains.
'Oh what type of accident?' he asks then. Partially because he wants a history for medical purposes but mostly because he wants to know how the love of his life was alive and sitting in front of him and didn't have a clue who he was.
'Oh about 8 years ago I was hit by a car. When I woke up the Doctor told me I'd hit my head badly. I was in a coma for 6 months and when I woke up I had no idea who I was' she explained.
'Oh so what hospital were you in?' he asked then knowing that nurse would want to know for her records and that he could get away with asking her these types of questions without it seeming to personal and getting back to the Chief Doctor or his wife.
'St. Vincent's in Las Cruses. The car that hit me took me there' she shrugged in reply.
'Ok well I think we should take a scan to make sure there isn't anything serious going on but I'll give you some pain killers to relieve it until then' Max told her before giving instructions to the nurse.
When she left Max turned back to Liz. 'So you don't remember me?' he asked her sadly.
'No should I? Do you know me?' she asked.
'Yes, you're Elizabeth Claudia Parker, only daughter of Jeff and Nancy Parker who own the Crashdown Restaurant here in Roswell New Mexico and as far as your family and all the people that loved you, including me thought' he added softly 'you were declared officially dead 4 years ago' he told her.
'Parker?' she asked with a shaky voice.
'Yes that's your last name'
'No my last name is Guerin' she told him.
'Guerin?' Max's head snaps up at the comment.
TBC - This is my new story!! At this stage i'm not going to set a posting schedule. I normally like to post a couple of times a week at least but whilst I'm finishing off a couple of stories that are ending on the AU board i probably wont get to post that often. Anyway i hope you like it. Let me know if you want me to continue.