*huggles* You guys all rock: Egyptian_Kiss, kay_b, forever dreamer, jake17, roswellian love, lizandzackfan, roswell3053, KiaraAlexisKlay, Allie Xie, and Skynet
.
Q&A
:
Egyptian_Kiss wrote:*smiles lasciviously* yummy! I loved the whole chapter! It started out with depth and understanding and it ended with banter, sexiness, and propositions- way to go! That was awesome. It gave the whole thing a nice balance! I can't wait for Liz's pregnancy to come to light! I'm super excited! *sighs* Well now that the high has worn off, I'd like to say with less exuberance...GOOD JOB! lol.

Again I loved this chapter. Update soon. EK!
OMG, EK, how the hell did you read the chapter that fast? I had just posted it and all of the sudden, I'm getting an email saying that I got a reply. XD You read brilliantly fast!
lizandzackfan wrote:Loved it
Your username and signature banner got me curious and I read some Alec/Liz and Dean/Liz fanfics. It's all your fault because now I'm hooked! But there aren't many completed works. GRRRRR! XP
KiaraAlexisKlay wrote:I kind of knew to expect some hostility on Zan's part, but whew! Remind me never to piss off your Zan! LOL.

I love how each little bit shows us more and more of the two (or is it really three?) groups bonding. Rath + Lonnie = tons of laughs. I love this couple they are hilarious! I think the whole New York set is amazing and much more personable that the Roswell set. Rath, Lonnie, and Ava betting on whether or not Zan claimed Liz when Liz finally had enough had me in stitches.

The fact that Ava and Tess are just not getting along just tickles me to no end, and how can she like Ben Affleck over Brad Pitt? She's nuts! The only really good movie Ben did was Pearl Harbor and even Josh Hartnett was better in it! *glares at the evil Gerbil*

Isabel and Lonnie bonding over make-up tips and embarrassing Alex is kind of funny and on par with the two. *rolls eyes

*

Maria giving Michael a list of questions to ask Rath was too funny. It's such a Maria thing, and I like the sibling rivalry going on between them even as they are bonding over Metallica and giving everybody a hard time. Michael tries to be such a hard-ass, but I have to say, Rath could probably take Michael on right now. Give Michael some time to improve his powers and actual fighting skills and he might be a match but Rath definitely has the advantage.

And whew! RAth and Lonnie making out and creeping the Roswell crew out was funny and hot and whew!

OMG, Maria what did you do? LOL Once again, for someone who can be so insightful sometimes, she's a frakkin blind idiot. *shakes head* Does she not realize that Michael loves her and is feeling threatened and inadequate enough without her wanting to turn him into the clone of his...clone? Uh uh uh. Of course, in typical Rath fashion (i.e. man slut) he just has to egg it on, doesn't he? Personally, I think that while he may think Maria is attractive, and yeah, he might like to 'tap' her a time or two, I think he'd get bored with her after a bit and send her on her way. If Lonnie can't tame him than Maria has no chance.

Oh....Liz and Zan on a motorcycle.....whew! *about faints* Damn, I am so jealous of Liz....I'm jealous of Liz like Max is jealous of Zan! And can I say, that Max and Zan remind me of a couple two year olds? Someone I can so totally see these two bickering like the little twin boys I used to babysit. LOL

And you didn't know I wrote Da Man N His Woman? *bites lip*

Sorry? Has it really been almost a year since I posted? Hmmmm...... I'll have to do something about that. And me, a great author? *shakes head* I look at you and Carrie and darkmoon and a host of others and I think you all are so much better than I ever could be.
An angry Zan is a sexy Zan, that's what I always say.
Rath and Lonnie have an understanding—they're actually really the same to be honest. I'm not talking about the Roswell set because I think most of us already know their typical personalities—Max is the serious leader, Michael is the second-in-command who always jumps into conclusion and lets his feelings get the best of him, and Isabel is the wary, distant, but beautiful and popular princess. Since we know this already, I'm giving light to how the Dupes are similar and different at the same time.
I was trying to think of hot celebrities and ugly celebrities to use, and I remember I hate Ben Affleck. XD So if I hate him, Tess will like him. I don't think I've ever liked any movies he did.
More Lonnie and Isabel bonding in future chapters to come.
Michael is a jerk to newcomers. Remember how he treated Liz until he read her journal? That's how he's treating the Dupes at the moment. Yes, Rath is more powerful than Michael at the moment, but yes as well, Michael can improve and be a match to Rath.
I don't think the Dupes have a problem with PDA and it just seems like such a Rath and Lonnie thing to do, since they were making out in Max in the City right in front of Max and Tess.
Well, in my story, Tess and Kyle never happened. It's Tess and her constant hounding to be with Max.
Michael and Maria—they make such an explosive couple yet they are completely ignorant of each other's feelings. You pretty much hit it on the dot with Rath (major hint here).
I kind of wish I wrote more about Zan and Liz on the motorcycle, like give them a flashback scene. Oh well, too late now.
Yes, that's the whole point I was trying to get across about Max and Zan—they are acting like a couple of two year olds with each other! They are both stubborn and they refuse to give in.
I tend to forget or am unable to keep authors in mind of the stories they write. It's horrible. I just remember titles. I'm horrible at giving feedback too. =\ Please write a new chapter to Da Man N His Woman!
Nuh uh! Yes, Carrie, darkmoon, and many others can write, but you have to understand… you were among the first to write about Zan. We came afterwards, so this means we look up to you!
Author's Note:
Wahhh, my feedback got pruned. So sad! :'(
There are lines taken from "Destiny" (Season 1, Episode 21), "Ask Not" (Season 2, Episode 2), and "The Departure" (Season 2, Episode 21). All spellings errors in the dialogue of the Dupes are intentional. Remember, I will start doing weeks now rather than day by day.
AN AMAZING ASDFGHJKL *GLOMP-FILLED* THANKS TO
TANYA7496
FOR MAKING ME THIS BEAUTIFUL BANNER! =] Isn't it just absolutely gorgeous? It captures this story so brilliantly, don't you guys agree? I am so happy and squee-ing inside! =D THANK YOUUUUUU!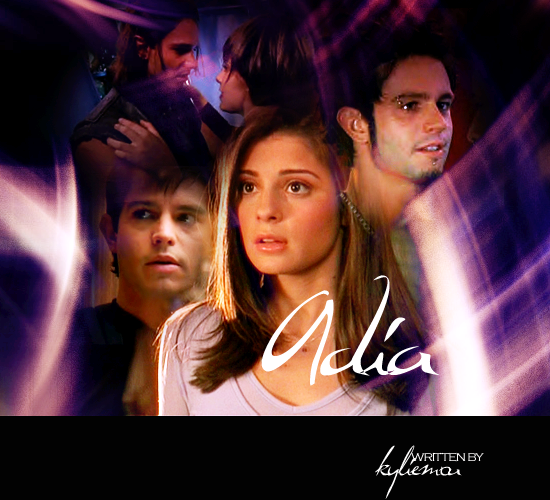 Chapter Eighteen
:
… Yeah, Mama this surely is a dream.
Yeah.

I smell sex and candy here.
"Sex and Candy," Marcy Playground.
January 18, 2001, Thursday; Roswell, New Mexico
:
Yes, that's it—Liz Parker was going to have to go shopping. Not to just any shop, but a maternity shop. Not to forget, she couldn't go to just any mall, but the furthest mall from Roswell. She couldn't risk having people recognize her. What would the town say if they saw her shopping for fat clothes in her frame? Actually, they wouldn't say one word because they may be too flabbergasted to say anything. Their sweet little valedictorian was possibly knocked up, pregnant, with a baby in the bun—pick your choice of words. And the father? Who knew who he was? He was around, closer than just around, but even he had no clue she was carrying his child because they technically never even slept together before.
As she stood in front of her full length mirror with her hands on her abdomen, she could feel her stomach start to swell but it wasn't very noticeable yet. She felt different both physically and mentally. Her body was expanding to accompany her growing child. She could've sworn she could already feel the baby, but even she knew that was impossible. The baby was barely the size of anything, but she could already feel its presence.
She smiled as her hand ran over her stomach. She thought she would be freaked out by this, but she wasn't. She felt such happiness, such pride. Genetically, she did create this child. The idea of a child she sort of created growing inside overwhelmed her. Never had she thought she would be pregnant at such a young age, much less by her ex-boyfriend's twin. She had so many questions: was it a boy or a girl? Would he or she look like Zan or look like her? None of them could be answered, not yet anyways.
Click
.
Liz's head snapped towards the sound of her bathroom door opening. She tried to stop the gasp that came from her mouth with her hands, but it was too late. Still covering her mouth, she watched as a naked Zan strolled into her bedroom.
Zan had just finished showering and cursed himself. He forgot to grab a towel with him. He stood in the shower, dripping wet, contemplating. He knew he could dry himself with his powers, but even he was afraid to accidentally alter something on his perfect godly body. Not hearing a sound in Liz's bedroom, he figured he could grab the towel quickly and make it back to the bathroom without anyone even knowing. Boy was he wrong!
As he stepped out, he heard a gasp and came face to face with Liz who looked ready to bolt out of the room. His hands shot down to cover his private area, but that barely even hid his lengthy girthy penis from her view. Liz stood there, frozen. "Shit!" he cried as he quickly dove for the towel that was resting on Liz's desk chair. Her eyebrows shot up to her hairline when his tight muscular tanned ass came into her sight. She cupped her hands tighter around her mouth in hopes to not let out a scream or possibly a squeal that would've sounded happier than she meant.
Zan turned around, quickly wrap the towel around his waist, and turned back around. Obviously it was too late to be covering up. "Fuck! Sorry, didn't know ya was in 'ere," he said, gripping onto the towel as his whole body heated up in embarrassment. He could've sworn there was no one in the room. Zan was never much for one to be embarrassed about public nudity—hell, he'd dance naked throughout the streets of Roswell if Rath paid him enough—but with Liz, it was different. She was younger than Future-Liz, more naïve. For all he knew, she had never seen a naked man before. Yep, he was definitely not expecting her to see him naked… Not in this situation anyway.
As the shock finally settled in, her hands dropped from her face and she started to nervously wave around. Her cheeks flushed. "No, no! It's my fault! It's completely my fault! Oh god, I'm sorry!" Her eyes danced around her room, looking at everywhere but him.
Zan knew it wasn't her fault, that it obviously couldn't be her fault (it was his), and he wanted to chuckle at this, but seeing her nervous reaction, he didn't. He didn't want to make her any more uncomfortable than she was already. He stood up a little straighter, ignoring the now wet carpet under his feet as the water trailed down him. Liz's mouth parted open as her eyes sneakily roamed across his body. Smirking at catching her checking him out, a wave of confidence came back to him. He was back to being the usual cocky Zan. He had a perfect body—he knew this—so why not flaunt it? Why not show her a little preview of Zan? He lowered the towel slightly, just enough to show off the dark trail of hair that led to his lower region.
He felt his own breathing quickened when he heard an almost whispered moan come from Liz. She tried not to look at his body, but she couldn't help it. It was virtually impossible to not look at him. Sure, she had seen shirtless celebrities before, but never one came close to Zan's body. When he came out of the shower with droplets still attached to his chest, running downwards, she couldn't stop herself from watching. His body was superbly defined. She could tell where each muscle began and ended. The tattoos and piercings just seemed like an added bonus. The water trailed from his wet spiky hair, down his neck, slipping past his adam's apple. The droplets seemed to be going through a maze as it slid down his chest, gliding past his dark nipples. Her eyes drifted further down, following the water slide further down, down, and then disappearing past the towel. She blanched a little when she saw the highly noticeable and obvious tenting of the towel.
My god
, she thought. Her chest rose quickly as an image of his body on top of hers flashed through her mind. She couldn't help but notice…
"Exactly the same," she murmured, not realizing she had spoken out loud.
"What is?" asked Zan with a twinkle in his eye.
Liz quickly caught herself and shook her head. "What? No! I didn't say anything. I didn't say a word. Wh-what?" She cursed at herself as he broke out in laughter. She bit her lower lip, slightly entranced by his infectious laughter. His grin was wide like a stupid grin with puffy cheeks, revealing most of his pearly whites. His eyes crinkled around the sides, showing lines on his face that revealed to her that he hadn't done much laughing in his lifetime. His body shook as his neck tightened with his adam's apple bobbing up and down. If she didn't think he was attractive before, she did now.
Then he settled down, his eyes slightly darker than before. Tightening the knot around his waist, he advanced towards her. "Tell me, Angel. What's goin' on in dat head of yers?" She bumped into her desk as she stumbled backwards, trying to get away from him. As she shook her head, his arms snaked around her waist and pulled him to her like he had done so many times before. He growled as he felt the burning of her palm against his chest—skin to skin. He felt her stiffened, but he would get the truth out of her no matter what. Grazing his lips against the outer soft shell of her ear, he whispered, "Tell me."
"No, Zan, stop," she said, shivering at the heat of his breath against her face. He was too close to her, too close.
"Ya leave me no choice den," he said. His face closed in on hers. His nose lightly rubbed against hers. Liz licked her suddenly dry feeling lips as her eyes fluttered shut. The smell of clean soap overloaded her senses. Was he going to do what she thought he was going to do? Her fingertips pressed against his chest in nervousness as his lips grazed against her upper cheek. His arm tightened around her.
Before she knew it, she was laughing as he unleashed a tickling attack on her. His fingers found their way underneath her shirt and quickly pressed against her sides, pinching her lightly. Liz's mouth opened wide in surprise as she screamed out in laughter.
"ZAN, STOP!" she shrieked, trying to get away from him, but his grip held her to him.
Delighted to see her in such a happy state, he took more pleasure in feeling her skin. He watched as she struggled with a smile. Her face grew red. To see her happy made him happy, so he continued.
As her body continued to erupt in giggles, she lost her balance in her struggle to get away from him. Her feet caught around his and they lost their balance, stumbling on top of her bed where the attack continued. Liz barely even knew they were on her bed, caught up in the moment, but Zan knew. He was pressed down on top of her, his fingers still working its magic on her. She shook against his body, stirring sexual desires in him, but he wasn't going to do anything to her, not like this. The fact that he was practically naked on top of her didn't help much either.
"HAHAH—ZAN, STOP—HAHAHA—I'LL TELL YOU—AHHH—I'LL TELL YOU! STOP!" she cried in laughter.
Then his fingers disappeared and so did her laughter, but the smile remained on her face. "Tell me, baby."
"I—I was… I was just thinking that you had the same body as Future-Max." She felt him roll off of her. He was now staring at the ceiling with an arm behind his head. She couldn't tell what was going through his mind. Did she say something wrong? Maybe she shouldn't have told him. Maybe she—
His face turned to her. "Exactly?"
Her eyes blinked rapidly in confusion. "Uhhh, exactly."
For Liz to say something like that wrecked havoc on his mind. Her words were so innocent.
Does she have any idea what she's really telling me
, he thought. She was telling him his body was exactly like Future-Max's. He sighed and asked, "Every single detail?" What he was really asking was if their cocks were the same.
Unknowing what he truly meant by his question, she naively replied, "Well, minus the tattoos and the piercings, pretty much yeah. Exactly the same."
His eyebrows rose curiously. "And how's did ya know our bodies were da same? I understand ya saw my bod jus' now, but how ya see F. Max's?"
She bit her lower lip and then told him the truth—that she slept with Future-Max. His eyebrows dropped as she told him her tale. He turned back to the ceiling. "Woah, that's a lot to take in," he said.
Teasing, she said, "I don't know what it is with you look alike clones, but one thing for sure is I can't stay away. God forbid you have a son that looks exactly like you!"
Her words held such meaning to him. He looked like Max, probably Future-Max too, so did this mean she couldn't stay away from him to? Or did she really see him as a replacement? He knew this topic had been brought up before, but he was always still wary. Wanting to keep the moment light, he chuckled before he turned to her, resting on his side. "Well, that'd be a problem if it were our child," he replied.
Liz felt her lungs burn as she held her breath in shock at what he said. Oh the irony of it all.
If only he knew
, she thought. His hand then rose to her face, slightly grazing the side with his knuckles. He was taken aback by her soft skin, her beautiful features, and her brown eyes. He knew she was beautiful, but to see her this close… She took his breath away. Seeing how she told him her secret, he confessed, "I slept wit' Future-Liz."
She wondered if she should tell him that she knew. She didn't know how he would react because if she told him she knew, she would then have to tell him about the baby and no one knew about the baby yet. Deciding against it and knowing she might regret it later, she played it off with a surprise look. "Oh…" she said. She felt it was too soon to tell him. She had only just met him and it would be a lot for Zan to take in, that she was pregnant with her future-self's—his previous girlfriend's—baby.
"And I know pho sure dat us royal-alien-clones can't stay away from humans dat look you, baby." Liz personally knew was true. God, for all she knew, she could have been the human reincarnation of one of Max's mistresses back on Antar. Then she pushed all her thoughts out of her head as she felt Zan's hand slip under her shirt and rest against her stomach. Oh god, could he feel the swell? She tried to move, but he kept her still with his other arm.
"I wonder…" he trailed off.
"Wonder what?" she questioned, a little nervous.
"If yer body is exactly da same as Future-Liz's," he smirked.
- - - -
Tess waited patiently in Max's room, waiting for him to come home after his jog. Isabel had let her in after she told her that they were trying to recall their past memories. Truthfully, that was just a lie. Max had no idea she was coming over. And for what she had planned, there was no past memory recollection being done tonight.
As far back as she could remember, she was always told that she was the queen and her future husband was the king of some far away planet. She was told that he would love her because he was destined to be with her. They were married in their previous life and it was fate for them to be together once again. It sounded too good to be true, but hearing it as a child, what sounded better than a king destined to be with you? It was every child's fantasy.
Tess Harding was beautiful. She had long curly blonde hair with crystal blue eyes. She had curves that made up for her short height. She could have easily captured any man's attention. She could have chosen any guy that fell for her, but who could stand in the way of a past life romance? When she first arrived in Roswell and saw Max, she had fallen for him. He was more than easy on the eyes and was a gentleman. He was the perfect guy and this included the fact that he was an alien just like her. He was different and he would know how she felt most of her life—scared, alone, and longing for a place to call home.
As the door opened, she quickly checked herself to make sure she looked perfect. Max walked into his bedroom, shocked to find Tess sitting on his bed. Still slightly out of breath from his run, he asked, "Tess! What are you doing here?"
"I just wanted to…" she trailed off.
"To?" he said, slightly curious.
Tess had thought up of an elaborate plan, but now that he stood in front of her, she forgot what it was. She took in the sleeveless shirt that clung to his sweaty body. His wet hair glistened and his lips parted in a pant. The hell with it! He knew they belonged together. He knew of their past marriage, of their love. He would love her too in this life. She launched herself onto him, planting her lips firmly against his. When their lips connected, she felt bliss. This was where she was meant to be, this was where she belonged, but then she was ripped away from happiness by Max's arms.
"Tess! What are you doing?" he exclaimed in shock.
This wasn't the reaction she had been expecting. She thought he would feel their connection and respond back to her advances. She hoped he would take her into his arms and who knows… they could've gone further. "Max, I—" she started.
Max had gone on a simple run. He wanted to clear his mind of everything. Lately he had been going through so much that he could barely sleep. His thoughts kept him up at night, making him cranky. He didn't like this side of him, a side where he snapped at his family and friends. It wasn't like him. He figured a jog would tire him out, would allow him to finally get the rest he needed.
The night was clear and cool, typical of the Roswell weather. The moon was bright, the stars were out, and most of the inhabitants of this town were home, but not Max. With a black sleeveless shirt and light shorts, he ran through the paved lanes of the park. He rushed past the trees, past the benches, and past the children's playground. His sneakers pounded against the cement ground as his hair whipped around in the air.
He honestly hoped that the jog would help him relieve all the tension in his body, but as he ran, his body pumped adrenaline throughout his system, only making angrier. As he thought of Liz, as he thought of the people that had been with her, his speed picked up, going faster and harder. He ran and ran till his legs burned with pure pain and were ready to give out on him, till his feet were numb from the pressure he landed on each step. He exhausted his body because he wanted to not think about Liz, about Kyle, about that man, and about Zan. He didn't want to remember how Liz pushed him away, how she rejected him by being with other men, and how she was willing to give up her life when he had risked everything to save her. No, he didn't want to think about any of that. He was ready to run a hole into the ground just so he could not think at all.
But to come home to this, to Tess trying to advance on him, it only gave him a reason to exert his anger. His foul mood was back but now at a worse state than before. If it had been his parents instead, he might have experienced the same anger as he was feeling now, but he knew how Tess kept pressuring him about their destiny. Didn't Tess understand that he wanted nothing to do with their so-called destiny? How could she not realize that he wasn't interested? He had pushed her away so many times, but she just kept coming back for more.
In his eyes, it was her entire fault for everything now. He and Liz had been happy because they were finally happily together, but then Tess showed up. She messed with his mind, making him see things that weren't really there. She sprouted tales about their past life, their love, and he wasn't having any of it. He could've forgiven her for coming into their lives the way she did—with deceit—but she made him cheat on Liz! That he could not forgive.
Flashback
:
He meant every word he spoke to Liz—he didn't feel anything for Tess, that he only wanted to be with Liz, that Liz was the one for him. But when he saw Tess in the rain waiting for him, he hated himself.
"You planned this!" he accused.
Tess took a step back and gave him a look of astonishment. "What are you talking about?"
"You planned this—to be out here!"
"Max, you sound a little crazy," she said, wiping the water from her eyes.
"You're doing something to me!" he yelled.
"Max, my car broke down. I'm waiting for somebody to help me. I didn't plan anything!"
He knew better than to believe her words. There was no way she was out there just as the same time he was leaving from Liz's. There was no way! He loved Liz, not her, not this stranger. "I'm with Liz! We belong together! I don't want anyone but her!" But before he knew it, before he could even stop himself, they were kissing in the rain.
Yes, he hated himself. Liz had seen them and he had hurt her terribly—"
You had a flash when you kissed her, Max? Like when you kissed me? I guess I'm not so special after all, huh?
" God, he wanted to just kill himself. It was always Liz for him, but Tess… she ruined everything! Even the scene where Liz left him at the cave after hearing the message from his mother was still a fresh wound to him.
Flashback
:
When Max saw Liz turn away from him to leave the cave, his heart nearly shattered. He knew what she must have thought. "Liz, look, everything I told you before is still true," he spoke.
Liz shook her head. The words of his mother still rang in her head—"My son, I have sent with you your young bride." Max was betrothed to someone else! "Max, you do have a destiny. You just heard it. I can't stand in the way of it."
When she saw the look on his face, she wanted to take back everything she just said. To see his eyes fill up with tears, to his lower lip quiver, to feel his grip on her arm, she wanted to die. "But you mean everything to me," he whispered.
She stood on her toes and planted one last kiss on his lips. Her hand caressed his cheek, savoring the moment. How many times had she kissed him goodbye already? When Michael had gotten sick, she kissed him goodbye then too. She cried against his lips when she felt him press back against her. He didn't want to lose her nor did she him, but he had a destiny and she was just a human in the way of everything.
"God, Tess! I thought you understood that I love Liz!"
Fucking Liz Parker
, thought Tess. She hated Liz with pure rage. It was Liz Parker, a small town human girl, who stood in her way of her happiness, in her way of having Max. "What is so great about her? She's mousy and—"
"Don't you ever dare talk about her that way!"
She scowled at him. "See! Look how fast you run to her defense! Why couldn't you ever feel that about me? I'm your wife, Max!" she cried.
Max ran his fingers through his hair in frustration. It didn't help that she was pushing his buttons even further. He wanted her to shut up. He wanted her to leave before he did something he would regret. "You
were
my wife, Tess. You
were
my wife in the
past
life, meaning you're not now, not in
this
life."
She shook her head in disbelief. They were reincarnated for a reason. They were meant to be. "God, you're pathetic. In love with a human! Don't you see that she has moved on? She slept with Kyle! Don't you see that your twin is getting the action now? I bet she spread her legs the first night they slept at her place. And somehow that stupid bitch still has you wrapped around her—"
Instinctively, he raised his hand to her face, intending to blast her in the face with his powers. She had gone too far. Too far!
"Go ahead. Do it," she taunted.
But Max didn't do anything but breathe heavily. His hand was still in front of her face. His fingers twitched as he clenched his teeth together. "How did I ever fall in love with someone like you? How could I ever marry you?" he asked maliciously.
She glared at him. "You were different—you were a king! Now you're just a
boy
. You lived another life, Max. A life completely different from this one. A life when you loved me."
"I don't remember that."
"Well, I do," she replied.
He shook his head. She didn't understand. She wasn't listening to what he was telling her. "Just go, Tess. Leave my room now before I do something we both regret. This isn't over, Tess."
As she walked out, she responded angrily, "No, it's not."
- - - -
As Tess walked home, she wondered what was so special about Liz Parker that had Max Evans and Zan under her spell. No, it wasn't just them. It was everyone in this god damn town. Michael and Isabel accepted Liz so easily, but they keep her at a distance. What was so special about Liz that they couldn't stay away from her? Liz was just a human! And how dare they reject her—their queen! She was above Liz Parker socially, physically, mentally, and genetically. Feeling ticked off that her destined mate brushed her off for a lower specie, she plopped down on her bed in anger. As if sensing her anger, the lamp on her bed stand cracked and shattered neatly on her desk.
Ed Harding, also known as Nasedo, then walked in to see the shattered pieces on the table. Shaking his head, he waved his hand over them and they transformed back into the lamp—perfect and pristine. "What's wrong, Tessa honey?" he asked as he sat down next to her. He may be only her protector, but he raised her as his own the day she came out of her pod. She was practically his daughter and it hurt him to see her in pain.
"Am I ugly?" he heard Tess ask.
"What? Dear god no! You're beautiful."
"Then why doesn't Max want me?"
Sighing, he patted her head, brushing her curls behind her ear. Max Evans—their so-called king. He knew when they had arrived to Roswell that their king was in love… with a human. This was not supposed to happen. Max should've felt a connection with Tess and fallen in love with her. He didn't know how to answer her question, so instead he answered, "Any man would kill to be with you."
Tess scoffed. She knew he was only saying that because he was the closest thing to a father she ever knew of. "I know he's the king of Antar, but I hate him. I hate how he treats me like I'm nothing. I hate him and that stupid human girl. You know what? I hate them all. I hate how they all ignore me! I'm stronger than they are! I know more than they do! They're all good for nothing!"
He smiled as he watched the life come back in Tess.
Atta girl
, he thought. He had taught her to be strong and not to get attached to people. This was the Tess he raised and knew.
"Wait, why are you back so soon? I thought you were going to be back next week," she asked.
Nasedo had gone on a trip two weeks ago, but he had been in touch with Tess by phone so he knew of the doubles. He never told her where he was going, but he would always let her know when he was coming back. If he didn't come back by the intended day, then she would know something happened to him and it would tell her to get the hell out of Roswell as fast as she could, whether she left with the royal set or not. This was their safety plan.
"Tess, do you truly hate them?"
"Of course, I do. Why wouldn't I? None of them trust me! They still treat me like I'm an outsider, like I'm not good enough to be one of them. How dare they accept the humans over me!"
He wondered if he could trust her, but then he pushed all doubt of his mind. She was raised by him. She thought like him. Of course he could trust her. "Enough to see them dethroned?" he asked.
She scrunched her eyes together, crinkling her forehead in confusion. "Nasedo, what are you talking about?"
"I have been in contact with Khivar," he admitted.
"Khivar!" she exclaimed in surprise.
"He has called on me to help him dethrone the royal three."
Oh god
, thought Tess,
Nasedo is in cahoots with Khivar?
"But isn't he the enemy? Nasedo, how could you—"
"Tess, darling, it is better to be on the winning side than on the losing side." He had no doubt that Tess would join him. He just had to make her understand. But if… if she did not, he would not shed a tear if he had to kill her because she knew of this plan. He raised her, but after all, he was a coldhearted killer.
"But—"
"No 'buts'. I made this deal with him forty years ago."
"Forty years!" she cried out. "What was the deal? Tell me!"
"To deliver the royal three to Khivar and to return home with Max's child."
She gulped as she heard his response. "Max's child? But there isn't a child!"
"Yet," he said. "That is where you come in, if you should accept this mission."
"And what would happen to them once we delivered them?" she asked.
Her question is answered by Nasedo's silence. She looks at him to see if he was serious and he was. She hated the royal three. She hated the humans. She hated this town. Holding onto this hate, she answered, "I accept."
To be continued
.
We're moving along!