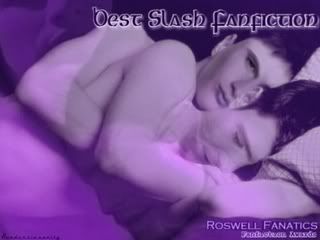 Many thanks for everyone who voted: Awarded for Haulden in Roswell.
Shrodinger's (nee Jamie's) Cat. Slash. U.C. Teen
Disclaimer: The characters of "Roswell" belong to Jason Katims, Melinda Metz, WB, and UPN. They are not mine and no infringement is intended
Summary:
Roswell meets the Copenhagen interpretation of Quantum Mechanics. This is a `tag' to Haulden in Roswell, which is on the Complete section for stories in this genre. By accident, Jamie and Max travel back through the library doors from 2012 to 1998, but due to a chaotic event caused by the Granolith at the sub-atomic level, Max is turned into a cat. The meeting of Jamie (aged 31) with Michael (17) outside Max;s house disturbs the previous time line when they both met in 1999 at West Roswell High School just days before Liz was shot at the Crash Down. Will the change prove serious?

--------------

I hate my fucking life. It stinks – sometimes literally. For example. I'm nearly 17 and I'm already condemned as white trailer trash, stuck on the edge of Roswell, New Mexico, in a trailer park of the marginalized and dispossessed. I am plummeting through school as well, like one of Galileo's weights off the Tower of Pisa – quote Math teacher `Michael – you re-define the meaning of mixed ability'. Another example: I have a fascist. son beating step-father, who somehow – SOMEHOW – managed to convince someone, somewhere, that he could bring up a child and – wait for it – get PAID for it! That really gets me – shouldn't someone, SOMEWHERE, check up on Hank and see what a shit job he is making of being a single parent? Don't these foster people have records? The only people who check on me – who care – are Isabel and Max, but sometimes it's not enough – sometimes it can't compensate for the deep sense of – of what, desolation? Shame? Thank fuck for heavy metal.

Oh, and before I tell you about what's JUST HAPPENED TO ME, there's another reason why I hate my fucking life and that's because – wait for THIS – I'm half a fucking alien! (Not a full one, mind, or a third of one, but half!). And I don't mean that metaphorically, either. I don't mean it as an allegory of the `teenage disposition' – I mean I am literally a bit green about the gills. Max, Isabel and myself – we're the original Freak Show – but it's worse for me, naturally! It's all part of why I'm in Trailer trash land, (although Max and Iz aren't, they're in suburbia with a step-dad, a step-mother AND a garden!).

Max tells this better than me. We were born in pods – somewhere in the desert – and our real parent's are dead, killed, blah blah blah, or in hiding. Max and Isabel are brother and sister, incidentally. It seems I am not related. But we do have powers! Telekinesis, some mind reading abilities, energy discharges, changing the molecular structure of things – only, only I'm not too hot at controlling mine, while Max is – although he rarely uses any, of course. Good old Max, all responsibility and no power! Max is all control. I am all no control. Max is all silent and dark and watchful, while I am all noise and anger – I'm Whitman's original barbaric YAWP. I'm scared though, sometimes, now more than ever. Scared of losing Max and Is, scared of killing Hank in a temper, scared of my own rage. Afraid of being discovered. Anyway, back to my story.

By the way, you're probably reading this, thinking, `yeah right – the guy's a jerk – delusional.' I probably am, so would you be, in my situation. I hate my life so much all I can think of is running away. Recently I have been pressuring Max to start some serious investigations into who we are, why we're here, all those Yoda questions we should be asking but aren't. I want to get out of here. I need to escape - WE need to escape. Max, on the other hand, doesn't – at least not yet. Pressuring Max is like trying to get blood out of a stone, incidentally – or watching paint dry. He can't get inside my situation; he can't see how bad it is for me. And I've been trying to pressure Iz as well, but I have to be careful because she tends to be ALMOST as impetuous as me and nag Max. And the more you nag Max, of course, the slower he gets. And the nearest he gets to making a decision, the slower he gets as well. Einstein once said that you can accelerate a particle towards the speed of light, but you never get there exactly, and the closer you get to it, the harder it is to accelerate one bit more. Well, that's Max. When I grow up I'll write a fucking science paper on it. Well I'm sick of waiting. I wish Max would see that. I wish Max could see me as well – sometimes – standing in front of him, begging him. He does, sometimes I think.

Anyway – sorry – where was I. Oh yes. Hating my life, hating the waiting, waiting just makes things get worse. Think second law of thermodynamics. Soon I'll be a blob of useless energy. I so much want something to happen, to break the inertia!! And guess what! I think tonight it did! WHat I am about to tell you is -

We start off with a normal shit night. Hank has two buddies around to watch a baseball game and to drink themselves into a stupor. I try and sit in my room but all I can hear is Neanderthals grunting obscenities. I try and shut it out, but after a while it fills me with dark anger. A huge vast anger, like I want to break their fucking necks, smash the trailer, explode. I try and think of Isabel, and then I try and think of Max – sitting with a book on his knees, hands in pockets, walking glacial like, Max as a form of meditation – but then some jerk scores and everyone next door screams. God it cuts through me like a knife. So I do what I always do. I get out of here. I climb out of the window and wheel the bike away a safe distance, kick start the bitch, and go to see Max. Except of course Max is not at home. When I reach the land of Suburbia, Max and Isabel's palatial house is in tasteful, tree lined darkness, and I remember they've gone away for a weekend.

I stand in the drive, an expert in stealth, thinking not so much of Max and Is but of me: when did I last go away, anywhere? For a minute I can't remember. I feel desolate, not angry. While riding over I had already pictured tapping on Max's window, already imagined the bemused sleepy look of confusion on Max's face, the creaky, dry `Michael?', the way he rubs his eyes. All I find when I get there is darkness – and silence.

So I go across the street and sit down next to my mean machine and muse. I'm good at musing, not in an abstract, Max sort of way, but in a Michael `let's plan for action!' way! I work through various thought experiments such as `If we are half alien, are parents must have had hot interspecies sex!'. OR `If we really did crash in 1947 our parents must be dead.' etc. Meanwhile I half notice that suburbia is weird, very weird. For example in Trailer land there is no silence, no quiet. Someone is always arguing, smashing furniture, or trying to stop a child or baby crying. Usually they're trying to do all of these things at the same time. There is always the sound of a TV or a radio or something. Then there are the dogs, of course. Dogs everywhere, yapping, barking, and howling. Here, however, – in Max and Isabel land – there is nothing! It's sort of sinister.

I sit on the edge of the pavement next to the bike listening: just nothing, just me. No wind, no people, just neat smug houses hunkered down in their greenery. In Trashville it's dark too, while here we have fancy street lamps with flower baskets stuck on them. Who waters them? In some way, in some weird way, I HATE Max and Isabel for their life here, in street lit utopia, for the way we all got separated. I shouldn't but – there it is. It gets in the way of us three, it makes me apart.

Anyway. Sorry, I'm rambling. No Max. No sleeping bag on the floor and no sound of Max breathing softly, grunting acknowledgements as I babble on about my shit life. No Isabel to make me feel better. No innate joy at being close to something that is not mine. So - shall I go home and see if Hank et. al have managed to trash the kitchen yet? Or avoid a fight? Nah. Once I got back to see Hank throwing up in the bathroom – FANTASTIC timing – nah – I might as well drive around a bit, get the air, make some more plans. No school tomorrow – Sunday, thank fuck – so no summons to the Principals office when I arrive late, sleepy, crumpled. (and no look of guilty anxiety from Iz, either). God it's almost as good as it gets. Then………….well, then it happen.

I stand to reach for my helmet, anxious to make a move. In suburbia the cop car comes by often, pendulum like, either the Sheriff himself, or one of his minions. Wealth must, after all, be protected. And that's the last thing I need – another brush with the LAW. So I get up, feeling philosophical. As I climb onto my intrepid, quasi-illegal bike, there is a strange sort of flash – out of the corner of my eye, across the street from Max's house – odd, immediate, like lightening, and then a sort of wind. Fucking weird! I hear all the trees creek and snap and then settle down, as if they've all had some sort of collective nightmare. It spooks me a bit. I rub my eyes. I see my own irises flash. So much for getting some air. I climb on the bike, wedge my helmet on, and then I see him – some dude – standing in the middle of the road.

He startles me, seeing him like that. He definitely wasn't there a minute ago! He seems so still, as if he has jumped up from the surface of the road itself. He is standing, shirtless, with just jeans on, bare footed. His hair is curly, sort of blonde – it's hard to tell in the semi darkness. It's longer on his back, but chaotic, fuzzed around his head like a dandelion gone to seed. He doesn't appear to have seen me. And what the fuck is he doing? He is holding his hand out in front of his face for some reason, palms up, like he's trying to be a ghost, and rotating slowly. I look at him carefully. He's older than me, probably mid 20s – definite college jock. I can tell immediately. He's all worked out and pumped up, with a good solid torso, and some sort of frat tattoo on his chest! Probably some lawyers son, back home for a campus free weekend to detox. I am holding my breath, watching him intently. I then hear him say, in a sort of panic.

`Jesus titty fucking Christ!' He then looks about like he's just woken up or something, and then he looks straight at me! There is something definitely weird about the way he sees me, about his reaction, as if he's on a bad trip, as if he thinks I am not real or not here. Glue sniffing, weed? Root beer? He looks at me and starts to come closer, then he stops, and then, with a weird sort of recognition, he swings around and looks directly at Max's house.

`No way!' he whispers, almost scared. Only then does he seem to notice he's half fucking naked or something, because he looks really freaked and steps back. I have a really bad feeling about this by now. First off, my chances of a run in with the law have DOUBLED. One, I am seemingly casing out an empty house, two, I am next to a fucking half naked madman. I settle back on my seat, my foot ready to kick-start but, of course, I am intrigued. Really intrigued. This is, after all, marginally better than going back to Hank, and there is something about him, something that is – well – sort of – I can't explain.

The dude looks at me AGAIN and then says, `Shit!' really loudly, then he does some sort of pantomime, and ends up looking above my head, at something behind me. He does it long enough, and intently enough, for me to turn around and look as well. I expect to see the Sheriff. Instead I see nothing except more suburban greenery. Then, as I look up, I see something white flapping in the tree about twelve feet above me. It's a shirt. Although I am no rocket scientist, it's presumably HIS shirt.

When I turn around he is standing right next to me. I didn't hear him move and he makes me start. He looks much more beefier this close, and much more fucking dangerous. He's also older than I first thought – perhaps late 20s. He has a handsome, sharp face, tanned, but there is an intensity about it that is not exactly normal. And he's looking at the shirt and holding his arms, although the night is warm and dry. The only advantage I seem to have at this stage is being on a bike and wearing shoes.

`Yo, you ok? That your shirt?' I say, as he continues to look at me, then at the shirt, then back at me. I wonder for a moment if he's all there, you know, fully functional? I go to try my spanish but he clearly isn't Mexican. I try to hide my anxiety. The illusion that he is two cans short of a six-pack collapses though when he says with an intelligent, suspicious voice.

`Yeah, yeah it is. And it's expensive as well. ' The shirt is well up in some sort of ornamental palm tree. He doesn't offer an explanation as to how it got there, and I am not inclined to ask.

`You on drugs or something?' I ask, trying to sound casual. I have my helmet on, of course. He frowns at me, like he can't hear properly. Perhaps talking about drugs is not a good idea. I look at his tat, at the definition of his chest and arms. Probably a quarter-back. He's looking at me intently, more with curiosity than aggression, but I wouldn't want to bet serious money on it. I think it best to make some an exit.

`Buddy I've gotta go – but don't hang around here too long, man, the cops come around a lot – and who knows, the shirt might blow down'. I go to kick off and drive away but he touches my arm and he says in a really WEIRD voice,

`Michael?' Goose bumps spread across my neck.

Silence.

He definately just said Michael. It's a bit weird when a complete stranger, standing half naked, says your name, and says it in such a way that scares the shit out of you. To illustrate the point, he does it again. He says `Michael?' like my name is a chemical formula, or the capital of a remote, dead, civilisation. And I get such a sense of déjà vu that I drop all ideas of escape.

`How do you know my name?' I ask, trying to sound relaxed, like a guy who, with enough time, might well remember his as well. He doesn't answer. His mind is working furiously. I can see it, like clock work, whizzing behind his wide open eyes. Then he says

`Fuck I shouldn't have said that!' He winces, and pulls a face. The way he does this makes him seem suddenly much less dangerous, far more human, and almost comical. I peel my helmet off. He rolls his eyes, makes a despairing gesture with his hands, and says suddenly
`Michael what the fuck are you doing here!' and then he adds `and what's the date?'

`What?' I scowl. If I knew his body language better I would say he is either embarrassed or excited to see me. He avoids my eyes, now, and is walking backwards into the road again.

`Do you know me?' I ask.

He pauses, looks up at his shirt, and then says, bewilderingly. `Yes, I mean no – no – well sort of.'

`Sort of?' What kind of fuck answer is that!

`It's written on your helmet!' He says quickly. It isn't. My name isn't written anywhere. Caught in the lie, he looks at me and has another go.

`You look like a Michael, I mean, the bike, the –' he comes close `the spiky hair, the `don't fuck with Michael look'! Definitely Michael, or at worse, a Matthew?" He starts to smile, very slowly, and I have the strangest fucking sensation that he knows me really well. I press my lips together to stop from getting too friendly and smiling. I still have no fucking clue who he is at all.

`You a friend of Isabel?' I guess. It's a stab but he's the sort of jock I know Isabel thinks about and dates. She's been dating a few recently, despite Max getting all protective and defensive.

`Yeah, I know-' he stops again and, to my surprise, slaps himself hard across the face.

` No, I don't actually! I've never met Isabel in my life! I know an Elizabeth!' He rests his hands on the top of his head, groaning. I can't help but notice how the top of his shoulders knot up. There seems to be something odd about his neck, I can't quite see. `And the date?' he asks again, carefully.

`May –'

`May – kewl – good month – and the year?'

I snort. Fuck he must really be out of it. `Yeah right, 1998.'

That seems to both comfort and alarm him. Whatever he's on, it sure isn't cherry cola.

`1998! Fucking library!' He then seems to come to some sort of resolution. `Ok, Michael, if that's your real name, thanks for that, I'll be getting along now.'

I nod, trying to see what he has on his neck.

`No problem. Always good to know the year – you should take it easy, go steady on the substance.' He moves away from me and then looks intently at Max's house again. I realise he is waiting for me to leave first.

`Ok man, thanks. –' he says again, and stands around as if I am about to fucking vanish into thin air.

`You live around here? You want me to get you home?' I ask, all friendly like. I quite like the idea that he might know me.

`No thanks, it's fine – I feel a bit better now – much better – ' he makes small talk with his hands, waves them about like I am a dog.

I wonder if I should mention Isabel again, or Max. Is he waiting to break into Isabel's bedroom? I suddenly become conscious that he is hanging about the Evan's house, and the house is empty. We stand apart stupidly, both lost in our own plans. I feel a sort of anti-climax, but as I go start my bike two things happen:

A police truck pulls around into the road, and the glare of the lights falls on me and then on the jock , and then -

A large ginger cat falls from nowhere, and lands howling on top of his head.