Title: Say Yes
Author: sweetbrowneyes a.k.a Tiffany
Disclaimer: I again still own nothing.
Rating: Mature
Summary: After catching her husband cheating, a heartbroken Liz moves into an apartment with her friends Maria and Michael. What happens when she meets rich, play-boy Max Evans and moves in with him?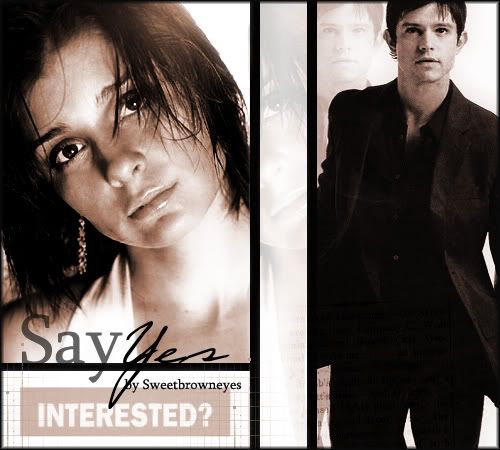 Thanks to Babylisou for the goregous banner. Thanks a bunch!!

<center>
Chapter 1
</center>
Liz Sharp, aspiring nurse and current NYU student struggled with her suitcases as she entered the apartment building. Her tears blurred her vision making it that much more difficult to open the doors and hold onto her bags at the same time. She placed one of the suitcases onto the ground and swiped her eyes with the back of her hand. Picking her bag back up she continued with her struggle, and just as she managed to open the door the strap to her purse broke, causing its contents to spill out onto the sidewalk.
"Need help?" A soft voice sounded behind her.
Liz whirled around and had to shield her eyes against the sun as she stared up at the gorgeous man standing before.
"Yes. Thank you," she said as he kneeled down to help her gather her things. Liz picked up her purse as the stranger shouldered two of her heavier bags, leaving her with her purse and her small backpack.
Why she was letting a random stranger in New York take her things was beyond her, but right now she didn't care.
"I'm Max by the way," he said as he held out his hand for her to shake.
She placed her smaller hand in his as she noticed his bright amber eyes for the first time. "Liz," she returned.
She'd never seen eyes like that before. They seemed to just draw her in; almost making her forget that the man that was supposed to be her husband just shattered their marriage.
Liz realized that she was still holding onto his hand and she quickly pulled away, ducking her head as her face burned with a bright blush.
She held the door open and together they walked into the lobby. Max pressed the button for the elevator and gave her a small smile. "You okay?" he asked.
"I-I'm fine," she said though she couldn't stop the tears from rolling down her cheeks. She couldn't believe that after only four months, she was already having marriage problems. She'd caught her husband in bed with another woman in THEIR bed. She couldn't believe that he could just throw it all away like that.
"What floor are you on?" he asked, breaking her from her thoughts. She saw that he was already in the elevator, holding the doors open for her.
"Um… five… I think," she said as she stepped inside.
They rode in an awkward silence and Liz sighed with relief when she heard the chime and the doors opened.
"You have everything? I'm headed upstairs."
Liz grabbed her bags while Max held the door open for her. "Yeah. Thank you… Max."
"Anytime." He smiled brilliantly. "I hope I'll see you around Liz." Liz couldn't help but smile at the way her name just rolled off his tongue. He returned her smile and again, she fond herself losing her grasp on her current situation.
"Bye Max." She offered him the best smile she could give, gazed at his eyes once more before turning and walking down the hallway.
She stopped in front of apartment 504 and barely knocked once before it swung open. "It's about damn time you… oh hey Liz. What happened?" Michael said when she passed by him with her bags. "Did that bastard hit you?"
Liz shook her head. "Is Maria here?"
"I'm right here," Maria said as she walked in from the hallway. "What's wrong Lizzie?"
"He's cheating on me," she cried. "I caught him in bed with another woman."
"What me to kick his ass?" Michael offered cheerfully. Michael was never really too fond of Erick. In fact, no one thought he was the right guy or her. She guessed that they all were right.
"Michael, stop it," Maria hissed. "Come on Lizzie. Let's go in the bedroom. Michael's got company coming over," she said as she led Liz down the hall. "Tell me what happened."
Liz made herself comfortable on the king sized bed before she started. "I was out with Alex at that new café they just opened up and I called Erick at home to let him know that Alex and I were going to a movie. The first time I called, he didn't answer the phone and I figured he hadn't gotten back from the office so Alex and I went to the movies. I called him again after the movie to see if he wanted to meet Alex and I for dinner. God, he was doing it with her while he was on the phone with me."
"Oh chica." Maria pulled her upset friend into her arms.
"He was out of breath and I heard some muffled sounds in the background, but I really didn't think much of it then. He was fucking that bitch while he was on the phone with me."
"Who was she?"
"I don't know." She shrugged. "Alex and I decided not to go to dinner and when I got home, I caught the two of them in bed. I didn't stop to find out who she was. I threw my ring at him, packed my bags and came here."
"I'm sorry Lizzie," Maria said as she embraced her friend. "I knew he wasn't good enough for you."
"I know you didn't. Everyone told me that he was wrong for me and I didn't listen. Why didn't I listen?"
"Because you were in love and it blinded you. You were fooled by his charm and couldn't see what was underneath."
"I was stupid," she mumbled.
"No, you have a good heart and you easily trust people. He used that to his advantage and played you," Maria reasoned. "I mean come on Lizzie. You were with him ever since your freshman year here. Now you finally… see the light if you will."
Liz smiled at Maria's choice of words. "So what are you going to do? Separate? Divorce?"
Liz cringed at that word. She never thought she'd get a divorce. At least not within the first year of her marriage. How was she supposed to get over Erick? He was her first and only serious relationship and he was a big part of her life for four years.
"I don't know. I just need time," she said. "Can I say here until I figure something out?"
Maria smiled. "Of course. My couch is your couch."
"Are you sure Michael won't mind? I mean I know you probably want to spend some time alone together."
"Liz, its fine. Michael and I will get plenty of alone time together. Trust me," Maria said with a wink.
Liz rolled her eyes. Though Maria had been her friend ever since she started at NYU, living with her and Michael was going to be a challenge.
Liz suddenly wondered if that Max guy lived on his own. Was he single or did he have a significant other. He seemed nice. And gorgeous. How could he not have someone to love him?
Why she was even thinking of him when she just found out her husband is cheating on her was beyond her knowledge, but for some reason, those eyes wouldn't get out of her mind. Maybe it was just because she'd never seen that particular color before.
"Lizzie. Earth to Lizzie." Maria voice and her hand waving in front of her face brought Liz back to reality. "Where'd you go? You just zoned out there for a minute."
Liz blushed. "Sorry."
Maria laughed as she stood from the bed and stretched her arms above her head. "Anyway, I think Max is here. You feel like meeting someone new or…"
Liz perked up at that name. "Max?"
"Yeah. He's Michael's new friend. He lives upstairs with his brother and he comes over for dinner all the time. He's a really cool guy. You know… you and him should…"
"Maria," she said warningly.
"Okay. Okay, I won't do any set ups." Liz knew that Maria wouldn't stick to her word. Liz would just have to be ready for any date she tried to throw at her. Maria always itched to set Liz up on dates even when she and Erick were going out. Liz imagined that it'd be ten times worse now that she and Erick were having their problems.
"So do you just want to stay in here?"
"Oh… um you know what? I just need to use the bathroom and then I'll be right out."
"Okay." Liz followed Maria out of the room and headed into the bathroom. Liz freshened up so she looked half way presentable. She left her purse in the living room, so she used some of Maria's makeup. She couldn't believe she was doing all of this because of some stranger off the street, but she couldn't help herself. Was it weird to feel this way when you barely knew someone?
Liz checked herself in the mirror once more before she emerged into the hallway.
"Liz?" Max stood when she entered the room.
"Hi Max," she said shyly.
"You two know each other?" Michael questioned.
Max smiled. "We're old friends," he answered without taking his eyes off Liz.
"Relax tiger," Michael mumbled to Max, but Liz heard him any way and she wondered what he meant but that.
Maria excused herself to go check on dinner and Liz took a seat next to Max. "Looks like I got my wish," he whispered to her.
"W-What's that?" she stuttered as she fought against the shiver running up and down her spine. What the hell was wrong with her?
"To see you again."
"Oh..." She blushed and bit her lip, not knowing how to answer.
"Maxwell, leave her alone. Liz doesn't buy into that lame bullshit you think are good pick up lines," Michael snickered from the other side of the room.
"So Liz," Max started, ignoring Michael's comments. "Are you going to be around for awhile?"
"Uh… yeah."
He smiled brightly and gazed at her with those gorgeous eyes of his and said, "Good."
TBC?......
Hope you like. Let me know.