Title:
Rooftops and Invitations
Disclaimer:
The characters of Roswell aren't mine. They belong to Jason Katims, Melinda Metz, WB, and UPN. The fic title is from a song by Dashboard Confessional, as are the lyrics used in the first chapter.
Category:
M/L, CC
Rating:
Mature
Summary:
Max Evans knows exaclty where his life is going. At least he did, until his sister's foreign exchange student walked into his world.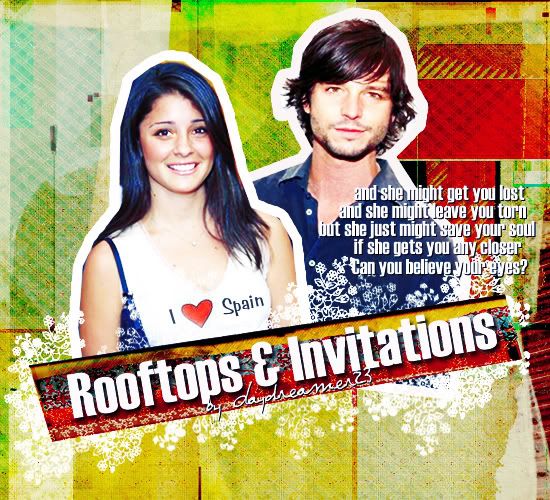 Thanks to Duccia for my awesome banner!
Chapter 1
The first time you looked at her curves you were hooked
And the glances you took, took hold of you and demanded that you stay
And sunk in their teeth, bit your heart and released
Such a charge that you need another touch, another taste, another fix

She just might get you lost
And she just might leave you torn
But she just might save your soul
If she gets you when she gets you any closer
Today is officially the
worst
day of my life. I mean it. I can unequivocally say that no day in the entire history of my life has been worse than this one. And that includes the day that I failed my drivers test by crashing my parents' new car into a Sheriff's vehicle.
I can see the way you're looking at me. Surely I must be exaggerating. I mean, how bad can it really be? Alright, maybe I should back up for a second. My name is Max Evans, and normally my life isn't all that bad. Casting modesty aside, I'd say it's actually pretty great. I just started my senior year at West Roswell High in Roswell, New Mexico. Yes, that Roswell, no I don't believe in aliens. Moving on. I have the fourth highest GPA in my class and I'm the star of our track team (I know that last part sounds a bit cocky, but I can't help it if I hold three of the school's records, can I?). Last year we won the national championship and we're primed to do it again this year. I am virtually guaranteed acceptance into the school of my choice. This past weekend marked my two month anniversary with Cassie Schaffer, one of the hottest girls in our school. Sounds pretty good so far, right? Well that's because we haven't gotten to today yet. So without further ado, allow me to present to you the day from hell…
It begins at 6:30 when my alarm goes off, Bon Jovi's 'Living on a Prayer' blaring through the speakers. I pull the pillow over my head and hit the snooze button, willing the day to wait a few extra minutes before starting. I was up until 3 last night trying to perfect my speech about religion in the media for my communications class. And it turned out pretty damn good, if I do say so myself.
The sun streaking in through my cracked blinds hits my eyes and pulls me out of my slumber. I stumble out of bed, absentmindedly glancing at the clock. That doesn't say…oh shit. It's twenty past eight and I'm late for my first class. Silently cursing, I brush my teeth and throw on some clothes. I grab the books off my desk and toss them into my bag, noticing that my speech is conspicuously absent. I know I left it right here last night. Ten minutes of fruitless searching and I give up. I jump in my jeep and drive off, praying that I don't get caught speeding. I arrive at school to find that all the spots in the parking lot have been taken, so I end up parking in the only spot I could find three blocks away.
I stumble through the door of my communications class, effectively interrupting Vicki Delaney's speech on abortion. I shoot my teacher Mr. Simmons an apologetic look, but the glare that he gives in return makes me a little nervous. I really need to do well in this class to keep up my GPA, and so far I haven't been, as my advisor put it, 'living up to my potential.' I don't really know what my problem is. I'm usually a confident speaker and have, on occasion, known to actually be quite eloquent. But I stand up in front of that class and I just freeze. My tongue swells up and just sits in my mouth. But I think this religion speech may be just the thing to pull up my grade. When I find it, that is.
The sound of unenthusiastic clapping brings my attention back to class, and I notice that Mr. Simmons is gesturing from me to the podium. I raise my hand meekly and tell him that I couldn't find my speech this morning. He either doesn't believe me or he doesn't care, because he insists that I come up before the class anyways. So I figure I'll wing it. I mean, I wrote the speech, I should be able to recite it. I open my mouth and freeze. I can't remember a word. Not one. Damn. Word. After five minutes of rambling, I decide to spare myself any further humiliation and return to my seat. There goes my GPA for this semester. My dad is going to kill me. He's determined that I go to Harvard just like he did, and he's been riding my ass about it since freshman year. I feign attention until the bell rings and it's time for my next class.
After economics, during which we were given a pop quiz on the chapter I didn't read, I spot my cousin Kyle in the hall. He informs me that my aunt's dog, who I found as a puppy but had been unable to keep because of my dad's allergy, had died during the night. I
loved
that dog. Kyle's also quick to break the news that Cassie was caught in the eraser room with Caleb Mitchell during first period. I suppose that means we aren't seeing each other any more. The news had apparently gotten around to the whole school by third period. That's the class I share with my sister Isabel and her boyfriend Alex Whitman.
Alex is a bit of a brainiac and my sister…not so much. I'm not saying she's stupid or anything, it's just that academic pursuits were never high on her priority list. When she first got together with Alex I assumed it was just to get him to do her homework, but I guess she had some true, deep feelings for him. She took some really bad criticism from a lot of her friends for it, but she stood up for Alex and they're still together.
Anyways, by lunch the day seems to be looking a bit better. I got an A on my big history paper and Ms. Hardy was out for the day, so we were given a study hall. At lunch they're serving pizza, and despite the fact that it's cafeteria food, it's honestly the best pizza in town. It's actually the only decent food they serve at West Roswell, so I want to make sure I get in line. Pizza goes fast. In my haste I fail to notice that my shoelace has become untied. I trip and fall down the steps, right at the feet of Amanda Stevens, the most popular girl in school.
"Smooth move, Evans," she smirks.
Blushing, I pick myself up and rush into the cafeteria. Just as I get there, some girl cuts in front of me in line…and gets the last slice.
I take my…whatever the hell kind of casserole it was, outside to sit with my buddy Michael and his girlfriend Maria. She's a bit outspoken, but she means well. So I just smile when she says that 'that bitch Cassie is gonna get what's coming to her' and from what she heard about Caleb Mitchell, it will include a trip to the free clinic and some antibiotics. Just as I dare tempt a bite of my unrecognizable food, I hear a loud buzzing by my ear, quickly followed by a piercing sting at the base of my neck. Did I mention that I'm allergic to bees? I break out in hives and end up scratching for the rest of the day.
After school I head to the gym for track practice. I only have a couple of minutes to stretch before we start running heats. I don't know what's happening, but I am running my worst time ever. Even Ryan Wells, one of the slowest guys on our team, is outrunning me. Coach keeps me after practice to talk to me about my dedication. I promise him that I'm just having an off day and that by tomorrow I'll be back in top form.
"I hope so, Evans," is his reply. "I know you have talent, but if I'm not getting your best than I'm gonna have to bench you. I'd really hate to have to do that."
By the time it's over, all I want to do is take a long hot shower, crawl into bed, and never come out again. My sore legs carry me back to me jeep and just my luck, there is a lovely pink piece of paper waiting for me on the windshield. Apparently I was parked too close to a fire hydrant.
It's dark by the time I pull into the driveway. I walk through the front door as quietly as I can, hoping to avoid whatever my mother has concocted for dinner and any questions of how my day was. I pass by the living room, the door to my bedroom is in sight. Just a few more steps and I will be safe inside and I can put this horrible day behind me. Sensing freedom within my reach, I don't see that Isabel has dropped her backpack in the hallway. I trip over it, a low curse catching on my lips.
"Max, is that you?" My mom calls out in that sugary-sweet voice which usually means that she wants me to do something. "Max, come meet our foreign exchange student."
I stifle a groan. I completely forgot that Isabel was hosting an exchange student from Spain this semester. The last thing I need right now is to spend thirty minutes trying to introduce myself to some girl who probably won't even understand what I'm saying. I step into the living room, noticing a girl with dark hair sitting on the couch with her back to me.
"Liz, this is our son Max. Max, this is your sister's exchange student Liz."
Liz stands and turns to greet me, and I am face to face with the most beautiful girl I have ever seen. Every nerve ending in my body instantly becomes alert. She flashes me this radiant smile and my heart skips a beat. I finally notice that she has her hand extended, waiting for me to offer my own. I'm sure my cheeks are turning red, if her amused giggle is any indication. I nervously scratch behind my ear, a habit I have great difficulty controlling when I feel tense, and then I take her hand in mine. Our eyes lock and a tingle of excitement rushes to my brain. I can't control the wide grin that is spreading across my face.
This is seriously the best day of my life.