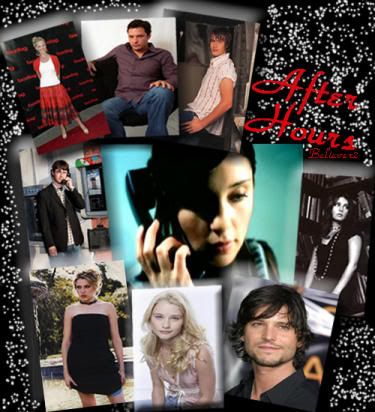 Title: After Hours
Rating: Adult/Mature
Coupling: CC
Disclaimer: I know nothing and I own nothing.
Summary:
Welcome to After Hours, Chicago's late night radio show with your host, Harlequin.

Here at After Hours, anything goes. Vent your frustrations. Share with us your secrets, your desires, even your fantasies. We'll even cry with those experiencing heartache.

No judgments, just listening ears. Here in the midnight hours with me, you're safe to bare your soul.
~!~!~!~!~!~
1: The Phantom
Hey Harlequin - you are just not going to believe who I just ran into! I still can't believe this!
Hello caller, Is this a confession?
Oh no - it's a rant, Harley, a real big rant.
Spill, friend.
Ok, well, I met this guy, Eric Torrence.
Let's go with first names only, please. We do want to make a pretense of protecting people's identities.
Ok, let's call him....Loser.
There are too many men would fit that description.
Ooooh you are so right, ok, let's call him....Phantom
Hmmm, sounds mysterious.
Oh he's a mystery all right
Tell me about Phantom Eric.
When I first met him, he was so nice! Everything I was looking for.
How did you meet?
We met at church - I don't actually go to church but I was there as a guest singer for a youth group. I was only there for the day and he's a member.
So he's a church going man?
Yeah - really clean cut, nicely dressed, warm smile, just a little bit shy. He seemed like he was the whole package! He had steady well paying job as an EMT, he was single, and he seemed really involved with his family. He told me all about his mom - how sweet was that? I thought that this guy could be it!
So, what happened?
On our first date, just as I opened the door, his mother called. He answered and then told me he had to go check on his mother.
Ooookay – and how did you react?
At first, I was really annoyed, but it was his mom, what was I going to do? Tell him no? So he left.
What did you do?
I got on the phone with a friend and she convinced me that it was sweet. Its his mom.
Well…he does sound like a good responsible son.
Yeah, that's what she said. But after he left, he dropped off the face of the earth! No calls, no emails, nothing. I couldn't find him anywhere. I even went to the damn church looking for him!
What?!?
Yeah – completely disappeared. Then, after two weeks, I get this email out of the blue. He apologizes like this just happened yesterday. He then explains how his mother was ill and he had to take care of her, etc.
That doesn't sound too bad – it is a legitimate reason.
Un huh, that's what I thought too. So, I gave him a second chance. We arranged to go out for brunch after his church service on Sunday. I show up at the restaurant and didn't see him. So I sat down and waited. And waited. Half an hour goes by and he doesn't show. I call him – no answer. I wait for another half hour. I left him three voicemail's and not once did he pick up the damn phone and call me!
Oh no, he didn't.
Oh yes, he did.
What did you do?
What did I do – I went to the bar and got me a stiff drink, that's what I did!
And then?
Then I went home. I waited for his call or an email at least.
Don't tell me…
Three weeks.
Oh honey, he didn't?
Three weeks. Then, he has the nerve to call me. He apologized soooo sweetly. He seemed so sincere. At first, I thought, no way. Absolutely, no freakin way. But then he kept apologizing. He was just taking care of his mom, right?
Please tell me you didn't.
Uh, sucker that I am, I bought it. I let him talk me into another date. Another date. So yes, I agreed to meet him for dinner.
Did he actually make it?
Yes, he actually made it. And he was so sweet and self-effacing. He brought me flowers. He opened the door for me. He even held out the chair for! He was the first guy to ever show manners like that. And we talked. We talked about everything! He was really interesting.
So what happened?
I didn't hear from him again for THREE months.
No!
Three months! He didn't call, didn't write. Once again he fell off the face of the earth. I thought we had a great time, I thought we hit it off, so imagine my surprise when two days go by and he doesn't call. Three days. One week. One week turns into two. By the time he actually picked up the phone, I almost forgot his name!
And what excuse did he give this time? Please, I need a laugh.
He told me that his mom got sick and she needed him to take him to the hospital.
It took three months to take his mom to the hospital? Wait, before I say something mean, was there a serious condition? Like a coma or something?
She had to have an ingrown toenail removed.
Oh god! Are you serious?
Like a heart attack.
I don't mean to laugh so hard….I'm sorry. So, what took up three weeks? Did he have to wipe her forehead?
No, nothing that mundane. He just had to run errands, fix the roof, paint her porch, babysit his cousins, clean her house.
Wait, wait, wait – he cleaned her house?
Yup.
Oh friend, please tell me you dumped the numb nuts.
Oh, he had the nerve to ask me out, again.
And you said….
First, I tried being nice. I told him that I thought that his behavior, his disappearing without a word for weeks on end, was a problem.
How'd he react?
He went off on me! Can you believe that? He told me that I was being selfish, demanding. That I should give a thought to others who are fragile. He told me that my attitude, MY attitude was probably the reason that I'm still single at 26 – as if that was the issue. And its not - it means that I have high standards. I don't drive men away – they just can't meet my standards.
Hey, friend, I know what you mean. Men grasp any excuse they can find to blame the female and avoid responsibility.
Thank you! That's all I'm saying. God, after we hung up, whatever slim emotion I felt for him vanished. I wasn't even angry…
No?
Ok, I was a little angry. But then, I laughed at the thought of him trying to blame me!
Did you ever see him again?
Yup – today. Two years later.
And don't tell me, he asked you out again?
Yes! Isn't that the craziest think you ever heard?
I'm so sorry you had to deal with that man. What song would you like to dedicate to Loser Phantom Eric?
How about…
"Narcissus" Alanis Morrissette
Dear momma's boy I know you've had your butt licked by your mother
I know you've enjoyed all that attention from her
And every woman graced with your presence after
Dear narcissus boy I know you've never really apologized for anything
I know you've never really taken responsibility
I know you've never really listened to a woman

Dear me-show boy I know you're not really into conflict resolution
Or seeing both sides of every equation
Or having an uninterrupted conversation

And any talk of healthiness
And any talk of connectedness
And any talk of resolving this
Leaves you running for the door

(why why do I try to love you
Try to love you when you really don't want me
To)

Dear egotist boy you've never really had to suffer any consequence
You've never stayed with anyone longer than ten minutes
You'd never understand anyone showing resistance
Dear popular boy I know you're used to getting everything so easily
A stranger to the concept of reciprocity
People honor boys like you in this society

And any talk of selflessness
And any talk of working at this
And any talk of being of service
Leaves you running for the door

(why why do I try to help you try to help you
When you really don't want me to)

You go back to the women who will dance the dance
You go back to your friends who will lick your ass
You go back to ignoring all the rest of us
You go back to the center of your universe

Dear self centered boy I don't know why I still feel affected by you
I've never lasted very long with someone like you
I never did although I have to admit I wanted to
Dear magnetic boy you've never been with anyone who doesn't take your shit
You've never been with anyone who's dared to call you on it
I wonder how you'd be if someone were to call you on it

And any talk of willingness
And any talk of both feet in
And any talk of commitment
Leaves you running for the door

(why why do I try to change you try to
Try to change you when you really don't
Want me to)

You go back to the women who will dance the dance
You go back to your friends who will lick your ass
You go back to being so oblivious
You go back to the center of the universe
~!~
As the strains of the song started to play, Maria DeLuca stepped out of the phone booth with a satisfied smile. She looked out to the dining area of the café where several cops and EMT's were laughing at a young man sitting at their table - Eric Torrence aka Phantom.
Maria had known that Eric was going to be the diner, all the EMT's and cops stopped at the café after their shift at midnight. And she knew the café would be playing 'After Hours' radio show, most public places played the radio show every Saturday night. It was the most popular show in years because of the new DJ, Harlequin.
Harlequin was brutally honest, but was equally sympathetic and always found the perfect song for the caller. But it was the voice that captivated all of the listeners.
Harlequin had a voice that most women would kill to have - it was considered a sexy bedroom voice. The voice that could make knees weaken with just a whisper or a husky suggestive laugh – Maria had actually seen it happen. The voice was a source of comfort for those who had lost someone or had their hearts broken, but it could also slice a man or woman down to size.
Half the people that Maria knew, including her bandmates, were in love with Harlequin, while the other half were just in lust, despite not knowing what Harlequin looked like. Everyone wanted to know, but no one cared enough to really pursue it. Part of the allure of Harlequin was the air of mystery surrounding the identity, and no one really wanted to rip away that illusion.
Maria had gone to the café right before Eric's shift ended and waited on the phone with the radio station. She timed it so that when Eric did come in with his buddies, they, and the rest of Chicagoland, could hear all about what a momma's boy he was. In fact, she could hear some of his co-workers already nickname him. Maria smiled smugly and slipped out of the café before Eric could recognize her. She really should be ashamed of how she embarrassed him, but she had no regret. After she had run into him yesterday, all she could think about was how he had treated her the last time she spoke with him. And every time she thought about it, it pissed her off. Now they were even, maybe.
Walking briskly to the nearest CTA train stop, Maria caught a glimpse of herself in one of the store front windows. She paused and tried to be objective of herself. She saw an average height, dark blonde young woman with wide, bright green eyes and full pouty lips. Maria tilted her head to one side and inspected her body – thanks to Aquabra, it looked like she had nice sized breasts, a slim waist, and her short skirt showed off her long slim legs. Overall, Maria thought she was attractive. She considered herself worldly smart, and she had an exciting career as a songwriter and singer, so why was she single?
~!~
He flipped his radio off as After Hours went off the air and stared out of his window. The bright lights of downtown Chicago lit up the night. The voice of DJ Harlequin always reminded him of her voice. He wondered what she was doing, if she was ok.
~!~
She concentrated on counting the floors as the elevator went up and thought about the radio show. She smiled as she remembered one particular caller who talked about The Phantom and the song that had been chosen to represent the caller. It had been so appropriate. As she stepped out on her floor, she wondered if he would have thought the same.
2: PURPLE JESUS
And who am I talking with tonight?
You can call me…um, Lonnie.
Hello Lonnie, how can I help you tonight?
Hi Harlequin, I just wanted to call tonight so that I can issue a warning to the ladies out there.
Ok, sounds interesting.
There is a man named, PJ, who is a dirty rabid dog and all the ladies need to beware of him.
Whoa, sounds like you know this from experience, what happened?
About a year and a half ago, I co-hosted a roof-top luau themed party with my roommate. It was amazing. The night was perfect and clear; everyone brought a bottle of something to share. It was a great time.
Sounds like fun.
It was. There were tons of people everywhere on the roof. Some were playing with the bean bag game and others were using the hula hoops, it was a good time.
So what happened?
I was making my rounds as any good hostess should, when I came across three men I have never seen before, the fourth guy had his back to me. I stopped and asked if they were having a good time, if they found everything ok. Of course they said yes. That's when the fourth guy turned from the food table. Oh my god, he was cute.
How cute?
He was tall, about 6 foot, with dark, slightly curly hair, wide shoulders, dark eyes. Just your typical beautiful man, but it was his voice that made him sexy. He had the sexiest Irish accent – oh god, I still think its sexy.
Mmm, sounds like you have a weakness for foreign accents. I confess, I do too.
Its true, I do. And it always gets me into trouble.
What happened with Irish?
Well, I was standing there, trying to play the good host and was holding a coconut drink in my one hand. He introduces himself as PJ and asks me what I'm drinking….
By the tone of your voice, you're still infatuated.
Don't get me wrong, Harlequin. I know PJ's a dog, now, but I didn't then. But he's one of those guys that could make you forget he was a dog because he was just so damn good at making you feel special.
Could he make you forget?
Hell no. Not after what I found out. I can't believe I even let him get to me.
How did he get to you?
Well, when he asked me what I was drinking, I told him it was a Bacardi pineapple drink. He asked if he could try it and I agreed and reached out to hand it to him. Instead of taking it from me, he grasped the hand the drink was in and stepped forward until he was standing right next to me, facing me. Then, he leaned forward and drank from the coconut – without letting go of my hand.
Mmmm, sexy.
I swear my knees went weak and I couldn't tear my eyes from him. He asked me if I was seeing anyone and I told him no. Then I asked him, 'Are you?' he replied, while looking at me, 'Not yet.'
Ah, confident wasn't he?
Yes – and that's what hooked me. I can be intimidating to men – most guys don't like strong confident women, especially if the women are taller then they are. Some guys even nicknamed me, the Ice Queen, so it surprised me that PJ wasn't fazed by me at all.
Confidence is sexy in men or women.
Yes it is. Like I said, it's what hooked me. When he asked me for my phone number, I pointed out that neither one of us had a pen or paper, so he'd probably forget it. It didn't stop him at all, he came back with 'Why don't you give it to me and we'll find out if I remember.'
Oh, wow. He's good.
How could I not smile at that? How could I not give him my number?
Did he remember?
He called me on his way home – just to prove to me he did.
So far, he sounds pretty good to me. What happened next?
Well, the second time he called, he asked me out. We ended up at a fajita restaurant, then the Map Room, a local bar.
I know that place well. It's a great little bar.
At the Map Room, we decided to play a game of pool – I'm not very good at it, but it was ok. When I went for my first shot, I asked him what PJ stood for. He waited until he knew I was going to shoot and told me it stood for Purple Jesus.
Purple Jesus?!?
Yeah – I reacted just like you did. I laughed and messed up my shot. I accused him of messing up my shot deliberately, but he was contrite and let me have another try. Then he told me about his name. That his parents were hippies and his mom wanted a far out name, something unique.
Hmmm, Purple Jesus. That's kinda cute. Did you believe him?
No – not really. But Harlequin, if you could have heard him….he was so funny-serious and looked so embarrassed. He said that his father disagreed with his mother but she named him Purple Jesus. He goes by PJ to avoid embarrassment. The way he looked, the way he said it, it was just so cute.
Ok, I guess its possible considering some celebrities have been naming their kids after fruit.
That wasn't the only thing I bought. He was so charming and such a gentleman, I thought I finally found a guy worth dating. Worth making an effort to have a relationship.
So, was his name really Purple Jesus?
No, its Peter James. But the way he told the story…he was funny and easy to be with. He was fun to be around, and that's what did me in. I bought everything he told me because he was just so much fun to be around.
So, what happened with Peter James?
After the date, I didn't hear from him for a week, then he called and we talked. He said he couldn't wait to see me but he had this huge project at work-he was a network manager-which was forcing him to work extra long hours.
It didn't sound fishy to you?
Why would it? I understand long hours, I myself work very long hours as an event planner. I completely understood that his job was important and he needed to get it done. I was sympathetic and told him that whenever he could, he should call me for the next date. I thought a week, maybe two, would go by until he finished up his project.
Did he disappear on you, like Phantom Loser Eric?
Yes, but instead of weeks, I didn't hear from him for six months. When he did call, he said he was out and about and just wanted to meet for drinks. I wasn't in the mood, considering he disappeared for six months, but I told him to call another time. For the next few months, he called almost every week just wanting to talk. Then I didn't hear from him again for another couple of months. But out of the blue, he calls me on New Years around 2 in the morning. He wanted to know why I wouldn't meet him for drinks and why I was avoiding some of his calls.
You were avoiding his calls?
Well yes, I was dating other men by that time.
Good for you. Did you tell him you were dating other men?
No, I just told him I had to go and would call him later. Lame I know, but I didn't want to get into it with him at that moment. He must have realized I was no longer interested because I never heard from him again. That was almost a year ago.
So why the call tonight?
Well, the strangest thing happened to me today. I was at work when I got a call from a woman, I'll call her Anne. Anne started out apologizing, telling me that she had gotten my number from PJ and she wanted to know how I knew him. At first, I was ticked off because here's a perfect stranger asking for intimate details of my life. When I told her, in no uncertain terms, that it was none of her business, she told me it was. She was his fiancée.
What!?!
Yes, she was PJ's fiancée. She told me that they had been together for the past THREE years and were even living together.
And you didn't know?
He told me that he wasn't seeing anyone serious, that he owned his house but he had roommate to help pay for the mortgage.
What an ass!
Yeah, but here's the worst. I wasn't the only other girl he had on the line. And all of the other women she called all said the same thing I did – that we didn't know he had a serious girlfriend, let alone fiancée.
How many others were there?
She had talked with fifteen other women just that day. She was going through a list.
How did she find out?
This is the craziest part. She had been in gym class for a couple of months and struck up a friendship with this other girl. This other girl had asked her a question about immigration and Anne replied that she didn't know but she would ask her boyfriend who had come from Ireland. The other girl was like, 'Really? My boyfriend is from Ireland." That's when the two girls got to comparing notes and found out they had the same boyfriend.
Oh my god! You have got to be kidding me! What did she do?
She went home and went through his computer and found pages, pages, of chat room dating sites for single men.
Oooohhh, that rat bastard.
Yeah. Then she grabbed copies of his cell phone bill and she packed up her stuff and moved out before he got home. Then. She started calling the numbers, starting from the most recent.
That poor girl. And she never knew?
No – and that made her feel even worse. She had no clue. What makes me feel horrible, was the fact he had called me on his birthday, six months after our first date, during a birthday party she threw for him. And he called me the night he proposed, New Year's Eve.
That lying piece of...menstrual pad!
I couldn't believe what she was telling me! She started to cry and I ended up comforting her and spent two hours listening to what a bastard he was. I felt terrible but I thought she deserved to hear the complete truth after hearing nothing but lies for three years. I told her that I had repeatedly asked if he was seeing anyone seriously and he told me no. Not once did he ever mention a girlfriend, live-in girlfriend, or a fiancée.
Ouch. That was rough, but you're right, she deserved to hear the complete truth. Did she confront him?
Yes.
Did she call you back and tell you what happened?
Even better – PJ called me.
Unbelievable. What did that poor excuse for a human carcass have to say?
He was in a panic – I could hear it in his voice. He asked me if I had received any strange calls today. I told him, no. Nothing strange. And asked him why. He had the nerve to tell me that some woman had stolen his cell phone bills and was calling everyone on them.
What? Is that possible?
I don't know. I honestly don't know. I hung up on him after I asked him not to call me ever again. I'm not about to take that chance that Anne was right. And if PJ was actually telling the truth, I don't want to have to deal with a crazy ex-girlfriend.
Oh I hear you. I think you did the right thing.
I do too…but now, I just feel so used. I feel terrible that I had a hand in hurting someone else.
You have nothing to feel bad about! You're not the one that cheated or lied.
No, but he made me a part of the lie. He used me as a tool to hurt someone.
Without your knowledge. That was all him. Had you known he had a girlfriend, I'm sure you would have never have gone near him.
No, I wouldn't have.
You have nothing to feel guilty for – you got played just like his girlfriend. And you've done the humanitarian thing by letting the rest of the Chicagoland women know that there's a lying cheating dog out there that goes by the name of PJ or Peter James. Let me play a song for you,
"Cheater" Uriah Heep
Cheater, i know where you've been
Cheater, your lies
Can't hide your sin
Cheater, don't ask me how i know
Cheater, i guess it's time for you to go

I'm tired of chasing shadows
So lllusive in the night
And your empty words
That leave me high and dry
Now the curtain's finally fallen
On this fantasy affair
You've had me for the last time
With your lies

Cheater, you're a cheater
I know where you've been
Cheater, your lies
Can't hide your sin
Cheater, don't ask me how i know
Cheater, i guess it's time for you to go

The voices in the wind i heard
Kept telling me to run
Whispering a warning to my heart
And the voices deep as thunder
Tried to speak of things to come
I was blinded then
But now i see the light

Cheater, you're a cheater
And i know where you've been
Cheater, mean mistreater
Your lies can't hide your sin
Cheater, don't ask me how i know
Cheater, i guess it's time
For you to go
~!~
Isabel Avens hung up the phone and took a swallow from her glass of red wine. She sat on her living room couch, mulling over the days events. 'How did I not know?' she kept asking herself. She had always prided herself on being able to read men. She knew that when they took in her tall 5'8 frame, the long blonde hair and voluptuous figure, they dismissed her as a dumb blonde who would be easy to get in the sack. But that was before they saw the proud tilt of her head, before they met her gaze and found ice cold blue eyes staring back at them, daring them to make one wrong comment. Once the men finally looked her in the eye, she sent more than one of them running for cover.
And she saw them for what they were – cowards, unconfident cowards who weren't man enough to stand beside her. The ones that actually did stick around just wanted her to decorate their arm, to be nothing more than a symbol of their masculinity. She sent those losers on their way with few choice words.
She was a strong, independent woman who had a gorgeous downtown condo – right on Michigan Avenue. She had a thriving successful event planning business that she started in her early 20's. She had a 10 year plan which included opening up two more locations, one on each coast. Her success with her business and with the various charities she headed up was because she was able to read people – anticipate what they needed or wanted.
Yet, she had been completely wrong about her assessment of PJ.
Isabel snorted to herself in disgust, Purple Jesus. That story was so ridiculous! She still couldn't believe she fell for such a ridiculous story, yet that's what got her. His gentle teasing and confidence was such a refreshing change from the scared little men she was use to – he had suckered her in. And she would never have known if she hadn't gotten that call from 'Anne'. She called herself all kinds of fools and told herself that she was better off. She didn't need a man to mess up her plans.
But her loneliness wouldn't listen.
~!~
He couldn't sleep, not without the dreams. He could hear her voice calling him but he could never find her. He didn't even know her name. Two years of haunted dreams. He flipped on his radio, at least Harlequin distracted him every Saturday night.
Chapter 3: CHARITY
Hello caller, I heard I have a gentleman with me tonight.
Uh, um, hi Harlequin.
Relax, sweetie, I don't bite…unless you want me to…
No! Um…ah…
I'm just playing with you. What's your name?
Ah, you can call me….Al, uh, Colin.
Ok Colin, why don't you tell me what I can help you with tonight.
Thing is, Harlequin, I've heard a lot of women callers, like Lonnie from last Saturday, who complain about men.
That's because you guys make it too easy for us to complain about. If you guys would just give us what we want, then we…
Then you'd have nothing to complain about. And what fun would that be?
Hmmm, ok, you have a point. So, are you calling in about a woman?
Yes, her name is Danielle.
How did you meet Danielle?
From my co-worker who decided she wanted to play matchmaker.
You sound a bit bitter about your co-worker playing matchmaker.
No…well, I guess I am. See, I'll grant you that I'm not the studliest of men, nor am I the most handsome, but I'm not ugly. I have a great job. And I have a great sense of humor, if I do say so myself.
I think I could sense that about you, you're already making me smile.
Thank you. Anyway, I would like to think that I can meet a woman without having someone setting me up, even if it has been a couple of... But that's not the point of the call.
Ok, what is the point?
Well, my co-worker introduced Danielle and me at a local coffee shop and we talked. It was nice. She was nice. She was nice to look at too.
Did she feel the same?
Well, when I asked her for her number, she gave it to me and it was the right number, so I took that as she wouldn't be too opposed to talk with me again, right?
Definitely. If she didn't, the phone number would have been fake.
That's what I thought. So, I called again and it was just like before, very nice. In the end, I asked Danielle out for dinner. She said yes without hesitating, so I took that as encouragement. I picked a nice yet somewhat casual dining establishment, Tango Sur…
Mmmm, I love that place! Did you supply the wine?
I did – I picked out a nice Red Loon Merlot.
Very nice – you have great taste.
Thank you. Well, I met Danielle at the restaurant and there was a wait, like always. We were standing in line outside the restaurant, enjoying a glass of wine, when all of sudden Danielle grabbed my arm, like she was scared or something. She startled me and I ended up spilling my wine all over myself.
Oooh no.
I wanted to swear, but I didn't. I just asked her what was wrong.
What did she say?
She said that she thought she heard someone she knew.
An ex?
Not quite. She wouldn't elaborate, so I let it go. I had wine all over my pants and she didn't even seem to notice.
She didn't apologize?
She didn't even notice the large red stain on my khakis.
Huh, weird. No comment whatsoever?
Nope, none. Before I could say another thing, the waiter finally seated us and we had a very nice table outside. I was having a great time talking with her and enjoying the great food. I thought she was too, but I slowly realized she wasn't really into it.
How did you notice?
Well, she kept looking around the place, like she was looking for someone.
I don't like the sound of this, Colin.
No? Well wait to you hear this. In the middle of dinner, one of the tables that was next to us got up to leave. Just as I started to say something, I heard Danielle yell, 'Oh My God! You Bastard!'
<gasp> What?
I dropped my silverware thinking she was yelling at me, but she jumped up and ran over to a table where there was this guy and woman was sitting on the other side of the table that left. I went after her and heard her yelling, 'What is this? Is this a date? I thought you said you wanted to be exclusive!'
Whoa.
Yeah – I'm thinking what the hell. And then the woman that was sitting there turns to the guy and starts yelling at him too, 'What is she talking about? I thought you said you hadn't dated in awhile?' At that point Danielle jumps in, 'Girlfriend…
Colin?
Yeah?
Please don't use the fake girly voices – you're scaring me.
Oh. Sorry.
So, what happened?
Danielle jumped in and told her that she had been dating this guy, Mark, for the past month – which was news to me because she said she was single.
Oh my god, this sounds complicated.
Yeah, well, that's when Mark jumped in and asked about me. I was about to say something, but Danielle defended herself by telling Mark that I was just a pity date, a favor for a friend, so I didn't count as a real date.
She actually said that?
Yup – right there in front of me and the entire restaurant, not caring if I heard her. Like it didn't matter if she just crushed my ego.
Oh Colin.
But wait, it gets even better. While Danielle and Mark are yelling at each other, it finally dawns on the other woman that she's the 'other woman' and she starts yelling at Mark. Again, Danielle jumps in to defend her man, and that's when everything went to hell.
I dread asking, what happened?
The other woman threw the first slap.
That does not sound good.
It was ugly. Danielle grabbed the other woman by the hair and the woman grabbed the table, food flew, I tried jumping out of the way but I ended up knocking over another table's bottle of wine. Then the women started slapping and scratching all over the place. Food was knocked all over the place. Are you laughing?
No. No, not at all. What did you do?
Are you kidding? No way would I risk getting in a cat fight! Stop laughing, its not funny.
Ok, ok. Please continue.
Well, the police showed up. It took two cops and a couple of waiters to break up the two ladies. You should have seen the place – it was a mess. The manager was in near tears because he had to give everyone their meals for free.
Were the women arrested?
No, they weren't arrested. But they, Mark, and I were kicked out of the restaurant and banned for life.
No.
Yes.
They actually told you that you were banned for life?
I think their actual words were like, 'if you ever step foot in this restaurant again, we will have you forcibly removed'.
Oooh, nasty. So, what happened with Danielle?
Nothing. Absolutely nothing. She got into a cab and disappeared. And I was happy to see her go – I mean, a pity date? Come on, what guy wants to know that he was just a pity date? Not this guy – thank you.
Did you ever hear from Danielle?
Yes. Today, in fact.
What happened?
She left a screaming message on my voicemail. Apparently she's getting sued by Tango Sur for lost revenue from that night and it's all my fault.
Your fault? How did she come to that conclusion?
It's my fault because I chose the restaurant.
Oh Colin. I'm so sorry. It's so horrible that it's funny. But listen, seriously, it wasn't your fault.
I know it wasn't. I'm not even named in the lawsuit. I think the manager and waiters all feel sorry for me.
Don't go there, Colin. Despite what Danielle said – you are better than a pity date. You sound like a very nice guy, Colin…
Yeah, so nice, no one ever notices.
I don't believe that, Colin. It may take awhile, but I know you'll find someone who will appreciate you. Someone who will see all the wonderful qualities you have to offer and not take advantage of them, but revel in them. You will make someone happier then they ever were.
Well, that's the future. Right now, I want to pity myself. I've earned the right.
Ok, you're right. Let me find a song for you, but listen to me, Colin. While you can indulge your self pity, don't wallow in it forever, ok? You're a great guy that someone will feel really lucky to have.
Thanks, Harlequin.
You're welcome, sweetie. Here's your song.
"Life Is A Lemon And I Want My Money Back" Meatloaf
It's all or nothing
And nothing's all I ever get
Ev'ry time I turn it on, I burn it up and burn it out

It's always something
There's always something going wrong
That's the only guarantee, that's what this is all about

It's a never ending attack
Ev'rything's a lie and that's a fact
Life is a lemon and I want my money back

And all the morons
And all the stooges with their coins
They're the ones who make the rules, it's not a game it's just a rout

There's desperation
There's desperation in the air
It leaves a stain on all your clothes and no detergent gets it out

And we're always slipping through the cracks
Then the movie's over, fade to black
Life is a lemon and I want my money back

I want my money back
I want my money back

What about love?
It's defective! It's always breaking in half

What about sex?
It's defective! It's never built to really last

What about your family?
It's defective! All the batteries are shot

What about your friends?
It's defective! All the parts are out of stock

What about hope?
It's defective! It's corroded and decayed

What about faith?
It's defective! It's tattered and it's frayed

What about you gods?
They're defective! They forgot the warranty

What about your town?
It's defective! It's a dead-end street to me

What about your school?
It's defective! It's a pack of useless lies

What about your work?
It's defective! It's a crock and then you die

What about your childhood?
It's defective! It's dead and buried in the past

What about your future?
It's defective! And you can shove it up your ass

Oh, I want my money back
I want my money back

It's all or nothing
And nothing's all I ever get
Ev'ry time I turn it on, I burn it up and burn it out

It's a never ending attack
Ev'rything's a lie and that's a fact
Life is a lemon and I want my money back

And we're always slipping through the cracks
Then the movie's over, fade to black
Life is a lemon and I want my money back

I want my money back
I want my money back
~!~
Alexander Whitman hung up the phone and listened to the song picked out for him by Harlequin. He got up from his computer desk and walked over to his living room window. Against the backdrop of a clear gorgeous view of Navy Pier and the beaches of Lake Michigan, Alex could see his reflection. He didn't think he looked that bad. He was a 6 foot tall guy with dark brown hair wildly parted on the side and pulled back into a small ponytail. Gold rimmed glasses covered his blue eyes, and without sounding girly, he had nice long lashes, too. A neatly trimmed beard covered the lower half of his face, giving him a rather shaggy look. His lean, but muscled, frame was dressed in chinos and long sleeved baggy tshirt and sneakers. He had a great job – he owned his own successful company, writing computer games- a gorgeous condo, a loving if not distant family, and he had lots of social connections.
Alexander thought he was a pretty good catch for any woman, until he remembered what Danielle had said about being a pity date.
He thought back to the past year and realized that he had been so consumed with writing the new computer game software that he hadn't been out on a date in the past year. And the year before that, he had been consumed with finding a larger company that would keep him on as a partner for his company and didn't date then either. Before that, he had been busy growing and expanding his successful computer game company. In fact, the last time he did have a date was….when was his last date? And his friends…well, if he was honest with himself, they were mostly his game testers, not real friends.
In college, most people had either been too awed by his genius level intelligence or too freaked out to consider him a friend or a potential boyfriend. He was five years younger than the average freshman and the girls he hung out with either wanted to pick his brain or treated him like a geeky kid brother. There was one girl from his business class that he had wanted to speak to. She had lovely strawberry red hair and large blue eyes and the best part was, she didn't avoid him because he was geeky, and didn't worship him because he was the king of geeks. She seemed indifferent which made it a perfect situation for him to try his luck. Just when he got the courage to speak to her, he found her with her boyfriend – a huge, no-neck jock.
So, he gave up. Instead, he concentrated on his own game software programming. During his sophomore year in college, he finalized a prototype for his first computer game. He took it to Microsoft and his special blend of humor, fun, and education, set his games far above what was out there currently in the market. He walked away a millionaire several times over. With the money, he dropped out of college and set up his own programming company that specialized in high level games but also educational software. His games gained a notorious reputation – they were considered almost impossible to win. The number of people who had won at any of his games was under 100 and the few that did, had formed their own club, The Whits. Among other gaming programmers, he was considered The Grand Master.
While his games were the main source of revenue for his company, he was the most proud of his language software. His language software was a huge hit among high schools and college-bound kids who wanted to become fluent in any foreign language.
After five successful years, Alex decided that he wanted to free up his time to work on games for the mentally handicapped. He looked around for new CEO and president that would be open to his business model and keep him as a full partner of product development. It had taken two years, but he finally found a small gaming company that specialized in educational software that had a similar business format of putting quality over profit. He negotiated a merger and let the other owner act as CEO while he was free to pursue his own projects. He thrived in the new arrangement, not having to worry about running a company since he was better at programming. The company, Whit-Hall Games, became an extremely profitable midsize company. And yet, in his personal life, he had made no progress.
Alex looked around his spacious top floor loft littered with gaming units, printouts and drawing boards, and saw what his co-worker Mariel had seen: a man lost in a fantasy world of games.
No way was he going to allow that to continue. He would make time for himself and find a personal life, even if it meant scheduling it into his palm pilot. First, he'd start with his appearance.
~!~
She lay on her bed trying to remember the exact sound of his voice and if she concentrated really hard, she could hear him whisper in her mind. On the nights she couldn't sleep, she'd think about what he looked like. Sometimes he had blonde hair, sometimes a light brown or dirty blonde. She thought he'd be tall, but not too tall for her petite height. As she drifted off to sleep, she thought about his eyes….she could never get his eyes right.
4: FLOATATION DEVICE
Is this Harlequin?
This is, and who am I speaking with?
K…Nick. Call me Nick.
Ok, Nick. What's your story?
I'm calling because I need you to help me apologize.
What happened?
I went on this date with this girl Lynn and it didn't turn out so well.
Back up. How did you two meet?
Well, honestly? We met at a bar.
There's nothing wrong with that. Plenty of people meet at a bar.
I saw her from across the room, she was this gorgeous Asian doll and I just had to meet her.
Please don't call women dolls. That can be construed as a very sexist remark.
Ok – sorry. She was a very hot Asian chick…
Nick.
Asian woman. A very hot Asian woman.
Better. So what happened?
I went up and asked her if I could buy her a drink.
Very smooth, yet so simple.
Never fails.
No one likes a cocky guy, Nick.
Sorry, anyways, I bought her a drink and got her number. I called her a day later and set up a date. We met somewhere nice and casual. It was really great – I had a great time and she seemed like she did too, so I asked for another date. I asked her to go to a pool party at a friend of mine.
A pool party?
Yeah – and no, it wasn't a party just to see women in bikini's. It was a theme party.
Uh huh.
Seriously – everyone was suppose to wear 50's & 60's type bikinis and swim trunks.
Ok, sounds cute – so what happened?
Well, I took Lynn to the party with me. She had this scarf thing draped over her hot little two piece bikini, like the one from that one James Bond movie…um…where that blonde comes out of the ocean in that white bikini and a knife strapped to her hip.
You do realize that the rest of Chicagoland can hear you drooling on air, don't you Nick?
Sorry, where was I?
Lynn and you show up at a party…
Oh yeah. We get to the party at my friend's. He lives in one of the downtown high rises and the pool is on the top floor with windows as walls, so it looks like you're swimming in the sky.
Wow, sounds nice.
It was. So, we're all drinking – and then, some guy got the bright idea to start throwing people in the pool.
This doesn't sound very good.
Well, at the time it did.
Ah, yes. Amazing how things sound under the influence of alcohol.
So, some of the guys were throwing their girlfriends in the pool…
And you thought of doing the same?
Yeah – I couldn't help it. It looked really funny. I found Lynn and I grabbed her.
She didn't want to go in, did she?
No – she didn't. I thought she was just kidding you know? She was laughing and trying to get down, but I hung on strong. I got to the edge of the pool and had another guy grab her feet while I got her arms. We swung her and then dropped her in the pool.
Ok, that doesn't sound too bad, what went wrong?
Well, she came up for air but then….
What? Don't keep us in suspense.
She seemed frozen, like she couldn't move, and scared. I thought she was in trouble so I jumped in to help.
Sounds very decent of you.
That's when I noticed.
What?
There was this dark stuff spilling out into the pool. I couldn't really see very well because we only had tiki torches, but there was definitely something in the water.
Oh no.
I couldn't tell what it was, but I jumped out and I was like, dude what the hell. I looked at Lynn and she was still frozen, like she didn't know what to do. Then, she slowly moved towards the shallow end of the pool which was closest to the doors. That dark stuff was following behind her.
Oh Nick…
Yeah. She got to the shallow end and tried getting out.
Tried – oh Nick, I have a bad feeling about what you're about to say.
When she stood up, her bottoms looked twice the size it had been. It was huge and looked like some kind of floatation thingy...
Nick!
I had no idea what the problem was – I swear!! She grabbed a hold of her bottoms, jumped out, and ran out the door.
Tell me you followed.
Yeah, I followed. I ran out the door and saw a wet, reddish trail on the hallway carpet. I still had no idea what was going on, but I had a bad feeling it looked like blood…
Oooohh no….
I followed the trail to the women's bathroom and went in. She was in a bathroom stall changing – she was really pissed.
I bet she was more embarrassed.
That too. But honestly, I had no idea she was wearing a-a…um, one those, you know…
A menstrual pad?
Uh, no, the other things.
What other things?
She had those…um, one of those diaper things.
Oh.
Yeah – I didn't know women wore those things...
So, wait, I'm confused, what was the dark stuff?
Her um…you know…her monthly….
Oh. She wore a diaper thing? I thought those were for older people who had bladder problems?
They are, but Lynn was wearing one because she said she had problems with leakage with regular pads. Most even have those wing things.
Well, she has a point.
Yeah – she was super pissed and ran out of the bathroom after she changed, without saying anything either.
Did you go after her?
Well, I had to go tell my friend about what was in the water…so you know, other people wouldn't go in.
So you didn't go after her.
Well, after I told my friend, I had to help kinda clean it, you know?
Did you go after her then?
Yeah – I tried calling her and everything but she won't pick up or return my calls.
Well, Nick, to be honest, that was pretty embarrassing for her.
It was for me too. And it was gross - I'm the one that had to wipe up the blood and help clean up the pool.
True, that would be pretty gross.
And I've been calling for two days straight trying to apologize but she won't return my calls. I thought you might be able to help me.
Oh Nick, you do realize you've probably just embarrassed her even more by telling all of Chicagoland what happened.
No! I didn't use her real name – I'm not that stupid. But I know she's listening and I hope that she realizes that I'm sorry for throwing her in the pool. I didn't know about that thing…and we had been drinking…I'm sorry.
So you want to apologize and keep dating her?
Um…
Wait – if you don't want to keep dating her, why are you trying so hard to apologize?
Well, I want to date her, but I don't know if I could, you know, look at her with a straight face. Or if she'll even forgive me, you know?
Oh, well, at least you're being honest. Let me see what song I can find, Nick. Anything else you want to say?
Lynn, I'm really, really sorry for causing you such embarrassment. I hope we can move past it.
"Sorry My Friend" Save Ferris
I wrote this song for you to say i'm sorry
I know that I was wrong and you don't like me
Why, why, why
Must you feel this way?
I wish I had the words
I needed to say

[chorus:]
'Cause you and me
We disagree
On everything and everyone
I only want to be your friend again

I hear you're blaming me for all your problems
Well if you'd quit complaining you might solve 'em
I'll try hard to make amends
But both of us will have to try and give in

[repeat chorus]

I'm sorry for the things that turned out this way
I wish I knew the words I needed to say
But you and me we never seem to see eye to eye
But I'm sure that we can get along
If we try
If you want to you can just walk away
But I hope you know apologies
Are okay
~!~
Kyle James Valenti hung up his phone and sat listening for the song Harlequin picked out. One part of his mind acknowledged that Harlequin's voice was damn sexy and he wondered if the face would match the voice. The other part of him was thinking about Lynn, whose real name was Jong Lei. He really was sorry for her embarrassment, and he wanted her to know that. He wondered if she would call him after the song and what he would actually do if she decided that she wanted to go out with him again.
Kyle knew he was good looking. He had what most people call, the All-American look. He wasn't quite 6 foot, but he was close to it, plus he had light blonde, slightly wavy, hair, blue eyes and a physique most men would kill for. He was solid and ripped without looking gross. Most of the women he knew said they could never resist his grin or his easy charm. His job as a physical therapist for the Chicago sports teams made him even more popular among men and women – he had access to any event and could take as many guests as he wanted.
He had been an All-American high school athlete in his hometown of Roswell, NM who had gotten a full scholarship to play football for the University of Illinois. His dad had been so proud that he gave up his position as sheriff of Roswell to move to Chicago, just so he could watch his son's games. His father was able to get a job as a deputy sheriff for the suburban town of Northbrook and still have time to attend Kyle's games.
Kyle's first three years were golden – he was the school's darling because of his arm and leadership on the field. He majored in physical therapy so that he would have something to fall back on if he ever needed to, but he never thought he'd need it. His fourth year started out as golden as the previous three and the scouts for the NFL were starting to come to his games more frequently. He would have made it to the pros, if he hadn't dislocated his shoulder and broken his collarbone.
Both Kyle and his father had been frustrated and disappointed that his football career was cut short. After the doctors told him he'd never play again, Kyle had felt lost and aimless, wondering about his future and his identity without his athlete title. He had started drinking heavily and one night he stumbled across a Buddhist temple. One of the attending monks had helped sober him up. He had ended up sticking around to talk with the monk about faith and his life. That one accidental visit led to several more visits and finally a commitment to follow Buddhism.
Following the Buddhist religion gave Kyle a sense of peace and answers to the tough questions, like what to do with his future. Looking through his life as an athlete, Kyle realized that a physical therapist was integral to a sports team and he could still remain in the sports field he loved so much. Kyle still had connections with the football team. So he took his degree and asked the team's therapist for an internship as his assistant. He was turned down, but the therapist referred him to another therapist who was looking for an assistant. Kyle got the job before discovering he'd be working with the Chicago Bears. It was a bittersweet moment for him, but he loved his job. He did so well as an intern, that the doctor offered him a full-time job, which he proudly accepted.
Now, four years later, he was the preferred physical therapist for all of Chicago's professional sports team. He had plenty of money, plenty of invites to parties, and plenty of women willing to throw themselves at him. For the past four years, he loved every minute of it. Then, this morning, his dad called and told him he had been seeing someone and wanted Kyle to meet her. She was special, someone that Jim could see marrying. Kyle had been stunned. Ever since his mother died when he was two, it had always been him and his dad, and now there was going to be a step-mom, maybe. It made Kyle stop and think. It made him realize how shallow his life had become and he didn't know how to change it.
~!~
He had enough. He had been listening to Harlequin tonight and her voice sent shivers down his back. It made him think about her and her voice. Two years and he still shivered at the memory of her voice. And he still had no clue where to start looking for her. He had gone to the one place he knew she had been, but it left him even more frustrated. Sears Tower had over 100 floors and he had no clue as to which floor she worked on or even what she looked like. The only clue that he had was her name, sort of. He knew it started with 'Li'. It could be any one of any name starting with L. He remembered he had nicknamed her 'Lily' because she hadn't been able to get her full name out.
Two years and he still remembered every word they exchanged, every minute they spent - she haunted him. There was something about her voice that stirred something in him, made him ache with shared loneliness. He wanted nothing more than to see her face, to learn if she was as beautiful in person as she was in intellect. Could one fall in love with someone's voice – was that possible?
He sighed as lay down on his bed and replayed their conversation…
5: FEAR
The heavy air floated in off the lake, turning the warm night into a sticky humid furnace. The bright stars that shone so bright were soon covered in dark menacing clouds and thunder could be heard in the distance.
But she didn't know. Instead she worked hard at the transcripts in front of her. She didn't notice the people quickly leaving the building at 5:00PM sharp, or the shutting off of lights as the cleaning crew finished up at 11. Nothing broke her intense concentration until the lights started to flicker.
She looked up, annoyed at the break and her eye caught the time. She had to go.
The lights flickered again. Her stomach clenched and her heart started racing.
Panic. Fear. Dread. They filled her stomach as she ran for the elevator.
The doors slid shut.
It was quiet.
Sublevel 3
Sublevel 2
Sublevel...
The lights flickered.
The elevator jerked.
The lights flickered on.
Off
On
Off
On
Off
Off
Why the hell wouldn't they come back on again?!?
No movement. No sound.
Don't panic
Don't think about the dark
Don't think about falling
Don't think about the silence.
Don't think.
Don't panic
Don't think
Don't panic
Breath
Why is it so hot? So quiet.
No air. Water.
Breath! All that water!
Think!
Get out! No – the water!
Think...phone!
Phone!?!?
Elevator phone. Yes. Him
Emergency. Him.
Hello?!?
Help!!!
~!~
She came awake gasping for air, heart racing. She stared with wide eyes around her room, barely making out the familiar objects and shapes. She was safe. She was always safe whenever she heard his voice. Him.
She concentrated on remembering his voice, letting his warm deep tones wrap her in safety. She fell asleep thinking of him.