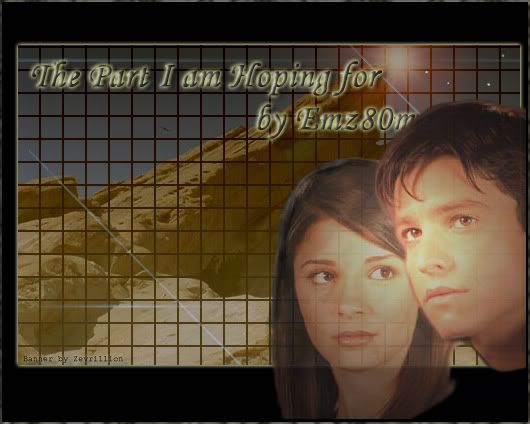 Thanx to Zevrillion for the wonderful banner
Title: The Part I'm Hoping For
Category: AU M/L
Disclaimer: I don't own Roswell or any of its characters I'm just borrowing.
Rating: ADULT
Authors Note: This is the third installment of "Future Series" and you can read
"To Save Our World" and "I'm Coming For You", but you don't have to read those to understand this.

Summery: It's a new Roswell with no shooting. What will happen in the lives of Dream couple and the Pod Squad.
Part 1
A young Liz Parker looked up from her conversation with Max Evans her eyes seeking out something beyond the windows.
"Are you ok?" Max asked her startled by her abrupt mood change.
With one last long look and deciding that there was nothing there Liz looked back down at Max and smiled "Yeah I'm sorry I just got the strangest feeling that someone was watching us. It was weird it felt familiar"" she explained.
"Lizzie is everything ok?" Jeff Parker rushed towards his daughter.
Liz was forced to take her eyes away from the beautiful amber one's of Max Evans to meet her fathers. This was the most she had ever heard him say at one time, especially to her and she silently cursed her father for interrupting them.
"Everything is fine Daddy" she assured him.
"What happened I heard yelling from upstairs?"
"It was just a couple of men having an argument" she assured him.
"So everything is ok?" he asked again.
"Yes" she nodded "they left".
He watched his daughter for a few seconds before nodding and heading back the way he came.
Liz turned back to Max then "can I get you something else?" she asked.
"Um no that's fine" he shook his head and she noticed sadly that he was once again diverting his eyes from hers when he spoke to her.
"I'll have another drink," Michael Guerin grunted. For the first time since Max had touched her Liz remembered that Michael was seated across from Max and felt her face flush with embarrassment.
"Um sure, Michael" she replied.
She rushed off then towards the drink machine "ok what was that all about?" Maria Deluca her best friend asked.
Liz sighed "Nothing"
"It certainly didn't look like nothing, it looked as though Max Evans took your hand and started a conversation with you" Maria pointed out.
Liz once again felt herself blush "well yeah he did" she smiled.
"I told you chica and by the way he's staring at you again" she grinned.
Maria watched in amusement as Liz tried to turn her head discreetly to see if he was in fact looking at her like her best friend continuously claimed. She decided at the last minute though that discreet wasn't going to work so instead she whirled around as quickly as she could and when she looked over she found Max Evans quickly averting his head and smiled.
"I told you so" Maria sing songed as she walked of with a grin.
"There you go Michael" Liz said as she placed the drink in front of Michael he grunted in reply.
"Thanks Liz" Max said for him.
Liz flashed him a brilliant smile "Your welcome are you sure I cant get you anything else?" Max found Liz's smile contagious and felt the corners of his own mouth lifting.
He found himself picking up the menu again, looking for an excuse so that he could stay in the Crashdown longer and keep Liz near him longer. "Um yeah maybe some…"
The bells above the Crashdown rang then and Kyle Valenti came rushing through "Liz" he called out.
Max and Liz both looked towards the voice and Liz could have sworn that she saw Max's face fall. Kyle walked straight towards her and pulled her to him for a kiss. Liz found herself struggling against him "Kyle" she objected using a hand on his chest to push him away.
"What's wrong?" he asked.
Liz frowned and turned back towards Max and Michael. Max was playing with his keys his eyes focused on the table and Michael was looking up at her scowling. "I'm sorry about that, what were you going to say Max?"
Max reluctantly lifted his eyes "Um no that's fine Liz I think we'll just get the bill" he said quietly.
Liz frowned and cursed Kyle and his timing for ruining the moment. "Ok" she told him and without another word she stalked off towards the back of the Crashdown more than aware of the fact that Kyle was following her.
"What the hell was that?" she demanded in a strong whisper.
"What!" Kyle replied "cant I kiss my girl hello?" he asked.
Kyle wasn't stupid he knew that a lot of guys at school noticed Liz and one of those guys was Max Evans. Kyle saw the way Max looked at his girlfriend and he didn't like it but as far as he was concerned he wasn't competition that was until today. He had been out the front with a few of his mates and had caught sight of Liz smiling and chatting with Evans. He hadn't planned on even coming in but had changed his mind when he saw that.
"No" Liz bit out angrily.
"No?" Kyle asked shocked.
"No, you cannot come into this restaurant, whilst I am working and most importantly whilst I'm serving a customer and kiss me" she told him.
Kyle sighed, she was right "Your right I'm sorry but it was only Evans and Guerin" he said.
"I don't care who it was don't ever try it again, Kyle" she told him before stalking away to organise Max's bill for him.
Kyle felt his anger flare and stalked out of the restaurant, he had never seen Liz behave this way before and he blamed the entire thing on Max Evans.
Max and Michael stood up and made their way over to the till.
"Oh here you go" Liz smiled handing him the bill. "I didn't charge you for the last drink it's on the house" she explained.
"You don't have to do that" Max argued.
"No it's the least I can do, consider it my way of apologising. Kyle was completely rude and I don't want you to think," she started to ramble.
"It's fine don't worry about it" Michael interrupted her. She was starting to ramble on like that Deluca chick and he just wanted to shut her up.
Max handed her some notes, which included a generous tip, and him and Michael left the café.
***
"What was the go with Valenti this afternoon?" Maria asked Liz. They had finally closed the café for the night and were now enjoying some much-deserved ice cream whilst sitting in a booth.
"I don't know but believe me I gave him what for" she replied.
"Liz sweetie, seriously why are you dating the guy?" Maria asked.
Liz looked at her friend seriously "I don't know I mean he's nice and he's always treated me well" she shrugged.
"Yeah but Liz you don't like him" Maria laughed.
"What! Of course I do" Liz objected.
"Oh chica you can't lie to me. Kyle Valenti might buy it and Max Evans might be too blind to notice but you were flirting up a storm this afternoon"
"I was not" Liz objected.
"Oh so I didn't hear you giggling and see you smiling and batting your pretty little eye lashes at him?" Maria raised her eyebrow.
Liz felt her face flush "no" she said.
"Oh liar" Maria laughed and soon Liz joined her.
"Ok so I might have been flirting a little bit" she admitted "but it's not like he noticed" she sighed then.
"Chica do you want some advice?" Maria asked.
"Sure" Liz nodded putting down her spoon so she could give Maria her full attention.
"Dump Kyle and put yourself out there. Ask him out" she told her.
"I don't know" Liz said.
"You can't just settle for Kyle if you do you'll always wonder" Maria baited her.
"Your right I definitely should break up with Kyle" she agreed.
"Yep, like tomorrow" Maria encouraged.
"Your right" Liz sighed already dreading the conversation she would have to have with Kyle. It wasn't like they had been together very long or even had anything serious. They had hooked up over the summer and until today she wasn't even sure if they were going to continue their relationship.
***
Liz carefully dressed the next morning remembering that she had Biology first up and that her and Max was paired as lab partners.
When she reached the classroom she found Max was already there and smiled when he looked up and she caught his eye.
"Hi" she smiled.
"Hey Liz" he said quietly.
"So how are you?" she asked.
"Um good, you?" he asked.
Liz watched in amusement as Max's ears reddened she finally decided that Maria was right and that maybe Max did notice her a little after all.
"You know I don't bite," she laughed.
"Sorry?" Max asked raising his eyes to her for the first time since she entered the room.
Liz leaned in closer "I said I don't bite" she repeated.
"Um oh yeah I know that" he mumbled.
"Good" she smiled.
Any further conversation ended then when Mr Seligman walked into the classroom and started the class.
Liz packed up slowly at the end of the class hoping that maybe she would be able to talk to Max.
"So I'll see you this afternoon?" she found herself asking.
"This afternoon?" he asked a little confused.
"Yeah at the Crashdown?" she asked "we have a special on the blue moon burger" she said.
"Yeah?" he smiled slightly. He couldn't believe that Liz Parker was talking to him as though he was a friend.
"Yep five ninety-nine for a burger, Saturn rings and a cherry coke" she told him.
"Well I can't miss a deal like that," he said as they started walking side by side down the hall.
"No definitely not" she agreed.
"So should I keep your booth for you?" she asked.
"Um yeah that would be good" he replied scratching his ear nervously. He wasn't very experienced with girls but he got the feeling that Liz Parker was flirting with him.
"Liz" they both stopped and turned to find Kyle rushing down the hall towards them. One look at Max and Kyle immediately frowned.
"I'll see you this afternoon" Max said and quickly fled.
"Bye" she said but Max had taken off so quickly that she doubted he had heard her.
"Hi" Kyle smiled when he finally reached her.
"Hi" she replied. Kyle leant forward to give her a kiss but Liz saw it coming and took a step back.
"What's wrong?" he asked his frown deepening.
"Nothing. Listen I was hoping that I could talk to you this afternoon?" she asked.
"Um yeah I guess, what time?" he asked. He didn't like the sound of this anymore that he liked the fact that for the second time in two days he had found his girlfriend being very friendly with Max Evans.
"Well I have to work so maybe you could give me a ride and we'll talk before my shift starts," she suggested.
"Sure" he smiled.
The warning bell rang out then so Liz took a few steps back "see you then" she told him.
"Yeah sure" Kyle nodded and then watched with a frown as Liz ran off down the hallways.
[/i]TBC....... I dont really have a posting schedule for this, but i probably wont post as often as i have been with my other fics