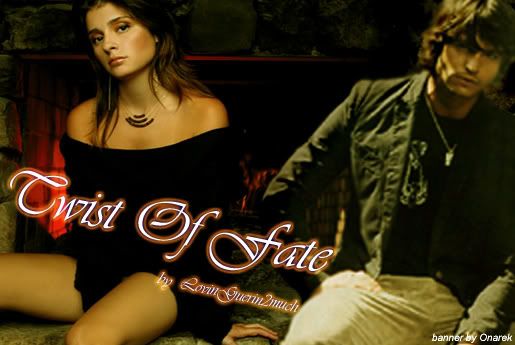 **Thanks to Onarek for the
beautiful
banner **
Title:
Twist Of Fate
Author:
LovinGuerin2much (Dont let the name fool you, I'm a rare mix of Stargazer/Candy/Dreamer)
Rating
Mature
Couplings:
M/L- CC - A/U-
ALIENS
Disclaimer:
Dont own anything.

Summary:
Max Evans is a orphan that was not adopted by the Evans.
Liz Parker is the daughter of a VERY rich and powerful business man. (Jeff Parker)
This fic is about finding what you never knew you wanted, and how a simple event can change your life...
Authors Note:
Im having a awsome time writing this, and actually have been too scared to post it.. LOL.. so hope you guys enjoy it, Feedback is a wonderful thing, so please feel free to tell me what you think..

Special thanks to Crashdown_51, and IceQueen for there awesome support and endless patience.
<center>

Part 1

</center>
As Max Evans finished clearing up the bar, he walked over and began picking up his tips from one of the many tables inside the Windom Inn Hotel; He rolled his shoulders and neck as he headed back towards the employee kitchen area.
It had been a tiring night; he rolled his eyes as he remembered the countless times that his ass had gotten a pinch or a caress from women of all ages. He waitered for parties as a side job for when he wasn't writing.
His passion was to be a novelist, to create worlds where he could escape what he was, what he couldn't change no matter how many cities he lived in or how many times he just picked up and moved to another state.
His last move was the biggest yet. He had moved from New York City to the beautiful island of Hawaii. There was no family that would miss him he was alone and he always thought "Why stay in one place, might as well see the world and travel."
He untied the black apron from around his waist and placed it on a hook in the kitchen closet. He pushed back the long black hair that seemed to cover his eyes at all times as he grabbed his back pack and headed out towards the entrance/exit for employees.
It was a beautiful night he thought as he decided to take a quick walk on the beach before going home. He stood there staring up at the midnight blue sky and wondered if one of those stars was the planet that he came from. He had asked himself that so many times.
It was so hard knowing that you were different, that you weren't even human. He knew he was different since the time when he was 5 years old and one of the many foster parents that he would have over the years told him that he couldn't save his dog that had been ran over by a truck as it tried to follow him to school.
They shook there heads and laughed at him as he told them that he could save Skippy "Max your going to be late for school." And pushed him out the door as they ignored what he had said.
He didn't listen to them that day, he slowly crept around the house to where his foster dad had laid Skippy down, he wasn't moving, he wasn't even breathing, Max didn't know this though at the time. All the five year old little boy could think was he needed to help his only friend, he ran his little hands over the dog's body. He didn't know what he was doing, but it was almost second nature, his hands emitted a soft white light as the open cuts on Skippy's body began to merge and close and his little furry tail began to wiggle in delight at having his owner so near.
Max sat back on his heals and smiled as he watched Skippy get up and run away. He didn't know how he did it, but it worked and he wasn't going to be alone anymore he thought with a smile as he dusted off his hands and began the walk to school.
Max was brought back to the present when he heard someone shout. He turned his head and could see a bonfire that was set up partially covered by a sand dune not too far away from where he was standing. He smiled as he thought that it was young lovers sharing a night on the beach, lost in love, happy, carefree.
He began to head back to the hotel to get in his jeep and drive home to his apartment when he heard something again. This time a very clear and evident "NOOO"
Max didn't think twice as he broke out in a run towards the dunes and didn't stop until he was staring down at a young couple. He felt disgust course through his body.
Lying in front of him was a blond haired man around his age, and underneath him was the most beautiful girl that he had ever seen. The man was holding both of her arms over her head with one hand and the other was covering her mouth as he laid between her legs. The women's brown eyes were wide with terror and he could see that her skirt had been ripped along the thigh.
Max reached over and grabbed the guy by the shirt. He felt a current of energy zap from his fingertips into the mans neck. He felt stronger then he ever had in his life, the mans weight not even effecting him as he threw him off oh her and against a palm tree trunk.
The women instantly jumped up and wrapped her arms around his waist. He could feel the tremors coursing through her body as she quietly sobbed into his chest.
He turned his head as he looked over at the man that he had thrown off her passed out under the tree. Maybe he had used to much force when he threw him he thought.
Max ran his hands down the women's back as he tried to soothe her, poor thing, he thought as he laid his chin on the top of her head and murmured" Its going to be all right, everything is fine, don't cry, don't cry." Over and over again in a soothing voice.
Liz couldn't believe what the hell just happened. How could this happen to me?" she thought as she squeezed the stranger even harder around the waist "If it weren't for him, I would have been raped!" she kept thinking, anger settling in her stomach as some of the fear subsided.
She broke apart from the man that had saved her and looked up into the amber colored eyes of the most gorgeous man she had ever seen. She suddenly felt very exposed as she grabbed her blouse and tried to life the ripped collar up to her neck and tried to cover her bra as she looked down.
Max felt anger well up in his chest as he saw a big red mark on her arm and a cut trickling blood down her hand. He slowly ran his hand down her arm starting from her shoulder finishing his caress at her fingertips as he hid the fact that he was taking the pain and healing the small cut on her arm.
"Are you all right?" He asked as he released her arm and then took off his jean jacket and placing it around her shoulders.
Liz looked back up at him and said in a whisper "Thank you for your help." As she looked over her shoulder to where her date was still lying.
"I had no idea that he could do something like this." She said as she hugged her body with both arms.
"No problem I'm glad that I could help." Max said feeling a little awkward and stupid for feeling the urge to once again wrap this petite woman in his arms.
Liz felt the need to explain to the stranger that had saved her that this date had been set up by her father, that he had said "He's a decent boy Lizzie, it wouldn't hurt to be seen with him, plus his father and I have several business deals together, do this for me." Liz could remember now the determined look on his face as he said all this.
"Um he's not my boyfriend." Liz blurted out as she looked down at her feet.
Max bit his bottom lip as he said in almost a whisper. "Its ok you don't have to explain it's not your fault."
Liz looked up at him and thought again "Wow he's so sweet, I wish that I could have met him under different circumstances."
Max cleared his throat and said "Would you like me to walk you somewhere is there anything I can do?" as he stuck both hands in his pant pockets.
"No you've done enough, I'm going to go over to the hotel and call for a ride but there's one thing that I do want to do." She said as she went back to where they had been laying.
He watched her as she bent over and began to look through a jacket that was lying on top of the blanket. He noticed the way that her long brown hair was being carried away with the wind. He looked away not wanting her to notice that he was staring at her. He didn't want to make her uncomfortable in any way.
"Aha I got it." She said as she straightened up and held a set of keys in her hand with a huge smile on her face.
Max looked at her with a look of confusion as he thought "I thought she was going to call someone for a ride back at the hotel."
He watched her walk down to the beach her feet in the water as she threw the set of keys with all her might into the ocean. She then turned around with a very satisfied smile on her face.
Max had to laugh, she looked adorable with a big smile on her face. He said to her in a playful manner, "I'd hate to piss you off."
"Well he deserved that and more." Liz said as she picked up her purse and began walking towards him.
"I was just kidding he does deserve that, good job you have quite a throwing arm." He said as he began to walk up the stairs leading to the board walk.
"Thanks, softball champions of Valley High 2 year's straight." She said as she looked back one last time with a look of anger towards Sean , she noticed that he had woken up and was now holding his head with both hands.
"So you're from California?" he asked as he waved to one of valets from the hotel.
"Yes I was born there." Was all Liz said.
"Oh well here we are here, take care." Max said as he ran a hand through his jet black hair.
"Thank you again, I don't know what I would have done if you hadn't came along." Liz said earnestly as she felt a pang in her stomach at not seeing him again.
Max then outstretched his hand to her and said "I'm Max Evans by the way."
Liz looked down at his hand and thought "His hands look so gentle." She then realized that she hadn't offered him her hand and hurriedly placed her palm in his and said "I'm Liz Parker."
Max felt a tingling run up his arms he also felt energy radiating from his palm, he hurriedly stuck his hand in pocket while he thought "What the hell was that?"
Liz smiled and said thanks once again as a bellhop opened the hotel doors for her and she made her way inside to the reception desk without looking back.
Max quickly made his way to his jeep and drove home lost in thought, thinking about how much he regretted having to have met Liz that way. He wanted to ask her out for coffee but hello how lame would that be, "Hi want to go for a coffee when you just got attacked by a piece of shit scum ball?"
Yeah that wouldn't work; he thought as he pulled into his parking space and grabbed his book bag off the passenger side seat.
He reached over and felt the back seat looking for his jacket when he realized that he had left it with Liz. I didn't like that jacket that much anyways he thought as the thought of Liz having something that belonged to him making him smile, "Why did that name seem so familiar?" he thought as he inserted the key into the lock and opened the door.
He strode into his apartment and flicked the light switch, his one bedroom loft style apartment lit up. He walked directly towards his computer desk and checked his email, he was anxiously waiting for a reply from a publishing house on the last short story he had written, he felt disappointment deep in his gut as he saw that he hadn't received any word yet.
He went and sat on a lazy boy recliner that he had gotten from a garage sale and stared out the window. Liz came to his mind again; he kept remembering the way she looked when he had thrown that jerk off of her.
"Damn it" he thought as he cracked his knuckles "I know that name, why do I know that name?" he kept asking himself.
He then lifted his hands up to his face and examined his palms. He thought about the way he had felt tonight, the tingling, and the currents of electricity that had coursed through him at the briefest touch of Liz's hand.
"Well I most likely will never see her again so I won't know why that happened to me." He thought as he got up and walked into his very masculine bedroom.
He unbuttoned the white long sleeve shirt that he was wearing and threw it into the dirty clothes hamper. He then unbuckled his black belt and slid his shoes off.
He stripped down to his white boxer briefs and laid down in his queen size bed. As he drifted into sleep the last thoughts that ran through his mind were of Liz, the moonlight caressing her face, the wind blowing her long hair. Little did Max know that while his thoughts were with Liz his hands once again began to light up and glow as a soft white light shot out from his finger tips.
Parker Manner:
Liz pulled out a 20 from her purse and handed it to the taxi cab driver that had dropped her off in front of her home.
As she walked up the marble stairs leading to the front door she was hoping that her father would be asleep, she didn't want to go over what happened tonight, the mere thought of Sean Deluca made her stomach roll in disgust.
As she quietly unlocked the front door she heard that the house was silent. The kitchen had been closed the maids had gone home and even the butler had retired she noticed as she crept up the stairs on the tips of her toes.
She made it to her room and as quietly as she could muster opened the door then flipped the lock. Her feet sunk into the deep white carpeting, as she made her way to her walk in closet and picked a pink silk robe from the rainbow of colored robes in her closet.
She then went to the bathroom that was adjoined to her walk in closet and turned the knob of her Jacuzzi size bath tub on and poured some strawberry scented bubble bath into the stream of hot water that came from the waterfall style spout.
"Max Evans" She thought as she stood in front of the mirror and began to take her shirt, off she realized then that she had Max's jacket on.
Embarrassment flooded through her, "Great he saved me then I go and steal his jacket "she thought as she took it off and put it on top of the sink. She then picked it back up and brought the jacket to her face.
She inhaled the most wonderful scent of man. It was strong but not over powering just like its owner she thought. She caught a glimpse of herself and shook her head at the reflection.
Half naked smelling a jacket. "If my dad could see me now." She thought with a smirk.
Perfect Elizabeth Parker, that's how her dad saw her, since her mother had died when she was only 4 years old she had became the apple of her father's eye. She had to be the best at everything and not disappoint him, she was a Parker and Parkers had an image to uphold, she could hear her fathering saying those words to her now.
Liz finished undressing and laid in the marble bathtub with a bath pillow behind her head, she couldn't help but think of what happened as a tear slowly ran down her cheek as she replayed what happened in her mind as she closed her eyes.

Earlier that evening at the beach:
"You really didn't have to go through all this trouble Sean." Liz said as she observed the blanket and min-bonfire that Sean had lead her to on the beach.
"Anything for you Liz, you have no idea how many times I have asked your father about you, just last week at the share holders meeting I asked him all sorts of questions." Sean said as he grabbed Liz's hand and helped her sit on the blanket.
Liz tried not to grimace as he sat a little closer to her then she would have liked, but this is her fathers friend, she cant be rude, he'd have a kanipshin she thought as she tried to grin and bear Sean Deluca for a least another hour.
Sean grabbed 2 champagne flutes and filled Liz's to the brim. He then handed her the glass.
"I don't drink Sean, but thanks anyways." Liz said as she handed back the glass to Sean.
"Oh come on what's one little drink?" Sean asked as he thought, "Come one prissy one glass might loosen you up."
"No really thanks, I don't want any." Liz said again a little more forcefully as she turned her head and noticed that there wasn't a single person on the beach.
It felt almost eerie with only the occasional light from the moon that broke through the clouds, goosebumps covered her arms.
"Liz come on please, just drink one glass with me, I don't want to feel like an alcoholic here drinking alone, I mean really what would people think? Sean asked as he tried to look earnest and sincere.
Liz rolled her eyes and brought the glass up to her lips and pretended that she had taken a sip. "Anything to shut this guy up." She thought he hadn't stopped talking about himself all night long.
"That's more like it baby, so is there anything else that you would like to know about me?" Sean asked as he scooted closer to Liz.
"Umm jee not anything that I can think of." Liz said as she glanced at her Rolex and saw that it was getting late.
Sean noticed this and lifted one eyebrow in surprise as he thought "What is this bitch's problem?, the frosty little Liz Parker thought that she was too good for him or something."
Liz felt Sean's arm wrap around her waist and immediately scooted over to get away from his touch as she said " It's getting late I'd like to go home now."
"Oh come on, it's not even 12 yet, is it past your bed time?" he asked as he brought his hand up to her hair and twisted a strand around his finger.
"Well actually if you really want to know, I don't want to be here with you." Liz said as she went to get up. "I'll walk home if I have to" she thought.
Sean then grabbed her by both shoulders and threw all his weight on top of Liz as he pressed her back into the sand.
Liz felt fear trickle down her body as she screamed "Get off of me."
"No, I didn't go through all this trouble for you to act like a little bitch, I want to fool around" he said as he grabbed both of her arms and lift them over her head.
Liz was in shock, she couldn't believe that this was really happening to her.
She prayed at that moment that someone would see them, she continued to try to push him off of her, knee him in the groin anything but he had laid between her legs and was laying on top of her.
She was screaming for him to get off oh her as he then went and covered her mouth with one hand. He then grabbed the collar of her blouse and ripped it down to her navel. Liz did the only thing she could think of and bit his hand as hard as she could," he'll uncover my mouth" she thought "then I can scream for help again."
Her plan worked, the second that she bit him Sean released his grip on his the hand that was covering her mouth and she let out the deepest most blood curling scream that her vocal chords would allow before Sean roughly covered her mouth again and said " Ok this is going to be fun now, you want it rough."
Seconds later was when she felt him lift off of her and standing before here was Max, with his long black hair, and beautiful colored eyes that felt as if he was looking into her soul.
Liz opened her eyes at this point and stared down at her naked body. Her nipples had tightened into little pink nubs and her groin had gotten moist at the thought of him. Her cheeks turned pink as she felt heat course through her body.
"What the hell is wrong with me?" she asked herself as she sat up and turned the water off.
"Maybe I hit my head tonight or something" she thought as she thoroughly scrubbed her body and arms with a bar of soap, as if by doing this she could erase Sean's touch.
Liz shivered as she realized that the water had turned cold, she got up and dried herself off and put on her pink silk night gown. She climbed up on her mahogany 4 poster bed and crawled under the white down comforter and grabbed a pillow and squeezed it to her body tight.
"I'm not going to cry, it's over, and your fine." She kept telling herself, as she felt her body tremble. A mental picture of Max went through her mind again as she laid there and she smiled and instantly felt so comfortable and safe. Her last thoughts before she drifted off to sleep where of Max the man that had saved her and then acted like it was no big deal and had also comforted a women that he didn't even know. I have to find him somehow she thought once more before exhaustion took over and Liz slept.
TBC