I know, it's Halloween but if I want this to end at Christmas I have to start now...this is my second sci fi piece of fluff so don't expect any great big angsty stuff, it's me folks. It's who I am.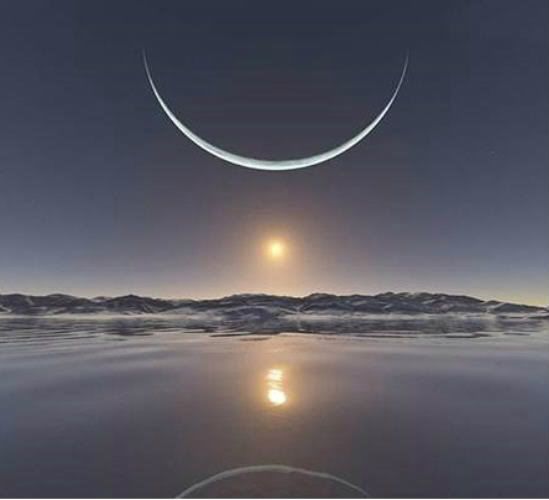 I don't know who to give credit to for this photo, I copied it from the internet so thank you to anonymous! It was the inspiration for my little fic.
Title: Another Christmas Story
Summary: What happens when Santa has a problem with a sick reindeer a few weeks before Christmas and a couple of meddling fathers light years apart try to play match maker?
Category: A little bit adult somewhere: M/L
Disclaimer: I have absolutely nothing to do with the show Roswell or any of its constituents. I use the names of the characters simply because I like them.
*****
The weather station was nestled deep in the Alaskan wilderness and Max Evans was the only person within hundreds of miles of anywhere with absolutely no contact to the outside world except for his computer, his TV that was hooked to a satellite dish and some DVDs for entertainment. Sometimes he wished he had never signed up for this miserable lonely assignment but when his relationship with his longtime sweetheart fell apart he felt it was just what he needed to take his mind off the rejection when she refused his proposal. He never dreamed that his best friend would move in on his girl while he was out to sea.
He and she had sort of made plans before he had ever enlisted and to say that he was shocked was an understatement.
It all started at the end of their senior year of high school…Max had a baseball scholarship but he still needed to have money for expenses since the scholarship only covered 50% of his tuition. His room and board and any other expenses were up to him and since his father's illness was taking every spare dime the family had Max was basically on his own so Tess was going to move on to Boston college and get her Bachelor's degree in business while Max would accept an appointment to Annapolis and get his degree in meteorology. He would, of course, still be in the navy but that was understood before he ever left.
After they achieved their goals and were home for the holidays Max proposed. It was then that Tess informed him that she had made other plans and when Kyle showed up for Christmas dinner Max realized what had happened. When he got back to Annapolis he signed up for the weather station duty in Alaska. His superiors were all shocked that the young man had chosen this duty but were also pleased to have someone of his caliber to take on the assignment. That was a year ago and, although Max could have a Christmas leave, he chose to stay on assignment due to the fact that he did not want to face his exes. I.e.: his ex-girlfriend and his ex-best friend. The fact that he chose to stay at the weather station had nothing to do with his family, who were very disappointed, but they understood.
*
Up at the North Pole old St. Nick had his elves all doing double time to get ready for his worldwide trip on Dec. 24th and on a planet far off in another Galaxy a young girl was bidding her parents goodbye and boarding her one man space ship for her novice trip around her universe. She had just received her astronaut's wings and had a degree in astrology from the most prestigious school on their planet. Her parents were extremely proud of their daughter and they would be expecting her back from her adventure in about three months Earth time. Elizabeth Parker waved her last good bye, gave her fellow Mehelbeths a wave and a great big smile, climbed aboard her space ship, and settled herself in for the long trip. She was in one of the happiest moods she had ever experienced. And in exactly ten minutes Liz Parker, Mehelbeth astronaut, took off on her virgin flight around the whirlwind galaxy.
*
Back on Earth Max Evans had just entered his hut after having taken a long walk around the area of the weather station and was removing his snow shoes when he heard a whimpering at the side of the building. He went back to the door and looked out, saw nothing, but still heard the whimpering of an animal. He cautiously made his way toward the sound, dragging one boot lace behind him, and there he saw a wolf laying there in the snow and it was injured. Max wasn't too sure about approaching the animal but he felt sorry for the poor creature, besides he couldn't just let it lay there and die so he carefully lifted it up into his arms and carried it into the hut, laid it on a rug in front of his propane heater and fixed a bowl of warm water for it to drink. The animal was too injured to be afraid of Max although it didn't take its eyes off him either.
Max gingerly moved his hands over the animal looking for some clue as to its injury and after some investigating he discovered that the animal had a very bad tear in his belly right next to his right leg. The blood had frozen to the animals body and Max decided to cleanse the wound, and then stitch it up. Then he bathed the animal in warm water and the wolf made no indication that it would hurt Max in any way and soon the two became comfortable with each other, in a cautious sort of way on both parts.
After Max had done all he could to help the animal he opened a can of beef stew, which Max thought looked and smelled like dog food anyway, and set it down next to the wolf and watched the animal slowly lift its head. The wolf looked at Max cautiously as he started to slowly eat at the food Max had given him, making sure Max didn't make any sudden moves. Max was going to have to ration his food for the next week until his next supply drop but he would be sure to tell the supply sergeant that he would need some dog food until further notice due to his new live in companion. He looked over at the wolf as it lay there quietly and decided to call him Shadow. He was a gray color and he reminded Max of a shadow so that's what he called him. The wolf seemed more like Max's childhood dog than he did a wild animal.
*
Meanwhile, up at the North Pole Santa Claus was busily grooming his eight reindeer and painting the sleigh to get everything ready for his long journey when his chief weather watcher, Poster, came running out to the stables to find the jolly old man who had spent an eternity, year in and year out, watching the inhabitants of the world and trying to bring happiness to all. This old elf had the latest of technology known to man to help him with his job getting Santa safely around the world.
"What's up Poster? Have you discovered a new star for us?" Santa smiled as Poster looked concerned. Everything concerned Poster…
"Not a new star Santa but definitely something is out there flying around. I wouldn't swear to it but there is a starship or something and I believe it's in trouble."
"Come on Poster do you really believe that it's in trouble? Why?"
"It's sending off a signal, and although it is not of this earth I believe it's definitely an SOS or something. It is very erratic; it's weaving and circling like an out of control spinning top Santa. Honest, something is not right up there." And Poster pointed toward the sky.
Santa looked at his old friend and instructed him to keep a close watch…if he had to he would take the sleigh up and have a look but he didn't like to interfere with any of the planets and their explorations. It was not his forte after all.
*
Max Evans had been at his post for over four hours now and he felt the pangs of hunger finally getting the best of him. Shadow was resting comfortably near the propane stove; he seemed to be adjusting to Max's presence just as Max was to him. The animal had never made a sound as Max stitched up his badly torn belly, it definitely had to have been a bear. Max had started opening the door at regular intervals now and shadow would go out, relieve himself, and amble back in through the door that Max had left ajar.
Max was actually quite happy about his new roomie…the wolf was quite comforting and Max felt very comfortable telling the wolf all about his troubles, which really didn't seem to be so troubling lately. Shadow made his way over to the kitchen area and Max grinned…the wolf also knew where his next meal was coming from and patiently waited for Max to get up from his station and make his way to the kitchen as well. The supply plane had dropped a huge crate of supplies earlier that week and Max had managed to get everything unloaded and stashed quite efficiently as Shadow watched. The propane supply was as much appreciated as the gasoline for the compressor and the food.
"Well boy, do you think you would like some Purina or would you prefer Kibbles tonight? The sarge was very generous giving you choices; I sometime forget that the Marine Corps has dogs. Or I guess I could open some of this stew and share it with you if you'd like. What do you say?
Shadow just looked on as Max made his way around the kitchen, cleaning the dog dish the supply sergeant had sent and filling the pot he was using for a water bowl.
Max found that it was best to melt snow for the wolf rather than use his own water since he wasn't really that domesticated and didn't feel like sterilizing melted snow for his own use. He knew that it probably wouldn't hurt him to use the melted snow but he felt more comfortable boiling it first. Max put his trash in the receptacles provided for him and also empty water, gasoline and propane containers back onto the crate that had been dropped and the supply plane used a hook to retrieve the empties after it dropped the new supplies in by parachute. The system worked very well.
As Max continued to move around the station he noticed something happening on his computer screen and quickly moved over to have a closer look. He quickly typed in some commands and there before his eyes he saw something he wasn't ready to acknowledge, a space ship. If his calculations were correct the thing was about to land right on top of his head…he ran outside and looked up. There it was, landing…if you could call it that, right outside of his front door, his only door actually. He wasn't really sure just what to do but felt he should do something…he made his way to the V shaped space vehicle and started looking for something that resembled an entry and for the life of him he couldn't locate it.
After examining the craft for what seemed like an eternity there was a sudden whooshing sound and part of the craft lifted, steps were let down and a very young, very beautiful, female emerged looking very disoriented.