When Reality Sets In (AU,CC,M/L,ADULT) COMPLETE 12/11
Posted: Fri Jun 10, 2011 9:06 pm
Author: Roswell_Fan86
Title: When Reality Sets In
Couples: Definitely Dreamer-M/L, M/M, I/J & K/?
Disclaimer: These characters are not mine. They belong to the show.
Rating: Adult
Summary: This takes place after Baby it's you, but with a little bit of twist. Trust me total Dreamer insured!
A/N: I'm new to this writing thing, so don't kill me. THANK YOU MARY MARY FOR THE WONDERFUL BANNER!!!!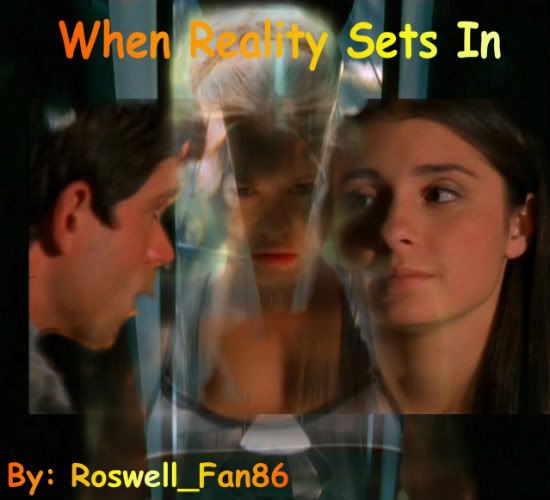 Ch. 1
Max stands starring up at the ladder that he's climbed many times before leading to Liz's balcony. He hadn't been up that ladder in a couple months now, he thought to himself but he knew he couldn't turn back now. Even though he knew Liz would be upset with him for invading her space he just had to talk to her, about
everything
he argued with himself. She had been avoiding him the past couple weeks and he knew exactly why. It hurt him to know that she wouldn't even look at him. How could everything end up so badly he asked himself? All he ever wanted was to be with Liz...and when they had been together it was a dream come true but then Tess came into town with all the destiny crap, it had ruined everything. It still bothered him how easily Liz ran from him but then again he gave her no reason to have faith in them...in him. She had every reason to want to run to Florida. When Liz got back though he had vowed they be together again. Of course Liz fought him every step of the way, even went as far as telling him in so many words she wanted nothing to do with him, pretty much that he disgusted her...went as far as trying to push him into the arms of Tess and then Kyle....no he wouldn't think of that. He knew everything now but at the same time he still couldn't figure out how exactly to tell Liz. He needed her to open up to him first, admit the truth to him about a few things.
Max slowly began his descent up the ladder. Taking a deep breather he saw her, she was sound asleep on her lawn chair with her journal laying on top of her. She had been crying. He couldn't blame her. The past few months had been torture on everyone but especially for Liz...for
him
. He thought to himself. They had reconnected in Las Vegas he thought, hell they even went to prom together but that ended badly. He shook the thought out of his head, he knew the truth he kept telling himself. He just had to remember that, but sadly some things couldn't be fixed, Alex, he thought sadly to himself. He was Liz's and Maria's best friend, his death rocked Roswell to it's core and sadly Max too had lost a great friend. Alex had risked his life to save him and he couldn't return the favor. Everyone took his death badly, the worst seemed to rear its ugly head out of everyone at the time. He didn't think things could get any worse between any of them. He nearly lost his sister and Michael during some ugly things that were said. Isabel of course had grown quite fond of Alex, Max knew she loved him and she never got a chance to tell him. Alex's death changed everything and everyone for that matter...Max shook that thought from his head too he couldn't think of that right now.
Max quietly walked over to where Liz was sleeping and sat down next to her, still deep in his own thoughts. He watched Liz sleep taking the time to think about the past few weeks.
-Flashback-
At the park-

Max sat there in complete silence as Tess spoke, "I'm not sure how to say this...but...I'm pregnant." Max looked at her shocked. 'Pregnant.' The blood ran from Max's face.

-End flashback-
Max sat there hating knowing how he had treated Liz after seeing her talking to Tess but he knew all that would be fixed if Lz let him explain things. He placed one hand on one side of her face, threading his fingers through her silky hair and his other hand on the other side of her face trying not to wake her. He wasn't sure if he was ready for her to know he was there. As he was careful not make the connection with her that he knew they shared he scanned her brain to check to make sure she was okay.
-Flashback-
-At Valenti's in Tess's Room-

"Max I'm keeping this baby." He heard Tess say as he sat the books down and stood up. "Thanks for the support." She mumbled.

Max touched her hand, "I said I'd support you." He told her with an unemotional even tone in his voice.

"Don't sound too excited." She snapped back.

Max was annoyed, "Hey! My whole life changed overnight...I think I earned the right to be freaked out a little!" He argued with her.

Tess glared at him, "And I'm not? Don't you think I'm flipping out..." Tess grabbed her stomach in pain. Max rushed by her side instantly.

"Max..."

"Tess what's wrong?" He asked concerned.

She gritted through the pain, "The baby, somethings wrong." She said as another jolt of pain went through her. Max didn't hesitate, at that moment he made a connection with the baby. He saw everything and just as quick the connection broke. "Max what is it? What's wrong?" She asked concerned sitting on the side of her bed. Max looked at her, trying to recover from what he saw.

-Flashback-
The next evening at Michael's Apartment:

"WHY WOULD SHE DO THIS TO US?!" Isabel yelled furiously at no one particular. Max was sitting next to her on the couch and Michael just stood there starring at the wall. None of them could believe what Max had told them. "Where is she Max?!"

"Isabel, I know your upset but I can't have you running off like this." Max said wrapping an arm around her.

Isabel just shrugged his arm off and buried her face in her hands. He knew she was upset. But he was glad he could get Michael and Isabel to remember everything. "I don't understand, why would she do this to us?" She asked again.

Michael spoke with venom in his voice, "Because she doesn't care about anything but herself and that damn destiny shit. Damn it!" He yelled turning his back to Isabel and Max as he slammed his hand down on the counter in anger. "I could kill her now." He said furiously. "I swear if Maria or any of them..."

"It will be okay Michael, they won't be." Max said to him, trying to convince himself more then Michael. "When will they be here?"

Michael turned around to face Max, "Maria said she'd be here in about 10 minutes, she was picking Kyle up but Max..."

"What?" He asked him confused.

"Maria said Liz refused to come. She didn't feel the need to any more." Michael said calmly. How could he blame her with the hell she's been through, Michael thought to himself.

Max nodded, "Its fine..."

"Max!" Isabel said startled.

Max shook his head, "Its okay Isabel, I'll talk to Liz..." Isabel nodded. "Besides I think I need to talk to her alone anyways." He added. Just then Maria and Kyle walked through the door.

"What the hell Michael?" Maria huffed, "Why did you call me at 1130 at night and tell me to get Kyle and get our asses over here?! There better be an explanation for all this." She stated angrily glaring at Max.

"There is. It's about Tess." Max said calmly not to alert anyone.

Kyle looked confused, "Then where is she?" Everyone looked at each other. "Well?" Kyle demanded.

-Flashback-
A week later at the quarry

"So what the hell am I supposed to do Evans?" Kyle yelled angrily. "She's pregnant living in my house with me and my dad!"

"I know that..." Max said rubbing his temple.

Isabel looked at her brother sympathetically, "Kyle, Max made sure that you and your dad were safe from her powers, if she's trying anything, she's only thinking she's succeeding." Isabel explained, not that it calmed Kyle down anyway.

"What about Liz?" Maria asked concerned for her best friend. Michael squeezed Maria's shoulder trying to comfort her. "She won't come to any of 'our' meetings Max and if you get anywhere close to her she runs the opposite direction...maybe you should just let me tell her?"

Max shook his head, "No, Maria. I'm going to make sure Liz is ok, besides Tess is playing this pregnancy thing to her advantage, she won't risk getting caught by going after her."

Maria and Kyle looked confused, "Max told her that the baby was dying, that he couldn't survive here on Earth." Michael explained. All of them were exhausted but Max most of all he could tell, healing Maria and Kyle on top of his-self, Michael and Isabel he was drained and trying to fool Tess was a job in and of itself. "So, she thinks that me, Max and Isabel are looking for a way to get home."

"Home as in, up there?" Maria asked Michael pointing up to space.

Michael nodded, "She thinks we are trying to decipher the book."

Maria nodded in understanding, "Which we are." Isabel said.

"Uh why?" Kyle asked this time.

"Because, we want to send her back as soon as we can, once we get rid of her the threat to us all will be eliminated." Isabel told him. "I just wish there was..." She stopped herself seeing the pained look on Max's face.

"I can't believe the last few months..." Maria said hugging Michael closer to her. "I don't know what was real and what wasn't? How are we supposed to tell what she planted in our minds and what really happened?" She shuddered thinking of all the horrific nightmares she had been having lately.

"It will all start slowly coming back to you." Max said. "Like it has for the three of us."

"It will be okay Maria." Michael said reassuringly, "We'll get this all worked out." He promised her. The silence between them all was deafening. The looked at each other scared and confused.

Kyle broke the silence, he had to ask, "So what really happened to Alex?" Kyle said demanding to know the truth. He knew Tess had made him carry the body out making him think it was her bag. He got angry. How long had she been mind-wrapping him and his father? He asked himself. Thank god for Max. But he wouldn't let Max hear him say that.

-End of flashback-
"Max what are you doing here?" Liz asked slowly coming to. Startled she thought she had been dreaming but when she opened her eyes, she saw Max sitting on the edge of her chair just looking into space. Max turned startled from his thoughts. "Max, I asked you what you were doing here?" She said again this time getting a little upset.
"Liz...We need to talk." Was all Max said knowing she was about to be put through the ringer.