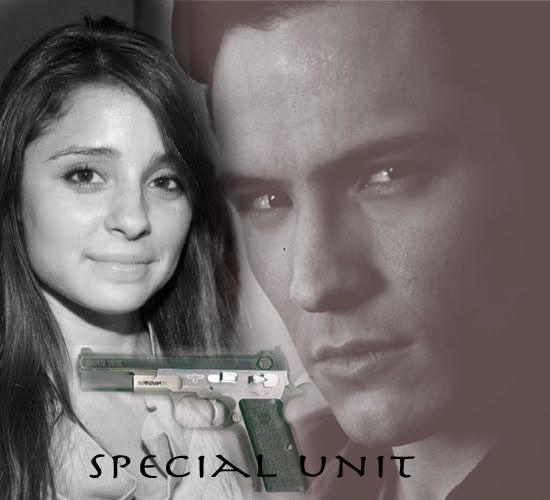 Title: Special Unit
author: ken_r AKA Kenneth Renouard
Genera: Au with aliens
Rating: Mature
Disclaimer: I do not claim any of these characters. They all belong to Roswell TV series.
Genera: Au with aliens
Couples: conventional
Summary: very similar to canon. Exceptions, Liz was shot at and the shot missed. Max always had a crush on Liz, but he never told her. Alex doesn't get killed. It is Maria who is the strong human with the aliens. Nasado has disappeared. Liz and Kyle have gone to college. After graduating, Kyle joined the FBI and was recruited into the Special Unit. Liz is now working on her doctorate and is a researcher for the FBI. She is lent to the Special Unit to find information regarding strange natures of the people in Roswell.
The Special Unit
Kyle came into the office a bit late on Monday morning. There was still a foul taste in his mouth from the weekend. It was that taste that even brushing couldn't completely get rid of. Darla, did she even have a last name? Of course, she did. Kyle just couldn't remember it. Yes, Darla had been a handful. Kyle was trying to remember if he could stick his head in the statistics office or not. How did they part company? There were two worries. First, did Kyle make promises that he had no intention of keeping. Second, had Kyle, in someway, angered her? That was a tough one. If he had made promises, then, Kyle would just have to ask for an extended field assignment. If he had angered her, that would mean that field data, when he needed, would be slow to the point that it might endanger him. Endangering Kyle, now that was not something that Kyle wanted to contemplate.
Kyle adjusted the bra type straps, which located his shoulder holster. The big Bren Ten semi-automatic pistol settled into a place that irritated him the least. Kyle was a slave to fashion. His fashion statement was Sonny Crocket from Miami Vice. There were only 1500 Brens ever made, but they did do a number at the front end. They would slice through a car door like it was butter. Of the 1500, you had to figure the movie set took three or four of them to butcher to use blanks, so, Kyle was lucky to get his before the Miami Vice fans and general gun collectors removed them from the market.
When Kyle arrived at his desk, he saw a thick envelope sitting there marked 'confidential.' Kyle breathed a sigh of relief. He wouldn't have to face the boss begging for a quick assignment. The brass was already tired of Kyle's many needs to get out of town quickly. Kyle was a good agent, but they worried more about an irate husband or jilted starlet than they did of a felon or even an alien getting him. Alien, that was right, Kyle was part of the Special Unit. The unit was fueled by the megalomania of their leader, Daniel Pierce. Maybe, Pierce had a point. Several agents, that he had risen through the ranks with, had been killed by the mysterious alien. They had caught the son-of a-bitch once and they had held him for sometime. In that time, they learned a lot. When he took out the three agents who were interrogating him, Pierce would always say, "Three good men," and escaped, the unit learned even more. The unit was well aware that these men had been considered to be strictly hard ball when it came to interrogation. If you thought hard on this, you might stir up feelings for the alien. That wouldn't do.
Pierce's predecessor had been on line when that author and nut job, Atherton, had been discovered. The body, with the silver handprints on the outside and the parboiled organs inside, had really set the special unit into high gear. Later, when the, then, director of the special unit was found internally boiled and wearing the silver handprint Pierce found himself the new Director.
It was at the start of the cold war and people were seeing green men and Russians behind every tree. At first, there was that territorial war with the fledging Air Force. At the time they first clashed, the Air Force didn't even exist, but was part of the army. September 18, 1947 the United States Air Force was born and the bureaucracy changed. The "Army" Air Force had been under a bunch of old generals who had just kicked the butt of the German Reich. They had made contingency plans to A-bomb half the rest of the world. What is the use of having them if you can't use them? They were the lions of the world. The special unit worked for the FBI and Hoover was a pompous ass in his own right. All you had to do was get his attention and direct him to the enemy, be they public criminals or even more criminal by being part of some other governmental organization, then let him go.
In the first part of July, 1947, a strange craft had crashed. The "Army" Air Force grabbed it and then, denied its existence. By brow beating all the witnesses they controlled, they announced that it was a weather balloon. The Army Air Force was changed and new generals put in charge that were not burdened with inflated egos as those of the army, The Special Unit was given the go ahead to tackle the problem of aliens.
The Special Unit had been in existence for sometime. They had massed a large amount of information. J. Egar Hoover was known to have something on everyone. He knew who you slept with last week and also, who your wife slept with. He knew of any indiscretion you might have made in college. With this leverage, the newly formed United States Air Force decided to cooperate with the Special Unit; not the FBI, but only the Special Unit. Investigation of civilians by military units is forbidden by law. The Posse Comitatus Act of 1878, (
http://en.wikipedia.org/wiki/Posse_Comitatus_Act
) so, cooperation gave the Special unit access to the material collected by the Air Force and the US Air force gained access to civilian investigation.
The Special Unit was buried so deep in the agency hierarchy that they had almost no oversight in their actions. People, being who they are, excesses were committed and threats given freely, to protect their activities. Now under Daniel Pierce, they were almost single mindedly going after what he was sure was a hot bed of aliens. It did not matter that several other leads called, "Hot Beds," had turned up nothing, Pierce was doggedly determined to find an alien coven somewhere. Maybe, even if he had to manufacture one.
Kyle was a good cop. He had received an education at Northwestern in Police Science and he had applied to the FBI. He was a shoo-in, but Kyle was also from Roswell. He received a message to talk to someone at an office that existed only on a piece of paper. Before he knew it, Kyle became the third generation of alien hunters, following his grandfather and father.
The pay was better than anything he had ever seen. The secretaries were ripe and always looking for a leg up in their promotions. You had to believe they knew how to use that leg or rather legs. What more could Kyle want. No one knew what he did for the bureau, so Kyle had a rich social life although one without much substance. At his age, Kyle did not mind that. Thus, the weekend with Darla. Darla had screwed him silly. They had done things that Kyle had never thought of and Kyle thought of sex constantly. Kyle, now, just hoped that in his absence, Darla would hook onto another ladder to climb her way up.
The letter was sending Kyle home, if he could still call Roswell home. His dad was still there, along with a step-sister, named Maria, if she was at home. Jim Valenti, having married Amy Deluca, Maria's mom, finally. Roswell also contained any number of lost promises that Kyle hoped had moved on or were willing to forgive and give it another try. Pierce was sure that there was alien influence somewhere there. Kyle thought privately, that the influence probably was at the UFO museum. But, Kyle could use a change of scenery, at least until Darla forgot many things.
Special Agent Elizabeth Parker was one of the Whiz kids the agency had picked up. She had graduated from every institution she attended with honors. Her undergraduate degrees were in Anthropology, Sociology and Biochemistry. Her Master's degree was in Molecular Biology and she was known to be working on her Doctorate. No one was sure of what the subject was. As a matter of fact, the title to the research she was doing was, "Probable Scenarios of First Contact."
Elizabeth thought of the bureau as a place where she could continue her studies in sociology. The agents she met were sure enough alien to the small town girl who just happened to be a genius. Liz received her letter also. She was being lent to a Special Unit because of her knowledge, expertise and coincidently, that she was from Roswell. Liz had no idea what the Special Unit was. Since she was being lent and not part of the unit, she would be flying blind for a while. This meant that her knowledge, expertise, and anything else she possessed, would be at the command of the Unit, that was Kyle. But, they would tell her only as much as they thought she needed to know at any one time.
When Kyle saw the name of his partner, he grinned. They had known each other in high school. They had even dated briefly. Their relationship was broken off when Kyle got to the third button of her blouse, one night and she had soundly slapped him. Liz walked home and Kyle suffered by only being able to go to "Tito's Taco stand," for the rest of his sophomore year and most of his junior year. Mr. Parker, standing in front of his "Crashdown" café with his meat clever in his hand, was enough, to make Kyle understand that he wasn't gonna make it with Parker's little girl.
Well, Kyle was sure that someone else, by now, had busted her cherry so, maybe, he could try again. He would be hunting aliens, but he also, had another target in sight. He would remove the stigma of the one who got away. All it took was charm.
Liz saw the name at the bottom of her letter. She wondered how Kyle had been getting along. She wondered if he was as abrupt as he had been in school. She had been in another department and had heard nothing from him or about him since high school. The letter just said, "To aid in the studies of alien populations." This could be anything from terrorists to illegal emigrants. Maybe, there would be something she could use in her research, giving her another step toward that doctorate.
The flight had been pleasant. Kyle talked about things from his college days soon
and news he had heard from Roswell. Liz was surprised that Kyle seemed to be a perfect gentleman.
Kyle thought, "Just play it cool. She is like a wild bird. Just do not panic her. It will just be a matter of time. When they arrived at the airport, Jeff Parker was there to meet them.
"Daddy," Liz cried as she threw her arms around her father. Jeff did spare a couple seconds to scowl at Kyle. Kyle almost thought that Jeff was trying to remember where he put his meat clever. Jeff was walking with a stout oak walking cane. Kyle wouldn't want to chance that cane either. Kyle smiled and nodded as Jim Valenti and his new wife, Amy, walked up and shook hands with their son. Kyle and Liz would be back together soon so they could plan their hunt. Kyle had been told what to tell her, at least in the first phase.
The next morning, Liz came down from her old room to the café, Waiting for her was one of her oldest friends, Maria. "Chica, how have you been? What have you been doing? How long will you be here?"
That was Maria, she gave you a list of questions and then you had to figure how to get a word in edge wise to give her answers. Before Liz could formulate any answers, Maria continued. "Meet Michael. We are friends."
Maria left it there. What did that loaded word, "friends" mean? We just know each other. We have coffee together. We are intense lovers and marriage is just a legal action. Liz extended her hand, "Hi Michael. I am glad to meet you."
Michael mumbled something and when he shook hands, Liz felt something, but she wasn't sure what. Michael stood up, "I gotta go, Babe." He bent down and kissed her. Then, he left.
"I hope I didn't run your friend off?" Liz said.
Maria laughed. "No, that is just Michael. I am used to that. He is a fire cracker in bed, but his manners need a little fine tuning."
Liz also laughed, "Don't they all need a little tuning?" she asked.
"What are you doing here, Chica?" Maria inquired.
"The bureau sent us here to do a study. It is confidential. I am here with your step-brother, Kyle," Liz stated.
"Oh, you and Kyle, then?" Maria asked as her eyes widened.
"No, Maria, nothing like that. I am just assigned to work with Kyle on this project. He has been a perfect gentleman. He hasn't brought up our past once," Liz said.
"Wel,l hold on to your panties, kido. You are one of the few that ever got away from Kyle. I am sure he wants to correct that someday. Kyle may be my step brother, but he can still be a first class ass sometimes," Maria said.
Liz spent the rest of the day visiting the various places and people she knew. Tomorrow, she would go to a store front Kyle had rented. They would use it for interviews and a place where they would have their files. He purchased two top of the line computers. The computers both were from something called Whitman Industries. The dealer had assured Kyle that the manufacturer was local if they had any trouble in the warranty period, that service techs could be there in a couple hours, 24/7. He purchased six cheaper ones that would just be for internet search.
That night, Maria was meeting with Michael and three others. "She said she was doing some research for the agency. That is all."
Maria was totally human. She had been a childhood friend of Liz Parker's. Maria was terribly street-smart and the group depended upon her to see situations for what they were. The more she felt pushed, the more she showed a calm, uncanny ability to see solutions and avenues of escape. In the last many years, the aliens had come to rely on her judgment. She was in love with Michael and though they fought without ceasing, they, in their way, were a stable couple.
"Yes, but we know that Kyle is working for the special unit. So, again, what is she doing here?" Isabel inquired.
Isabel was one of the alien women. Growing up she had developed a shell around herself in a chameleon-like fashion to project the image she thought would be the safest. In high school, she was the "It" girl. The family who had adopted her were fairly wealthy. They indulged her every wish. The man, who finally broke into the hard outer surface that was known as Isabel Evans, would be fortunate indeed. She was as sensuous as a courtesan, but this would be reserved for only one man. She was the brains of the aliens. It would be Isabel who would make the final decisions. She would, usually, make these decisions through Max who would give the final pronouncement.
"I didn't get any flashes when I shook hands with her," Michael stated.
Michael was the erratic one. He was very smart, both intellectually and street smart. His environment growing up was what cost him in creditability. It wasn't he, who was found by the Evans family. No, Michael was abandoned to travel most of his life through the foster care system. His powers had been slow to develop and even as an adult, he wasn't sure of them. He had met and learned about love from Maria. His brisk behavior towards her precipitated many of their arguments. To Maria, he opened his heart and soul to her as they made love. This made up for his other faults. Maria could experience back every pleasure she gave him as they indulged in love. It was a feedback as he, likewise, felt every feeling she had. Their climax was always the experience of mutual gratification.
Tess spoke up, "Michael, you are the least in control of your senses. It is a wonder you didn't spill everything about yourself instead of getting information."
Tess, like Michael, did not develop in a loving family. Tess had been found by one of the aliens right after he had been captured and managed to escape. He raised her with all the wiles of a conspirator and directed her toward joining her life with the king. From the day that the alien, Nasado found the other aliens in Roswell and presented Tess at the Roswell high school, Tess had been driven to mate with the king and produce an heir. The purpose of this heir was unimportant, but Nasado had created in Tess the single mindedness to pursue this quest. It had only been in the last few years that she, had, finally, almost given up. For all she could tell the king was gay. For all the interest she could build in him, he just might not even like girls.
They all turned to the other member of the group. "We just have to be on our guard while she is here. Let Maria and Alex get information for us. By the way, where is Alex?" Max asked.
Max was the king. He had been the object of Tess's adoration since she had seen him. Max watched out for Tess, but there was just no feeling in his soul for her. Max had more care for Isabel, though he believed her to be his sister, as they had been raised by the Evans family together. Tess was just someone Max felt he could never hook up with. All of the aliens were relieved when Tess seemed to become resolved that she was not to be the consort of the king. Among the four aliens, Max was the dreamer. He was bright, but he relied on Isabel to find directions to travel. He was strong and very good with his own powers, but he relied on Michael to be his soldier.
"He said he would be late. He had a business deal to finish. He will be here," Isabel explained.
Maria usually was bouncy and bubbly. She was a tinted blond with light brown eyes. Her hair was medium cut and she had had it curled. Tess was a grim-faced girl. She could be charming when she wanted, but the group, as a whole, considered her a pain. She had her hair bleached very light, but it went well with her blue eyes. She was a petite women with a very good figure and she could flaunt her charms when she wanted. The last woman of the group was Isabel. She was also blonde, giving rise to the saying that they all thought that blondes had more fun. She was taller than Tess or Maria. She had a body that she knew how to use. Her soft brown eyes could be as gentle as a doe or as hard as stone, depending on her moods. Her brother, Max, was dark and morose. He seldom smiled. There was something that he was always looking for and never finding. For a while, Tess had tried to make what Max sought, herself. She was too difficult for the king to handle. Maybe, he had been married to her in that life before, but now, Max knew there were more choices. The trouble was, Max's choice was made in high school and she never knew it. She had gone on with her life never giving Max a thought. Max would always be in love with Liz Parker.