Traitor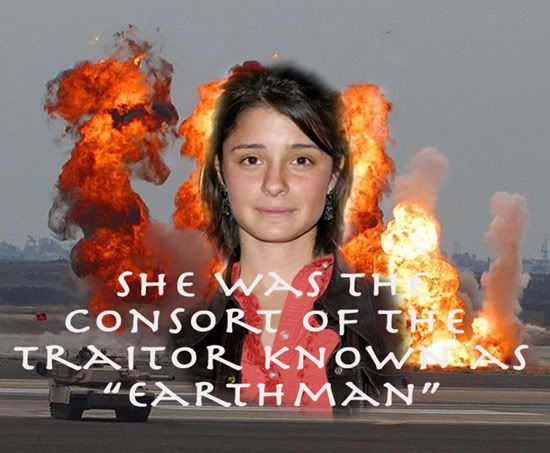 Title: Traitor
Genera : Au with aliens
Rating: Teen
Couples: This is difficult. Liz is one principle character and the mysterious man called simply Earthman.
Disclaimer: I am using the characters of the Roswell TV series as actors in a story I wish to tell. I have no ownership of any of them. They and their character, which i try to preserve belong to the series.
Sumary: This is a relatively short story. I hope you understand the emotions I want to portray. All the characters from Roswell will be human. Zan, Rath Vilandra and others like this will be Antarians. I have wanted to tell this story for some time. I had to wait until I found the right vehicle to carry it. Earth has been invaded by Antarians. People of Earth are being given a chance to emigrate to a new planet. The rule by the Antarians on Earth is ruthless. One earthman, instead of fighting what he thinks of as a hopeless fight, assists the Antarians in governing the rebellious people of Earth and in sending them to the new planet. For this, he becomes the most hated man in Earth history.
Traitor:
Chapter 1
I got out of the van. As always, I waited for my escorts/guards to form up before getting very far from the security of the armored van. Today I was alone. Zan had ordered me to his office and to leave her at our home. I had no idea of what he wanted. Zan was the untimate ruler of Earth and I was his subject, kind of. I was used to the glares of hatred I always saw in the eyes of the Antarians. Here, I had the ear of the Prilate and some of them had paid what would amount to a year's salary to just get a quarter hour meeting with him. It was a toss up as to who hated me the most, the Antarian invaders, or the oppressed humans of Earth. Again, I was used to that.
Zan entered. With us, there was no ceremony. We had been working together so long that as far as possible, I think we were friends. "You are a fool, Earthman. There would be no reason for the woman to ever know."
I shrugged, "Yes, but I would know. I have built my life on truth. Truth is all I have. If I loose that, I would be no use to you or to my own people."
Zan tossed the folder across the desk for me to see. I opened the folder and there looking out at me was the picture. It was the same as the one she kept on her dresser. Yes, we had believed him dead. In the chaos of war, it was hard to keep any records straight. Now, we had living evidence that he was still alive. It hurt, but she had always been straight with me and I had no intention of ending our life together by perpetrating any lie. I had no guilt about our association. If we hadn't had it, she and the boy would be dead. If we had to look at things that way, our relationship had been payment for her life.
I slid the folder back to Zan and grimaced. "When he returns, let us know. I will prepare her for this," I said.
I stood, Zan nodded and I left. The guards, falling in surrounding me, we left the palace.
The palace, the damned Antarians couldn't live in a house or a mansion like earth people. They had to always have a damned palace. They would decorate the designated palace and always create something that everyone else could envy, copy or supercede. That was the arrogance of these creatures. They played the game at life, always trying to outdo each other.
The Antarians, and I would know, (I probably was the leading expert on Antarian culture and court behavior) never did anything for each other for which they did not charge a pound of flesh. To expect them to do anything for the good of a defeated, oppressed, alien people would be laughable. Maybe, I need to explain why I was the so-called expert in these matters. I guess I had been abducted more than any other earthman. Yes, I had all the stories about experiments brought to my mind. Yes, I had had all of my organs probed. There was no use in denying it. I had been subjected to all sorts of sexual experiments imaginable. Anymore, I just took it in stride. This had all happened to me and now, the welfare of the human race was in my hands.
Believe me, it wasn't easy being responsible for an entire race, a race who would spit on me. If they could, they would kill me with out any remorse. I had to make hard decisions. The decisions would determine the future of the human race, and even if the human race could exist for the future. The Antarian Empire was on the move. They offered us a choice. Either, we could face immediate extinction and euthanasia, or we could organize and colonize another planet that was not in their immediate path. They promised me 50,000 years of safety if we accepted colonization. The one, who I would call Zan, laughed and said, "In 50,000 years we might even be equals."
The Antarians were not secretive about their tests. We were of the same species. We just had branched from each other about 100,000 years ago. How this was accomplished was a mystery. The leading theory was that there must be a third power in the universe who had, for some capricious reason, seeded humanity in two different places for their own pleasure. Did that mean that there was someone watching both of us? Socially and culturally, we had evolved very differently. Now, the retarded cousins were in the way of the galactic interchange, almost like the story, "Hitchhikers Guide to the Galaxy." The Antarian Empire had plans for the planets that revolved around our sun and with magnanimity, they were offering to move our race to another home.
I had already moved about ten million people to the new planet. They had been chosen for their intellect and ability to colonize the new world. We would move more as the "New Earth" became ready to receive them. It was my job to keep primary families together. Extended families, most of the time, I had no control about. Ripping families from surroundings that they had found comfort in, sometimes for generations, did not endear me to the rest of the earthmen. Because humanity saw me as the instigator of this movement, I was reviled. They called me every name for traitor that history had created. This was half of the reason for the guards. I was endangered by my own people.
It had been estimated that one hundred million people had died when the Antarians had first landed. Their altruism only extended to how well humanity followed their orders. On their first landing, they had targeted all military bases and governmental facilities. As the military fell, free citizens took up arms. They had wonderful spirit, but they lacked knowledge or skill. They fell even faster than the military had.
I had knowledge. I had been taken to Antar many times. I saw palaces which had over a million souls just to care and officiate for one single Prilate. I had been trained in reading the history of Antar. They were an empire which numbered in the quadrillions. They were in a massive movement. I saw skymaps which showed the direction of their intended conquest. The reasons for this movement and conquest were probably caused by population pressures, or they might just be the necessity of a restless people to be on the move for new vistas to visit. Anyway, Earth was in the way and they considered themselves extremely kind in their willingness to aid the re-establishment of the human race, Earth style, in another sector that for the moment had no interest for them.
Antarian sociology had no room for amiable relationships. Even in sexual encounters, the couple met naked. Each passing through a metal detector to attempt the deterrence of weapons, even in this event humans would call love.
Zan and I hit it off immediately. This was surprising because I didn't bow to him; neither did I insult him. "Earthman, do you hate me?" he asked.
"Yes," was my answer, "but I have no intention of challenging your power. I see no need of falling on my own sword just to prove I am loyal to Earth. To some, to die as earthmen, is all they see. To me, it is to live as an earthman and do as much as I can for my race."
"Because you work with us, your fellow earthmen will hate you," Zan stated.
"Yes, and because I work with you, the Antarians also hate me. I have your ear. Something they might have to purchase with their life savings," I answered.
"That makes us kindred spirits in loneliness," Zan said.
From that time on, I believe we were as close as conquerer and conquered could be. Zan, also, had his bodyguards. I noticed that they were no less or more capable than mine. By necessity, we had become kindred spirits. Zan consulted me as he governed Earth. Soldiers took locals as they felt was their right. Away from their own families, the soldiers wanted some sort of companionship. Antarians did not have as clear a definition of rape as we did. In one city, this precipitated a riot. The soldier was killed and the standard retaliation for the Antarians was to murder the entire political unit. In this place, they killed every man, woman and child who lived within the city limits. This raised the outcry of mankind everywhere on Earth. Men and women were being raped because the Antarian army was made up of both sexes. Retaliation was brewing which could only lead to more death.
I had seen the forces and empire of Antar. There was no way mankind from Earth could ever hope to win. It was I who set up the brothels. I instituted the places where destitute Earth people could enter and receive favors for services exchanged. The morality in my mind had not changed, but now, the exchange was one of mutual agreement. We didn't have uprisings occur again for this reason. That is not to say that Earth men accepted their lot. There were still uprisings and, as always, they completely failed, leading to the murder of millions who would be designated as punishment by our conquerers.
Except for my duties in forming the emigrations, I had very little to do with my own people. I knew that, given a chance, they would gladly kill me. As the "Aide" to Zan, I was given spacious living quarters, but they were bare. The guards kept to themselves when we were safely at home. Once, I had tried to fraternize with my protectors and I was remonstrated quickly by the sergeant in charge. "Earthman, If we were to become too close to you, we might fail to see danger. Only with our detachment, can we safely be sure of your safety. Any guard who cannot attend to this will have to be removed."
It was the way they all said, "Earthman." They always made it like a curse word. All, that is, except for Zan. He, also, called me Earthman, but it was just a name. He could have just as easy called me Bob or Albert.
This was the topic of a conversation I had with Zan one day. "Earthman, don't you have needs that are not being cared for? I have liaisons with female soldiers from time to time. I understand the pressure of celibacy."
"Yeah, but I bet you run them through the metal detectors and strip search them before every bedding. I couldn't do that. Besides, without the guards, I can't go among my own people. How could I meet and woo anyone under these conditions?" I explained.
Zan laughed, "I forgot the necessity of this wooing that you talk about. For us, that would make too much personal contact. I would be assassinated, for sure, if I spent that much time with any woman." Then, he became serious. "You could just take a woman. Just pick her out and your guards would prepare her. Pay her some gratuity afterward for her trouble."
I shook my head vigorously. "I can't do that, Zan. My own feelings are just too strong."
Zan smiled, "I expected as much. See Earthman, I have studied you as much as you studied us." He slid a handful of folders to me. These are ten women who will be terminated within ten days. They are all from the area where a soldier was killed. Pick one. You will be offering her life when she has no other choice. If you can't turn this into passion, at least maybe, she can offer you some sort of gratitude. Take it, my Earth friend. It is not good to always be alone."
That was the first time Zan had ever called me friend. I guess to him this was a real concession because normally, if a town was to be terminated, no one in the town could buy their lives. The Antarian law was strict this way. They wanted the punishment to be irrevocable and complete.
I had three days. Zan did not realize he had put an even greater burden upon me. How could I play God? One woman could live and stay with me and the other nine would die. For the first day, I just sat and looked at the stack of folders. At first, in fairness, I thought I should just turn all the folders back to Zan. Leave all the women to the fate declared by Antar. Then, I began to think. This was no different from the emigration lists. I couldn't save everyone immediately, but I could extend grace to at least one. I read through the folders. Zan had picked all the women for their earth type beauty. That was a surprise because Antarians usually liked voluptuous women, tall and strong. Here all of the women had delicate, fine features. I looked at the rest of the folders. All of the women were either never married or widowed. They were all listed with high intelligence quotients. It was surprising how fast the Antarians caught on to Earth ideas. Antarian IQs would probably have been off the charts if measured by Earth standards. The included pictures showed all the women to posess a charm. I knew that the pictures had either been found to have been taken before their impoundment or doctored to show what Zan thought would have been their image in earlier times.
I spread the folders out on the table. One lady would live and the other nine would die, never knowing they had been offered this chance for their lives. Zan told me I could interview any or all of the women. That would be a cruel joke. I would interview my choice to make sure she was willing to accept the terms, but unless she turned the terms down, she would be the only one I would face. Let's face it, I was a coward. I couldn't face women who I knew would be condemned to death because of my choice.
My choice was made before I saw "it." I had chosen a lady of very small stature. She had been a researcher in bology. She had several papers to her credit. Her husband had been killed in the first wave of battle when the first Antarian ship landed. The "it" was that, she had a son. He was scheduled for termination, also. The Antarian law made no allowance for age. The entire city was to be terminated, period. That is, except for the one woman I picked.
The van approached the palace. The closer I got, the more resolved I got. I had made my choice and I had an additional demand to make. If Zan couldn't agree, then I would just hand him back all ten folders. This game of roulette was over.
Again facing the scowls of the petitioners, I entered the office of Zan. I stacked the nine folders in one stack. The single one, I placed in the middle of his desk. "This is my choice, but there is one addition," I stated and then, I waited for Zan to acknowledge my request.
Zan looked up at me. Any other earthman, he would simply terminate as too troublesome. Any other Antarian would not give me nearly as much leeway as he had, either. "What is the addition?" he asked.
"She has a son," was my answer.
Zan frowned, "And, you allowed your care for your young to influence your judgment?" he asked.
I shook my head, "We have great love for our young, but that had nothing to do with my choice. She is the woman I choose, but without her son she, will not be manageable," I explained.
Zan shook his head, "We do not develop passion for our young until they show their worth. I just hope you do not allow some instinctive emotion to cloud your judgment. Zan spoke into a machine and we waited until they brought the woman into the office. It was clear that she was terrified. She was dressed in a plain gray shift. It was apparent that she was wearing nothing under it. Those chosen for termination were not indulged with any more than basic clothing.
Zan spoke up, "You and your son have been designated for termination as punishment for an insurrection." The woman just sat there with her head lowered. Liz couldn't cry anymore. She had run out of tears days before.
Zan continued, "This earthman has agreed to take responsibility for you and your son if you agree to terms." Liz looked up immediately. The Antarians had been known on Earth long enough for their ruthlessness to be well known by the Earth people. There was no reprieve when a person was condemned. That she was being offered a chance for her son was all that she needed to know. Liz would sell her soul and body to save her son. The loss of her husband was still fresh in her mind. This was like a second chance for life. To this point, Liz hadn't looked at me. She hadn't looked at anything until the promise of life had been offered. Now, she saw me. I was sure she recognized me. Earth people scared their children with my picture. Religions that still existed, placed me somewhat below whatever devil they believed in. The flash of revulsion was quick in her face. Then, she replaced it with a neutral visage as she remembered that it was both safety for herself and her son she was facing.