Title: Run To Ground
Author: Ellie
Category: M/L
Disclaimer:I own nothing, I'm merely playing with the characters of Roswell for my own amusement and I have decided to share with you all.
Rating: Adult
A/N:First I want to credit my beta and very good friend RoswellOracle for all the help and encouragement she's given me(and by that I mean pestering me to finish this
Love ya babe!) to get this out there. Secondly this fic is a tag from a longer work called "A Handful of Ashes" that I'll be posting in the Abyss when I'm a lot closer to being done. When that blessed event occurs I'll post a link.

Summary:I'm not gonna say, I want to see what you think.
:lol: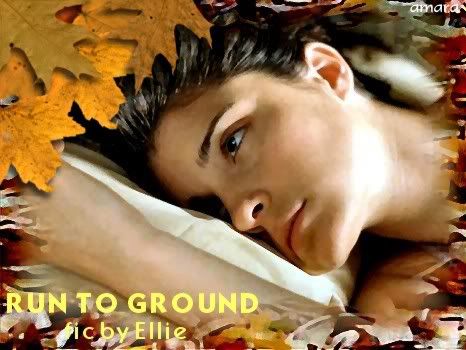 And many thanks to ~Amara~ for the lovely banner!

* * *
Liz stood frozen in shock, pinned by his intent gaze, staring at the predatory anticipation of his smile before bolting into the surrounding trees. Dodging like a frightened doe between bushes and saplings she tried hard not to think about her reason for running.
It was a beautiful fall day in the woods with the light filtering gently through the leaves that clung with desperate life to their branches. The small animals went about their daily business of survival and the wind wound through the flora carrying with it the chill of the season.
Looking on the peaceful scene one would never guess at her frantic flight. It seemed almost out of place, though the chase going on beneath the gently moving branches was as old as time itself. She stumbled over a deadfall in her path, sprawling into the fallen leaves with a muffled curse at the lost time and bruising her knee on a rock. Pulling herself to her feet she ran on.
Terror may lend your feet wings but it's hell on your oxygen intake, Liz reflected as she gasped for air. She mentally congratulated herself for not giving in to Isabel and wearing those cute platforms she said showed off her legs. All 27" of them, Liz thought, as she wished not for the first time that she was a bit taller. The added height would have given her a longer stride and worked in her favor instead of shortening the distance between them stride for stride as he ran her to ground. Her knee high leather boots were much more suitable for this unplanned mad dash through the woods.
For one insane moment Liz considered screaming for the others, for help. But she quickly abandoned the idea, it was better this way. He was after her, the others weren't here or even close by or she wouldn't be in this position. She sent a grateful prayer heavenward, riding on the steam of her breath, and led her pursuer farther into the shadows of the trees, away from her friends and all others who might unwisely interfere.
This was so stupid! What was she thinking? All at once she was jerked to a halt by a tight grasp in her hair. Her eyes widened in shock, where the hell had he come from?! There had been no indication he was so close.
In desperation she pulled away hard, eyes tearing as several strands were pulled out painfully, only to encounter the low hanging branches of a leaf-bare tree. Gasping out a half hysterical sob she leaned against it to calm her panic-quickened heart.
Unable to hear anything over the blood rushing in her ears she decided to stop for a moment to try and locate him. Her tight chest kept her from drawing a full breath so it was unlikely she would have been able to scream no matter how much she might want to. Another unfortunate side effect of fear, tightening the throat until it's difficult for sound to escape it. Her pause allowed her time to feel the darkening bruise on her knee from her fall and the scratches on her legs from the bushes she had run through instead of around.
Poised for flight, she shivered in the lengthening shadows despite her knee-length pea coat, as she listened for sounds of pursuit. Head up and liquid brown eyes scanning the trees she took a moment to try and get her bearings. It wouldn't do to get disoriented, to be lost or running around in circles. She didn't have that kind of time.
A sudden snapping of a twig nearby had her jerking around in horror, looking in the direction she had been running. Had she not stopped she would have run straight into him. Then the chase would have been over.
Running off again, she cursed her inability to think clearly. Liz gotta-have-a-plan Parker had been left behind right after the chase had begun, when her world narrowed to the next step or turn. She had reverted to the mindset of a small wild thing, only concerned with where she should hide, where she could run. Logic was something that had weighed her down and so had been shed like water off a duck's back.
There'd been no plan for this, it had come on so suddenly. One minute she was walking the familiar path through Frazier Woods, breathing in the crisp autumn air and enjoying the outing. The next she was left with only worst-case scenarios and a rapidly lengthening stride. She pushed harder trying to out run him, aware at the same time of the futility. She was determined not to make this easy for him, if he wanted this, her, he'd have to work hard for it. Liz Parker was no easy prey. Then a miscalculation of distance had her glancing off a sapling, striking her shoulder hard against it as she kept on, barely feeling the blow.
Heavy footsteps sounded close behind her, the pounding eerily loud in the quiet forest. Closer now despite her burst of speed she could hear his deep breaths and she huffed out in resentment. He wasn't even winded damn him! And then she felt it, long fingers, no fragile tree branch this time, grasping and then tightening on her hip. Her eyes flared open wide as she realized he'd been so much closer than she had suspected.
.
She screamed, her throat finally loosening enough for her to make a decent sound, but it was too late. The uncaring trees swallowed up the high-pitched and desperate sound of cutting terror when he wrenched her off balance, spinning her into his grasp and tumbling them to the ground. Her eyes shut tightly in denial as she gulped for air when they rolled to a stop in a patch of sunlight, his weight pinning her flat to the warm earth.
Then she heard his voice, startling after his silence until now.
"Mine!"
* * * *
TBC...Hope you enjoyed that, I'll post Part 2 on Friday and the finale on
Valentine's Day
.