Title: Moonset at Meridian
Author: Cherie
Rating: Teen
Category: (AU FutureMax/Liz / WA /TEEN)
Disclaimer: I don't own these characters. I'm only borrowing them for a little while. No infringement intended to Melinda Metz, JK, UPN or WB...
Summary: Where did Future Max go when he disappeared? And what about Future Liz? We never got to see that. What if someone had the power to set everything that went wrong on the right path again? And at what cost?
Author's Note:This will be a short story.. and short chapters. Probably 4 or 5 parts at the most. It's just something I can't get out of my head.
Beautiful banner by Sheisty 23. Thank you so much...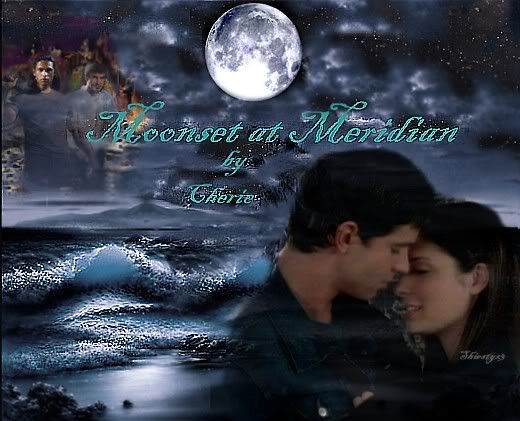 Every person should be, at least once in their lifetime....
Kissed by the wind
Twinkled by stars
Colored by rainbows
Fashioned by moonbeams
And suspended by time.
Drifted by snowflakes
Sprinkled by raindrops
Full of innocence
Lost in loneliness
And captured by rhyme.
Moonset at Meridian
Chapter One
There's a sadness that fills my heart as I watch her from the window. And I think about endings. The little deaths along the road she traveled to their last goodbye. Summer stretches out across the tawny hills like a sleeping lion, tired and spent, while she stands brave and resolute among the tiny diamonds of raindrops that sparkle on the emerald of the lawn. She's been doing this for as long as I can remember. Summer for her is an old song that plays on her heart. It sings for her of still velvet nights, the boy of her dreams, the bend of the moon as it rises from the desert floor and all the other foolish sentimentality that makes youth painful and life bearable.
I never knew him. I never knew any of them. Because they never existed. The world that she came from simply vanished on the night that he left. My father. He never knew about me, either.
"I would never have sent him away if I had known about you." She's told me this a hundred times.
But it still hurts. It hurts to see my mother walk the night...waiting for a man to step out of the shadows like some knight in shining armour to carry her away. I know she believes it's only a dream..a fantasy.. but she clings with such ferocity to his memory that I cannot bring myself to tell her the truth.
"He would have loved you so." She's told me that a hundred times, too.
By all rights, neither of us should exist at all. She should have died, I should never have been born. I suppose I should thank my alien heritage for the very fact that we are alive at all. I used to wonder sometimes..when she looked at me... if it hurt her that I look so much like him. That I'm a constant reminder of the man who was and shall always be the love of her life...no matter what timeline she's lived in. But then I realized she would never feel that way. She's amazing, my mother. And I love her so much that she is the reason I'm going to do what I know has to be done.
I always knew I was different. My first real experience with my..differences..was the spring of 2021, when I was seven. I found a puppy on the way home from school that had obviously been hit by a car. It lay shivering and crying against the curb, and I could tell when I touched it that it's back was broken. I wrapped the puppy in my jacket and took it home, wanting nothing more than my mother to make it better.
"I can't fix the puppy, sweetie," she had told me. "but you can." She held the puppy in her lap, tears misting in her eyes as she took my hands and taught me how to heal. The golden glow of the light that shimmered across my hands had frightened me at first, but once she told me how my father had healed her one September morning as she lay dying on the floor of her parent's resturant when she was sixteen, I finally understood where my abilities had come from.
Tomorrow will be my eighteenth birthday. I must admit that I've had a wonderful life. Because in that last moment they had together, the moment their palms touched against the wall of the Granilith, somehow my father had managed to send her to the place where we are now. To this new timeline where I was born. There was never a threat of Skins or Kivar, or the FBI, or any of the dangers that my mother and father had to face when they were growing up. There was no war with Antar, no end of the world. At least not this one, anyway. On the night that Serina modified the Granilith and my mother sent my father back in time to change the future, I'm sure they had no idea that my mother and I would be the only ones to survive that timeline.
"We had so little to time left." I remember her voice trembling when she finally told me about that night. "Everything had been lost, everyone was dead. Michael, Maria, Isabel, Alex; the earth was being destroyed around us and Roswell was nothing more than a pile of rubble."
I listened to her story as she painted a picture of their desparation as the world crumbled around them. How they had come to the decision that if Tess had stayed and completed the Foursquare, perhaps the future that they had lived in could be changed. Monumental screw up, if you ask me. How do you make a person fall out of love with you? Is it even possible to unlove someone?
Watching her now, I know it's not possible. She will love him forever and then some. She looks so fragile as the night wraps itself around her. But she is the strongest person I know. And she will never give up the hope that someday he will find her, that he will return. That's why I haven't told her about the dreams, or the voice that lives in my mind. Because if she knew that in order for him to come back to her, I will have to forfiet the life that she's struggled so hard to provide me, it would break her.
"Mom," I call to her. "it's time to come inside now." She turns and looks up at the window and smiles as she walks across the lawn toward the house, the red Irish Setter that I healed eleven years ago following closely at her heels. I smile back at her with tears in my eyes.
"One moment in time." the disembodied voice in my mind reminds me. "You have to choose which moment that will be."
TBC