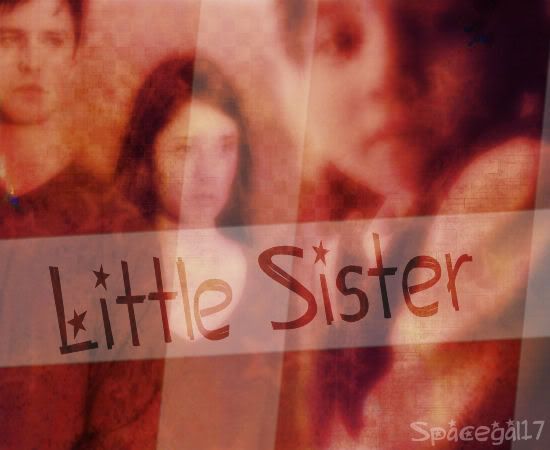 Banner: monkeycgm
Title: Little Sister
Characters: Max and Liz (As usual)
Rating: YTEEN/TEEN rating may go up later.
Disclaimer: I own nothing but a few people; the rest of the Roswell belongs to Jason.
Summary: Set after Sexual Healing but before Crazy.
What if Max felt the need to go to the Pod Chamber, even if he doesn't know where it is? So Along with Liz he goes there only to make a surprising discovery, what is it and what does it mean?
Warning: Humour – hopefully and fluff throughout. I kinda need a break from the angst stories at the moment.
This probably be a weekly update, I'm not sure yet.
Chapter 1
Liz Parker hummed to herself as she cleaned the milkshake machine, Alex Whitman was sitting at the counter looking at her with an amused expression while Michael Gurien shook his head from where he was standing behind the hatch and Maria DeLuca standing in front of the hatch.
"Someone seems to be in a good morning today." Alex teased and Liz laughed as she turned around to face him.
"I'm in a great mood today, we got a lecture from mom and dad on to be safe and don't rush into things too fast, we still have our whole life ahead of us." Liz explained and Alex smiled.
"So, you're not grounded?" Alex asked and Liz shook her head.
"Nope, I managed to assure mom and dad that Max and I went out into the desert just to get away from everything and talk about what was happening between us and that we came to the conclusion that we weren't ready for the next step and decided to take things slower." Liz explained and Alex nodded.
"Is Moon Doggie coming in today?" Maria teased and Liz laughed.
"What is it with you giving the boys nickname, you called Kyle a poodle, Michael Spaceboy and now you have named Max Moon doggie?" Liz asked and Maria shrugged.
"We need to give them nicknames, it makes it more funnier when everyone starts to try and figure out who we are talking about." Maria teased and Alex shook his head.
"Order up!" Michael called as he rang the bell, Maria shrugged as she walked over and collected the order as Liz turned back to Alex.
"Yep, Max is coming in today during my break." Liz stated and Alex nodded.
"I'm gonna head over to the U.F.O Centre and hang out with Max, it's great hanging out with you girls but I kinda need a male bonding time." Alex stated as he leaned over and kissed Liz on the forehead.
"Sure, you are coming over with Max?" Liz asked and Alex nodded.
"See ya then." He called out as he left the Crashdown.
~~~~~~~~~~~~~~~~~~~~~~~~~~~~~~~~~~~~
Alex walked into the U.F.O Centre and headed down the stairs, he smiled when he saw all the alien stuff hanging all over the place, he always found this place amusing, even more so now that Max was working in the U.F.O Centre.
"Hey Alex." A male voice stated, Alex turned and saw Max Evan shoving the insides of an alien back into the body.
"Hey Max, how it going?" he asked and Max shrugged.
"Good, although I do wish that the kids would leave this alien alone, I don't think he is happy having his insides ripped out all the time." Max stated and Alex laughed.
"I think you're right." Alex stated and shook his head. "Man, is Milton around?" he asked.
"Do you need help with anything?" Milton asked as he popped up beside Alex, causing him to jump from the shock. "Do you wish to know anything about the aliens or have you received information about an alien whereabouts?" Milton asked; Alex managed to keep a straight face.
"Oh, I think I might know an alien, she is blonde, she is smaller than me and is the best friend of Max's girlfriend." Alex stated and Milton's hopeful expression faded.
"Her? No, she is too flaky, she would scare off any aliens." Milton stated before walking off and Alex turned to Max with an amused expression.
"Funny, I heard she was dating one." Alex teased and Max laughed.
"Oh man that was funny, you really need to stop teasing him." Max warned him and Alex shrugged.
"Better, Liz has a soft spot for him, she thinks he funny, weird but funny." Alex stated and Max nodded.
"Ditto for him, he thinks Liz is a small cute thing. Don't tell Liz what I told you though, you know what's she like when someone mentions her height." Max stated and Alex smirked as he nodded.
"Oh I know alright but she is adorable isn't she?" Alex teased and Max laughed.
"Yeah, you got that right." Max told him and Alex shook his head.
"Hey, when do you get off?" Alex asked and Max looked at his watch.
"In five mins." Max replied and Alex nodded.
"Cool, I'm gonna look about, meet you at the entrance? I'm supposed to go over to the Crashdown, might as well go with you." Alex told him and Max nodded as Alex browed the room, looking at all the alien stuff, leaving Max shaking his with amusement. They definitely had good friends.
He went to shift one of the display when a panicky/pressing feeling shot through his body, causing him to groan and flinch from fear, he didn't know where it came from, just when he was about to check himself, the feeling disappeared causing him to frown in confusion, what the hell was that?
~~~~~~~~~~~~~~~~~~~~~~~~~~~~~~~~~
Liz was busy taking orders from a table when the door jingled, signally a new customers, she looked up and smiled when Max and Alex stepped through. Isabel had arrived a few minutes earlier and was now laughing at something Maria had told her. Max looked around the place before his eyes finally settled on Liz, he sent her a half smile before heading over to the counter where everyone else was waiting for Liz to finally take her break.
She got the orders and walked over to the hatch where Jose was working.
"Table 4." Liz called out as she pinned the order on the turning rack, Jose smiled as he grabbed the order and winked as she smiled and walked over to the other. "Hey." Liz called out as Max leaned in and kissed her. She smiled against his lips as she wrapped her arms around his neck, kissing him back while the other rolled their eyes and shook their heads, amused.
"So, we're hanging out tonight?" Maria asked as Max and Liz broke apart and they all move over to their usual booth.
"Erm, not I, Max and I have a date tonight." Liz informed Maria and Maria nodded.
"No problem, you're still up for a movie night Isabel?" Maria asked and Isabel nodded.
"Yep, count me in, after everything we just found out, we need a break from all this." Isabel stated and Maria nodded.
"Great! Alex you grab the films, Isabel and I will get the snacks and such and Michael, you can order the pizza." Maria suggested and they nodded.
"No prob, want the usual?" he asked and she nodded.
"Where are we going for our date?" Liz asked, ignoring the others and Max smiled.
"Wouldn't you like to know?" Max teased and Liz laughed as he leaned in a kissed her.
"We're heading to Senior Chows, I know how much you love it there then we're heading back to my house to watch a film." He told her and she nodded as the waitress brought over their foods and drinks. They continued to have lunch like normal teenagers having fun with their friends.
~~~~~~~~~~~~~~~~~~~~~~~~~~~~~~~~
Max and Liz found themselves in Max's bedroom, ignoring the film as they continued to taste the other. Max broke away from her lips so he could taste her skin on her neck.
"Hm…" Liz silently moaned out as Max's lip trailed down to her neck, she tilted her head to the side, allowing him access to her neck, Max kissed it slowly and softly, relishing in the fact that the orb wasn't pressing them forward anymore and the fact that he was kissing Liz. Liz shifted so that she was straddling Max's lap, Max wrapped his arms around her waist, pulling her snugly against his body as he let his lips trail back up to her lips so he could taste her again when the feeling started up once more, only this time it was more stronger.
He winced slightly and Liz pulled away to look at him, confused.
"Max?" Liz asked and Max looked at her.
"I don't feel good." He whispered and Liz scrambled of his lap and stroked back his hair.
"What's wrong?" she asked.
"I feel something is nagging me, pressing me to do something." Max gasped out as the feeling intensive, he didn't understand it and it was scaring him.
"Max, do you want me to call the others?" she asked and he shook his head.
"No, I feel it's wanting me to do something but it isn't anything like calling them or anything." Max explained as he stood up.
"What do you want to do?" Liz asked as she stood up and placed a hand on Max's stomach and her arm around his waist.
"We need to get in the jeep." Max explained and they both walked out of the Evan's house and Max got into the driver's side while Liz got into the passenger side.
Max put the car into motion and backed out of the driveway and drove off into the direction of the desert.
"Do you know where you're going?" Liz asked.
"Back to where the Evans found me." Max whispered and Liz looked at him.
"Do you think there's something there that will help you find where you crashed?" Liz asked and Max shrugged.
"I don't but I need to be pretty important if I'm getting the need to run there." Max explained and Liz thought about it.
"Do you think it might be Naesco calling you?" Liz asked and Max shook his head.
"No, somehow I get the feeling that it's completely different." Max told her, puzzled and Liz thought about it.
"Maybe there's something of the crash that was left behind and needs to be found, you know, like the orb." Liz suggested and Max shrugged.
"Maybe." He replied quietly and they both lapsed in to deep thoughts, thinking about what could lay ahead of them.
Soon Max came to a stop, he parked just off the road where the Evan's found them and they got out of the jeep, they both linked hands before walking off, letting Max's feeling led him to where they needed to go.
Soon they came to a stop, they found themselves surrounded by cliffs and they both looked around confused.
"Where are we?" Liz asked and Max shrugged.
"I think we're at the place where I was born." Max told her in a puzzled tone as his eyes drifted to a tall cliff, he tugged on her hand, gently, and they both walked up the cliff, Max could feel the need getting stronger.
"Max, we're in front of a cliff." Liz told him and he nodded.
"I know, I think there is some kind of chamber in here but I can't remember how to open it." Max groaned out in frustration, Liz thought back to the memories.
"Max, Michael opened the wall, he waved his hand and there was a sliver handprint." Liz told him as she remembered, Max looked at her before looking at the wall, he took a deep breath before waving his hand and a sliver handprint appeared.
Startled, Max looked down at Liz and she smiled as she nodded. She had a feeling that it's wasn't bad what was about to happen, that it was something that was going to change their lives but for the good. "Go ahead Max, you need to know what was pressing you to get it." Liz comforted him and he nodded as he placed his hand on the handprint, there was a rumbling sound and the rock in front of them slid backward and then sideways to reveal a doorway into the chamber.
They both stepped in and looked around the place, there was an eerie light filling the place and it was quite dark.
"Max, what is this place?" Liz asked; Max shook his head.
"I don't know." Max whispered, they saw five pods; all five of them were broken.
"Oh my, Max, this was where you were born, I remember seeing this place when you reversed the connection to me!" Liz exclaimed and Max shook his head, amazed and stunned.
"Why would I suddenly remember this and why was I was being pressed to come here?" Max asked; Liz shrugged as she looked around and gasped when she saw something, Max turned and was stuck dumb when saw this. "Oh my god." Liz whispered as she clutched Max's hand, Max just stared at the sight in front of him, stunned.
TBC.
Hoped you liked it.
I updated
Secrets Among Friends