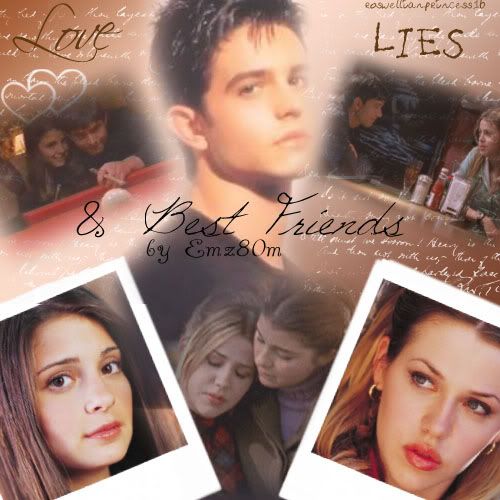 Thank you so roswellprincess16 for this wonderful banner
Title: Love, Lies & Best friends
Category: M/L Ma/Z AU Aliens
Rating: ADULT
Disclaimer: I do own Roswell or it's characters, I also do not own any songs that I use in this fic.
Summery: Maria and Liz are long time best friends who are now living their lives far apart, what happens when a very important part of their separate lives collides. The pod squad still exist but there life is significantly different.

A/N: I will be updating this at least once a week, hopefull more depending on how my schedule is and how quickly i write for it. I promise not to neglect my other fics thought

Prologue
"I love you" he whispers and when I look up into his beautiful amber eyes I can see how much he truly means it.
"I love you too" I smile. It feels like the first time we say it every time we say it. I get butterflies in my stomach and a smile lights up my face, I will never get tired of hearing him tell me how much he loves me.
He pulls me closer against his strong body as we continue dancing to the soft music the band is playing, there are a few other couples on the dance floor including both sets of parents and his sister and Alex.
I sigh in happiness as I feel his hot mouth against me neck "I'll never get tired of this" I say dreamily. I never dreamed 3 months ago that I could be so happy, but here I am in the arms of the man I love with all my heart and I couldn't imagine not being with him anymore
"Me either" he whispers.
The song ends and he pulls back slightly burning holes in me with those eyes again.
"Max" I sigh.
"I want to ask you something" he says then.
"Ok" I nod, I've never been in such an open honest relationship as the one I have with Max. There is nothing that I cant tell him, and there is nothing he cant tell me which is why I know every dark secret in his life.
But when I see him lowering himself onto one knee in front of me those butterflies in my stomach come alive and start flying around so quickly that I feel I'm going to be sick.
"I want to be with you forever, Liz. You're my soul mate, my perfect match in everyway and all I need is for you to say you'll be mine forever to make me feel complete" he opens the box in his hand and the beautiful diamond sparkles up and I gasp.
It's huge.
"Will you marry me?" he whispers.
"Yes" I whisper quickly, there was never any doubt that I was going to say yes.
"Yes?" he confirms and I realise how quietly I must have whispered it.
"Yes" I nod my head eagerly and smile "Yes with all my heart" I tell him.
He's on his feet in a second crushing my body to his, out lips meeting together.
My mother once told me that Max was the missing part of the Liz Parker jigsaw, she was more right than she ever knew.
When we pull apart everyone starts applauding and it's then I realise that we have an audience, that this man I love asked me to be his forever in front of our family.
I blush but Max ignores them and instead goes to work at putting the massive diamond on my finger, of course it fits perfectly and when it's in place he kisses the finger lovingly.
"I love you so much" I tell him, looking up at him with happy tears in my eyes and a smile to match, I want him to know how absolutely happy I am because of him.
"and I adore you" he whispers back passionately.
We share congratulations with our families then, even though we've only been dating for three months no one has ever questioned our relationship and no one is happier than the Parker and Evans parents that their two children are getting married. Since we started dating our parents have been inseparable. But for the Evans it's a little more than that, it means that their son is settling down, that there will be no more running and that means more to them than anything.
When it's Alex's turn to congratulate me it's a little bittersweet. He is mine and Maria's other best friend, and his presence and warmth reminds me that my best friend is not here to share the moment with me.
"She's going to be so happy for you" he assures me.
"Yeah" I nod. I know she will be. It's been a year since I've seen her and I miss her like crazy, a phone just isn't the same.
"Well you know what this means" I tell him then. Max comes up behind me and wraps me in his arms.
" I have a wedding to plan, and no girl can organise her wedding without her best friend" I smile.
Alex grins back. "She'll be on the next plane as soon as you tell her" he laughs.
"I'm banking on it" I laugh. It's time my best friend met the love of my life.
Seven Months earlier
I listen carefully as my best friend sobs over the phone as she tries her best to tell me about her break up with Zander. They had been dating for the past couple months and from what Maria had said during our weekly phone calls the relationship was becoming fairly serious.
"I thought everything was going really well and then he tells me that he's leaving and that he thinks it's best if we break up" she sobs.
Poor Maria "Oh sweetie I'm sorry" I say. "Did he say why he was leaving?" I ask, hoping that he at least has a good reason for leaving and breaking my best friends heart. I mean maybe he's moving to look after his sick parents or for a job that is going to take up all of his time?
"N-No" she cries. "I think it's just an excuse, maybe I did something wrong." She cries again.
I feel my anger rise then, why is that men always make us women feel as though we're inadequate, that we're not enough for them. "Oh course not Ria, listen this is not your fault ok, it's his" I tell her.
"Bastard" I add then.
I hear her laugh and I smile.
"God I miss you, I wish you'd move out of that poky little town" she says then.
I live in Roswell, New Mexico the place that Maria and I grew up in. I know she hates the town which is why the minute we graduated she took off for New York but I love it. There is something about living somewhere that you know everyone and they know you. That I know the local Sherriff and I dated his son so he looks out for me, I feel safe in Roswell.
Maria on the other hand felt suffocated, but I probably would have too if Amy Deluca was my mother. She's as quirky as they come and with a handful of failed relationships she slowly drove her daughter insane. Maria was convinced from an early age that Roswell was the devil, and that she could never be happy in the town. I mean if her mother couldn't find someone to love and settle down with in Roswell how could she?.
So New York beckoned and she followed, she sings in small time clubs mostly and has a part time job at a local coffee shop which is where she met the mysterious and gorgeous Zander. After weeks of flirting with the hunk she had finally worked up the courage to invite him to one of her gigs, he came and the rest as they say is history.
"I need my best friend to be here eating Ben & Jerry's and telling me that I was too good for him anyway" she finishes.
"You are too good for him" I say, and I mean it without a doubt. Maria is the most caring person I know so if that wasn't enough for Zander then there is something wrong with him. I never met Zander, in fact I've never even seen a photo of him but I have no doubt that if I ever crossed paths with him I'd know. Maria has told me everything there is too know about him that I feel like I know him too.
"When are you coming to visit?" I ask her.
"When are you coming to visit?" she asks back.
"I came for your birthday" I remind her.
"Oh right" she sighs.
"I don't know, I can't really afford it at the moment" she sighs.
Story of our lives. Maria is struggling because she's trying to live her dream in an expensive city and I'm struggling because I'm a university student who works part time in her parents alien themed restaurant.
"Ok" I say, I don't want to make her feel bad. I know she misses me just as much as I miss her, maybe I'll ask my parents to fly me out for Christmas.
"Are you going to be ok?" I ask her then. It was different with Zander even I understood that. He was placed on a shelf where the rest of her come and go boyfriends couldn't touch.
"I don't know, I love him, Liz and I don't how to get over that" she whispers painfully.
I feel for my best friend. I've never been in love so I cant say I understand.
"Did he say where he was going?" I ask.
"No" she sighs. "He didn't say much at all except that he was sorry and that it wasn't me, I guess I shouldn't be so surprised he was always so secretive"
"D-Did he love you too?" I ask.
"He never said so but I think he did" she whispers painfully. I hear her crying start up again and I feel my heart ache because I just want to take her into my arms and cry with her over the loss of her first love but instead while my best friend's heart in breaking in New York City I sit on my bed in Roswell New Mexico feeling absolutely helpless.