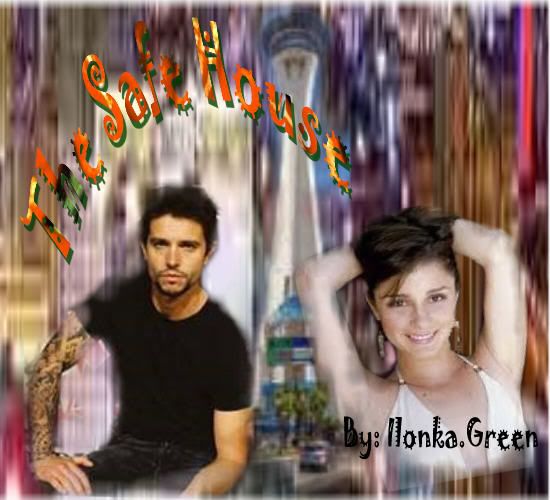 ** A special thanks goes out to Mary Mary for the wonderful banner she created for me. Gotta love it! **

Title:
The Safe House
Author:
Ilonka.Green
Disclaimer:
I own nothing from Roswell (characters, etc.).
Pairings:
Mainly M/L
Rating:
Adult
Category:
AU without aliens
Summary:
Growing up in Roswell Liz Parker was anything but popular… Always standing in the shadows of everyone else, fantasizing about her so-called secret crush, the most popular boy in school, Max Evans.
Like most kids, Liz couldn't wait to leave town and at the age of eighteen with the encouragement of her family and friends, Maria and Alex, Liz applied to and was accepted into the School of the Arts in New York where she hoped to achieve her dream.
Four years later, Liz is a successful theater actress and professional dancer. Having starred in several Broadway productions and performed in several Vegas shows, she is anything but happy. With the stress of her career and the dwindling relationship with her boyfriend, Sean it's time for a change.
Maria and Alex suggest applying for a job at The Safe House, one of the trendiest clubs in Vegas… A place unlike no other that has something for everyone including Max Evans.
Desperate to create a new life for herself, Liz will do anything. But, how far will she go?
Author's Note:
This is my first story, so let me know what you think. I'm rating it adult mainly due to content. This story also contains small sections pertaining to abuse (physical, emotional, verbal)… As some may find this difficult to read about, I will indicate this at the beginning of those chapters.
The Safe House
A Matter of Opinion…
Max Evans:
Owning the Safe House with my sister Isabel is a dream come true. Not only is it one of the trendiest club settings on the Vegas strip, it's a place that has something to offer everyone and sometimes a place where dreams come true. So, what makes it different from the other clubs? The Safe House has everything from a tattoo parlor, wedding chapel and gift shop to strip clubs, bars, a casino, restaurant, and dance club along with live entertainment and a VIP lounge; all which was made possible with the help of my family and friends from Roswell.
Isabel Evans-Whitman:
Owning the Safe House with my brother is awesome… It's a dream come true. With something to offer everyone, it's become one of the trendiest clubs on the strip. It's also a real pleasure to be working with everyone because we've become a family of sorts… A family who keeps an eye out for one another.
Ava Delaney:
I love working behind the scenes at the Safe House as Max and Isabel's personal assistant. I am the eyes and ears of the place and know about everything that goes on. Max and Isabel are both awesome to work for because they encourage employee morale and treat everyone as equals giving them the respect that they deserve.
Alex Whitman:
What can I say? If it weren't for Max hiring me, I wouldn't have met my wife, Isabel; Max's sister. The Safe House is an awesome place to work. And as the Manager of the casino, I have to say, it's an awesome place to hang out.
Maria DeLuca:
The Safe House… It's an amazing place to work and I love it because working here has given me the opportunity to expand my horizons in the entertainment industry as the entertainment coordinator. Not only that, I'm working with my friends from Roswell and through the years, we've become a family of sorts. How awesome is that? Totally awesome… But what's more awesome is the fact that I work here with my boyfriend, Michael.
Michael Guerin:
Working at the Safe House has been a life saver… Still is. Not only was being hired as the Restaurant Manager and Executive Chef fresh out of culinary school is a dream come true, but it keeps me out of trouble. Max and Isabel see to it. Everyone here is a family of sorts… A family of misfits who look after one another. I guess that's why I fit in so well. Did I mention I work here with my girlfriend, Maria? Another added perk if you ask me.
Kyle Valenti:
The Safe House has something for everyone which is what I like about the place. It makes it unique. And being one of the trendiest clubs on the strip, being a security guard keeps me busy. I especially enjoy working the floors catching glimpses of my wife, Serena serving drinks at the bar while ensuring nobody steps out of line.
Courtney Pasgel:
Omigod… I love bartending here at the Safe House. With flexible hours, the pay is great and the tips are better. And most everyone is so nice. From the outside, it looks like a typical club on the Vegas strip, but once inside… Wow, it's amazing. There's so much to see and do. A person can spend all day here and not get bored… And some do while my friend Kyle keeps an eye on things ensuring everyone's safety.
Serena Valenti:
As Bar Manager, I can honestly say the Safe House is the place to be. Everyone that's anyone hangs out here thus making it one of the trendiest clubs on the Vegas strip. My favorite part? The fact that I'm working here with all my friends from Roswell… We make such a great team.
Pam Troy:
Being a stripper at the Safe House is amazing because I'm given the opportunity to be creative with my dance moves on stage; creating my own routines. I even get to design my own costumes if I want. How cool is that? The men in the audience are respectable for the most part and are more than happy to part with their money. Safety is also not an issue as security is tight… Another plus.
Tess Harding:
I consider myself fortunate to be working as a stripper at the Safe House. Max and Isabella not only provide a clean environment, but a safe one as well. I like it here because I'm not frowned upon because of my profession. In fact, everyone is treated equally with the respect they deserve no matter what their job is.
Prologue
New York: Lund Fontanne Theater, 2 months ago…
The curtain closed. The audience stood applauding. "Bravo… Bravo…" A few audience members shouted out. The curtain opened again and the cast members came forward to take their bows.
********************************************
Trudging back to her dressing room backstage, Liz was bombarded by her friends Kenya and Jackye. "Great show, Liz! Did you see the two bombshells sitting in the second row?"
"No, I wasn't paying attention." Following Liz into her dressing room, the trio lounged on the couch taking a moment to rest. She sighed. It was typical of Kenya and Jackye to notice the gorgeous, unobtainable guys. "They're probably gay… Either that engaged or married."
"There you are, Liz… You were fantastic out there on stage." Not taking notice of their audience, Liz's boyfriend Sean pulled her out of her seat, wrapping his arms around her waist claiming her lips for a sloppy kiss.
Pushing at his chest, Liz broke away. "Um… Thanks, Sean. So were you and all the others."
Stepping into the bathroom, she changed out of her costume, as her mind began to wander.
If only Max
Evans could see me now.
Lost in thought Liz remembered the last time she was home visiting her parents. Hanging out with her friends, Maria and Alex at the Crash Down, they spotted Max Evans and his sister, Isabel sitting in a booth. Max looked over at them with questioning eyes, but said nothing.
******************************************
Later that Night: Liz's condo…
Exhausted, Liz sat down at her computer desk and stared at the computer monitor as she checked her e-mail. Just then, she realized she hadn't sent a reply to her friend, Maria's e-mail. Without giving it much thought, she began to compose her message to Maria.
To:

M.Deluca@safehouse.org


From:

L.Parker@rocketmail.com


Subject:

My so-called life
Hey, Maria.

Sorry it took me so long to get back to you… I've just been so busy with "Statue Maker." Tonight was opening night and it was an absolute success! Despite the fact that "Statue Maker" is a new musical, everybody loved it. The characters are so realistic that everyone can relate to them in one way or another. The plot… Makes the audience believe that anything is possible, including true love. And the scenery… Absolutely breath taking.

Only two more months to go… Two more months of singing, dancing, acting, and performing my own stunts. I truly love the character I portray, but I will be extremely glad when the play comes to an end because I'm getting too old to be doing my own stunts (which I'm known for). When the show comes to an end, I can put my theater career behind me and move on with my life.

I've portrayed so many characters during my career that I no longer know who I am as a person anymore. It seems like I don't have a life anymore. Although I have friends here in New York and the surrounding area, I seldom have the time to see any of them except for Kenya, a fellow actress who lives in my building. I feel so alone sometimes. I need a change… Change is a good thing, or so I'm told. It's time I move on with my life and try new things. What? I don't know. I guess I'd like to start by just being myself and for once live a normal life.

I know what you're thinking. What about Sean? Sean's always thrived off of my success using our relationship as a way to boost his career. I'm thinking it's time to break things off with him too but I'm afraid to. He does after all have a bit of a temper and God knows how he'd react. Oh well, I gotta do what's best for me.

Talk to you again soon,

- Liz -

Just then, Liz's phone rang, but was too tired to answer it.
Who would be calling at this hour?
she wondered looking at the clock on her nightstand. She listened for the machine. "Hello, you've reached my machine. You know the routine. At the beep." The caller hung up.
Why can't I just sit at home without being interrupted?
Sending her e-mail and turning off her computer, she reached up and pulled the long, black wig off her head before heading off to bed.
Tossing and turning, Liz tried desperately to fall asleep but images of Max Evans kept appearing in her mind. Glancing at the clock, she noticed it was already 3:00 am and sighed.
Why can't I stop thinking of him? He doesn't even know I exist.
Pacing into the home office, Liz sat down and turned on her computer. "You've got mail." the computerized voice announced. She smiled. Opening her e-mail, Liz found an e-mail from Maria.
To:

L.Parker@rocketmail.com


From:

M.Deluca@safehouse.org


Subject:

RE: My so-called life

Hey, Chica.

You're still with Sean! I thought you dropped that loser months ago. Why are you still with him? He's doing nothing but bringing you down. Believe me when I say you can do so much better… Even Alex would agree.

Congrats on the success of your new theater production. Wish I could have been there to see you steal the show (lol!). Did you get the flowers Alex and I sent?

What's this about you retiring from the theater? It's your life… You're lifelong dream. But, it's your choice. Just be sure to do some serious thinking about it and weighing the pros and cons before doing so.

Have you given any thought to moving out here to Vegas? Max and Isabel are always looking to hire new people to join the staff here at the Safe House; and with your background, you'd be a total asset to the club. If you haven't, you should seriously consider it because it's an amazing place to work.

No matter what you decide, YOU NEED TO TOSS SEAN TO THE CURB!

Keep me posted as to what's going on.

Take care,

- Maria –

P.S. Be sure to watch 'Night Life' tomorrow night… Leslie Gutenberg's interview with Max and Isabel should be airing along with the tour segment of the Safe House. (Hint, hint…)

She rolled her eyes.
Could Maria be any more obvious?
Her and Alex had been trying for years to get her to come for a visit them at the Safe House, but something always came up. And now, she had no excuse not to. Or did she?