TIC TAC - Two Is Company – Three's A Crowd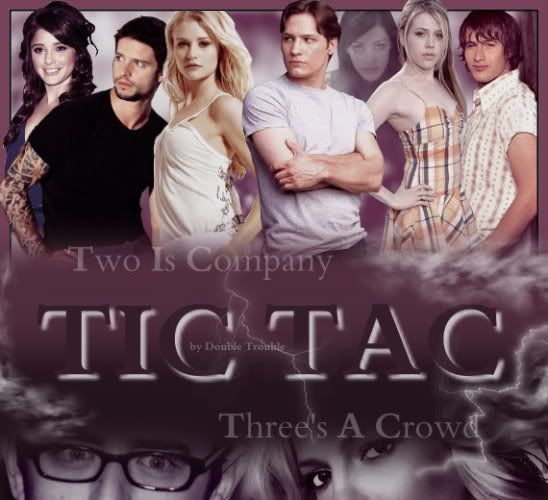 Author(s):
Double Trouble – aka Angel (ArchAngel1973) & Steffi (candysteffi)
Banner:
By us
Disclaimer:
All characters and plot lines that appeared in the series or in the books are not ours. The concept of Roswell does not belong to us either. They all belong to Melinda Metz, UPN, yada, yada, yada…
Pairings:
M&M, M&L, K&T, A&I – some UC in the beginning
Rating:
Adult
Category:
AU without Alien
Summary:
First impressions… assumptions… snap judgments… Intentionally or unintentionally, everyone makes them. They could be correct or they could be the complete opposite of the truth. A first impression, an assumption, or a snap judgment may be all it takes to ensure that neither side ever learns the truth. But on occasion the opportunity to discover the truth presents itself. What happens when everything you believe about someone proves to be wrong? When most, if not all that you thought was true of them turns out to be false? A small group in New York City – friends, lovers, enemies, neighbors and family – are about to find out.
Trailer:
TIC TAC TRAILER
Author's Note 1:
This fic is based on a challenge by
killjoy!
Thanks for this inspiration!
Challenge requests:
All Human
Any Rating Is Fine
M/M,M/L,A/I and K/T

Michael and Maria have been best buds since they first butted heads back in first grade. They fight like cats and dogs over things but when push comes to shove they both have each other's backs. Even though everyone sees sparks between them the two have never had a sexual pull to each other.

Now Michael is a ladies man...or as Maria calls him...a male slut...Michael bounces from one girl to the next never once wanting to get serious with any of them. But that all changes when Courtney comes to town. Courtney the new girl catches Michael's eye. She's into the hard rock like him, sports like him and she's all over him which feeds his male ego. Now at first Maria is not worried about it, Michael has never been serious over a girl and SHE was always the most important female in his life. But much to Maria's shock she slowly watches as Courtney wraps Michael around her finger. Now Michael is talking about Courtney being THE ONE. This doesn't sit well with Maria as she starts to realize her true feelings for Michael and how now Courtney might take him away from her and now how Maria must fight to win Michael back.

Must haves

No Evil Tess

Maria going on a jealous rant about Courtney once Maria realizes she's in love with Michael
The challenge is Candy based, but like in "Double Trouble – the fic", we will have a huge storyline for the other couples as well.
Author's Note 2:
TIC TAC is gonna be our seventh fic as a writing team, so we thought this might be the time to tell you (those of you who don't know already) who's behind Double Trouble.
Double = Angel aka ArchAngel1973

Trouble = Steffi aka candysteffi
Yep, that's us.
Okay, on to the fic… finally!!!
______________________________________________________________________________________________________________________________________
PART 1
Alex Whitman
Pic:
ALEX
Trailer:
ALEX
AGE: 23
LOCATION: New York
OCCUPATION: Full-time file clerk at "Briston & Partner's"; part-time janitor
FAMILY: Sandra Whitman, Charles & Amanda Whitman
FRIENDS: None
ROOMMATES: None
HOBBIES: Photography, mountain biking
ISABEL GUERIN ABOUT ALEX WHITMAN:
"Alex Whitman? Do I know him?"
MICHAEL GUERIN ABOUT ALEX WHITMAN:
"Whitman? Yeah, I know him. Well, as well as you can know any asshole who's always bustin' down the door and demandin' that you shut your music off and put an end to the party. Dude seriously needs to just chill out with a cold beer and a hot chick. Getting laid would seriously improve his outlook on life."
KYLE VALENTI ABOUT ALEX WHITMAN:
"Whitman? Do I know anyone named Whitman? Oh, wait, that nerdy guy that lives above us? Hell, yeah. Always bustin' our balls over the noise. I guess to be fair I should mention that he only does it durin' the week. He's never said a word on the weekends. Guerin's right though, sex would really improve the guy's mood."
LIZ PARKER ABOUT ALEX WHITMAN:
"Alex is a nice guy. Probably too nice for someone who lives in New York. I doubt he grew up around here, he doesn't seem to have that… New York style, ya know?
He always leaves good tips for me at the café and he mostly sits on one of the barstools at the counter because there it doesn't look so weird when you're all alone. I don't think I've ever seen him hanging out with someone else."
*****
The lines in the textbook were starting to become one big blur, but Alex Whitman forced his eyes to focus on the words. He had at least another hour of studying before he could call it a night. He had spent the day working at his thankless job that barely paid enough to make ends meet all so he could come home and be unable to think straight for all the noise coming from the apartment below.
He stomped his foot on the floor in irritation for the fourth time that night, sighing in relief when the music was turned down fractionally. He had knocked on his neighbors' door more than once and asked them to keep it down but he was sick of running up and down the stairs so he had resorted to stomping on the floor to get their attention.
He got up to get a glass of water and rubbed his eyes tiredly as he sat down and got back into his studies. He was highlighting an important part when the music was notched up again, louder than before. The marker was thrown down in frustration and he grabbed his keys as he stormed out of his apartment and down the stairs.
The door to apartment number 215 was decorated with a big sign that announced that 'this is where the party is' and he snorted as he reached up and pounded on the door.
Michael rolled his eyes at Maria. "I know that knock."
"Oh, God, is it him again?" she muttered as she grabbed another beer. "Maybe you should just invite him to a party – he can't complain if he was invited and he said no can he?"
Michael snorted. "I don't think he's the party type. The guy's more boring than the political news."
Maria giggled at his description of his neighbor and she followed him to the door just because she wanted to see how this round between the two guys went.
Michael ripped the door open and leaned into the doorframe lazily. "Alex, what a surprise."
"Is it?" Alex snapped. "Because the noise from down here only seems to be getting worse. I realize you have nothin' better to do than ditch class durin' the day and party all night, but some of us actually attend school and would like to keep our GPA above the bare minimum."
Maria bit her lip from laughing. "Why don't ya come in and have a beer to loosen up a bit, Alex?"
He glared at the goofy blonde standing next to his thoughtless, inconsiderate neighbor. "Turn the noise down or I'm callin' in to file a complaint. I'm not tryin' to ruin your fun and you know I don't bother you on the weekends, but it's the middle of the week and I have to study."
Michael groaned and pushed himself from the doorframe. "Go find a girl and get laid, man, that's what any normal guy our age would do." He didn't wait for a reply and walked back inside, pulling Maria with him and closing the door right in Alex' face.
"Arrrrgh!" Alex shouted as he stomped back down the hallway to the stairs. "What an asshole!" He pulled his cell phone out of his pocket and dialed the number for the Super. "Come in and have a beer," he mocked. "Stupid..." He nodded when the call was answered. "Yeah, Mr. Ludlow, this's... Um, yeah, Whitman... Uh-huh, I'm callin' about a noise complaint... Look, my lease states that..." He stared at his phone when the man interrupted him to tell him that he'd handle it and then hung up on him. "The world is full of assholes today," he muttered as he went back up to his own apartment, the noise of the party following him.
*****
Liz Parker
Pic:
LIZ
Trailer:
LIZ
AGE: 21
LOCATION: New York
OCCUPATION: Waitress at the "The Sweet Spot", college classes
FAMILY: Aaron Parker
FRIENDS: Michael Guerin
ROOMMATES: Trent Harper
HOBBIES: Relaxing, inline skating
MAX EVANS ABOUT LIZ PARKER:
"I can't stand bein' near her, I can't stand talkin' to her, and I sure as hell can't stand her bitchy attitude. God, if there's a chance to avoid Liz Parker, I'm takin' it!
Seriously, this woman gets on my nerves whenever we meet. The sad thing is that I can't avoid her since my friends are always hangin' out in the café where she works."
MICHAEL GUERIN ABOUT LIZ PARKER:
"She's very quiet most of the time, but a very good waitress at my favourite café. I've tried to get her to hang out with me an' my friends after work, but she always comes up with an excuse. I've got a feelin' Evans has something to do with that though."
MARIA DELUCA ABOUT LIZ PARKER:
"God, I really don't know anything about her, even if I see her practically on a daily basis. She's a waitress at our favourite café and she's nice from what I can tell. I've seen her on campus as well, but I couldn't tell you what she's studying for.
Her kinda hate-relationship with Max gets on my nerves, I have to say. No clue what the story is behind that."
ALEX WHITMAN ABOUT LIZ PARKER:
"She's probably the nicest person I've met since I've been in New York. She's the waitress at a café near my apartment. I can't say we're friends, but she is the closest thing to a friend I have here – now how sad is that?"
*****
Liz shoved her key into the lock on the front door of the apartment as she glanced at her watch and sighed. Only half an hour before she had to leave again to work her shift at the café. When would she do her homework? Probably very late at night like she did most nights. She could hear the TV blaring from the living room.
"Ah, you losers, you can't see the ball when it's right in front of you," someone yelled.
Liz rolled her eyes and walked towards the man sitting on the couch. She leaned in the doorframe and waited until Trent finally noticed her.
"What're ya doin' here? Don't you need to be at work or somethin'?"
"Where's Aaron?" she countered, ignoring his question.
"What? I don't know, probably sleepin' or somethin'. I don't know why you let that stupid babysitter drop him off early... you know I don't have time to watch him."
"Oh, yeah, I forgot you're busy with..." she glanced around the room, "nothing."
"I don't need this shit from you, Liz," he said as he finally turned away from the TV. "I spend every fuckin' night bustin' my ass. I don't need to come home and have you on my ass too."
"Oh, right. Thank God, I don't have to go through that. I am so lucky to have college, two jobs, plus a three-year-old to look after because you're too busy to be bothered." She stalked off to see if Aaron was in his room.
"Hey, I'm not the one who wanted a damn kid!" he shouted after her. He shook his head and turned back to the television.
"You suck," she muttered under her breath as she walked down the hallway to get to Aaron's room. She opened the door quietly and found him curled up in a ball in his bed. "Hey, sweetie, what's wrong with you?"
The little boy scrambled across the bed to launch himself into her arms when she sat down and he hugged her tightly as he tried not to make a sound, knowing that it only made Trent more mad at him.
Liz hugged him back and lay down with him to at least be with him for a few minutes. "Are you hungry?"
He nodded silently and flinched when Trent cursed loudly at the television and then threw something to express his irritation for a bad play by his team.
"Hey, you can come with me to the café, what ya think? I could get ya a burger and you could play with your toys in the back room."
Aaron nodded and plucked at the long ears of the stuffed rabbit he was holding. "Rabi too?" he asked, his voice hushed.
"Yeah, sure. Take your backpack and pack a few toys ya wanna take with ya. But only what fits in there, okay? I'll take a shower while you do that."
He climbed down off of the bed and went to get his backpack when she left the room for her shower. He bit his bottom lip and hugged the stuffed animal tighter when he remembered that he had dropped it by the front door in his excitement to come home and show off the picture he had colored at Mrs. McGinty's apartment.
He peered out into the hallway before creeping out of his room and edging along the wall. He ran into the living room and grabbed his backpack, freezing when he turned around and saw Trent standing there.
"Whatcha got, kid?" Trent asked, not really caring.
Aaron hesitated, unsure of the man's attitude. Trent could be nice when he wanted to be, but he could also be mean and yell at him and hurt his feelings. He shook his head and tried to hide the backpack behind his back. "Don't got nuffin'," he muttered, staring at the floor.
Trent shook his head and walked past the little boy to go into the kitchen, not bothering to ask him if he was hungry or thirsty. He had never wanted a kid underfoot, but when it had come up Liz had refused to take care of the problem.
Aaron released a breath he had been holding in and hurried back to his room.
*****
Kyle Valenti
Pic:
KYLE
Trailer:
KYLE
AGE: 22
LOCATION: New York
OCCUPATION: Firefighter in the New York Fire Department
FAMILY: Jim & Sarah Valenti
FRIENDS: Maria DeLuca, Michael Guerin, Max Evans, Isabel Guerin
ROOMMATES: Michael Guerin
HOBBIES: Sex, parties, mountain climbing
MICHAEL GUERIN ABOUT KYLE VALENTI:
Kyle's a party animal, a chick magnet, and the kinda friend who's always gonna have your back. He's a guy who isn't worried about tellin' you when you're wrong but even if he doesn't agree with you he'll still support you. He'll just tell you later after whatever's come back to bite you on the ass that he tried to tell you. Seriously though, Kyle's the one good thing that came out of the darkest time in my life. It brought us together and that's one thing I'll always be grateful for. Wait, you don't have to actually print that part, do you? It sounded a little too emo for me. Hey, why're you laughin'? That's not funny! Okay, well, maybe you can edit it up or somethin', huh?
MARIA DELUCA ABOUT KYLE VALENTI:
"Kyle and I are good friends. He loves to party an' have a good time and he's no slouch where women are concerned. He's not at the same level where Michael is when it comes to sluttin' around, but he definitely has his share of female… hmm… companionship. He's a guy, ya know? He's got a high-stress job so when he gets off the clock and he can relax and let loose, hell I have no problem with how he chooses to get rid of that tension. He's careful and it's not like he's out doin' drugs or somethin' so what's the harm? He works hard and he plays hard. He's a guy who loves life and he enjoys living it to the fullest. It's somethin' everyone should do, ya know? Life is a fragile thing and should never be taken for granted. Hmm? No, I'm fine, sorry, kinda drifted there for a minute. Everyone should have a friend like Kyle on their side. There's no amount of money in the world that could ever provide that kind of safety."
ISABEL GUERIN ABOUT KYLE VALENTI:
Companionship? Um, not exactly the word I'd use for it. But, okay, whatever. I'm not about to pass judgment on him for tryin' to get under any skirt that catches his eye. He's young, he's… well, basically single… you try to figure that one out. Well, yes, I know that was cryptic but I'm not here to give you the dirt on my friends. Anyway, you interviewed Kyle, right? So he probably told you that the two of us bet over everything… yeah, thought so. You'd think he'd stop tellin' people that since he loses the majority of the time. He's protective of the people he's close to, he knows how to listen – something that is remarkably rare in men, and if you're in a bad mood or just down he'll cheer you up. One of these days someone's gonna realize what a great guy he is and put an end to his sex-a-thon. No, I don't care if you print this interview as is, it's all true… and besides, that part about someone finally getting him to settle down, it'll make him nervous as hell… care to make a bet on that?"
TESS GUERIN ABOUT KYLE VALENTI:
"Wait, he just compared me to a gross piece of gum on the bottom of his shoe? Well, unlike all of Kyle's fans I really can't think of too many flattering things to say about him at the moment. He's blind, I do know that. Inconsiderate most of the time. He can be a major asshole when it suits him. Okay, yes, I do know most of that only occurs when I'm around, but can I help it if I'm sick of seein' him get into the panties of every woman in NYC? I know everyone else seems to be just fine with the way he screws any willing female around, but he could certainly do better. I came back here hoping that things would be different but things are the same… only worse. Kyle Valenti may be the hero, he may be all the things that everyone else has raved about, but as far as I'm concerned he's just a blind, inconsiderate asshole!"
*****
The sound of a basketball striking the floor could be heard over the sound of voices as the small group of people talked and laughed. Tennis shoes squeaked against the polished floor and the players on both teams elbowed each other and did their best to take possession of the ball. The teams were divided by the players in white tee shirts and those in blue tee shirts and one of the guys in a blue tee shirt snatched the ball from another player and spun around before launching off of his right foot to dunk it in the basketball hoop.
The guy who had scored lifted his hands up in the air as his teammates slapped him on the back. "That's right, baby! Eat that, Guerin!"
Michael Guerin rolled his eyes and accepted the ball when it was tossed to him. "Shut your hole, Valenti." He dribbled the ball and nodded to his partner as he shifted the ball to his other side to keep his opponent from taking it back.
Firefighter Kyle Valenti grinned and glanced back at Dana Sharpe. "You guys can't win this one," he taunted.
Dana rolled her eyes and motioned for Michael to toss the ball to her. They had been working together and hanging out from time to time since he had joined the fire department as an EMT. She was a paramedic and had been with the department for several years and she had been partnered with Guerin since he had joined about two years earlier.
The good-natured insults and taunts continued as the game progressed and the firefighters played against the EMTs and Paramedics. The fun was interrupted by the alarms going off in the building and a call came out over the loudspeaker issuing orders and giving information on an emergency situation that required their immediate response.
The ball bounced across the floor, forgotten as firefighters and the emergency medical response teams all geared up and climbed into their trucks within seconds. The large bay doors were still opening as the trucks began rolling out, one after the other.
Kyle glanced at his watch as the driver of the fire truck turned on the sirens and started to pull through the now open doors. He reached for the grasp next to him to hold himself in place as they picked up speed and everything outside seemed to pass by in a blur. When he had first gotten here he had been all sweaty after every drive to an accident or fire, but he had gotten used to it by now and his heart didn't jump like crazy over every car they overtook as they raced to get to their destination as soon as possible.
They heard Sally, the dispatcher from the emergency call center, speaking over the radio and giving them more information about what was to be expected in this case. "Alright, guys, we've got an explosion on the third floor, not clear what caused it so wear your protective masks." The guys grinned at each other. Sally always passed along the warnings even though they knew to gear up for whatever was coming. "The fire's spread over three rooms now and we have several people trapped. The reports coming in indicate that we have a man down in one of the apartments and he seems to be hurt badly."
*****
Michael Guerin
Pic:
MICHAEL
Trailer:
MICHAEL
AGE: 22
LOCATION: New York
OCCUPATION: EMT in the New York Fire Department
FAMILY: Isabel Guerin, Tess Guerin, Ava Guerin, Adam Guerin, Nicole Guerin
FRIENDS: Maria DeLuca, Kyle Valenti, Max Evans, Liz Parker
ROOMMATES: Kyle Valenti
HOBBIES: Sex, parties, designing tattoos
MARIA DELUCA ABOUT MICHAEL GUERIN:
"He's the most annoying person I know, he is a male slut, totally superficial when it comes to women. But other than that, I can't imagine my life without him. He's my support in rough times and my shoulder to lean on. I love him as a friend.
You won't tell him I said I love him, right? He would get a total boost from it and believe me, he doesn't need another one!"
KYLE VALENTI ABOUT MICHAEL GUERIN:
"We're co-workers and roommates. He's someone ya can count on during the shifts. We have a lot of responsibility to carry. Beside that the man definitely knows how to have a good time. Ya want a good party, hot chicks and a lot of alcohol? Hell, then our apartment is the right place for you to be.
Oh yeah, I should probably mention that he hangs around with Maria a lot. You can't know him and not know him or the other way around."
ISABEL GUERIN ABOUT MICHAEL GUERIN:
"Michael is like a phenomenon to me. I don't know how one person can have such a responsible job on the one hand and then on the other be such a party- and sex-oriented guy? He takes his job very seriously, while he tries to keep his private life as simple as possible. He's only got a few very close friends.
You probably can't talk about Michael, without mentioning Maria. They are like fire and ice and yet they spend more than half of their free time together. I seriously hope that one of these days he will finally open his eyes and see what is right in front if him."
ALEX WHITMAN ABOUT MICHAEL GUERIN:
"God, don't even get me started about that jackass! All he knows is how to party and to have sex. I doubt he is doin' anything meaningful in his life. Well, I bet he would say now, that having random sex with every female person in New York is meaningful…"
*****
In the Paramedic truck Michael was busy memorizing all of the information that Sally was providing, mentally preparing for the possible injuries and casualties they might encounter. He grabbed the radio when she gave the signal to let them know she was finished and he pressed the button on the side. "Sally, this's EMT Guerin, do we have anyone with medical knowledge on the ground with the injured man?"
"We only have the man's six-year-old daughter on the phone; she was the one to call 911."
"Thanks Sally." He hooked the radio back into its holster and shook his head. The calls involving kids were always the worst. The kid didn't have to be physically injured – it would be enough that she had seen her father hurt.
The fire trucks were the first to arrive at the building and Kyle jumped out of the vehicle before it had come to a complete stop. He was already on his way to the entry, trying to get through the crowd of people gathered there and getting in the way. "Hey, we need some space here!" he screamed over the noise to a police officer who was talking to someone on the radio. "Clear these people outta here!" The man nodded and motioned to some of the other officers trying to get control of the crowd and they immediately started to help the firefighters with their gear.
"Please, we need more space here," one of the police officers barked into the megaphone. "Move back away from the cordoned off area or you will be arrested!"
Michael pushed his door open and dropped down to the asphalt as Dana brought the truck to a stop and he tipped his head back to look up at the seven story building. Flames leapt out from the windows across the front and side and everyone ducked when glass shot out from one of the windows as another explosion rocked the building. "This isn't good," he growled to his partner as they turned to start grabbing their gear.
Kyle walked past Michael, already wearing his mask. He gestured to the radio, letting the other man know that he would tell him when and where to come.
Michael nodded and gave him a thumbs-up, knowing he wouldn't hear him with all of the gear and the noise around them if he responded verbally.
Kyle was the first one to enter the building, quickly checking the location of the emergency exits on the map in the lobby before gesturing to his coworkers to take the stairs on the left.
Even though they had to wear the heavy gear they made it up the stairs to the third floor in a short time. Kyle pushed the door that separated the staircase from the hallway open. The corridor was full of smoke and he checked his mask one more time before he moved further towards the fire.
He looked back when Dan Gilyard hit him from behind to get his attention and he nodded when he motioned to his ears and then to the closed door on their right. He shook his head, wondering yet again how the older man could hear anything, but not questioning him. He moved toward the door while Dan crossed the hall to check another door.
Kyle checked the door for heat and when it felt cool to the touch he turned the knob. He could feel something blocking the door and he frowned when something hit it from the other side. He jerked his head gear off and pressed his ear to the door, hearing the faint sound of coughing but no other response. He put his head gear back on and shoved his shoulder against the door, feeling it start to move.
The opening began to get larger and he swallowed hard when he looked down and saw a tiny soot-covered hand.
God, please, not a kid
, he thought as he shoved against the door with more urgency. Smoke was beginning to billow out from the opening, indicating that the fire was most likely breaching the room from the opposite side.
An arm flopped against the floor and he realized that the thing blocking the door was a body. He pushed harder, finally creating enough space to get his head inside and he leaned down to grab the shirt of the man lying on the floor, pulling him up enough for him to get the door open. He grabbed his radio and yelled for help and within a matter of seconds a couple more firefighters had joined him. They quickly cleared the debris from around the fallen man and checked him over before determining that it looked like cardiac arrest in addition to other injuries sustained when the ceiling above him had collapsed. They quickly hauled him up and carried him out of the apartment and down to the first level. The little girl was barely breathing, suffering from smoke inhalation, and he knocked the cell phone she was clutching out of her hand as he scooped her up and held her cradled against his body as he ran from the room.
The radio clipped on Michael's jacket crackled with static a few times before Kyle's voice could be heard. "We're on our way down now – first floor entry, south side of the building. Two victims, first is male, approximately 40 years' old, possible cardiac arrest, internal bleeding, injuries to the stomach and chest. Second victim is female, approximately six years old, unconscious, smoke inhalation, and no other visible injuries."
Michael grabbed his gear and took off running for the exit Kyle had indicated. Dana beat him by seconds and she and another paramedic went straight to work on the injured man. She shouted information into the radio clipped to her jacket to the medical staff waiting at the hospital as she and the other medic fought to stabilize the injured man.
Michael took the little girl from Kyle as the firefighter handed her off and their eyes met briefly before he turned to run back inside. He shut down every part of himself that saw her as a little girl, a child who was way too young to die, forcing him to see her only as another patient. His mind focused on doing what was necessary to stabilize the patient and prepare her for transport to the nearest hospital.