Round Thirteen RF Awards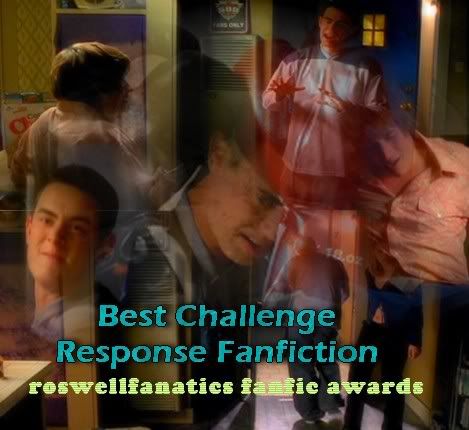 Best Challenge Response Fanfiction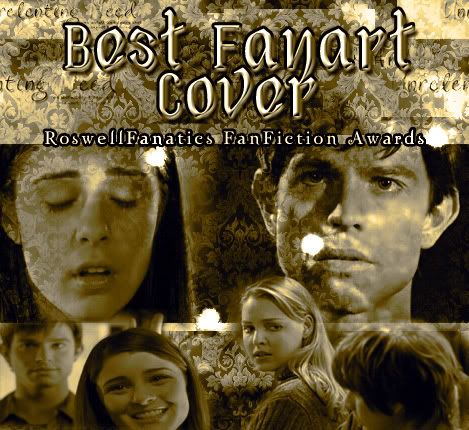 Best Fanart Cover by DreamerLaure
Title:
Amongst Women
Author:
Alison
Genre:
AU W/O Aliens, M/M, CC
Rating:
Adult, I guess... it may not actually get there, but I reserve the right to use it if I want.
Disclaimer:
I do not own Roswell, nor any of its characters. They are owned by the WB, UPN, Jason Katims, Melinda Metz and a whole bunch of other that I've never met. Don't sue, 'kay?
Summary:
Challenge
#246
from Nibbles2, so I can't take any credit for the awesome plot. How will Michael Guerin, bachelor extraordinaire cope with four girls living in his house?
A/N:
Seeing as I finished writing NID the other night I decided that it was time for me to post the next one. I generally like to have two stories on the go in case I get bored with one, so I figured why not? This is my first real candy fic, but I will, as usual give significant attention to the other couples. Also, I have no idea what they train you for in the army, but I'm going to pretend that it comes with a bit of basic fire training and my knowledge of house fires is limited to Wikipedia and fire fighting movies.
Amongst Women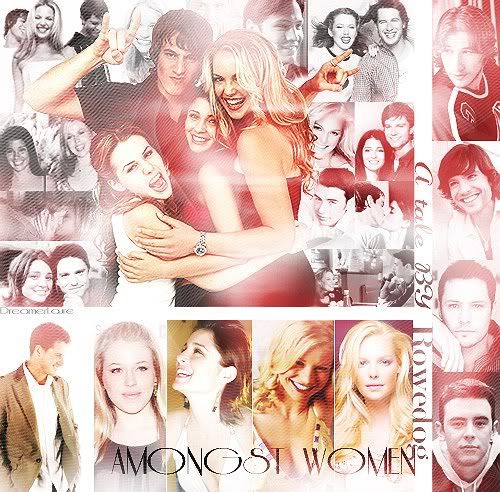 Wonderful Banner made By Dreamerlaure. Seriously, it's so awesome.
Part One
Michael attacked the lid of his tin of coffee with his knife. He couldn't grasp why the fucker wouldn't open, he'd got the other tin open no worries. He supposed this was karmic retribution for stealing army supplies, but he figured after everything he'd been through that the least that they owed him was a tin of shitty coffee. Jamming the pointy end of the knife underneath the lip of the lid, Michael tried to lever it open with minimal success.
It was the nicking of his finger on the blade that caused him to give up and throw the heavy tin onto the kitchen bench. Sucking his finger, he reached over and grabbed a paper towel to stop the bleeding and was distracted by the sound of his four neighbours who were obviously just about to go to work.
Michael glanced through his window at the giggling group as they clambered into the crappy rust bucket they liked to call a car. Narrowing his eyes, Michael wanted to know what was so funny anyway.
He knew for a fact that they didn't have a sense of humour. In fact, the big-lipped blonde one really hadn't seen the funny side of it when his cat had somehow broken into their house and taken a dump in their kitchen pantry. She'd nearly had a conniption when he'd laughed in response. What was her name again? Marie... Masie... Michael shrugged it off. It wasn't important to him, although, she wasn't exactly on the ugly side. He definitely wouldn't mind feeling those enormous lips wrapped around his-
"Ow! Motherfucker!" he grunted and then scowled at the tin of coffee that had rolled and fallen from the bench onto his foot. He needed to concentrate on opening the coffee tin because he sure as shit needed a hit of caffeine.
Bending down to pick it up, Michael swore as the muscles in his left shoulder twinged. Grasping the tin of coffee, he straightened and placed it back on the counter, this time making sure to place it properly on its base. He then gingerly rubbed the stiff lump of scar tissue on his left shoulder blade hoping to ease the pain therein. Just what he fucking needed.
Gritting his teeth in an attempt to override the residual pain, Michael gripped his knife and set to work attacking the coffee tin again. He was going to have his hit of caffeine, come hell or high water.
***
"Michael! You haven't been here for a while, where've you been?"
"Who are you, my Mom? I've been around," Michael replied, smiling at his old friend.
"Tell you who's not your Mom; that blondie heading towards you to your left," smirked Jim running his eyes over the blonde's full figure. Damn Guerin, the lucky, undeserving dog. He got all the play.
"Hey baby, you here all alone?" the sultry blonde asked in a husky voice that had been irreparably altered through years of smoking, sliding onto the stool next to his.
"Doesn't seem so anymore," replied Michael coolly, a half smirk on his face as he took another swig of his beer, taking stock of his new plaything for the night. Big boobs, blue eyes, thin waist, full lips, delicate hands. All checks in the plus columns. However, he could do without the good inch of dark regrowth, somewhat chunky thighs and ski slope nose, but he figured that he'd cut his losses and just go with it. He'd had far worse.
Running her hand down Michael's muscular forearm, she pulled her stool in closer as she whispered into his ear. "Wanna keep me company tonight?"
Michael glanced over at her, focussing on her obviously surgically enhanced breasts. "I haven't got anything better to do."
"What's your name?" she asked as Michael finished the last of his beer.
"Michael."
"Mine's Hannah," she informed him when he didn't ask for hers. He nodded, but didn't say anything. Like he needed to know, she'd just be another girl in a long line of conquests for him.
Standing up from his stool, he slid some money over to Jim who winked at him before turning back to his lay for the night. "Let's go."
The girl grabbed for her keys as she followed him out into the car park and Michael let loose his first fully blown smile for the night. If she thought that he was going to go back to her place, she was sadly mistaken. There was no way he was going to be stranded at some strange chick's house with no mode of transportation.
She looked at him in confusion when he grabbed her by the elbow and took her around the corner to the darkened alleyway alongside the bar.
"What are we...?" her question was muffled when Michael crushed his lips to hers, pushing her back against the brick wall. She clutched his back and moaned into his mouth as his large hands cupped and kneaded her breasts. While Michael considered himself a lover of all breasts, he really preferred the non-surgically enhanced variety, but he'd take what he could get. And hers were big enough to make up for the stiffness of the implants.
Thirty minutes later, Michael wandered back to his car, wiping cheap lipstick off of his cheek and whistling as he walked, his right ear slightly deafened. She had been a screamer. And while he could do without the partial deafness, he had certainly enjoyed her enthusiasm, just as he was sure she had enjoyed his. She had gone to the bathroom to freshen up and Michael had taken the opportunity to cut and run. He didn't need the false niceties and while he had enjoyed her, he certainly wasn't looking for a repeat performance. The wrestling would be on in fifteen minutes. He needed to get home.
***
Michael wearily rubbed at his eyes, both of them feeling gritty from fatigue. Yawning, he turned his attention away from his tiredness and onto the wrestling that was being replayed whilst idly scratching at his crotch. Sighing, he glanced around as an advertisement came on for a nasal spray that supposedly helped with erectile dysfunction, an area that he could proudly proclaim that he had no problem whatsoever with. Though if he did, he would hardly think that a catch phrase like "up the nose and away it goes" would induce him to seek out that product for help.
His eye was caught by an unusually bright light flickering from his neighbours' house. A sense of unease rumbled through him, prompting him shifting his ass from its worn groove in the couch just to reassure himself that his sneaking suspicion was no more than an overtired brain's paranoid jump to conclusions.
But as he gazed out the window his heart dropped in his chest as he saw flames lick at the windows from the interior of the house. Flinging open the door he rushed out, not even bothering to close it behind him in his mad dash to their front door.
Flinging the door mat to one side he grabbed up the spare key and hurriedly rammed it into lock, swearing when it wouldn't unlock. Deadlocked? He'd never seen them deadlock the front door before. In fact it had to be done from the outside, a second lock used only when the occupant of the house would be away from the house for an extended period of time. Something was definitely off about this fire...
Hearing a high pitched scream come from the other side of the door, Michael abandoned his unlocking attempt, yelled, "Get away from the door, I'm going to knock it down!" and then sprinted to the side of the house.
Grabbing the small axe from the woodpile next to their house, he hacked at their front door, wincing as hot splinters struck him in the face, thanking God that there was no backdraft when he ripped the first hole in it. Wedging the head of his axe into the door, Michael levered it from side to side to widen the hole. He did this several times, each time alternating between strikes. Finally, he managed to break a hole wide enough for his body to squeeze through by breaking the hinges of the door. Pulling the tall blonde through the gap and dragging her onto the lawn, Michael then turned and ran back to the front door. There were four of them. One down, three to go.
Upon entering the house, Michael first scoped out where the source of the fire was. In a room to his left, but quickly spreading. The hallway was in front of him and he prayed to God that that was where the bedrooms of the girls were situated. Sweat immediately formed on his brow from the heat and his lungs burned from the lack of fresh air. Dropping onto his stomach, he began to crawl commando style.
Crawling low on the floor to escape the smoke, Michael headed for the first bedroom he came to. He just hoped he could reach them in time, he knew from experience that people were more likely to die from smoke inhalation than from burns in a fire, but neither were too attractive a prospect.
As he crawled low, he stiffened as the familiar rattle of machine guns and garbled cries of Arabic sounded in his ears. Reaching for his rifle, Michael blinked back into reality when his hand came into contact with the soft cotton of his t-shirt. Shaking his head, he worked his way quickly forward, concentrating hard on the reality of here and now.
Crawling forward he reached what looked to be the first bedroom and found a terrified blonde in skimpy nightwear crawling towards him. Beckoning her forward he led her through the smoke and heat towards the front door, pushing her through the gap and then heading off to find the others.
He would have rolled his eyes at the lacy negligee that the blonde was wearing if the situation hadn't been so urgent, aside from the flammability of the items, he knew that she had been sleeping alone. Why go to all that trouble if you were going to bed alone?
He retraced his steps, mentally trying to review the setup of the house from his knowledge of it outside. There two rooms upstairs, he mentally groaned at the idea the thought of one of them being a bedroom. There was nothing worse than a staircase when there was a house fire, it was what had gone wrong last time... Michael swallowed back the memory. He needed to stay focussed. He passed the first bedroom and found the second one empty. Must have been the first blonde's room. He kept crawling, ignoring the sting from his bare knees and elbows as he went, trying to keep all of his training in his head. He let out a cry, not audible over the roar of the fire as his left shoulder twinged and protested under the heavy use. Biting his lip, he continued forwards. Making it to the end of the hall where the third bedroom was situated, Michael found a tiny brunette cowering in fear as flames loomed over her, clutching a photo album tightly to her chest as she tried to find the door, disorientated by the fear and thick smoke surrounding her. Michael looked at the fire, wondering how the fire had managed to migrate to her room without burning the door in the process, it was then that he noticed the secular nature of the fire. This was a separate fire, and by the looks of it, one that had been started just outside her window. This was no accident. This was arson.
Grabbing her wrist, Michael tried to lead her towards her door, only to have her shake her head and yell something that he could barely distinguish over the roar and crackle of the fire.
"My sister!"
"I'm getting them all out!" he cried back, trying to remember if he knew which one was her sister. "Two are already outside!"
She nodded and allowed herself to be led, Michael using his memory and sense of direction to guide him when the smoke became too thick to see and the heat forced his eyes shut. He nearly sighed in relief when he hit the front door. She clambered out the front door and he turned back for that Miriam/Masie chick that he could never remember the name of.
Making his way up the stairs, he was relieved when he felt a cool draught sweeping the smoke upwards and off the stairs, he didn't think he could hold his breath for as long as he would need to summit the stairs if the smoke was simply hanging around on them. Quickly clambering up them, Michael found two doors, one on his left, one on his right. Taking quick stock of both, he chose the door on the right when he noticed the edge of tiles just underneath the lip of the left door. It was probably a bathroom and thus it was ruled out for the moment. If the last girl wasn't in the bedroom, he'd have to try the other rooms, but as he spotted the carpet beginning to curl and blacken around the edges from the heat, he sincerely hoped that she was in there. There wasn't enough time for him to go exploring through the other rooms, this place was about to go up like dry twig in an inferno.
His sigh of relief when he found her in her room was short lived when he noticed that she wasn't conscious. She was flat on her back on the floor, probably having noticed the smoke she'd stood up to make a run for it and inhaled a lungful of smoke. He quickly checked her breathing and was relieved to find that she still was. It was shallow, but it was there. Hauling her awkwardly, Michael crawled, half dragging her across the floor to the stairs. He swallowed as the stairs disappeared into a thick haze of smoke. This was where it had gone so wrong before...
Grasping her awkwardly Michael mounted the stairs backwards and began to pull her small body down the stairs. He winced as her small, fragile body seemed to bounce down each step, but he made sure that her head was secure and in no danger of cracking against the step below. He reached the bottom, heaving a sigh of relief as he passed the danger zone. His jubilation was short lived when he remembered the length of the hallway and the distance to the door. Now, Michael was no weakling, even with the bung shoulder, and she was definitely no heavyweight, but the awkwardness of dragging her when he couldn't stand up for leverage made him extremely grateful when she regained consciousness and began to crawl with him.
The going was slow as her weakness from the smoke inhalation, but Michael helped her as much as he could, the exertion causing the sweat to turn from a trickle to a river down his back, his face, his legs. The fire seemed to be growing in intensity, the heat emanating from it almost unbearable as they crawled towards safety. Michael couldn't make out the room that seemed to be ablaze, the flames too blinding to give him a visual but he was certain that it was right next to the door. He cried out in pain when his knee hit a hot cinder that had fallen from the roof, hoping to hell that the door to freedom would soon be in sight. He almost cried when it came into view.
Shoving her through the hot door, Michael then almost collapsed through it himself. Coughing as he landed on the hot cement of their front door step, Michael pushed past his tiredness and ordered himself to stand up and get her as far as possible from the fire. Grunting with the exertion, he scooped her up and walked towards the road, the fire's heat beating against his back.
As he appeared through the thick smoke, he was practically dive bombed by a gaggle of hysterical females. Great, just what he needed. Ignoring them and their questions about the how their friend was, he laid her out on the cool pavement of the footpath before collapsing himself, allowing the chill to seep into the burns on his hands, giving them much needed relief.
He sighed as the sirens from fire fighters became louder and more distinct as they travelled closer. Better late than never.
God, what a day.
***