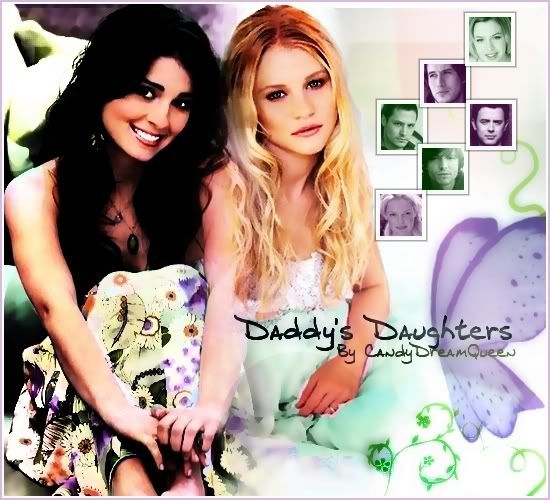 Banner
: CandyDreamQueen
Title:
Daddy's Daughters
Author:
Candice AKA CandyDreamQueen,
candedreamer@yahoo.com
Beta:
Tears_of_Mercury
Disclaimer:
Roswell is the property of Jason Katims, Melinda Metz, the WB, and UPN, now known as The CW. All those are people that are not me. No infringement is intended.
Rating:
TEEN to Mature
Category:
AU/wo Aliens
Pairing:
M/L K/T M/M A/I
Summary:
Elizabeth Parker thought she'd lost everything when her parents died in a tragic car accident. But sometimes the greatest loss can become the greatest gain.
Challenge #249:
created by killjoy.
LINK
AN:
Thank you very much to Tears_of_Mercury for being such a great beta. Kudos to killjoy for creating such an interesting challenge. Thank you to everyone and anyone who reads this.
ONE
(Favored)
She was his pride and joy, his perfect angel. She was his greatest accomplishment, and his greatest pleasure. He doted on her, he loved her, and he spoiled her whenever her mother would allow it. She loved every single minute of him, and he every single minute of her. She was his angel, his everything, the queen of his world, and the light of his life. She grew more beautiful with each passing day, right before his very eyes. And as he watched her make the magnificent transformation from child to woman, he couldn't help but love her even more:
Elizabeth.
(Feared)
She was his greatest mistake, his greatest regret. The result of a moment in time he wished he could take back, but would haunt him forever. Her existence scared him. He feared her, and everything she stood for. Did he love her? He tried, but only in the ways a father could love a furtive child: in secret, in hiding, with money as opposed to true affection, and with as little verbal or physical contact as possible. Regardless of all this, of all the doubt she created in his heart, in the end, he tried to do right by her. Like any good father should, he tried:
Tess.
---
I
t was strange how things could change so quickly. All it took was a second, a mere fraction of existence's time, to alter someone's life forever. No notification need be given, no alarm need be sounded. Not if the cosmos dictated. Life was constantly at the whim of the unknown, and there wasn't a thing a person could do to change that.
Things changed. Sometimes they did so with a healthy dose of foresight, but more often than not, it was with as little warning as possible, that life threw a wrench your way.
At the young age of twenty-two, Elizabeth Parker was learning about change all too well.
A single tear ran down her cheek, dangled shortly on her chin, and dripped down onto the clear glass of the framed photograph she held in her hands. She watched in a state of silence as it slowly rolled down the picture frame that had once sat on her parents' bedroom night table. Behind the glass two faces smiled happily up at her in a depiction that could have easily been dubbed one of the happiest moments of the exultant life her parents had shared for more than twenty-five years.
Her parents, her father with his arm wrapped snuggly around her mother's shoulders in a warm embrace and her mother resting her head contentedly on his strong chest, looked up at her with smiles on their faces as well as in their hearts. They had been much younger in the photo. It was a time when Liz had been nothing more than a small dream in her loving parents' future. Nevertheless, they looked happy. As if they had always been a family, before even the shared joy of their marriage; shared delight at her birth; shared stress of their mortgage made them one. But they were gone now, and the thing that hurt Liz the most was that she would never get the chance to say goodbye.
A slight knock sounded on the door, bringing Liz from her single-tear melancholy and back to the present. She took a deep breath and made an effort to pull herself together. There was no need to dwell on things that could never be changed, nor was there time for her to wallow in her own self-pity. She damn sure was not going to force others to wallow with her. After all, her father had always told her she was the strongest person he knew. He'd often said she had the will to take on whatever the world threw at her. If only he'd known…
With a quick swipe of her hand across her face, Liz wiped away the outward remnants of her sorrow and placed the photograph back on the table. She called out that the door was opened just before rising from her seat at the foot of her parents' bed. She gave the black dress she wore a quick once over to straighten it out.
Max Evans entered the room with no more than the sound of the slight squeaking of the hinges of the bedroom door to mark his entrance. He looked genteel and polished in his black suit and no tie. Though his smile was wane it was not unwelcome. Liz smiled back. It was good to see his familiar and friendly face as opposed to yet another pitying face of the local townsfolk. She appreciated the sympathy, but she wasn't sure how many more empathetic pats on the back she would be able to take.
"I thought I would find you here," Max started as he walked farther into the room. Folding his arms across his chest, he came to stand directly in front of the dresser and leaned heavily upon it. "Hiding from the masses?" he tried jokingly.
Liz smiled and shook her head. She appreciated the effort Max put forth to make her smile. "No, nothing like that. Just thinking." She glanced over at the picture frame, silently giving her thoughts away.
Max looked at it as well. "It was a nice service," he commended. "You did them proud."
Liz nodded again, but said nothing. Hadn't she always done them proud, always been their perfect child? With her arms defensively hugging her own waist, she started towards the door, but was stopped when Max placed himself in her retreating path.
"I had better get back down there," she said motioning towards the entryway. "Half of Roswell's waiting." Waiting to hug her and pat her shoulder; to cry and console and comfort, while all she really wanted was to be left alone.
Max reached out and placed his hand on her shoulder, then slowly drew it down the skin of her bare arm. His eyes bored directly into hers, not with pity or with empathy, but with simple truth. "Your parents were loved."
Again, she only nodded.
"And they loved you," he added.
Liz fought back the tears she had tried so hard to keep from spilling forth all day. For as far back as she could remember, Max Evans had been one of her closest friends. She had been half in love with him for almost as long. In that single moment, as his hand continued to caress her arm affectionately, with his eyes looking down upon her tenderly, and his words seeming to read the very thoughts that had been running through her mind before he'd entered the room, she loved him fully.
"Thank you," she whispered softly.
Max lifted his other hand and placed it warmly on her shoulder, repeating his caress all the way down her arm until both his hands were joined with hers. "It's okay to cry if you need to."
Oh how she truly loved him.
Liz disengaged her fingers from his and stepped away. She didn't dare remain this close to him. Not when she liked his comforting so much. Not wanting it so much. Not if she wanted to reframe from making a complete fool of herself by kissing him right then and there. "I know Max, and thank you. It's just," she tried to find the right words to best describe what she was feeling. "It's just that I can't start crying. Not right now." She prayed he would accept that as explanation enough.
With a simple nod of his head, he did. "Well if you need me…you know." He shrugged.
"Thank you Max. I know. You've always been…"
a really good friend.
Max smiled, not needing her to finish. "So anyway, I know you're meeting with my dad tomorrow. And I was thinking of going in early to get some work done. I could give you a ride if you'd like."
Liz shook her head. "Max you don't have to do…" she started to protest but he cut off her objection with an indifferent shrug.
"I know I don't, but I want to." The words eased from his mouth as if it were the most natural and reasonable explanation in the world.
Liz sighed. Her meeting with Philip Evans to discuss her parents' legal matters was the last thing on her mind at the moment. Truthfully, it was something she had been dreading. To speak of her parents' wishes after death…she could hardly fathom the idea. But Max's offer had been a considerate and thoughtful one and she didn't really have the resolve to reject it.
"Okay," she agreed with a shake of her head. "That would be really nice of you."
Max took a step closer, depriving her of the space she needed to think clearly. "It's not a problem," he said offhandedly. "I'll come get you in the morning."
Liz nodded again. The two remained standing silently in the middle of the room, Max looking gorgeous and being friendly and supportive, and Liz not knowing what to say to end or prolong their conversation. Although he was no longer touching her, the heat of his body standing so close to hers was having just as great of an impact on her nerves as the touch of his skin.
The spell that Max's nearness seemed to be causing on her was thankfully broken by the sound of the door being opened yet again. "Liz, are you in here?" Maria, Liz's best friend since the beginning of time stood in the doorway with a worried look on her face. She paused when she saw Liz and Max standing together. "Sorry, I didn't mean to interrupt."
"It's ok, we were just going back down," Liz said, putting even more distance between Max and herself. Thankful for Maria's interruption, Liz was sure she had been about to do something crazy.
"What's the matter, Maria?" she asked taking in her friend's slightly worried expression.
Maria shook her head. "Nothing, it's nothing really. Well, except I just wanted to let you know that Mr. Lopez, you know, who owns the fruit stand down the street. He just left some fruit for you."
"Some fruit?" Liz raised a questioning brow.
Maria nodded.
"How much fruit?"
"A lot of fruit?"
"How much fruit is 'a lot of fruit'?"
Maria's gaze shifted over at Max with pleading eyes. "We could use your help."
Max laughed. "That much fruit, huh?"
Maria shrugged. "He said something about a good season, and times of blessings during times of tragedy…I don't know. The point is, he's toting several large boxes of fruit and we could use some muscle to help bring it all in. The guys are already waiting at the back door."
"Then I guess I'd better get down there and help." Turning his attention to Liz he smiled one more time before turning and leaving the room.
Maria didn't follow him. Instead she stood in the doorway, examining her friend thoroughly.
"What?" Liz asked, squirming under the pressure of Maria's scrutinizing gaze.
"Nothing."
"Maria, I know you. Whenever you say nothing it's not nothing."
"Okay, sit down." The two girls walked over to the bed and took a seat.
"How are you holding up?" Maria asked her friend.
That question was probably the one thing Liz hated the most about the entire situation of funerals. Truthfully, she was a mess; but she couldn't say that, and a lie would be just as obvious.
Maria saved her from having to answer. "I know you're probably sick of hearing this, but you know we're all here for you right?"
"I know."
"We all loved your parents."
"I know."
"And we all love you."
"I know, Maria."
Maria reached over and wrapped her arms around her best friend. "Ok, I just wanted to make sure that you did."
"Of course," Liz said, returning the hug. She allowed Maria's arms to stay wrapped around her before finally pulling back and wiping her suddenly tearful eyes with her hand.
"Ok, that's enough." Liz tried to laugh off her emotional display. "I should probably head back downstairs to deal with this fruit crisis in person."
Maria shook her head. "It's okay girl, we've got you. You can take some time if you need to."
Liz rubbed her eyes again. "Thanks, but I really need to be working. You know, doing something productive."
Maria nodded and rose from the bed. "Ok, well whenever you're ready. I'll see you back downstairs." With a slight smile, Maria turned and left the room.
Alone again in her parents' bedroom, Liz's gaze once again returned to the picture on the nightstand.
At the wake she had told herself she'd needed to be strong everyone.
At the funeral she'd told herself that her parents would have wanted her to be strong.
At the burial she told herself that she wanted to be strong.
In her parents' bedroom, she cried.