Title:
FOREVER AND A DAY
Category:
AU without Aliens
Disclaimer:
I do not own anything from this story except the plot.
Summary:
Max Evans and Liz Parker have been close friends for a few years now. What happens when things change? Best friends turning into lovers…is it really a good thing or not?
Rating:
Adult for language
A/N:
I'm not normally fond of the best friend fics but this one just won't leave my mind.
Thanks to
Ella
for my really wonderful banner.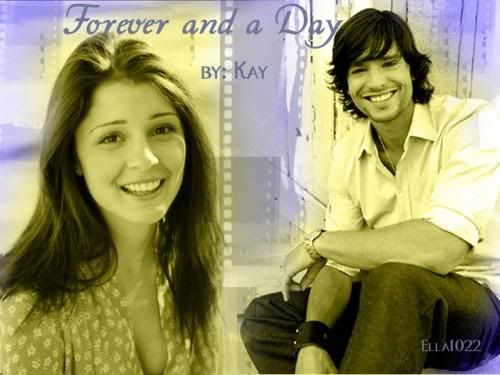 ~*~*~*~*~
PROLOGUE
Max walked in the house wearing just a pair of black shorts and his running shoes, with sweat glistening down his bare chiseled torso. After a rigorous run as his exercise, he was simply parched.
He quickly went into the kitchen, got a glass from one of the cabinets and walked towards the fridge to get some cold water. While gulping down the cool liquid, he opened the fridge door, perusing the items in it. Upon seeing a carton of orange juice, he decided to chug that down as well.
As he was drinking from the carton, he heard the tapping of paws on the wooden floor coming closer. When the dog saw him, he immediately jumped up on max and excitedly licked his face.
"Hey, down boy, I'm all sweaty." Max moved the dog away from him and patted his head. He started to walk up the stairs and down the hallway, the dog following him closely. He entered the master bedroom and upon seeing a figure on the bed totally covered by the sheets, he broke into a devilish grin.
He walked to the French doors that led to the balcony, making sure that his steps were as quiet as they can be. He then drew back the drapes, letting sunlight in to fill the room.
The figure on the bed groaned from the harsh brightness and turned away from the source of the light.
Max looked at the dog that was sitting by the bed, looking up at him as if warning him before he did anything stupid. He then motioned to the dog to remain silent by putting a finger to his lips. Then he put up one finger at a time and when he got to three, he deliberately plopped himself on the bed with a big bounce.
The figure screamed at being woken up so mischievously, knowing only one person who could do such a thing.
"Max!"